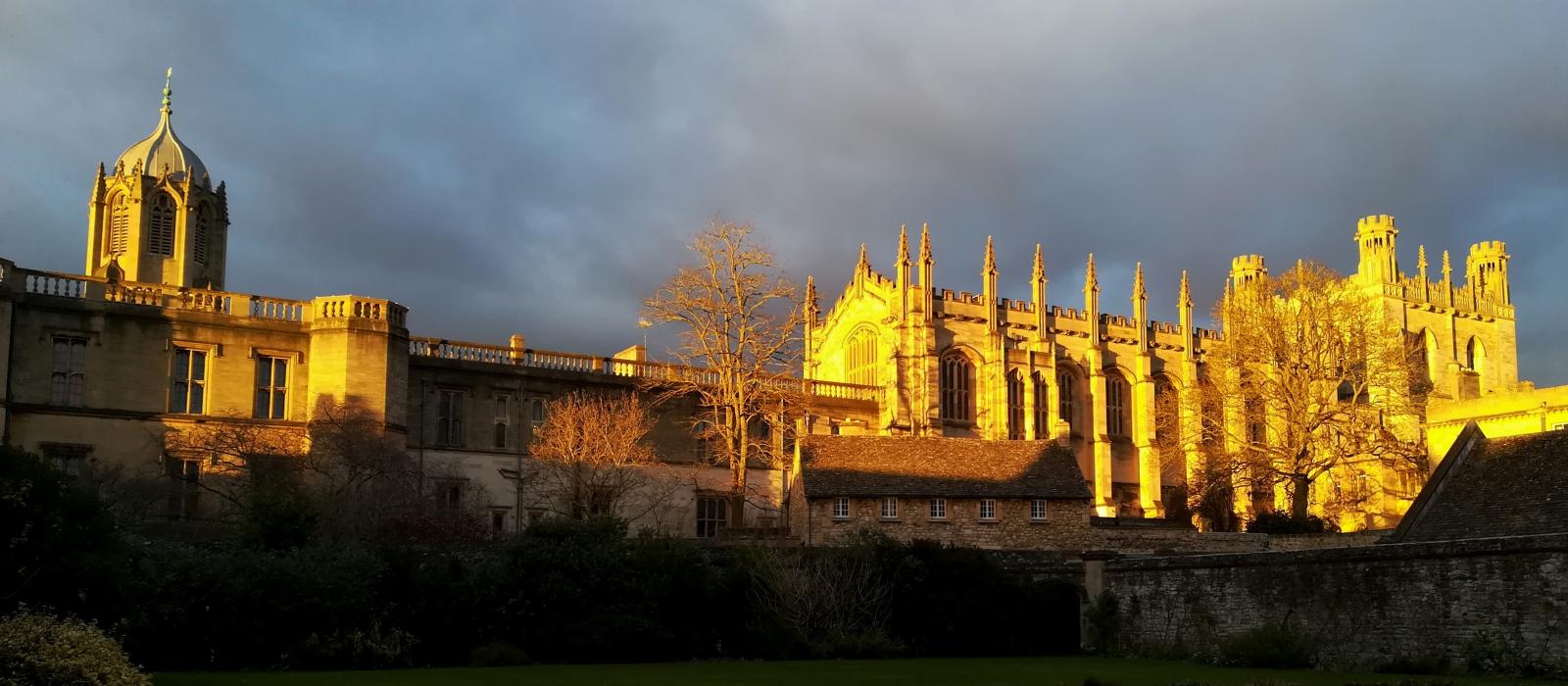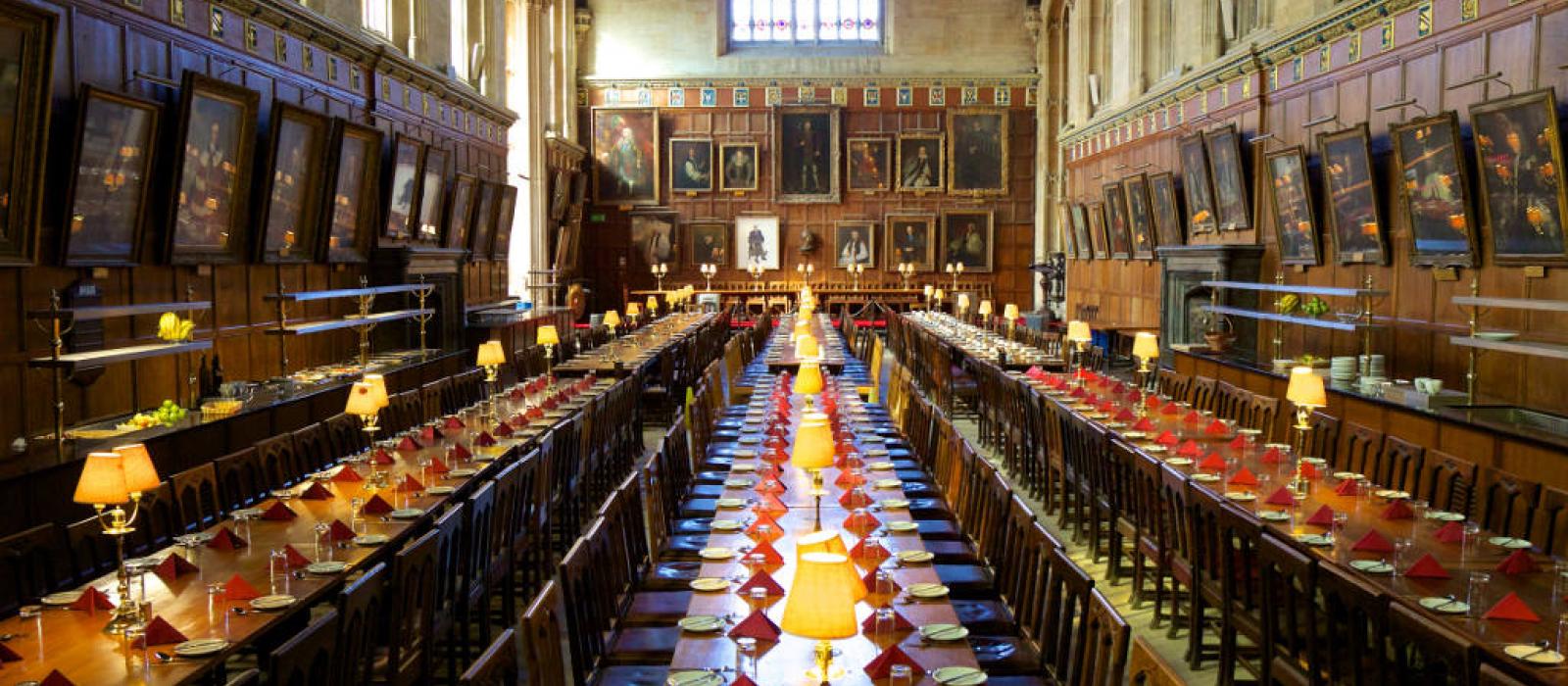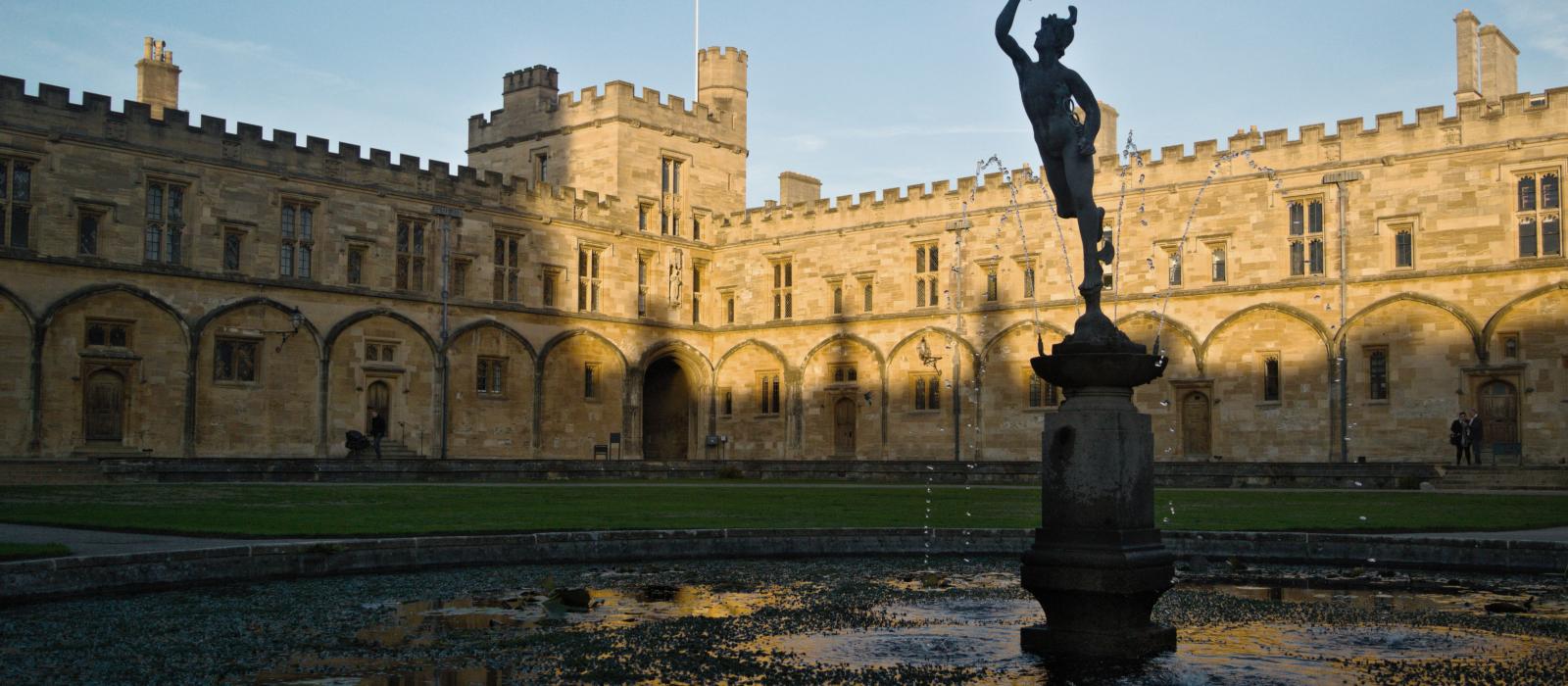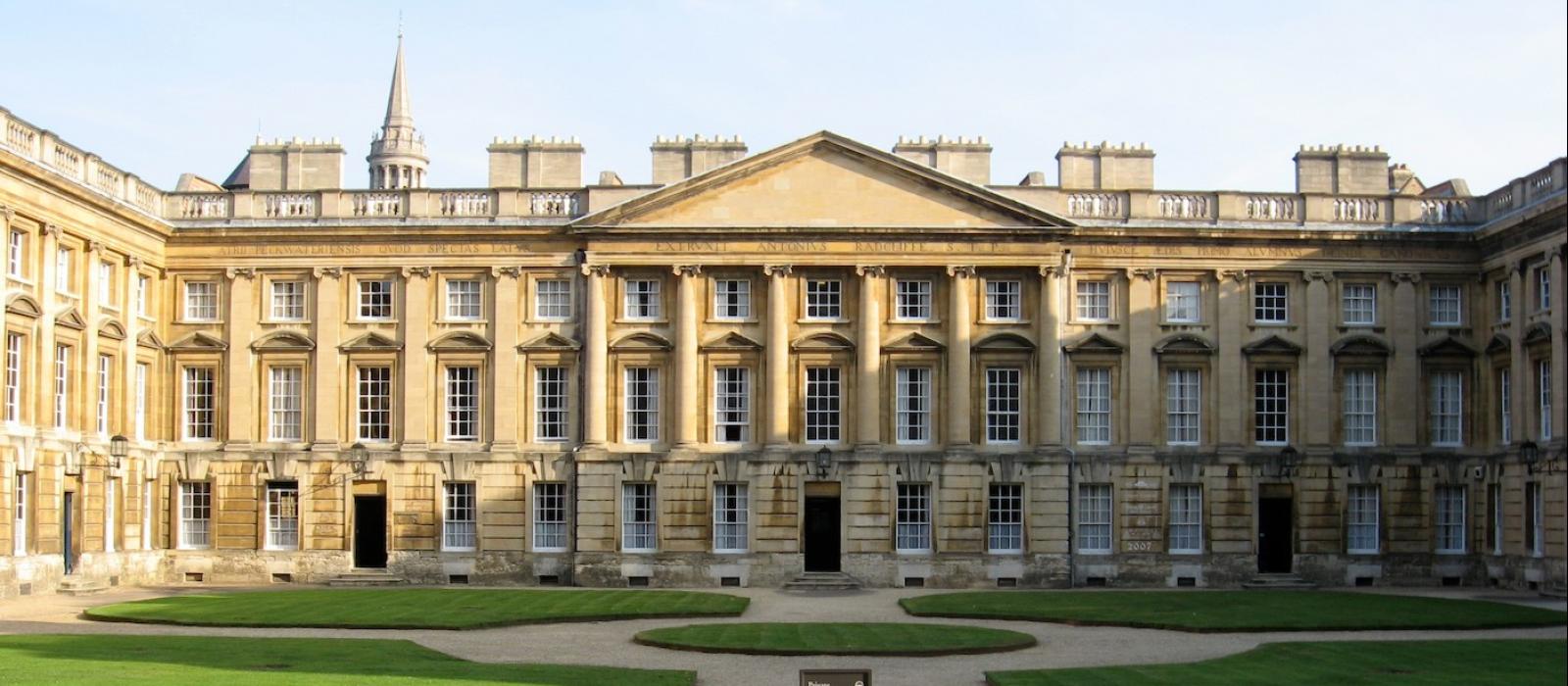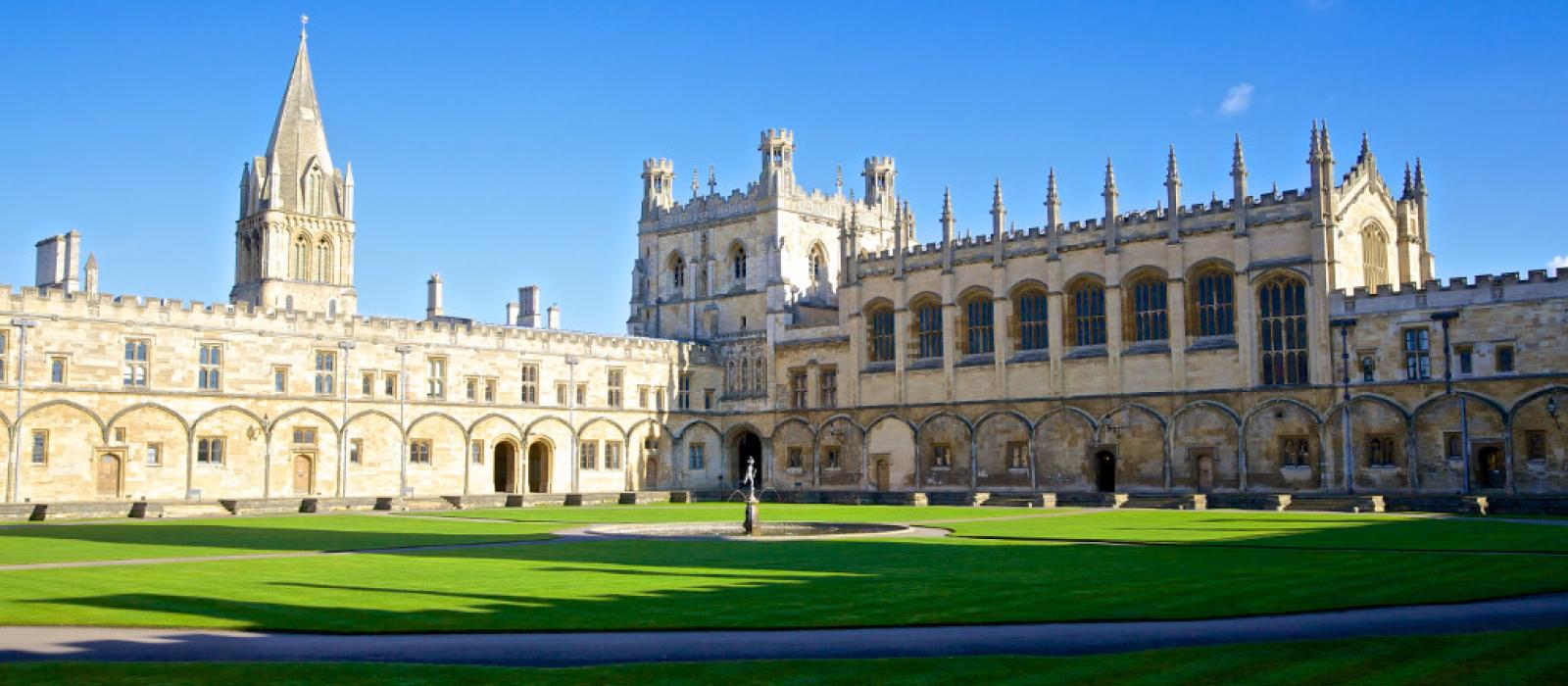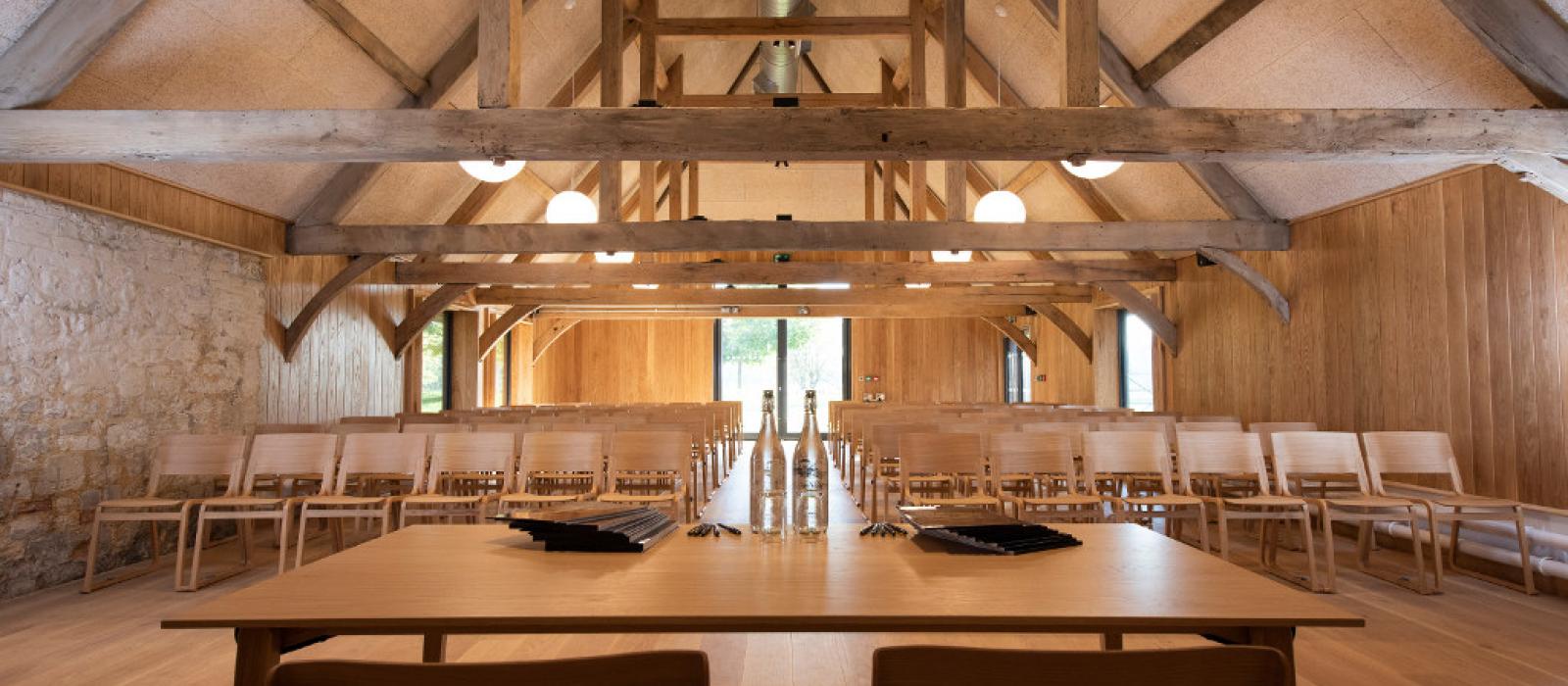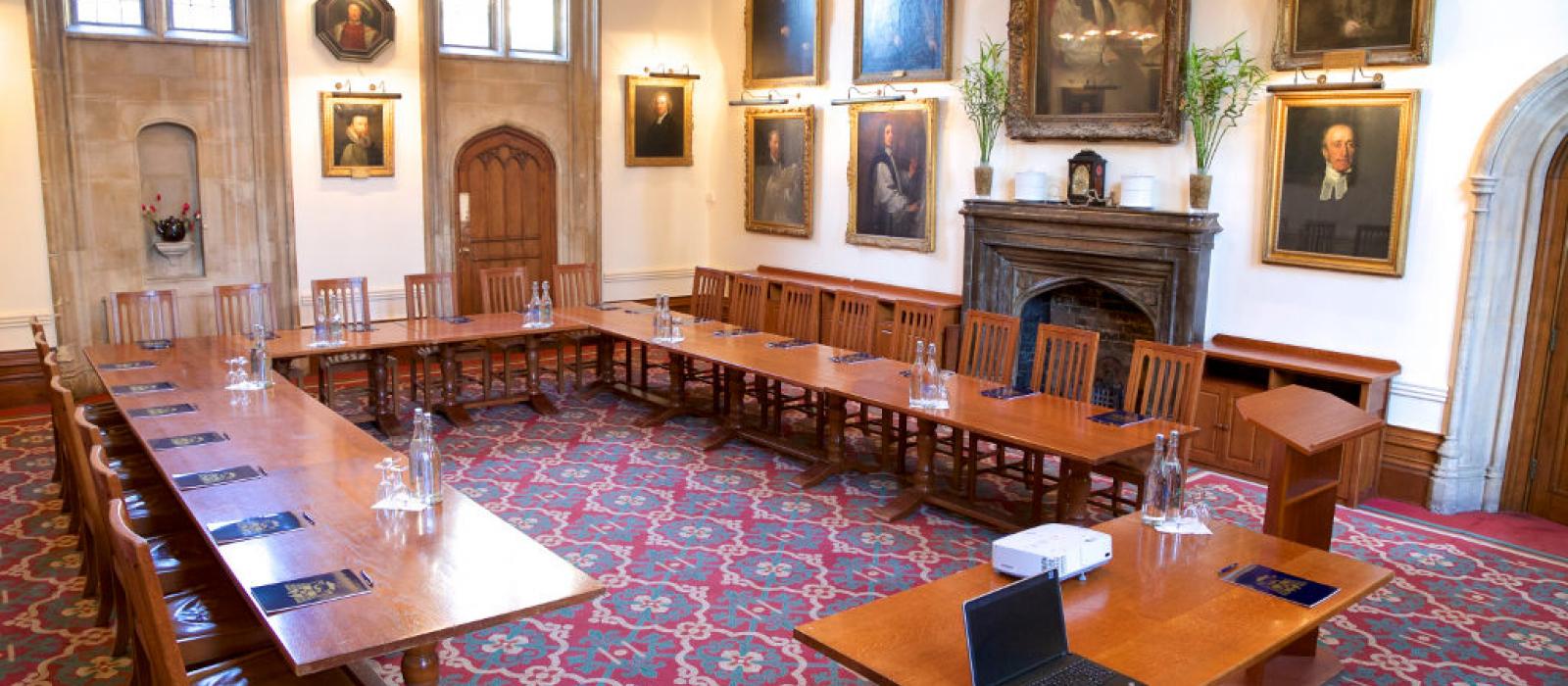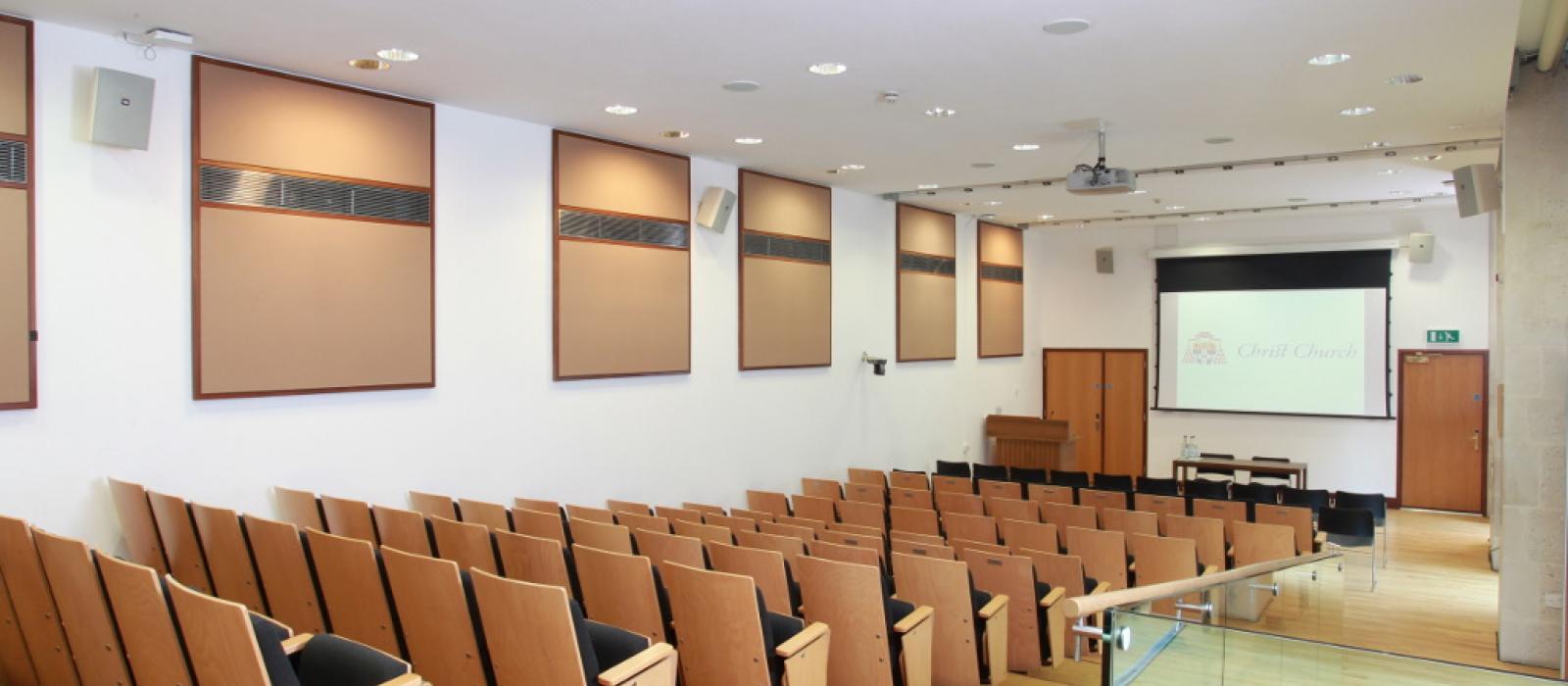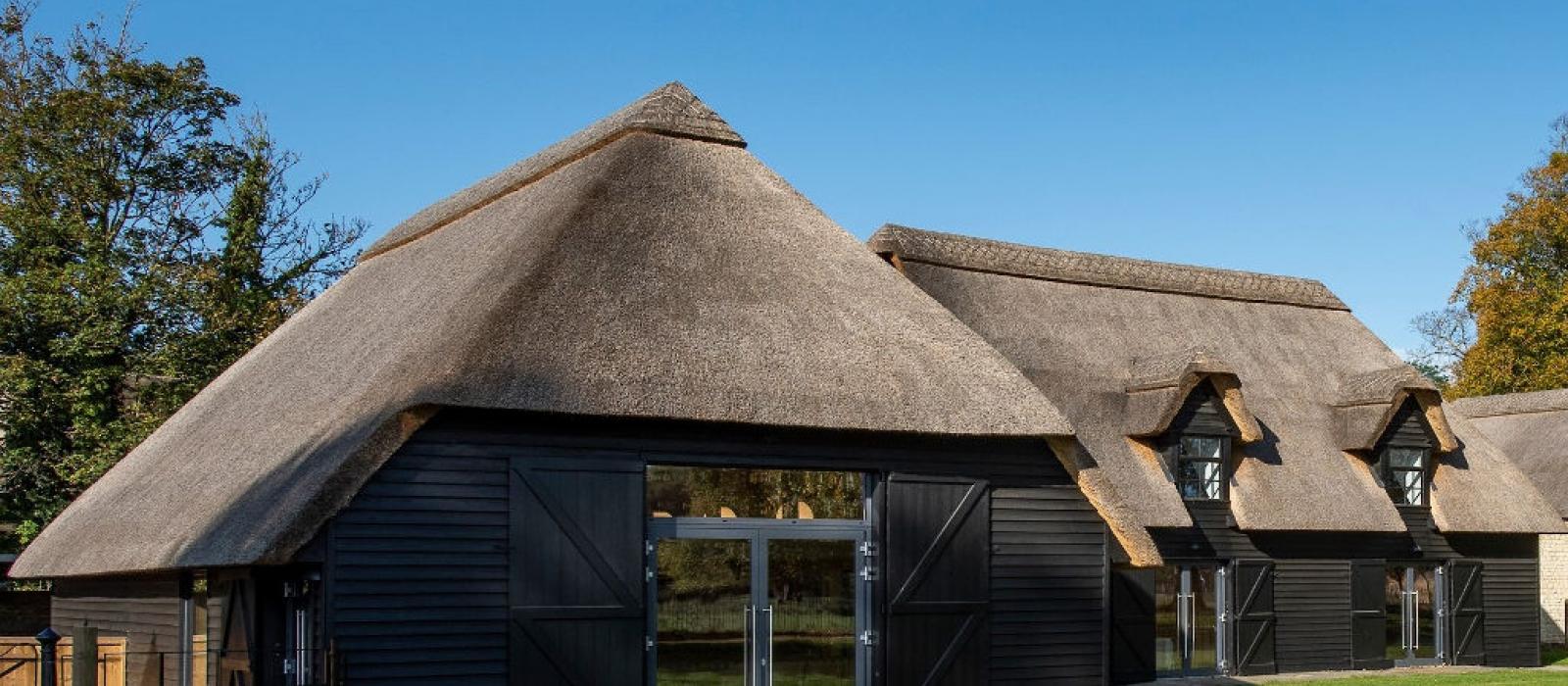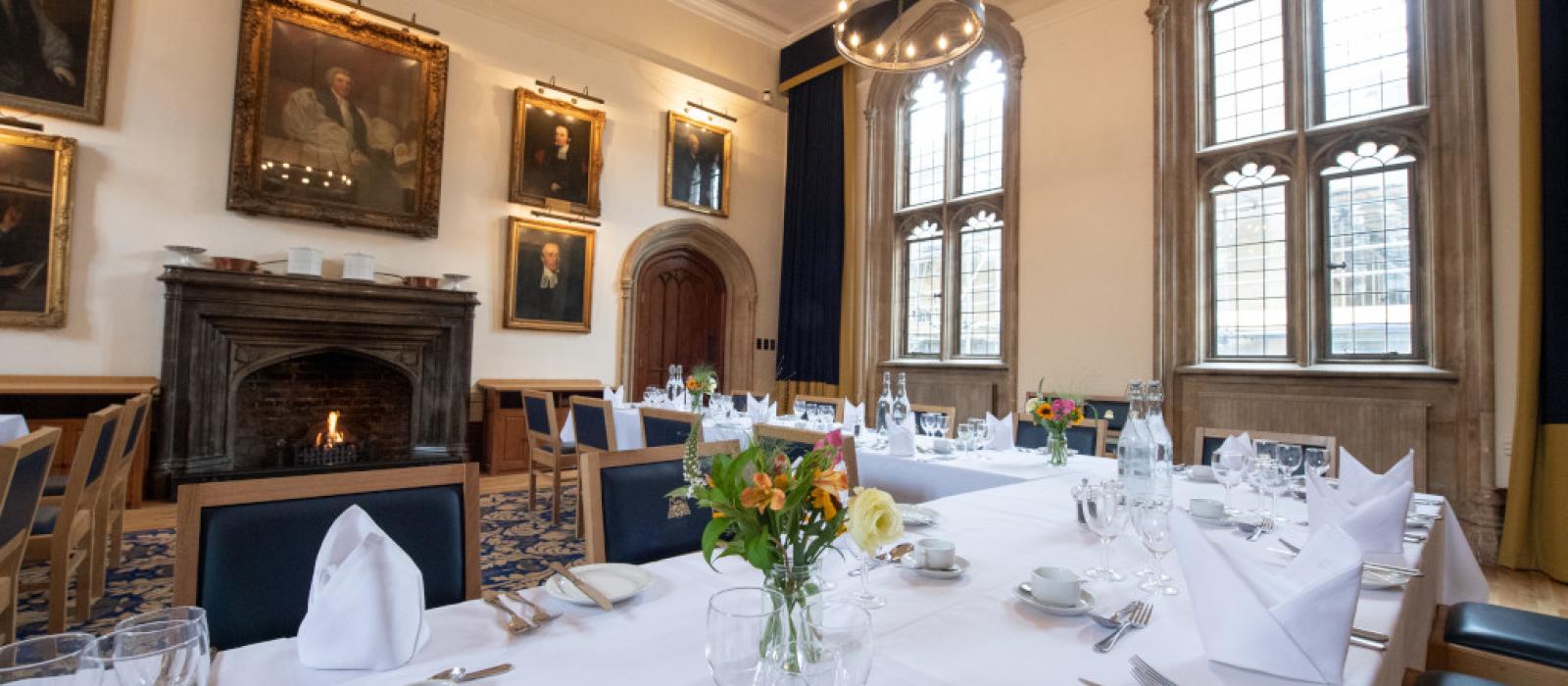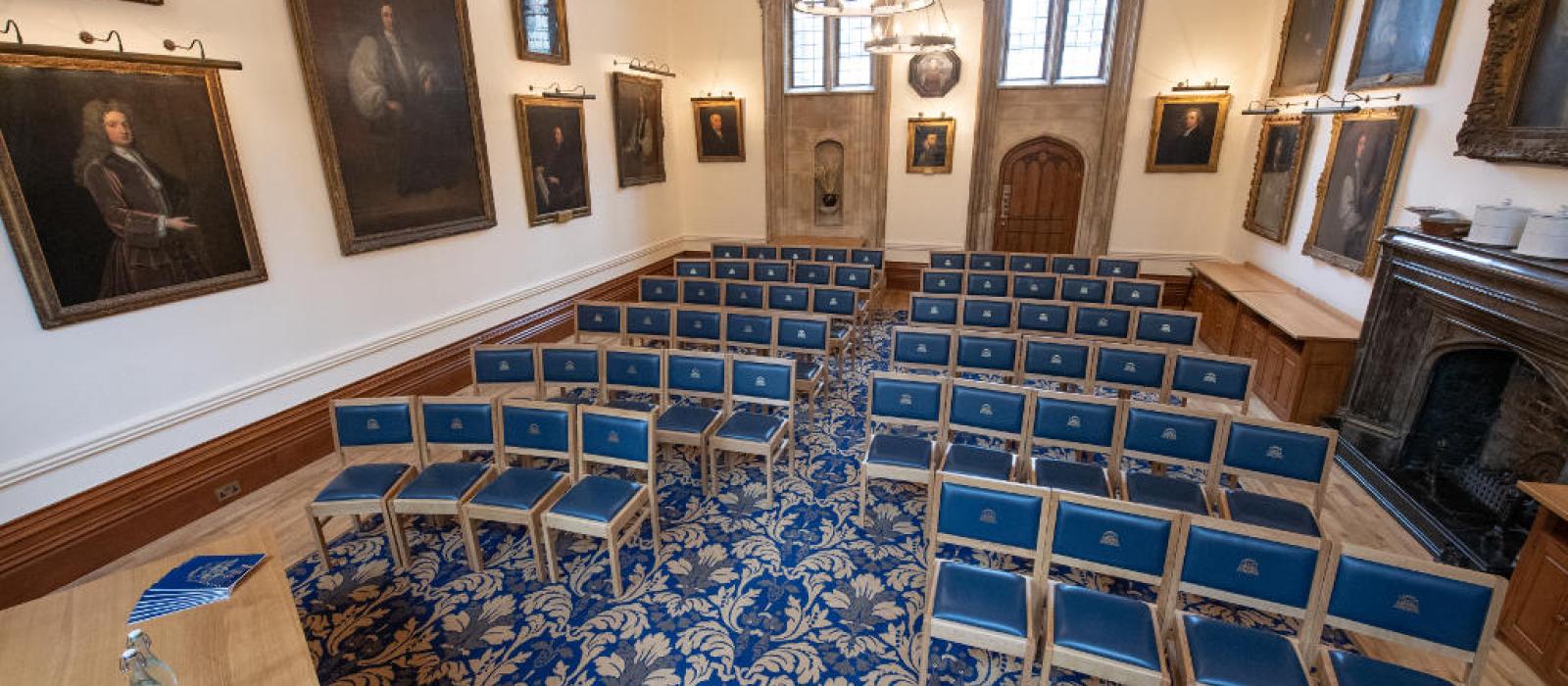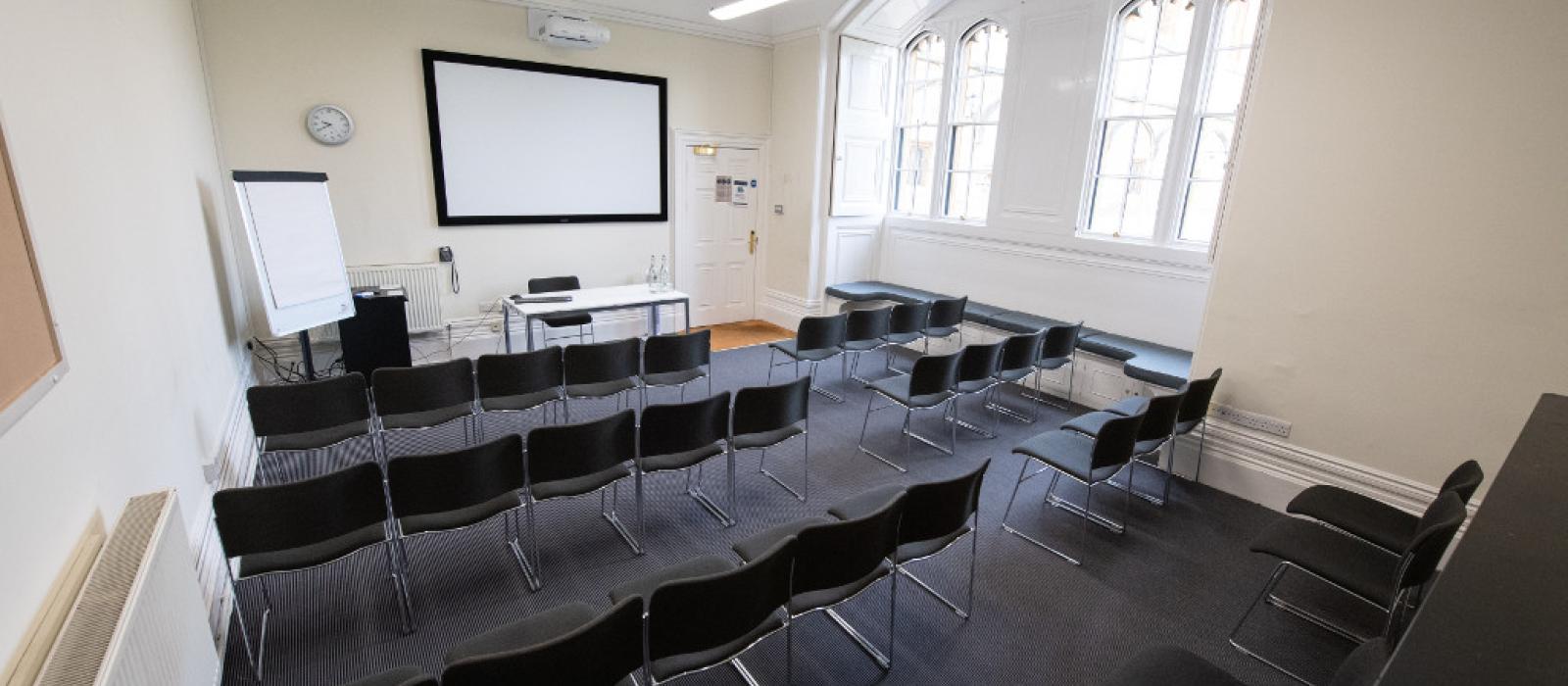 Christ Church was established by Henry VIII in 1546 and is one of the largest colleges within the University of Oxford. It is a popular location for day meetings, residential Conferences, and Summer Schools during the Easter and Summer Vacation. The McKenna Room is available for day meetings and private dinners on weekdays during term time.
Residential delegates can enjoy staying in the unique surroundings of College and Cathedral with the opportunity to walk through the Quadrangles and Cloisters, dine in the magnificent Tudor Dining Hall and sleep in traditional College bedrooms. They can listen to a choir at Evensong in the college chapel, which is also uniquely the Cathedral of the Diocese of Oxford. Located in the centre of Oxford, Christ Church is within easy reach of shops, museums and libraries. Delegates can also enjoy a stroll through Christ Church Meadow to the rivers Isis and Cherwell, hire a punt at nearby Magdalen Bridge, book a tour of Oxford or visit our Picture Gallery and Shop. Many distinguished people have been members here including William Gladstone, WH Auden, John Wesley and Lewis Carroll. 
Christ Church offers a variety of meeting rooms and two modern lecture theatres. Facilities include WiFi, audio-visual equipment (fixed or portable with additional charge), flipchart/whiteboard, Christ Church notepad and pen and bottled water. We can also offer an office space for conference organisers if required.
Accommodation is available during the Easter and Summer vacation on the main site or at one of our two annexes: 117 St Aldates Building, a 3-minute walk from Christ Church and the Liddell Building in East Oxford (Summer only). Single, twin and double bedrooms are available for up to 445 delegates in buildings of architectural and historical interest, which reflect the different centuries since the College's foundation. Christ Church can only accommodate adults aged 18 and over (this includes babies/children sharing a room with adults).
Each year Christ Church hosts many Summer Schools and Conferences from around the world and many of the clients return year after year. The McKenna Room also follows a pattern of regular bookings, so please do get in touch as soon as possible to avoid disappointment.
Christ Church
St Aldate's, Oxford OX1 1DP
18 meeting spaces with capacity for up to 300 guests for Theatre, Standing, Classroom, Boardroom, U-shape, Dining, Buffet, Other, and Cabaret functions.
Bedrooms 445
Ensuite 290
Standard 155
Breakfast yes
Lunch yes
Dinner yes
"Thanks for an excellent service - it really helped us in finding an appropriate venue."
Institute of New Economic Thinking
Jan Trinder
conferenceoffice@chch.ox.ac.uk
01865 276174
www.chch.ox.ac.uk/conferences

Sir Michael Dummett Lecture Theatre

Purpose-built accessible lecture theatre with fixed tiered seating and writing tablets - 120 (100 fixed seating + 20 additional chairs). There is also a small 'Green Room' behind the lecture theatre which can be used as an office. Dimensions: 6.5m x 16m.

Facilities

Built-in AV, Lectern with fixed microphone, 3 x wireless microphones, 2 x clip-on microphones, Air-conditioned, Hearing loop

Accessibility

Ground floor with no steps.

Available

Vacation

Sir Michael Dummett Exhibition Space

Part of the complex, the Exhibition Space is adjacent to the Lecture Theatre and used as a breakout room for refreshments or to display marketing material when booked with the Lecture Theatre. It has large glass doors which lead out to the patio and stone seating area. Dimensions: 6.5m x 10.5m.

Facilities

Fixed water cooler, Multi-purpose room

Accessibility

Ground floor with no steps.

Available

Vacation

Lecture Room 1

Theatre 30

Classroom 18

Boardroom 22

U-shape 18

Ground floor small Lecture Room with character overlooking Tom Quad. Flexible seating and tables. Dimensions: 6.9m x 4.7m.

Facilities

Built-in AV, Water cooler

Accessibility

Ground floor, Accessible with use of a ramp (2 steps).

Available

Vacation

Lecture Room 2

Theatre 50

Classroom 16

Boardroom 22

U-shape 18

Lecture Room with large windows overlooking the cloisters and Tom Quad. Flexible seating and tables. Dimensions: 8.4m x 5.6m.

Facilities

Built-in AV, Lectern, Water cooler

Accessibility

Ground floor, Accessible with use of a ramp (2 steps).

Available

Vacation

McKenna Room

Dining 55

Buffet 60

Theatre 60

Classroom 28

Boardroom 34

U-shape 31

An attractive and spacious room with oil paintings and fire place. A multi-purpose room that can be used as a dining room or meeting space weekdays during term time or as a meeting space in late August and September. Minimum numbers for dining are 20 people. Dimensions: 10.2m x 7.8m.

Facilities

Lectern, Multipurpose room

Accessibility

Lift to Ante-Hall, few steps into room.

Available

Term & Vacation

Dodgson Room

Traditional college room with paintings and a grandfather clock. Dimensions: 9.0m x 5.1m

Facilities

Accessibility

Ground Floor (two steps up), ramp available for wheelchair.

Available

Vacation

Keene Room

Traditional college room with paintings. Dimensions: 4.9m x 9.6m.

Facilities

Accessibility

Exterior stone steps at front of building and staircase to meeting room; no lift access.

Available

Vacation

Peck 9.02

Theatre 23

Classroom 12

Boardroom 12

Peckwater Seminar Rooms. Three ground floor small Seminar Rooms, recently refurbished. Flexible seating and tables. Peck 9.02 dimensions: 5.60m x 5.60m

Facilities

Built-in AV, Webcam & Speakers

Accessibility

Accessible with the use of a ramp (2 steps).

Available

Vacation

Peck 9.03

Theatre 20

Classroom 10

Boardroom 12

Peckwater Seminar Rooms. Three ground floor small Seminar Rooms, recently refurbished. Flexible seating and tables. Peck 9.03 dimensions: 6.40m x 5.60m

Facilities

Built-in AV, Webcam & Speakers

Accessibility

Accessible with the use of a ramp (2 steps).

Available

Vacation

Peck 9.06

Theatre 22

Classroom 12

Boardroom 12

Peckwater Seminar Rooms. Three ground floor small Seminar Rooms, recently refurbished. Flexible seating and tables. Peck 9.06 dimensions: 4.80m x 4.60m

Facilities

Built-in AV, Webcam & Speakers

Accessibility

Accessible with the use of a ramp (2 steps).

Available

Vacation

Music Room

Theatre 40

Classroom 24

Boardroom 22

U-shape 20

Spacious room with wooden flooring off Tom Quad with flexible seating and tables. Dimensions: 7.9m x 6,6m.

Facilities

Multi-purpose room

Accessibility

Ground floor, two steps up.

Available

Vacation

Old Library 1

Seminar room ideal for small groups with flexible seating and tables facing onto Meadows Building. Dimensions: 5.4m x 4.6m.

Facilities

Accessibility

Stairs to room.

Available

Vacation

Old Library Seminar Rooms

Small seminar rooms, available during the summer vacation only, have been converted from student bedrooms, with flexible seating and tables. All the rooms are located within the Old Library block and can also be used as an office. Average dimensions: 4.5m x 4.2m.

Facilities

Accessibility

Stairs to all rooms.

Available

Vacation

Hall

The Tudor dining Hall, one of the largest in Oxford, with notable stained glass, hammer beam roof and portrait collection. Delegates can enjoy breakfast, lunch and dinner in the Hall during their stay. It is a shared space with all other guests and separate tables will be reserved for each group. An additional fee for exclusive use of Hall is £5.000.

Facilities

Lectern, microphone and roving microphone available for speeches

Accessibility

Lift access.

Available

Vacation

The Buttery Bar

The Buttery Bar functions as a bar and wine cellar and is frequently used by guests dining in the McKenna Room, to enjoy a drink beforehand. During Term, receptions in the Buttery start at 7.30pm to fit with our student dining. During vacation, Conferences and Summer Schools can request the Buttery be open to enjoy a drink before or after dinner in the Great Hall.

Facilities

Accessibility

Lift access.

Available

Term & Vacation

The Ante-Hall and Hall Staircase

The Ante-Hall is a spacious area at the top of a magnificent stone staircase and it is used for large drinks receptions before dining in the Great Hall.

Facilities

Accessibility

Lift access.

Available

Vacation

Undercroft Bar

The Undercroft is a renovated cellar bar. It can be used as a communal space for Conferences and Summer Schools to have a drink before or after dinner, but can also be booked by groups for a private reception.

Facilities

Juke Box and two TV screens.

Accessibility

Step free access

Available

Vacation

Research Centre

Theatre 100

Classroom 45

Boardroom 20

Cabaret 93

U-shape 44

The modern accessible Research Centre boasts a spacious lecture room with exposed beams and views across The Meadow. The room also has an adjoining fully equipped catering area. Traditional building forms and materials have been used in the construction to integrate the new and existing early 19th Century Thatched Barn within the rural setting. Dimensions: 15.6m x 7.8m (meeting area) & 9.6m x 6.2m (catering area).

Facilities

Built-in AV

Accessibility

Step free access

Available

Vacation