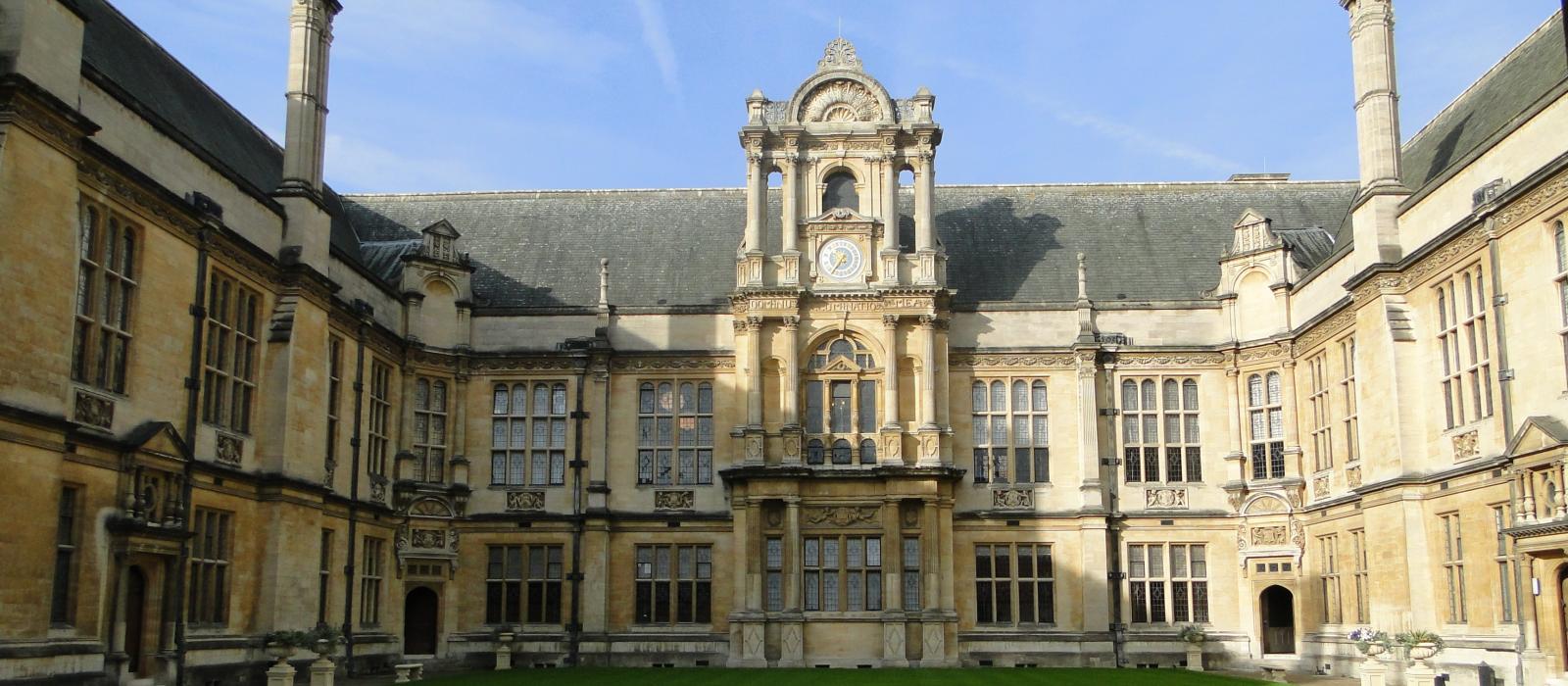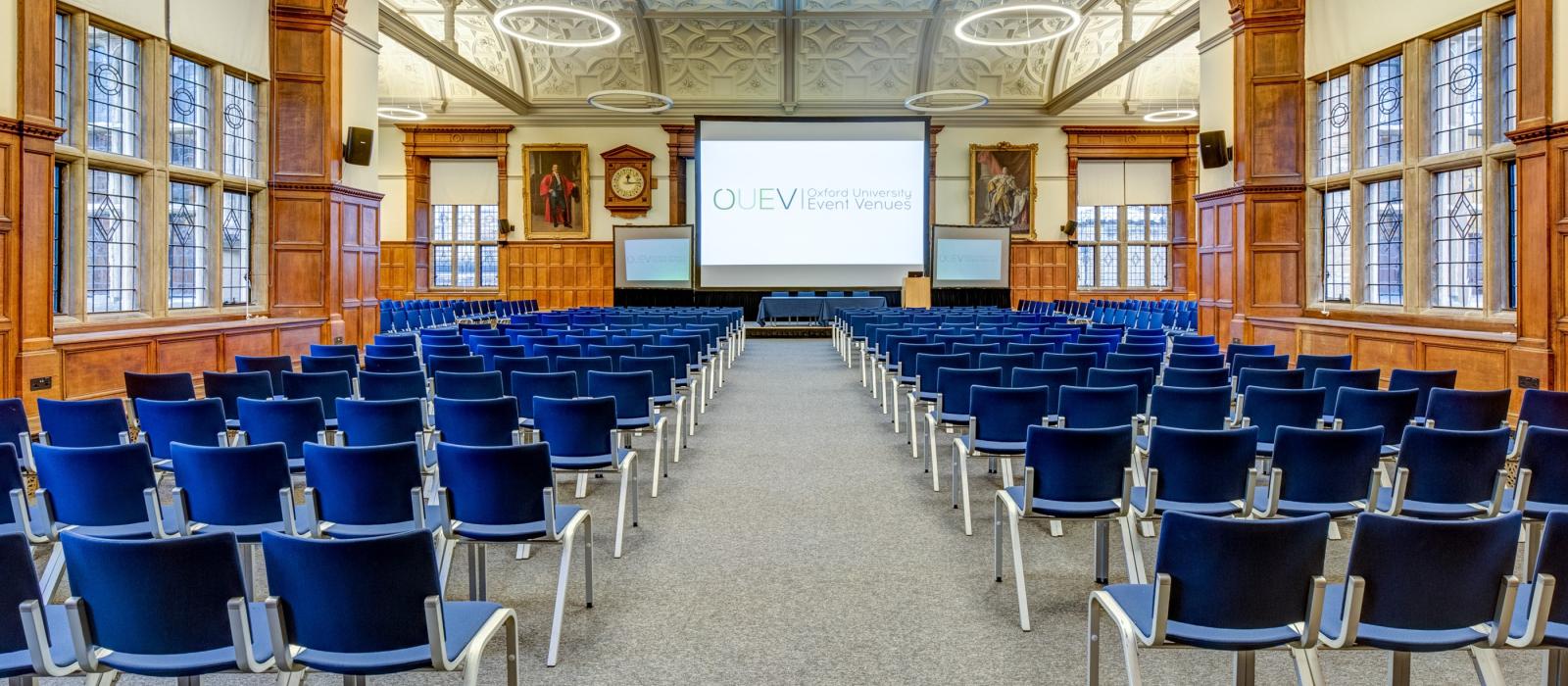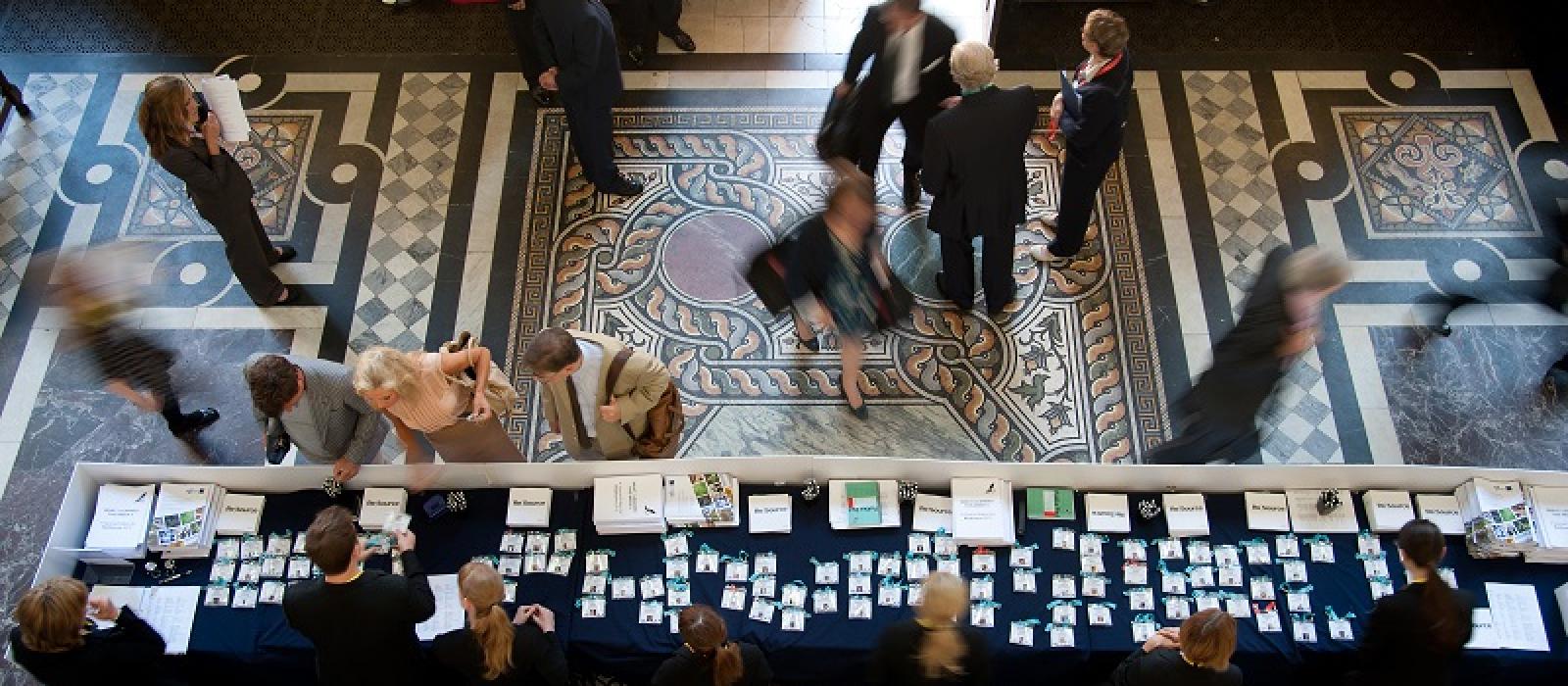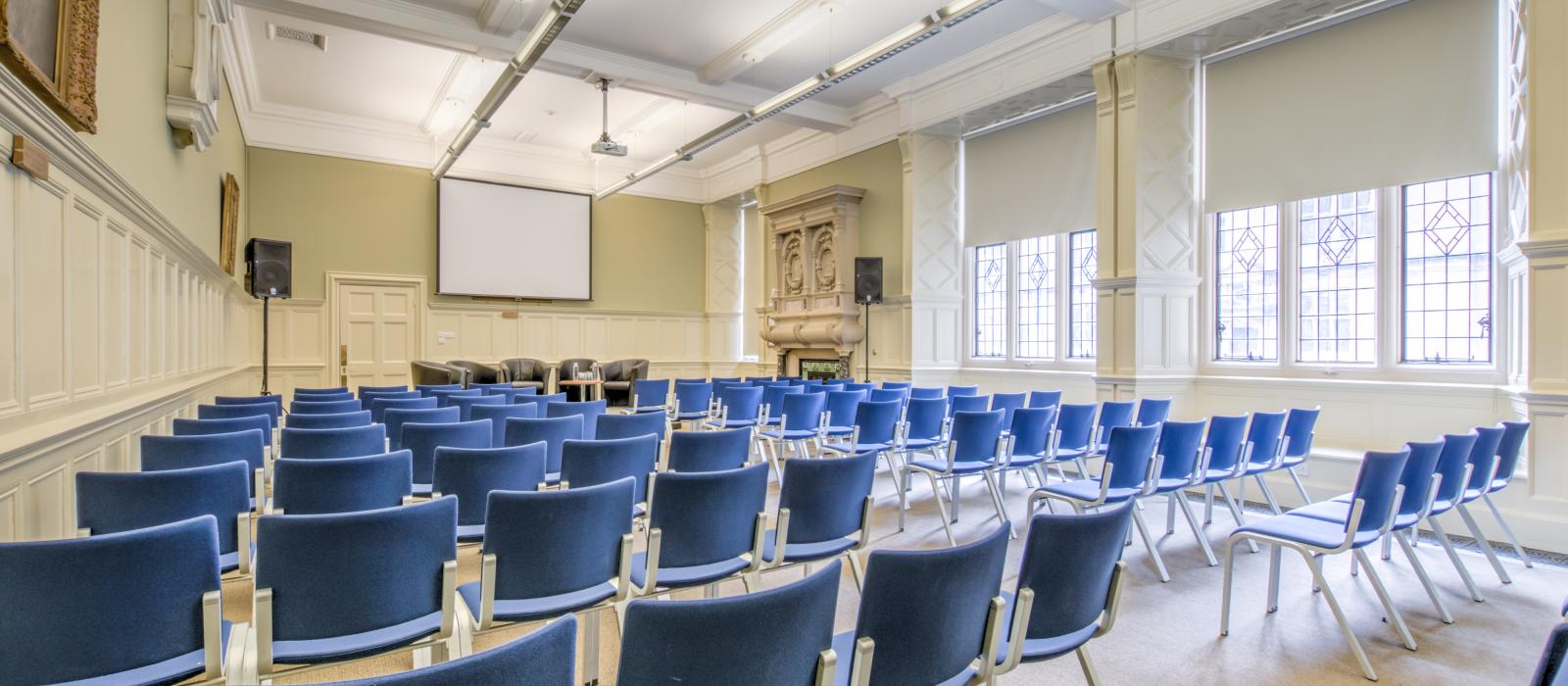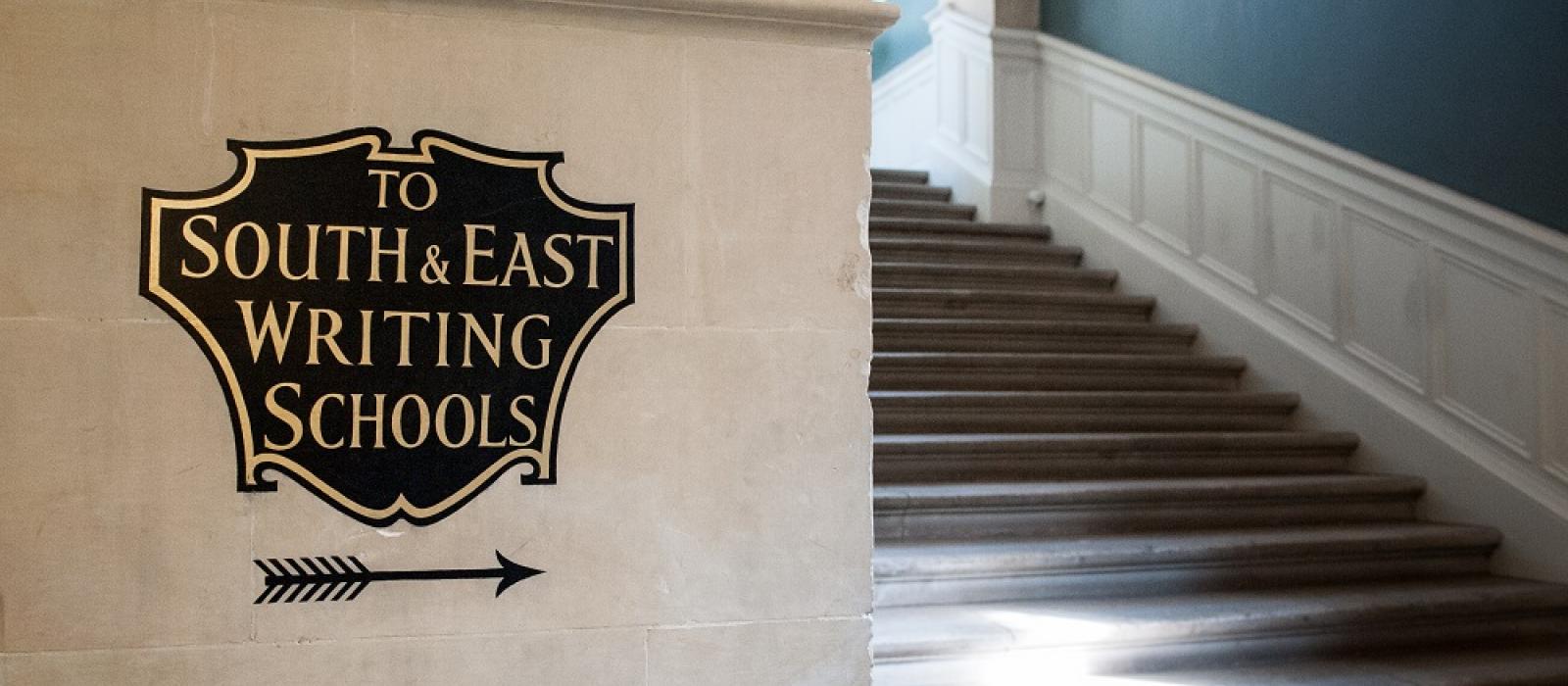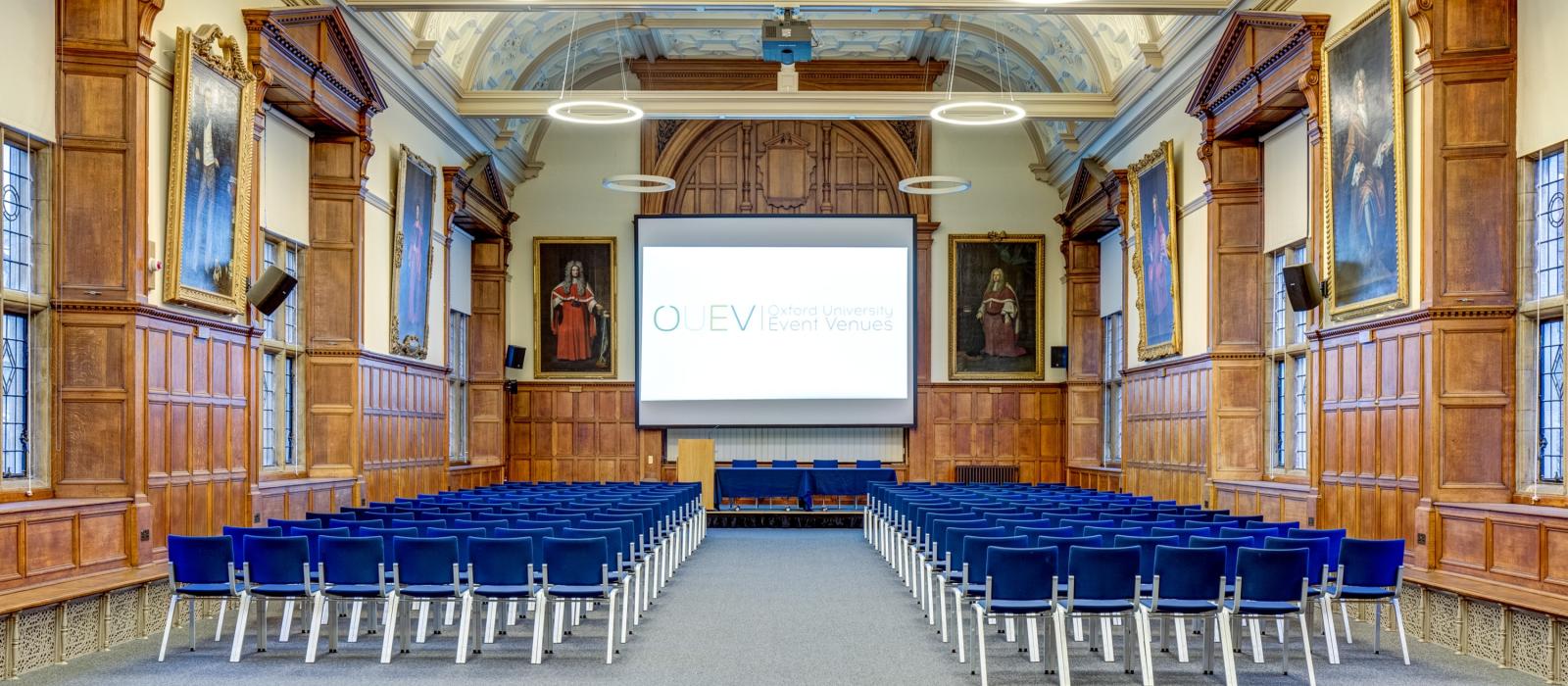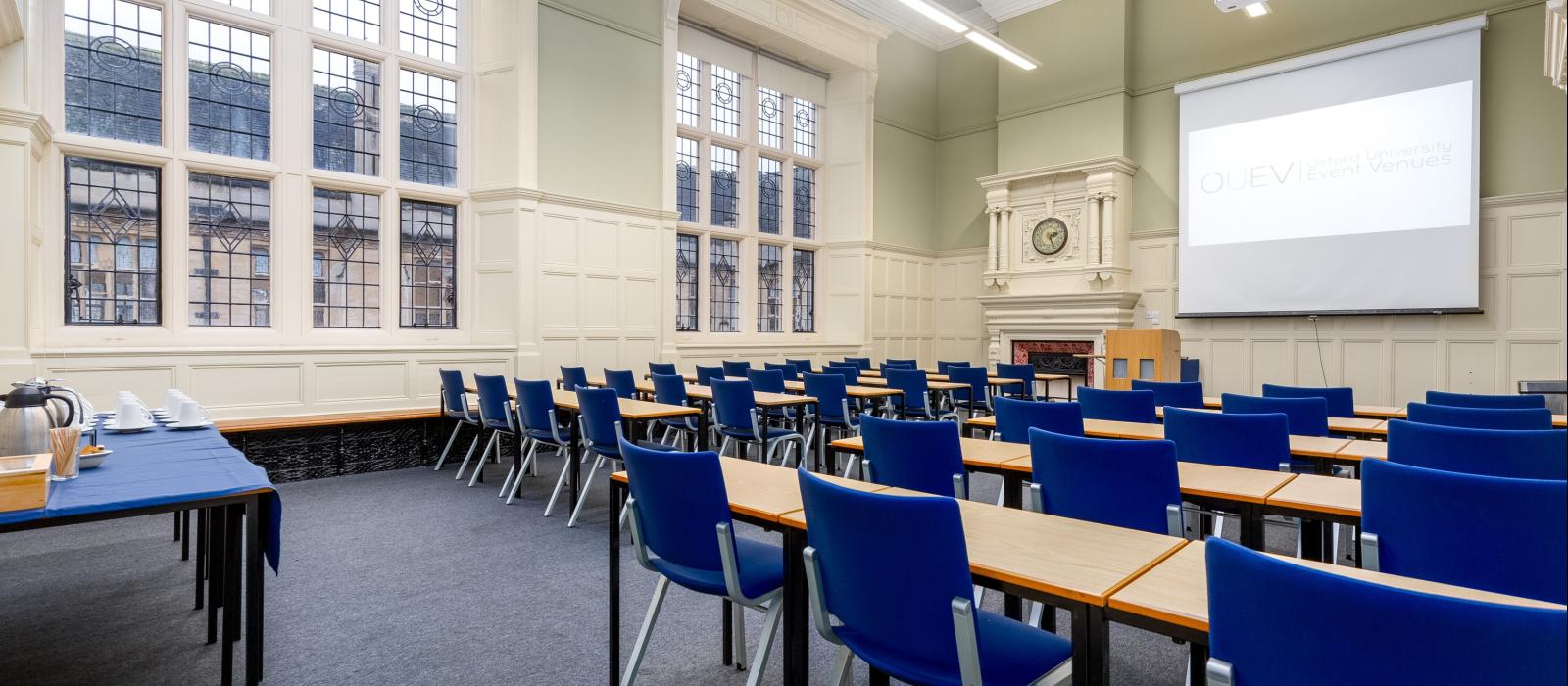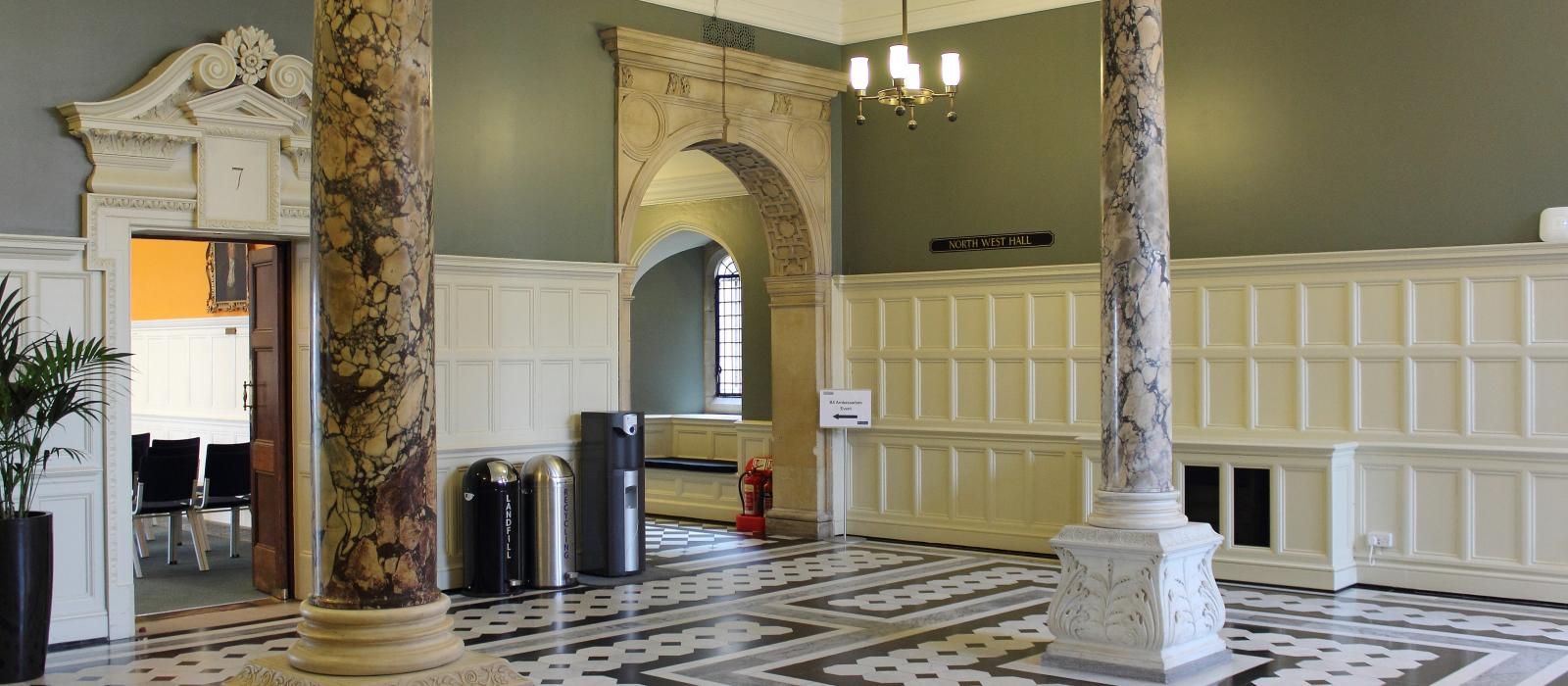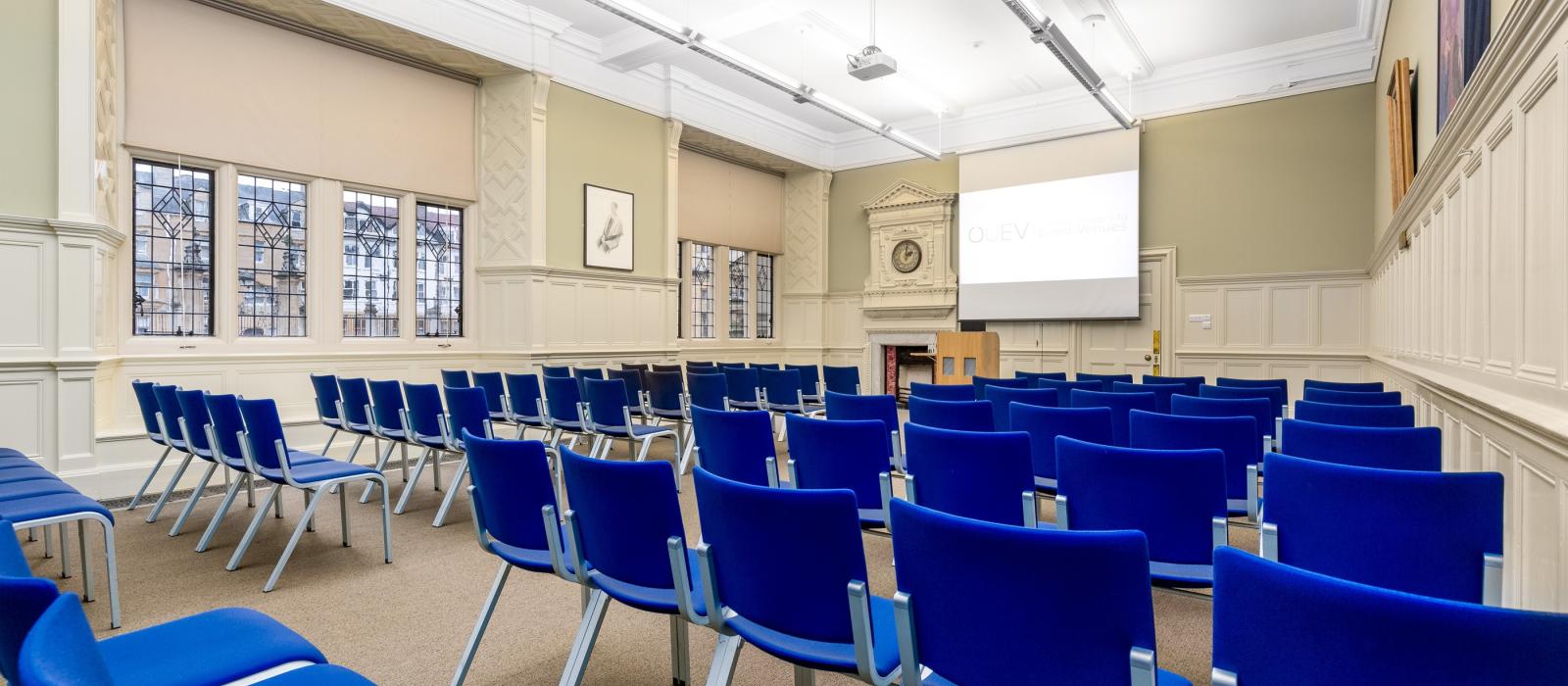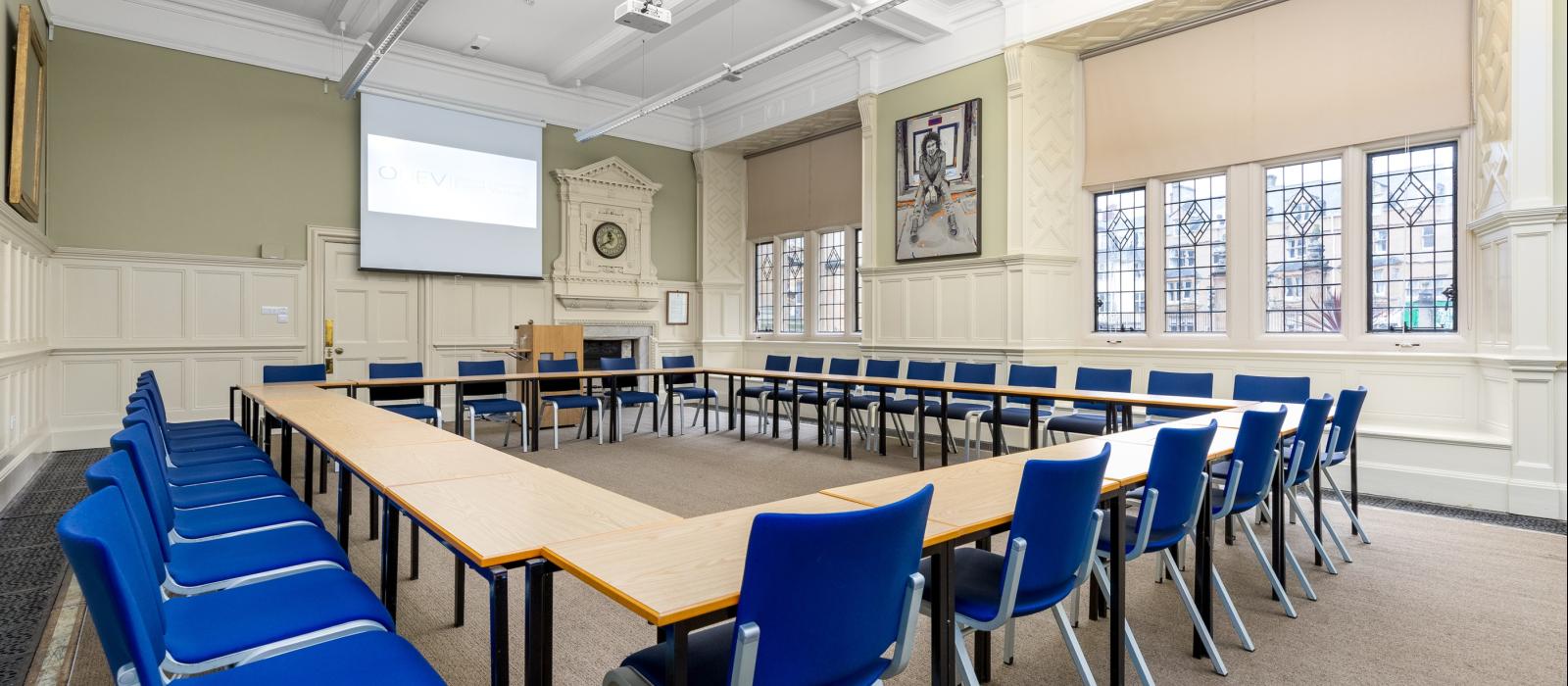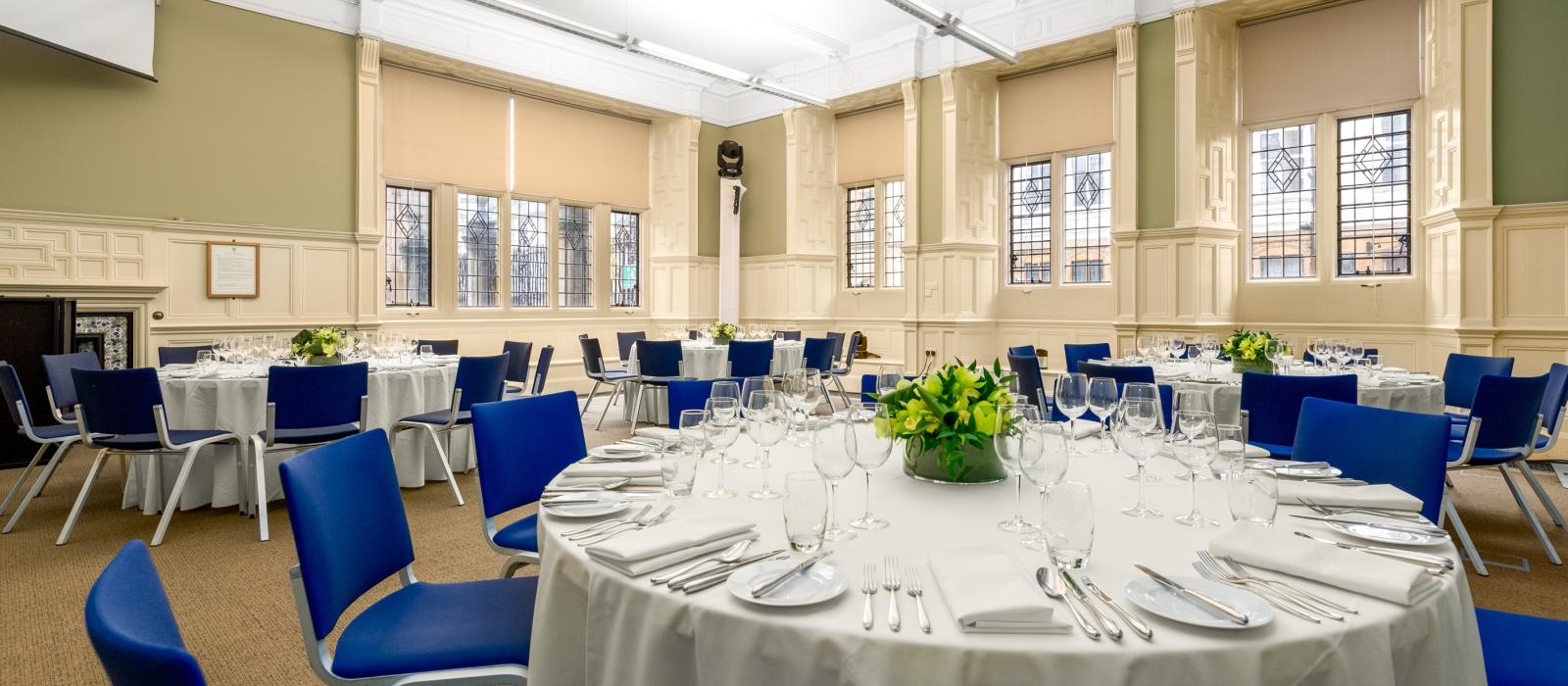 The Examination Schools is Oxford's largest city centre event venue.  The Grade II listed building was designed by Sir Thomas Jackson and constructed in the late 1880s to house the University of Oxford's examinations. Whilst still used for this purpose today, this historical space boasts 12,000m2 of floor space and a range of stunning original features.
The venue is ideally appointed for large events such as conferences, symposiums, exhibitions, fairs, dinners and functions. There is also a range of smaller spaces suiting day meetings, workshops and training courses.  We are experienced in a wide range of academic, corporate, association and leisure events.
To see more of the venue, view our venue guide video here.
The Examination Schools is part of the Oxford University Event Venues portfolio which also includes the Sheldonian Theatre, St Luke's Chapel and Osler House.
Examination Schools
75 - 81 High St, Oxford OX1 4BG
16 meeting spaces with capacity for up to 440 guests for Dining, Buffet, Theatre, Classroom, Cabaret, Boardroom, and U-shape functions.
Bedrooms 0
Ensuite 0
Standard 0
Breakfast yes
Lunch yes
Dinner yes
"Conference Oxford have been of great help to us - much appreciated."
Society for the History of Astronomy
Oxford University Event Venues
venueenquiries@admin.ox.ac.uk
01865 276 905
www.venues.ox.ac.uk
North Writing School

Dining 330

Buffet 330

Theatre 330

Classroom 330

Cabaret 120

Situated at the top of a sweeping marble staircase on the first floor, it is one of the primary conference rooms and comfortably seats 330 theatre style. It has a beautifully ornate ceiling with wood-panelled walls. Some of the unique features of the room include the vice-chancellor's throne seat. Above the seat is a beautifully decorated sounding board.

Facilities

Built-in projector, laptop and screen. PA system with a range of microphone options. Wifi coverage available.

Accessibility

Full disabled access via a lift

Available

Term & Vacation

South Writing School

Dining 360

Buffet 440

Theatre 440

Cabaret 186

The South Schools, situated at the top of a sweeping central marble staircase, is the primary conference room, and comfortably seats 440 theatre style. The room is 'T' shaped, which means it is suited to a variety of presentation styles. It has a beautifully ornate ceiling with wood-panelled walls. The meeting room is often used in conjunction with the North Writing School for catering purposes. It is situated on the first floor.

Facilities

Built-in projector, laptop and screen. PA system with a range of microphone options. Wifi coverage available.

Accessibility

Full disabled access via a lift.

Available

Term & Vacation

East Writing School

Buffet 60

Theatre 160

Classroom 160

Boardroom 32

Cabaret 126

U-shape 24

The East School is a rectangular meeting room located on the first floor, comfortably seating 160 theatre style. It has a beautifully ornate ceiling with wood-panelled walls.

Facilities

Built-in projector, laptop and screen. Wifi coverage available.

Accessibility

Full disabled access.

Available

Term & Vacation

Quad

Dining 330

Buffet 280

Theatre 300

Classroom 150

Boardroom 45

Cabaret 180

Providing a beautiful side view of the building with its ornate clock tower, the quad provides an attractive outside space. Part gravelled, part grass, the gravel area can have marquees erected on it providing additional meeting room or dining room space for big conferences.

Facilities

Ability to put a marquee on the gravelled area of the quad.

Accessibility

Available

Term & Vacation

Room 1

Buffet 75

Theatre 75

Classroom 62

Boardroom 32

Cabaret 35

U-shape 24

Available: Term and vacation Light, spacious room with adjustable window blinds located on the first floor. Flexible layout as all furniture is moveable. Flipchart, whiteboards and plasma screens can be provided.

Facilities

Built-in projector, laptop and screen. Wifi coverage available.

Accessibility

Full disabled access via a lift.

Available

Term & Vacation

Room 2

Buffet 60

Theatre 60

Classroom 47

Boardroom 24

Cabaret 35

U-shape 18

Light, spacious room with adjustable window blinds located on the first floor. Flexible layout as all furniture is moveable. Flipchart, whiteboards and plasma screens can be provided.

Facilities

Built-in projector, laptop and screen. Wifi coverage available.

Accessibility

Full disabled access via a lift.

Available

Term & Vacation

Room 5A

Light, spacious room with adjustable window blinds located on the ground floor. Flipchart, whiteboards and plasma screens can be provided.

Facilities

Built-in projector, laptop and screen, Wifi coverage available.

Accessibility

Full disabled access.

Available

Term & Vacation

Room 6

Dining 36

Buffet 100

Theatre 100

Classroom 71

Boardroom 32

Cabaret 42

U-shape 24

Light, spacious room with adjustable window blinds located on the ground floor. Flexible layout as all furniture is moveable. Flipchart, whiteboards and plasma screens can be provided.

Facilities

Built-in projector, laptop and screen. Wifi coverage available.

Accessibility

Full disabled access.

Available

Term & Vacation

Room 7

Dining 36

Buffet 75

Theatre 75

Classroom 68

Boardroom 32

Cabaret 42

U-shape 24

Light, spacious room with adjustable window blinds located on the ground floor. Flexible layout as all furniture is moveable. Flipchart, whiteboards and plasma screens can be provided.

Facilities

Built-in projector, laptop and screen. Wifi coverage available.

Accessibility

Full disabled access.

Available

Term & Vacation

Room 8

Buffet 45

Theatre 45

Classroom 37

Boardroom 18

Cabaret 21

U-shape 12

Light, spacious room with adjustable window blinds located on the ground floor. Flexible layout as all furniture is moveable. Flipchart, whiteboards and plasma screens can be provided.

Facilities

Laptop and plasma screen. Wifi coverage available.

Accessibility

Full disabled access.

Available

Term

Room 9

Dining 36

Buffet 75

Theatre 75

Classroom 67

Boardroom 32

Cabaret 42

U-shape 24

Light, spacious room with adjustable window blinds located on the ground floor. Flexible layout as all furniture is moveable. Flipchart, whiteboards and plasma screens can be provided.

Facilities

Built-in projector, laptop and screen. Wifi coverage available.

Accessibility

Full disabled access.

Available

Term & Vacation

Room 10

Buffet 60

Theatre 60

Classroom 53

Boardroom 24

Cabaret 35

U-shape 18

Light, spacious room with adjustable window blinds located on the ground floor. Flexible layout as all furniture is moveable. Flipchart, whiteboards and plasma screens can be provided.

Facilities

Built-in projector, laptop and screen. Wifi coverage available.

Accessibility

Full disabled access.

Available

Term & Vacation

Room 11

Buffet 70

Theatre 70

Classroom 60

Boardroom 32

Cabaret 42

U-shape 42

Light, spacious room with adjustable window blinds located on the ground floor. Flexible layout as all furniture is moveable. Flipchart, whiteboards and plasma screens can be provided

Facilities

Built-in projector, laptop and screen. Wifi coverage available.

Accessibility

Full disabled access.

Available

Term & Vacation

Room 12

Theatre 20

Classroom 20

Boardroom 12

U-shape 9

Light, spacious room with adjustable window blinds located on the ground floor. Flexible layout as all furniture is moveable. Flipchart, whiteboards and plasma screens can be provided.

Facilities

Laptop and plasma screen. Wifi coverage available.

Accessibility

Full disabled access.

Available

Term & Vacation

Room 14

Buffet 65

Theatre 65

Classroom 65

Boardroom 24

Cabaret 35

U-shape 18

Light, spacious room with adjustable window blinds located on the ground floor. Flexible layout as all furniture is moveable. Flipchart, whiteboards and plasma screens can be provided.

Facilities

Built-in projector, laptop and screen. Wifi coverage available.

Accessibility

Full disabled access.

Available

Term & Vacation

Room 15

Dining 36

Buffet 75

Theatre 75

Classroom 63

Boardroom 24

Cabaret 42

U-shape 18

Light, spacious room with adjustable window blinds located on the ground floor. Flexible layout as all furniture is moveable. Flipchart, whiteboards and plasma screens can be provided.

Facilities

Built-in projector, laptop and screen. Wifi coverage available.

Accessibility

Full disabled access.

Available

Term & Vacation