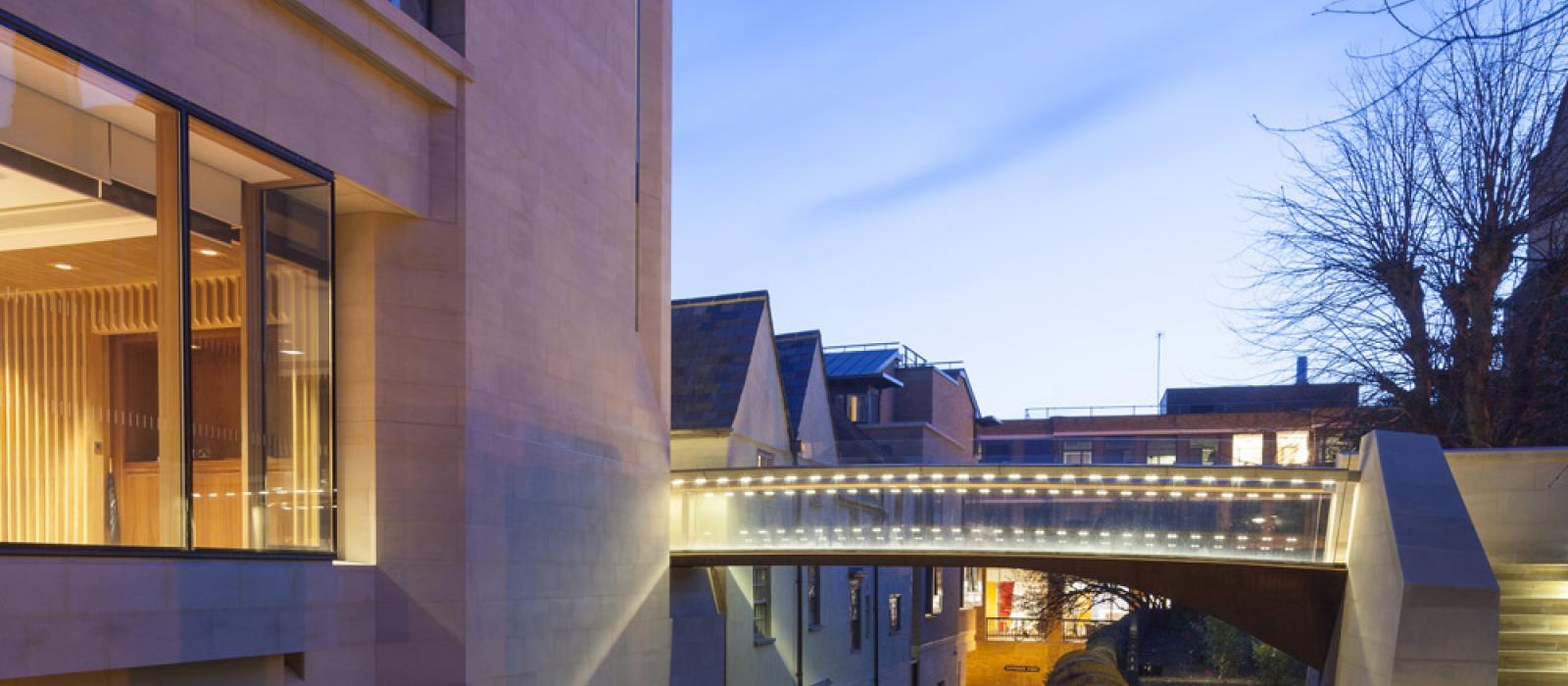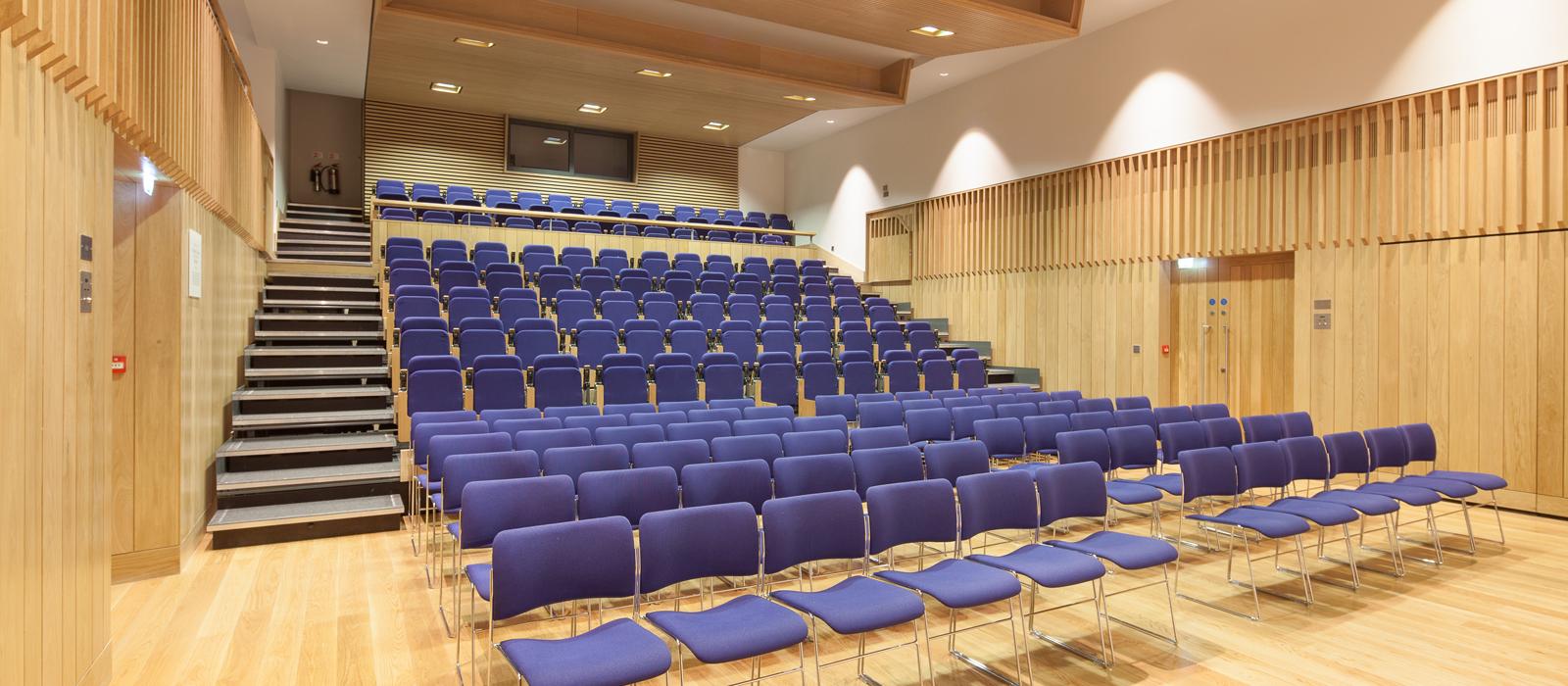 Pembroke College is an inspirational venue right in the heart of Oxford which integrates award-winning modern architecture with beautiful traditional buildings. There is nowhere quite as impressive or cost-effective as Pembroke's state-of-the-art development.

A dramatic addition and transformation of the college's physical site was officially opened by HRH The Duke of Kent KG in April 2013, marking the formal unveiling of new quadrangles and buildings and the first new bridge in the heart of Oxford for nearly 100 years.

Pembroke has expanded its footprint to allow the construction of new buildings and two new quadrangles right in its central Oxford location; an expansion that most thought would be impossible has been realised by an innovative and stunning design. As well as superb en-suite student accommodation, the new buildings provide state-of-the-art seminar and meeting rooms, a multi-purpose auditorium seating up to 170, outdoor social spaces, and a café with trained baristas, all with an abundance of natural daylight and wonderful Oxford college vistas.
Pembroke College
St. Aldates, Oxford OX1 1DW
13 meeting spaces with capacity for up to 170 guests for Dining, Buffet, Theatre, Cabaret, Boardroom, Reception, and Classroom functions.
Bedrooms 281
Ensuite 186
Standard 95
Breakfast yes
Lunch yes
Dinner yes
"Very impressed with the booking system "
Oxfordshire County Council
Vanessa Gouws
conferences@pmb.ox.ac.uk
01865 276484
www.pmb.ox.ac.uk
Pembroke Hall

Built in 1848 and set in Chapel Quad, the dining hall is a fine example of early Victorian Gothic architecture boasting a small cupola and a roof built to the medieval hammer beam design. Soak up the atmosphere of over 150 years of college life.

Facilities

Built in PA system.

Accessibility

Full disabled access

Available

Term & Vacation

Pichette Auditorium

This beautifully crafted, oak panelled auditorium seats up to 170 and also boasts fully retractable seating. The space is therefore completely flexible to suit your requirements.

Facilities

Built in state-of-the-art audiovisual equipment and microphones/PA system, this room has stunning

Accessibility

Full disabled access and accessibility from the road for larger sets etc.

Available

Term & Vacation

Harold Lee Room

Dining 40

Buffet 90

Theatre 70

Boardroom 38

Cabaret 40

Often described as 'the best meeting room in Oxford' the Harold Lee Room is a prestigious location for high level meetings and drinks receptions. The dual aspect floor-to-ceiling windows offer picture perfect views over Chapel Quad and Rokos Quad.

Facilities

Built-in projector and screen, floor-to-ceiling electric blackout blinds, dedicated kitchen facilities.

Accessibility

Full disabled access.

Available

Term & Vacation

Auditorium Foyer & Café

A beautifully light and airy space directly outside the main Pichette Auditorium that can be used as a breakout area or a function space in its own right. This backs onto the new Rokos Quad which, in the sunshine, can be a perfect open-air option for guests to enjoy.

Facilities

Integral plasma screen which can be personalised for large conferences or drinks receptions.

Accessibility

Full disabled access.

Available

Term & Vacation

Allen & Overy Room

Theatre 50

Classroom 20

Boardroom 20

A light and airy room with spectacular views over neighbouring Campion Hall.

Facilities

Integral LCD projector with interactive smart white board.

Accessibility

Full disabled access.

Available

Term & Vacation

Andrew Pitt Room

Theatre 35

Classroom 16

Boardroom 16

Next to the Allen & Overy Room, another light and airy room with spectacular views over neighbouring Campion Hall.

Facilities

Integral LCD projector with interactive smart white board.

Accessibility

Full disabled access.

Available

Term & Vacation

Littlegate Room

Theatre 35

Classroom 16

Boardroom 16

Next to the Andrew Pitt Room, another light and airy room with spectacular views over neighbouring Campion Hall.

Facilities

Integral LCD projector with interactive smart white board.

Accessibility

Full disabled access.

Available

Term & Vacation

Mary Hyde Eccles Room

Theatre 45

Classroom 20

Boardroom 20

Restored to regency style with a view onto the cobbled square and St Aldate's Church, this room is housed in a quiet Quad in the older part of College.

Facilities

Integral LCD projector and natural daylight in secluded setting.

Accessibility

Full disabled access.

Available

Term & Vacation

Mackesy Room

This lovely classic Oxford College room is named after a long-serving former history tutor and has a stunning view overlooking St. Aldate's Church and the renowned Tom Tower.

Facilities

Integral plasma screen with wireless laptop capacity.

Accessibility

No disabled access.

Available

Term & Vacation

Samuel Holt Monk Room

This traditional boardroom would be a very Oxford solution. Coupled with the fact it is opposite the Mary Hyde Eccles Room, it can act as a convenient breakout room.

Facilities

The College can provide a screen and LCD projector free of charge.

Accessibility

Full disabled access.

Available

Term & Vacation

Hester Room

A functional meeting space tucked away in peaceful North Quad.

Facilities

The College can provide a screen and LCD projector free of charge.

Accessibility

No disabled access.,

Available

Term & Vacation

Leung Room

A functional meeting space tucked away in peaceful North Quad.

Facilities

The College can provide a screen and LCD projector free of charge.

Accessibility

No disabled access

Available

Term & Vacation

The Rookery

A functional boardroom situated in Old Quad.

Facilities

Integral plasma screen with wireless laptop capacity.

Accessibility

No disabled access

Available

Term & Vacation