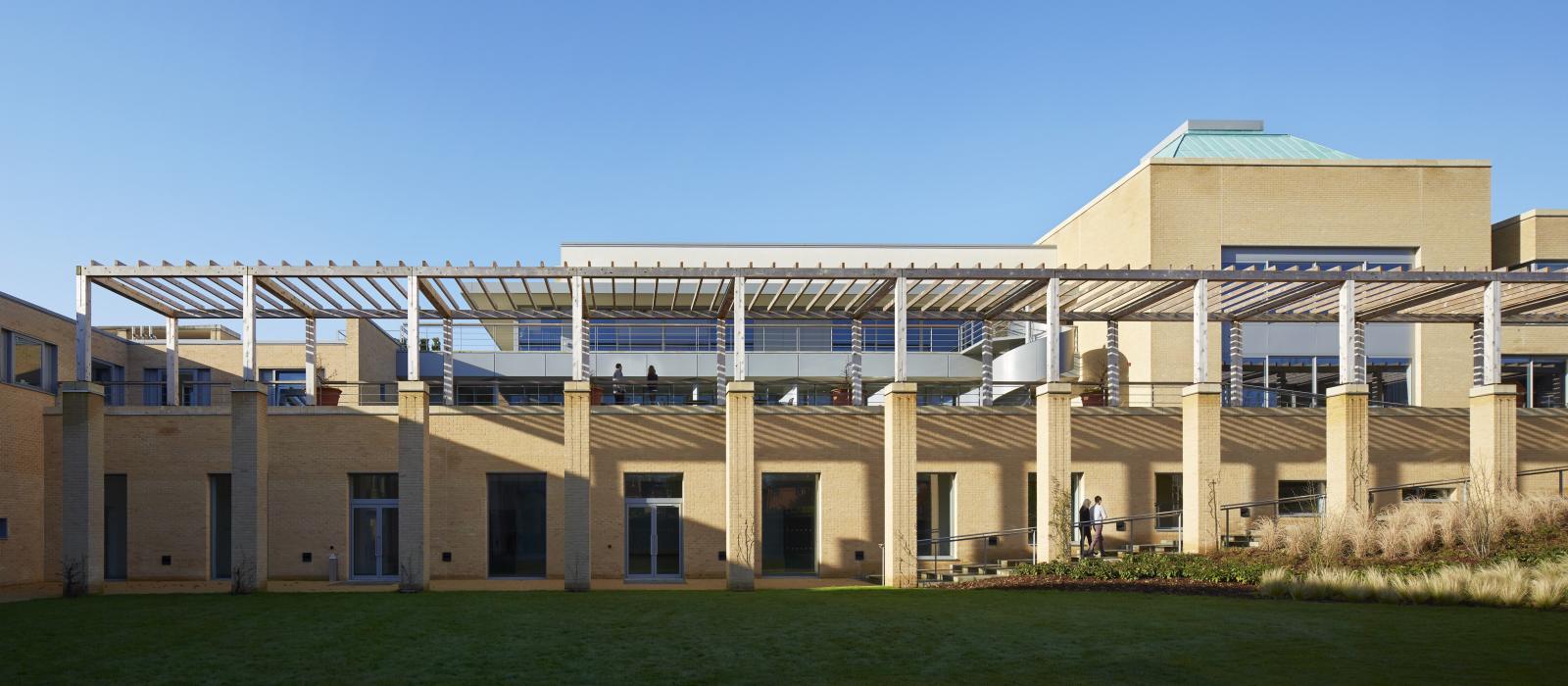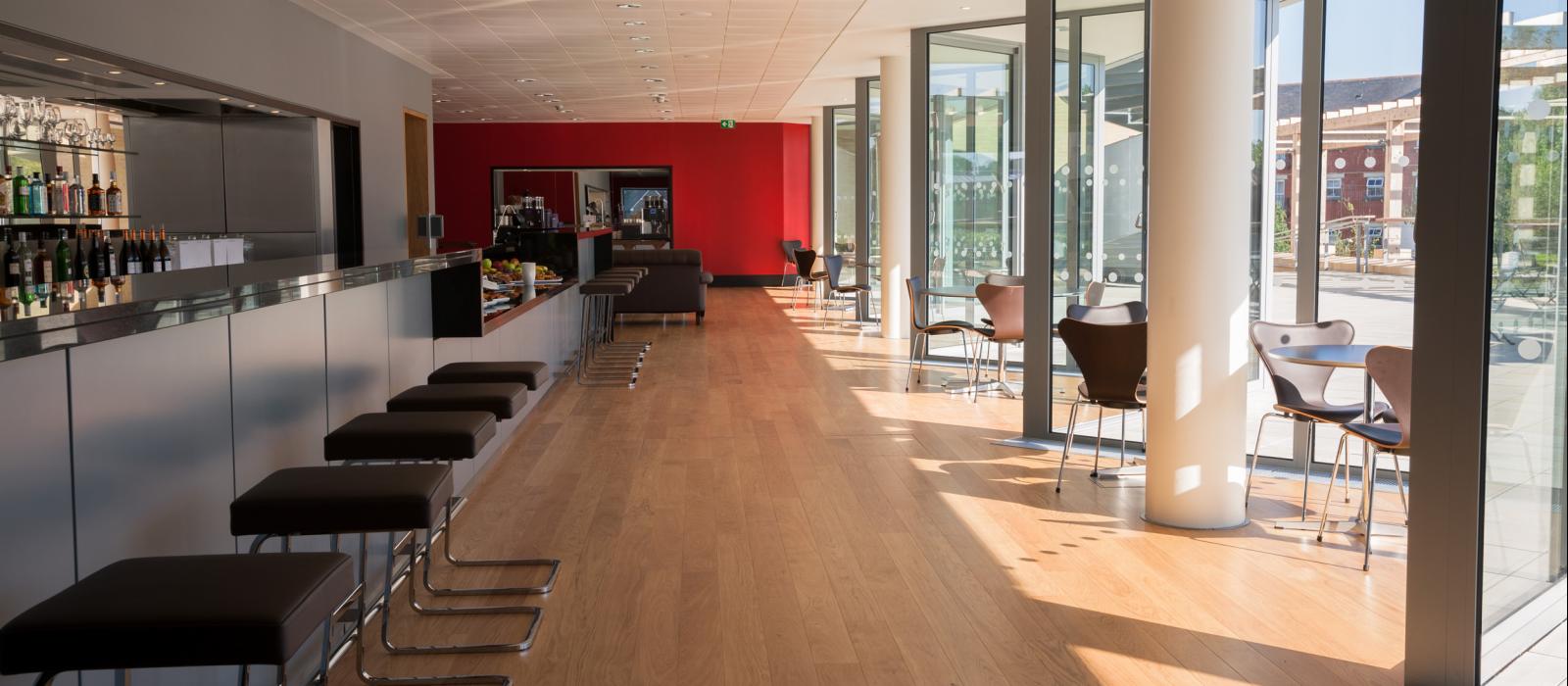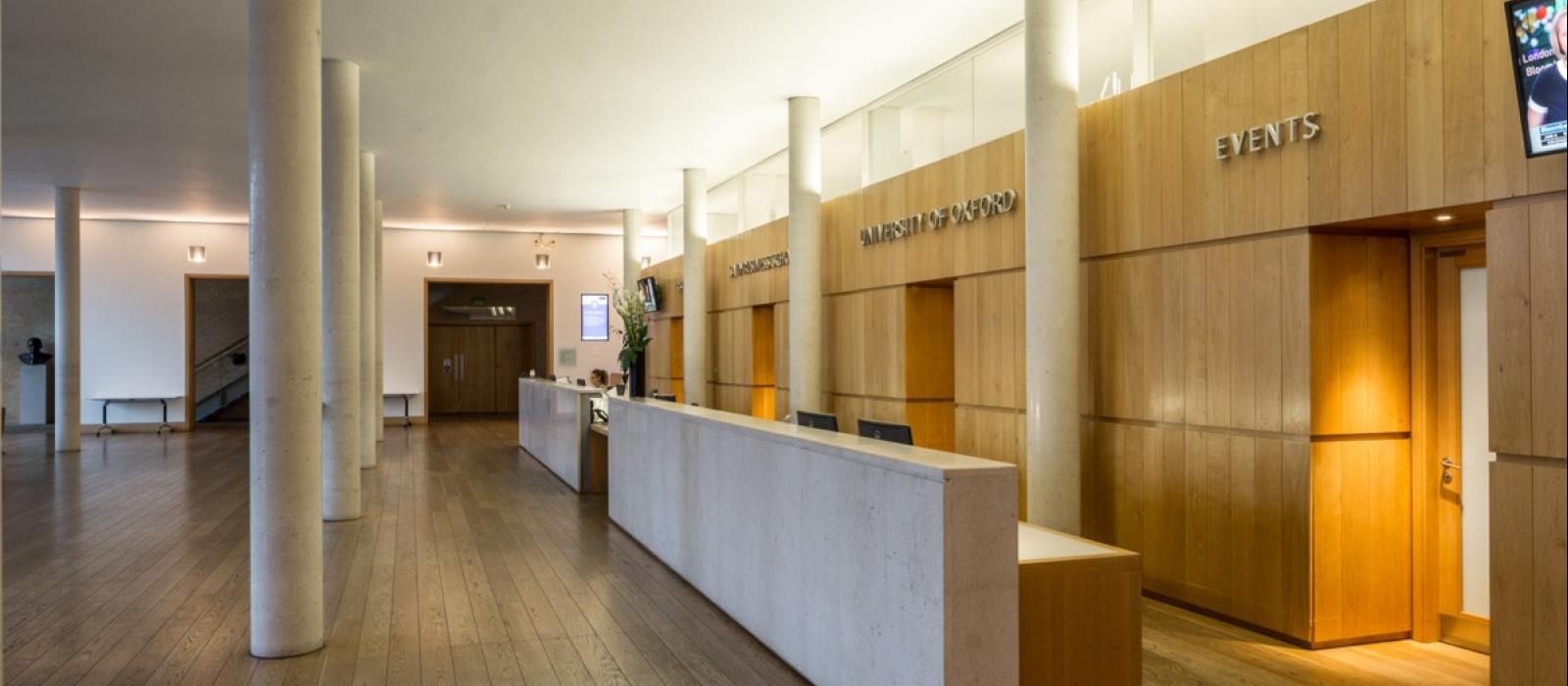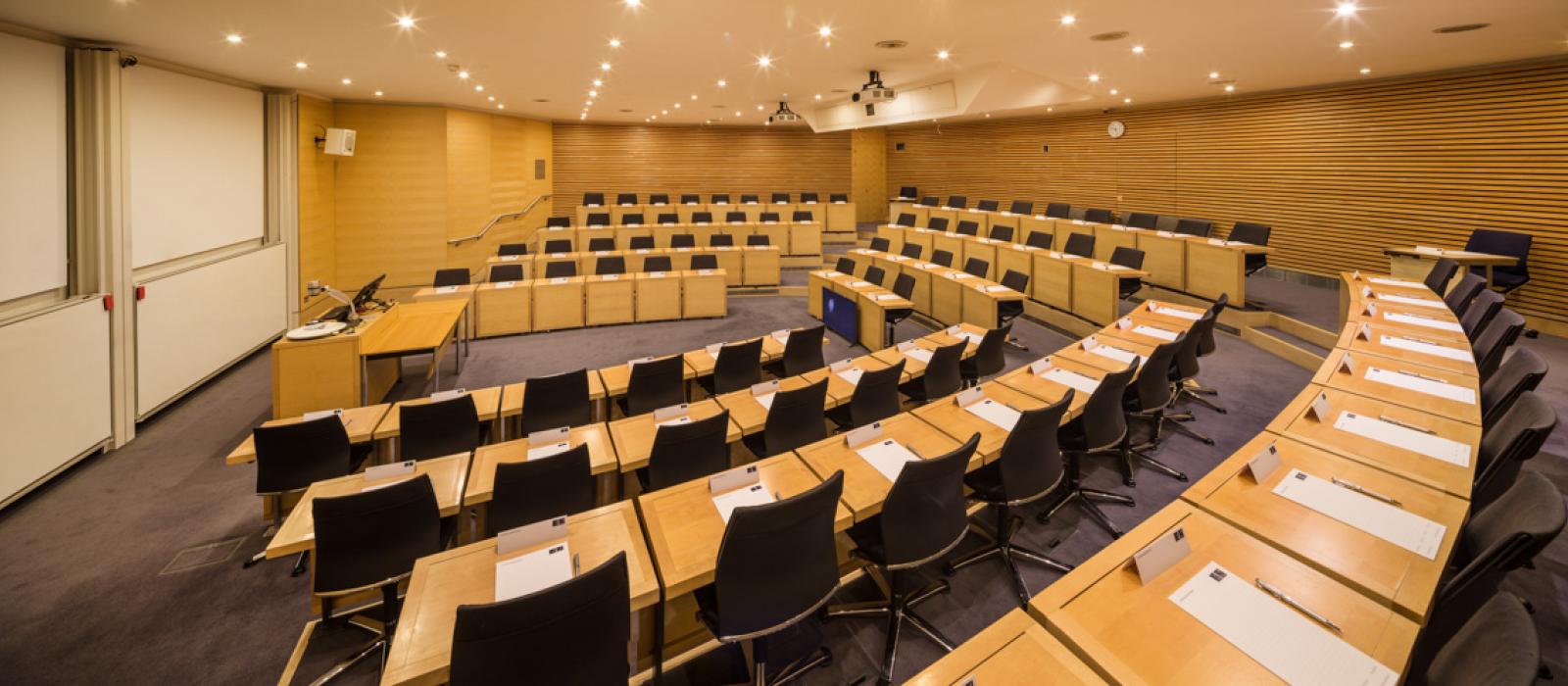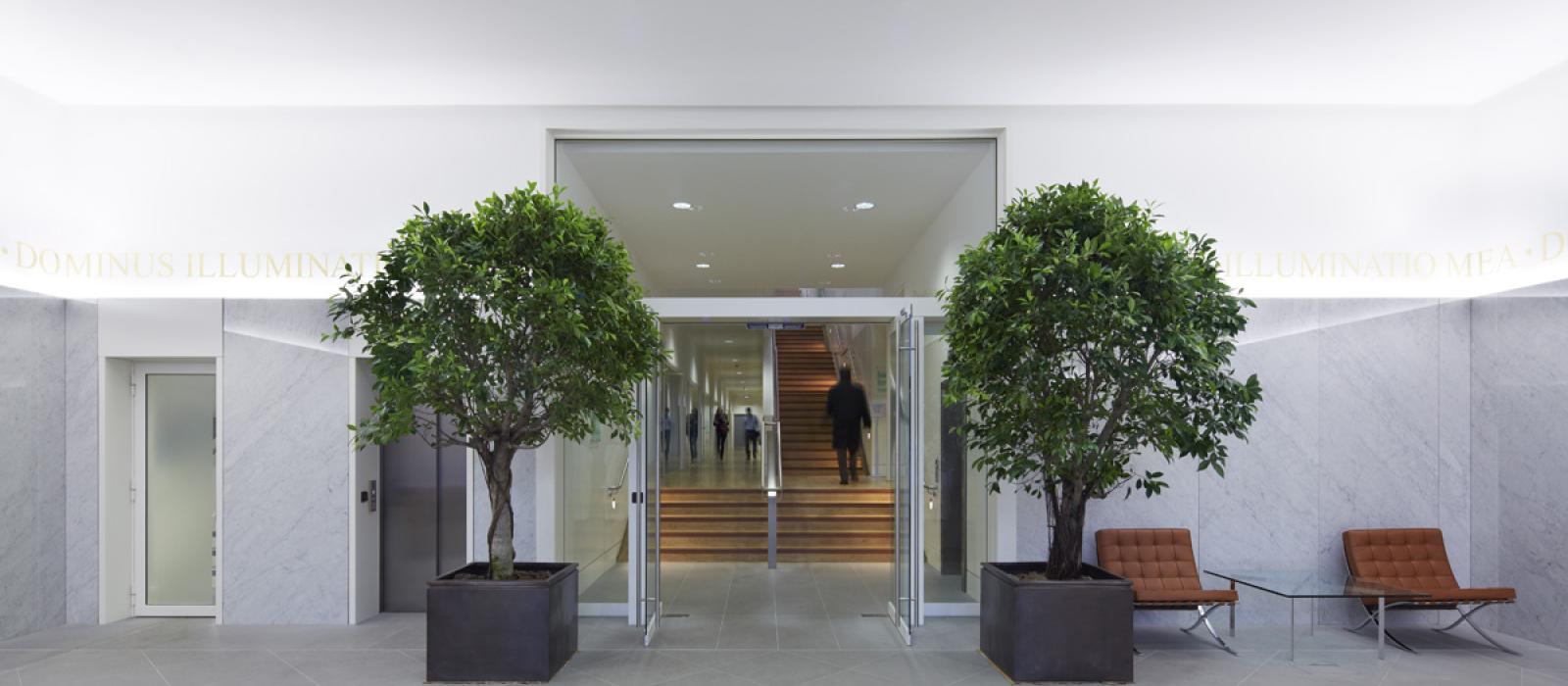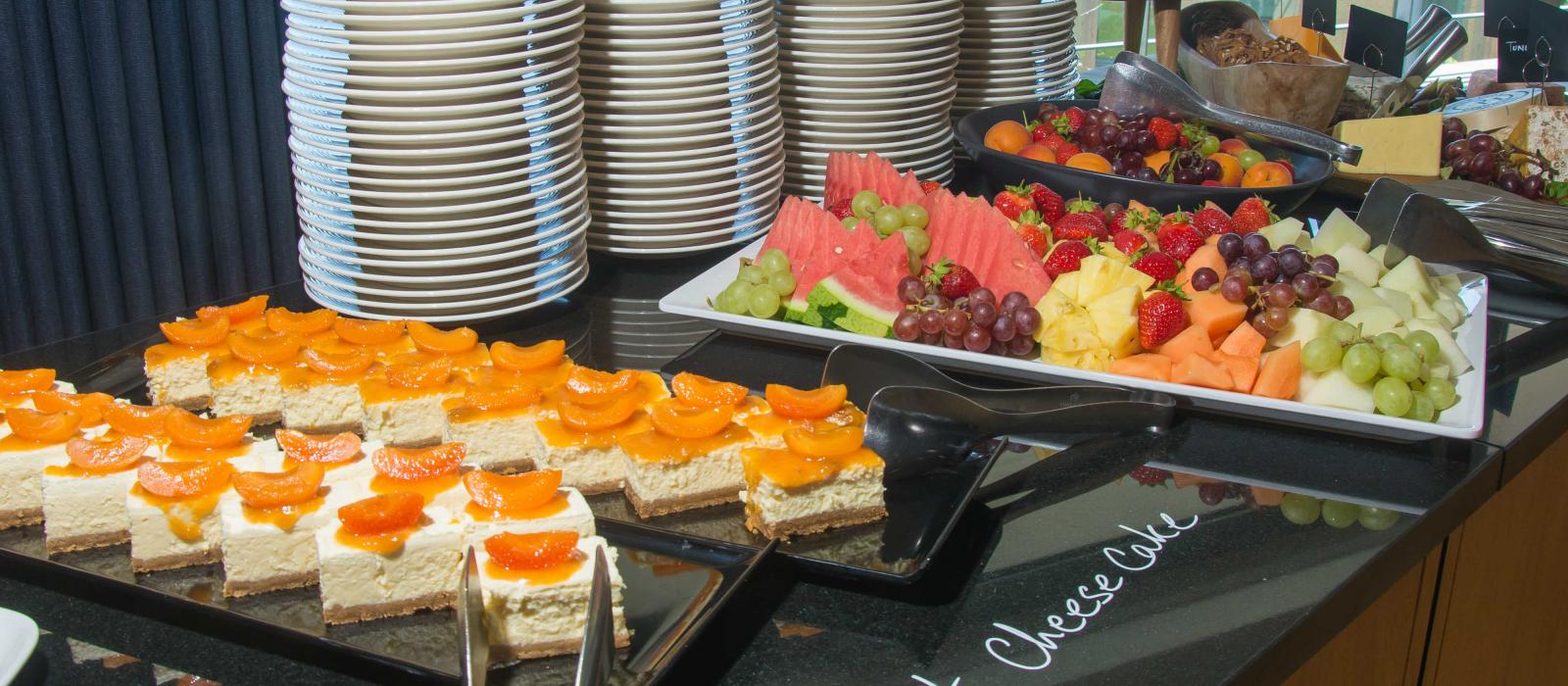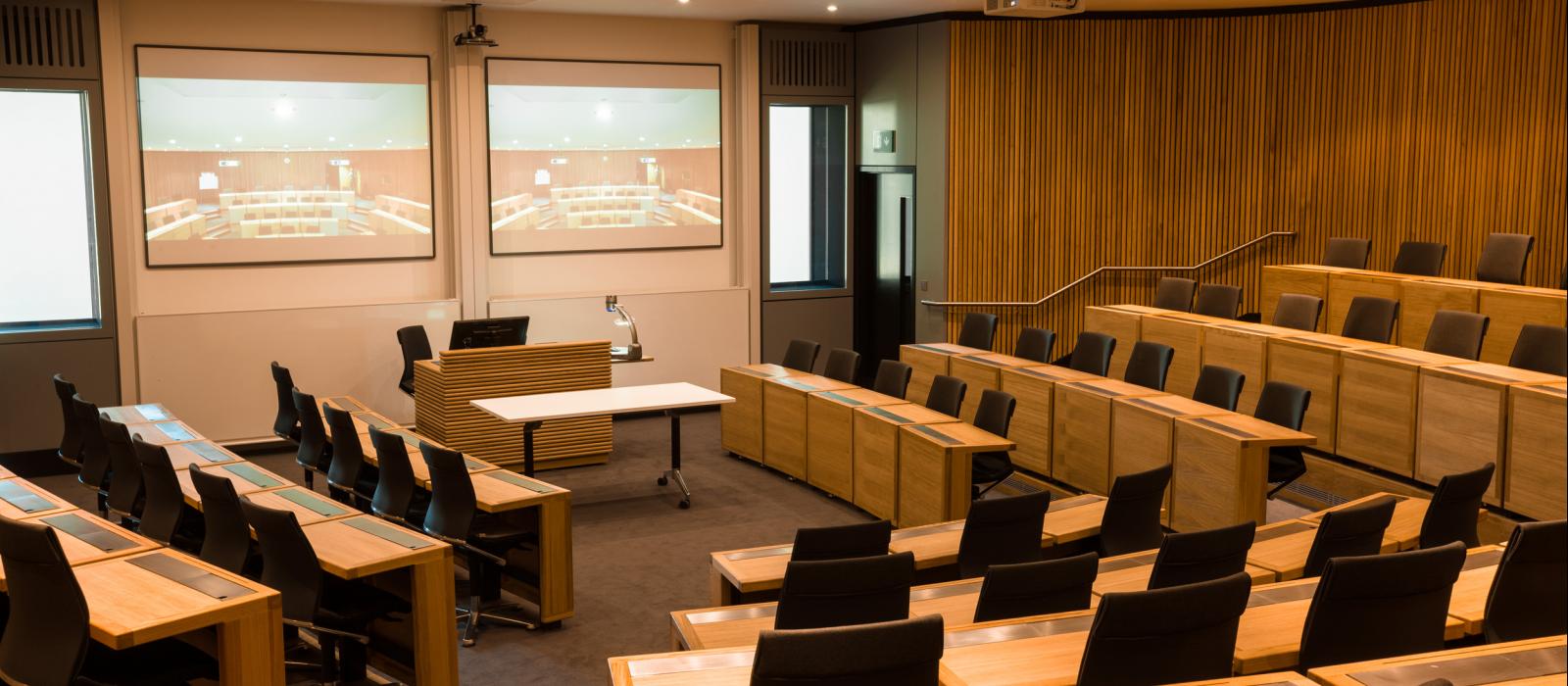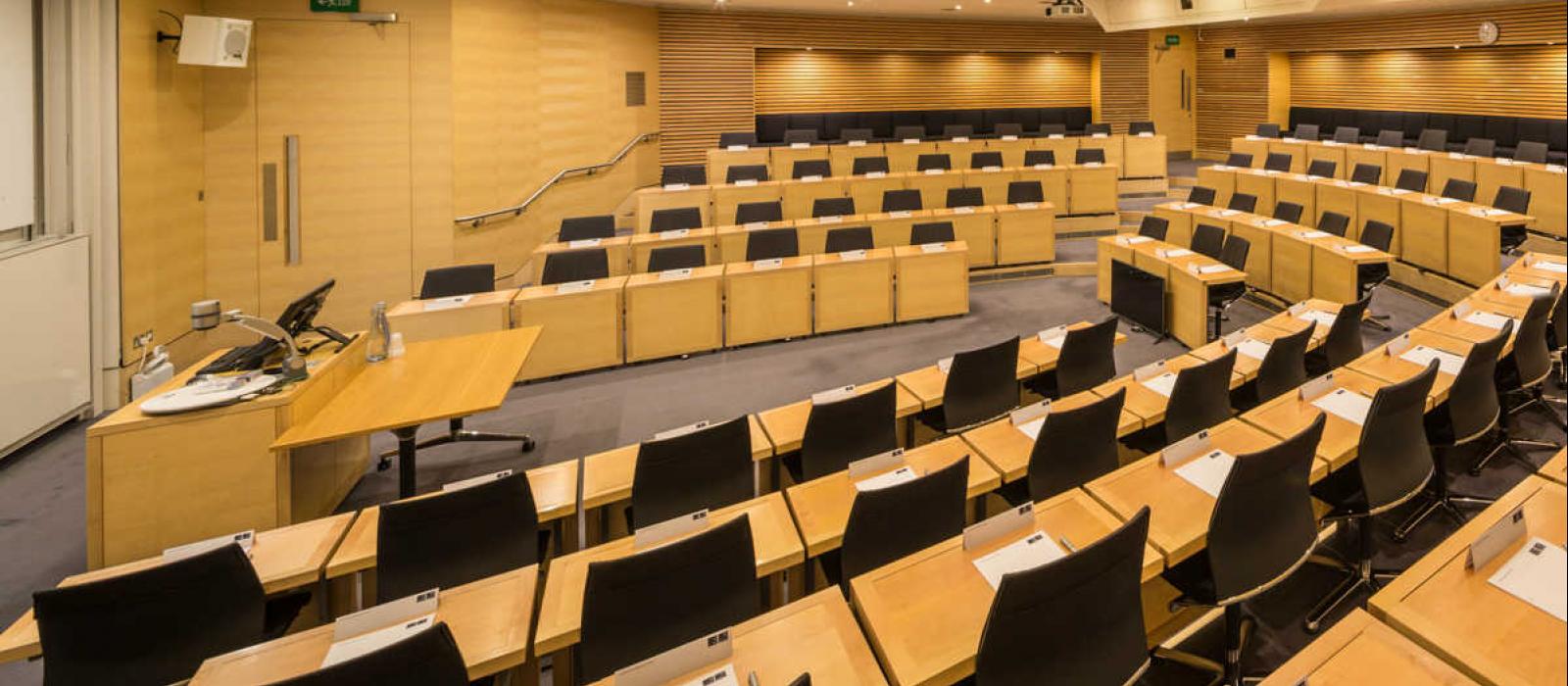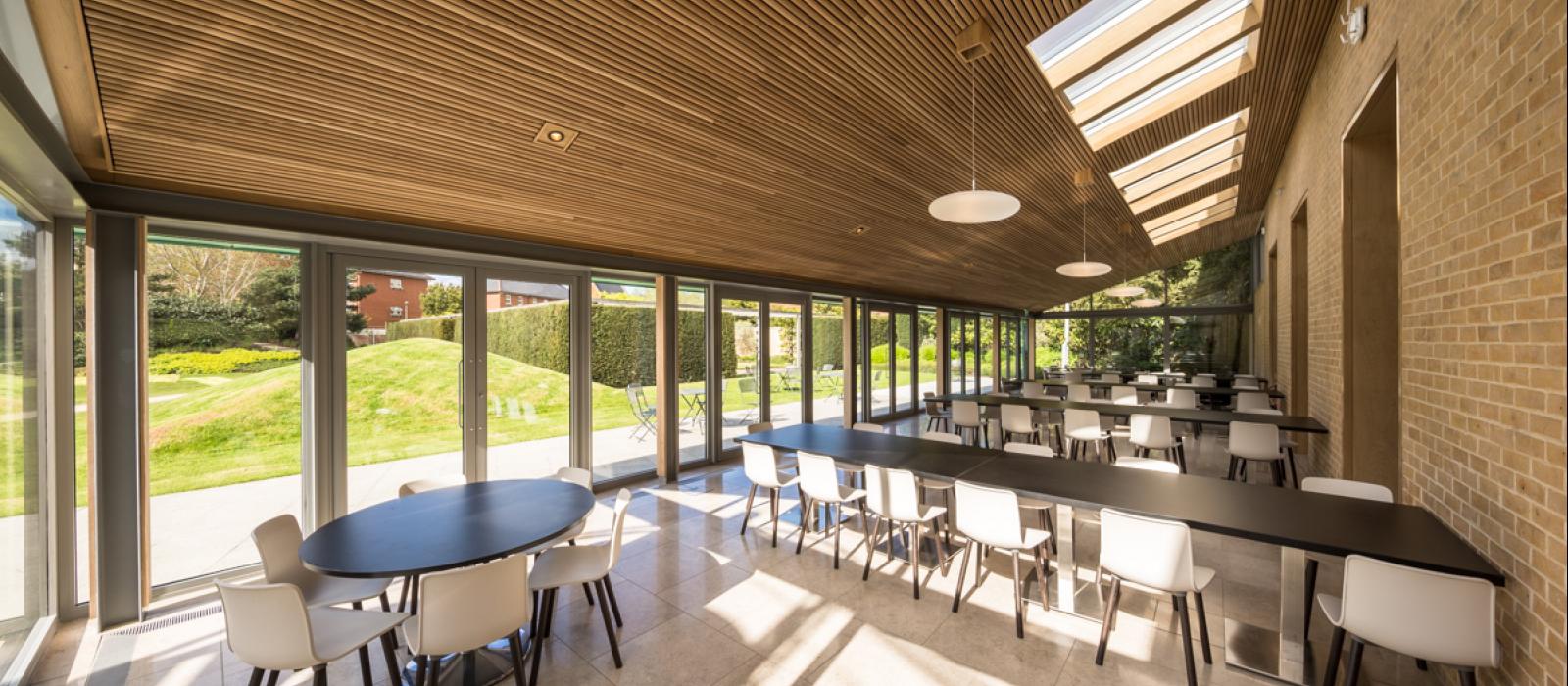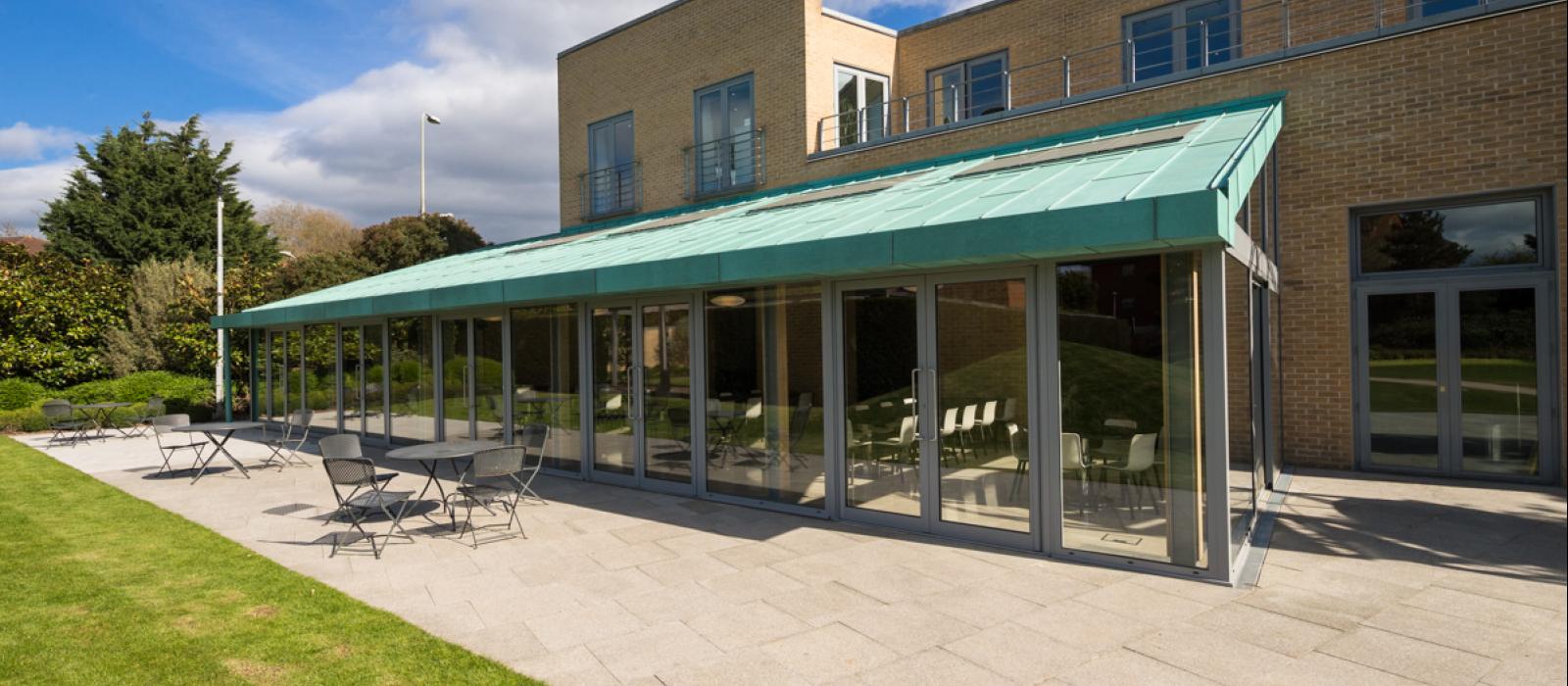 Saïd Business School: Park End Street
Award-winning facilities in the heart of Oxford. Conference@OxfordSaid has achieved numerous accreditations, which all adhere to a set of stringent Quality Standards as well as agreeing to a Code of Ethics.
Accreditations to date:
- AIM (The Meetings Industry Association)
- Members of Venues of Excellence
- Green Impact Award for sustainability
Saïd Business School is next to Oxford train station and offers a world-class setting for conferences, meetings and events. The original part of the building opened in 2001 and offers a 317-seat auditorium, four Harvard-style lecture theatres, two large classrooms and a wide variety of seminar rooms. The impressive entrance hall provides a flexible space for registration, exhibitions and catering, whilst the 400-seat outdoor amphitheatre offers a truly stunning and unique option for an event. The venue can offer a total of 60 breakout spaces. We can also offer private dining in the small dining room for up to 40 people or gala and award ceremonies and Christmas Parties in the beautiful Pyramid Room
A virtual tour of the Park End Street facilities can be found here
This venue offers facilities for hybrid/virtual meetings.
Saïd Business School: Park End Street
Park End Street, Oxford OX1 1HP
17 meeting spaces with capacity for up to 317 guests for Theatre, Classroom, Boardroom, Cabaret, U-shape, Other, Dining, Small dining room , Theatre , and Buffet functions.
Bedrooms 0
Ensuite 0
Standard 0
Breakfast
Lunch yes
Dinner yes
"Thanks for an excellent service - it really helped us in finding an appropriate venue."
Institute of New Economic Thinking
Conference Office
conference@sbs.ox.ac.uk
01865 288846
www.sbs.ox.ac.uk
Classroom 1

Theatre 84

Classroom 48

Boardroom 32

Cabaret 64

U-shape 26

A large square space with attractive wooden shelving and a stunning skylight, great for discussion-based meetings.

Facilities

Wifi, LCD projector and screen.

Accessibility

Full disabled access.

Available

Term & Vacation

Classroom 2

Theatre 135

Classroom 72

Boardroom 44

Cabaret 96

U-shape 32

Extremely light space with floor-to-ceiling windows and views of the garden. Built-in projector and screen and stylish furniture.

Facilities

Wifi, LCD projector and screen.

Accessibility

Full disabled access.

Available

Term & Vacation

Clore Lecture Room

Theatre 84

Classroom 48

Boardroom 32

Cabaret 64

U-shape 26

Extremely light space with floor-to-ceiling windows and views of the garden. Built-in projector and screen and stylish furniture.

Facilities

Wifi, LCD projector and screen.

Accessibility

Full disabled access.

Available

Term & Vacation

CreditEase Classroom

Theatre 42

Classroom 16

Boardroom 24

Cabaret 18

A very versatile space

Facilities

Wifi, LCD projector and screen.

Accessibility

Full disabled access.

Available

Term

Lecture Theatres VI, VIII and eni Lecture Theatre

Stunning, state-of-the-art lecture theatres in a horseshoe style.

Facilities

Translation booth, wifi and extensive audio-visual facilities.

Accessibility

Full disabled access.

Available

Term & Vacation

Seminar Rooms 1-7

ntimate seminar rooms, set in a boardroom style. The top floor rooms have access to a balcony and stunning views across the Oxfordshire countryside.

Facilities

Wifi and LCD screen.

Accessibility

Full disabled access.

Available

Term & Vacation

Seminar Rooms 8-14

ntimate seminar rooms, set in a boardroom style. The top floor rooms have access to a balcony and stunning views across the Oxfordshire countryside.

Facilities

Wifi and LCD screen.

Accessibility

Full disabled access.

Available

Term & Vacation

Seminar Rooms 15-18

ntimate seminar rooms, set in a boardroom style. The top floor rooms have access to a balcony and stunning views across the Oxfordshire countryside.

Facilities

Wifi and LCD screen.

Accessibility

Full disabled access.

Available

Term & Vacation

Club Room

An executive breakout area for refreshments and networking, equipped with a bar and floor-to-ceiling windows leading out onto a sunny patio terrace overlooking the attractive garden. Exotic rugs and leather Chesterfields add a classic touch to the design. Ideal for networking and post-event drinks.

Facilities

Bar, wifi, tea/coffee-making facilities.

Accessibility

Full disabled access.

Available

Term & Vacation

Pyramid Room

Dining 150

Theatre 200

Cabaret 120

Small dining room 40

A large dining space with a pyramid-shaped sky light that creates a light and airy ambience. Can be used as a private dining area or a working lunch venue.

Facilities

LCD projector and screen, wifi.

Accessibility

Full disabled access.

Available

Term & Vacation

Dining Room (full space)

A stunning space for award-winning dining, with oak-panelled walls and fantastic views across the city.

Facilities

Accessibility

Full disabled access.

Available

Term & Vacation

Nelson Mandela Lecture Theatre

Opened by Nelson Mandela in 2002, it seats 300 delegates in tiered rows with fixed seating and desks facing a raised stage. It is fully air-conditioned.

Facilities

Wifi and extensive audio-visual facilities.

Accessibility

Full disabled access.

Available

Term & Vacation

Rhodes Trust Lecture Theatre and Lecture Theatre 4

Both rooms are fully air-conditioned with excellent acoustics. They have fixed seating and desks in a horseshoe shape.

Facilities

Wifi and extensive audio-visual facilities.

Accessibility

Full disabled access.

Available

Term & Vacation

Edmond Safra Lecture Theatre and Lecture Theatre 5

Both rooms are fully air-conditioned with excellent acoustics. They have fixed seating and desks in a horseshoe shape.

Facilities

Wifi and extensive audio-visual facilities.

Accessibility

Full disabled access.

Available

Term & Vacation

Seminar Room A and Founders Room

Dining 80

Buffet 100

Theatre 100

Classroom 30

Boardroom 30

Cabaret 80

These are large rooms with no fixed furniture, offering a flexible arrangement to suit your specific requirements. These rooms can also be used for receptions and exhibitions.

Facilities

Wifi, LCD projector and screen.

Accessibility

Full disabled access.

Available

Term & Vacation

Andrew Cormack

The Andrew Cormack seats 20 people and is best suited for boardroom-style meetings.

Facilities

Wifi, LCD projector and screen.

Accessibility

Full disabled access.

Available

Term & Vacation

Garden Room

Brand new addition to the main building at Park End Street, which enjoys lovely views of the private gardens via floor to ceiling windows. Large glazed doors allow the dining room to be opened up to the extensive gardens beyond. Holding up to 60 guests, the room is ideal for private dining, awards ceremonies and corporate Christmas functions

Facilities

Accessibility

Full disabled access.

Available

Term & Vacation