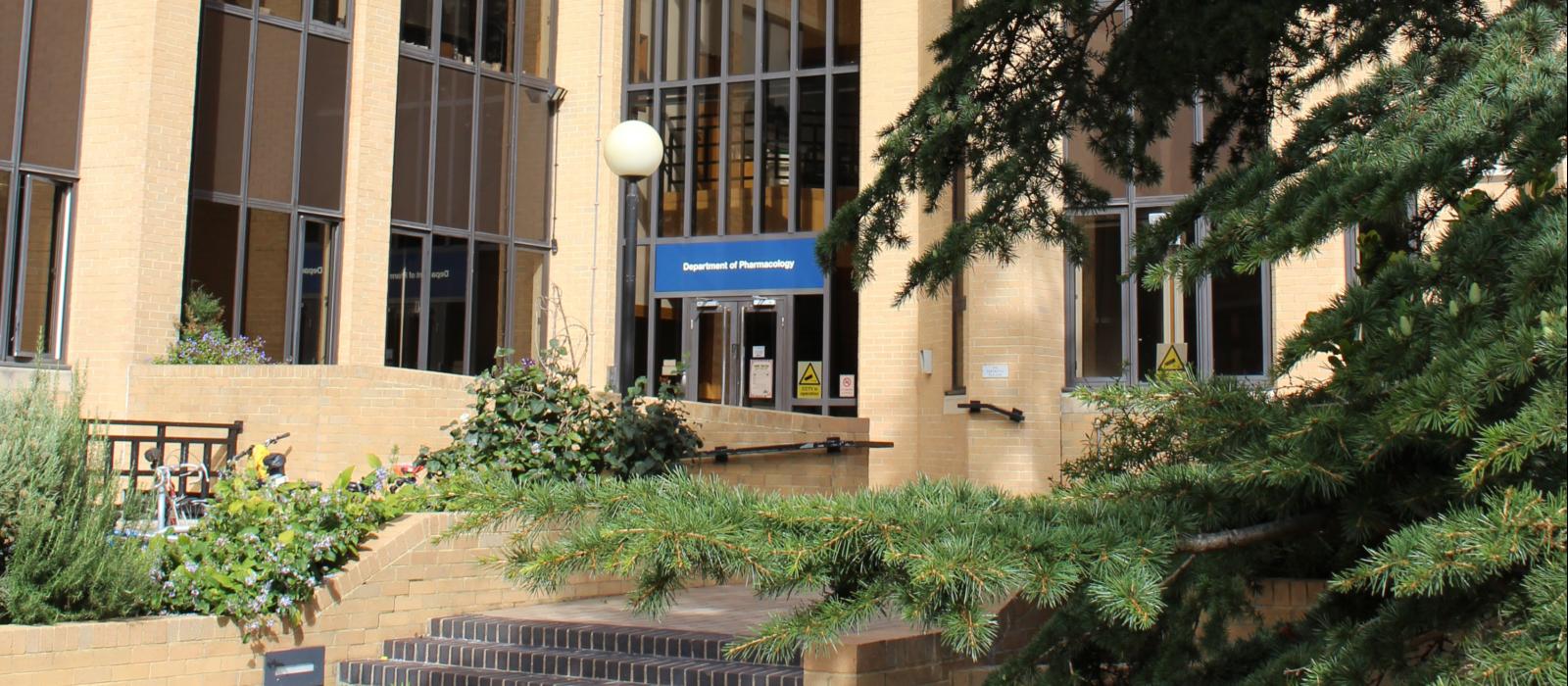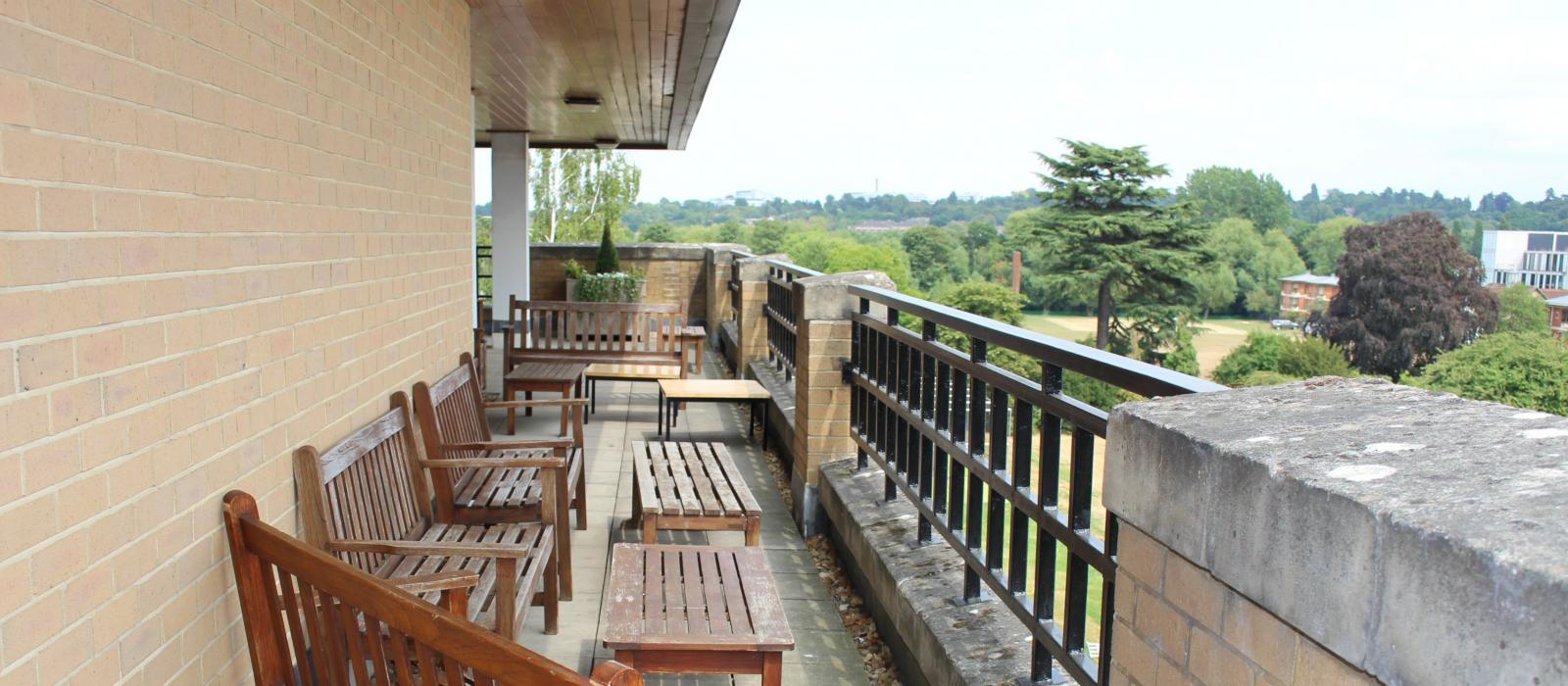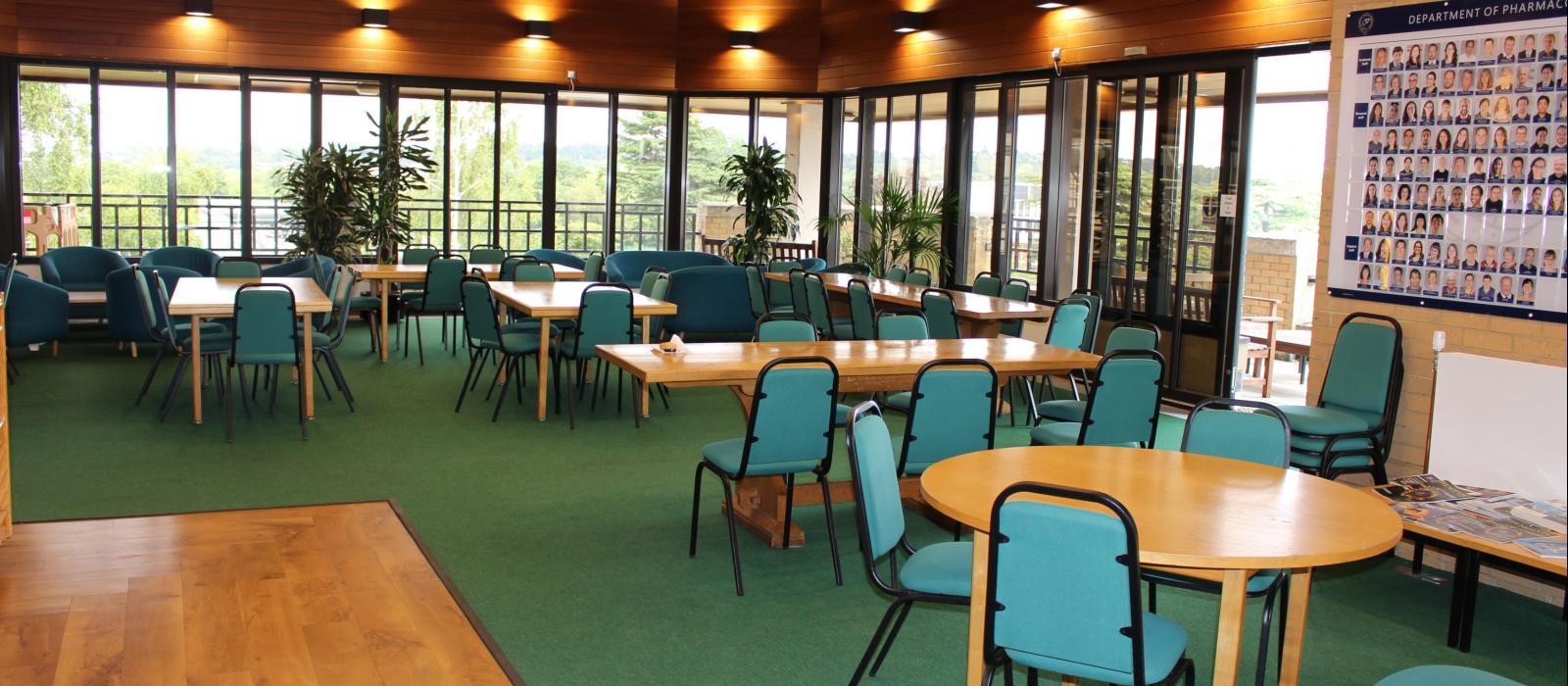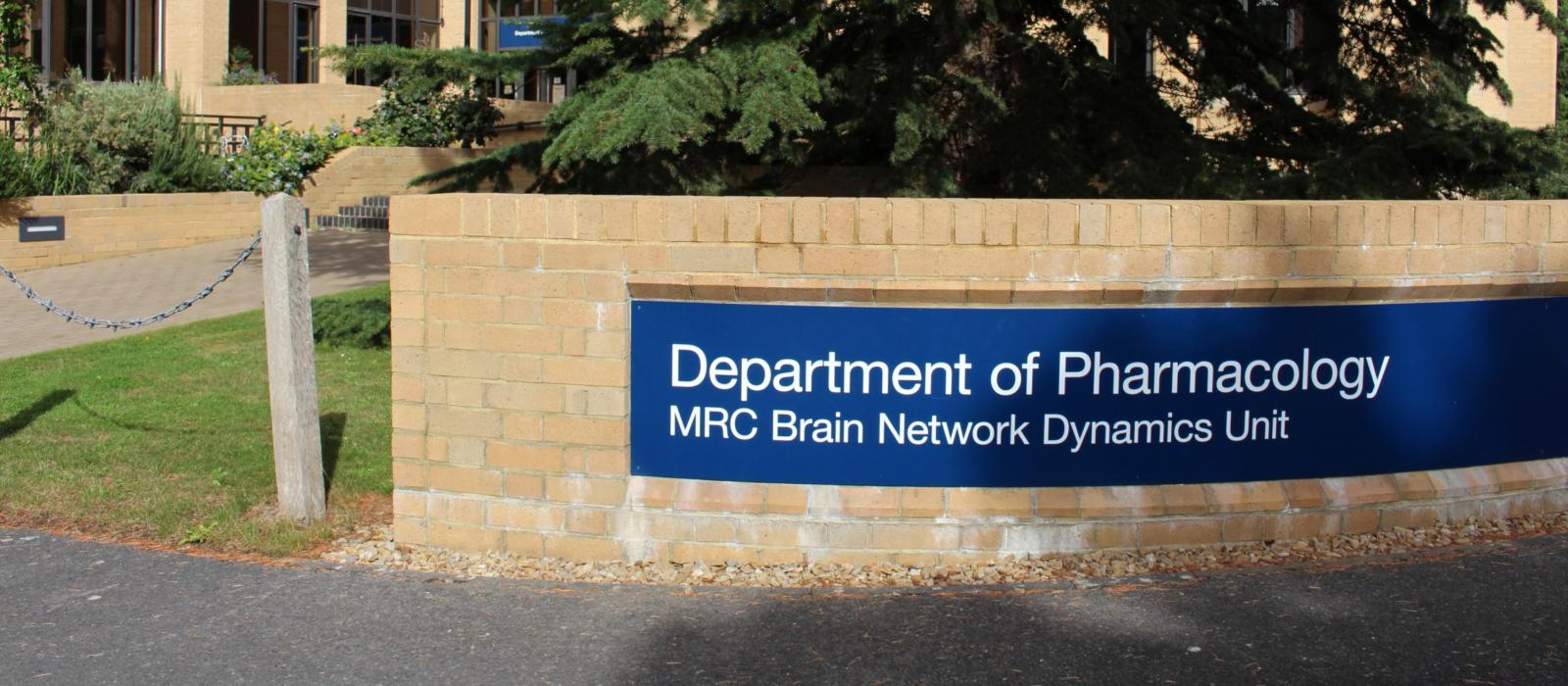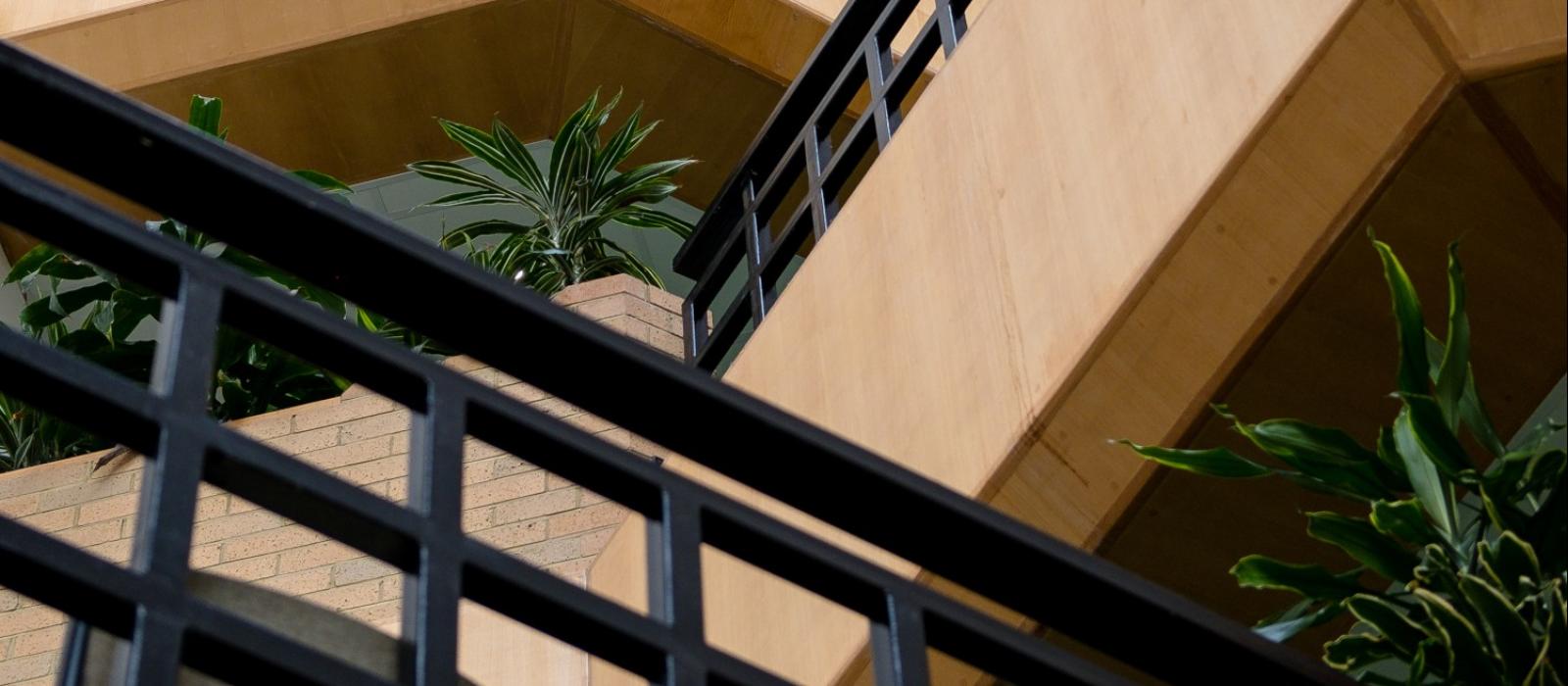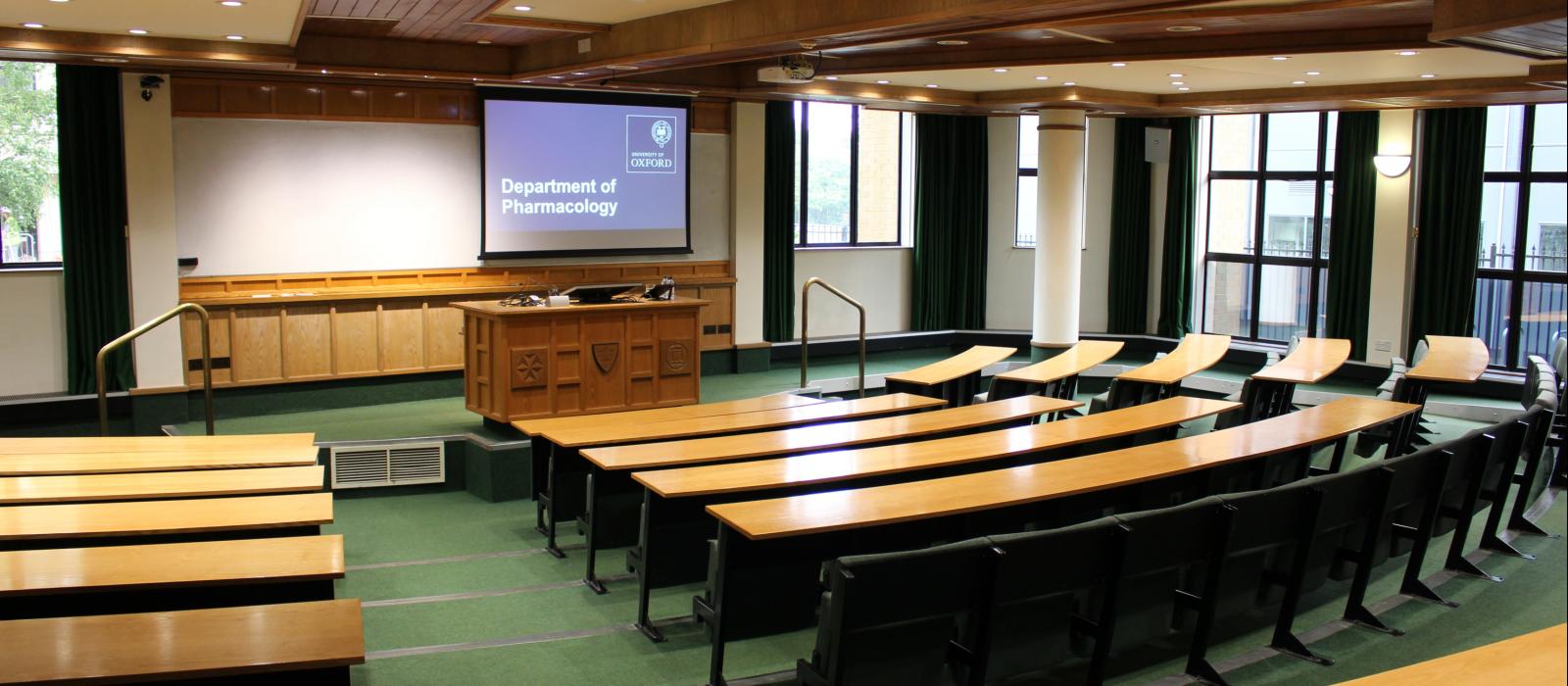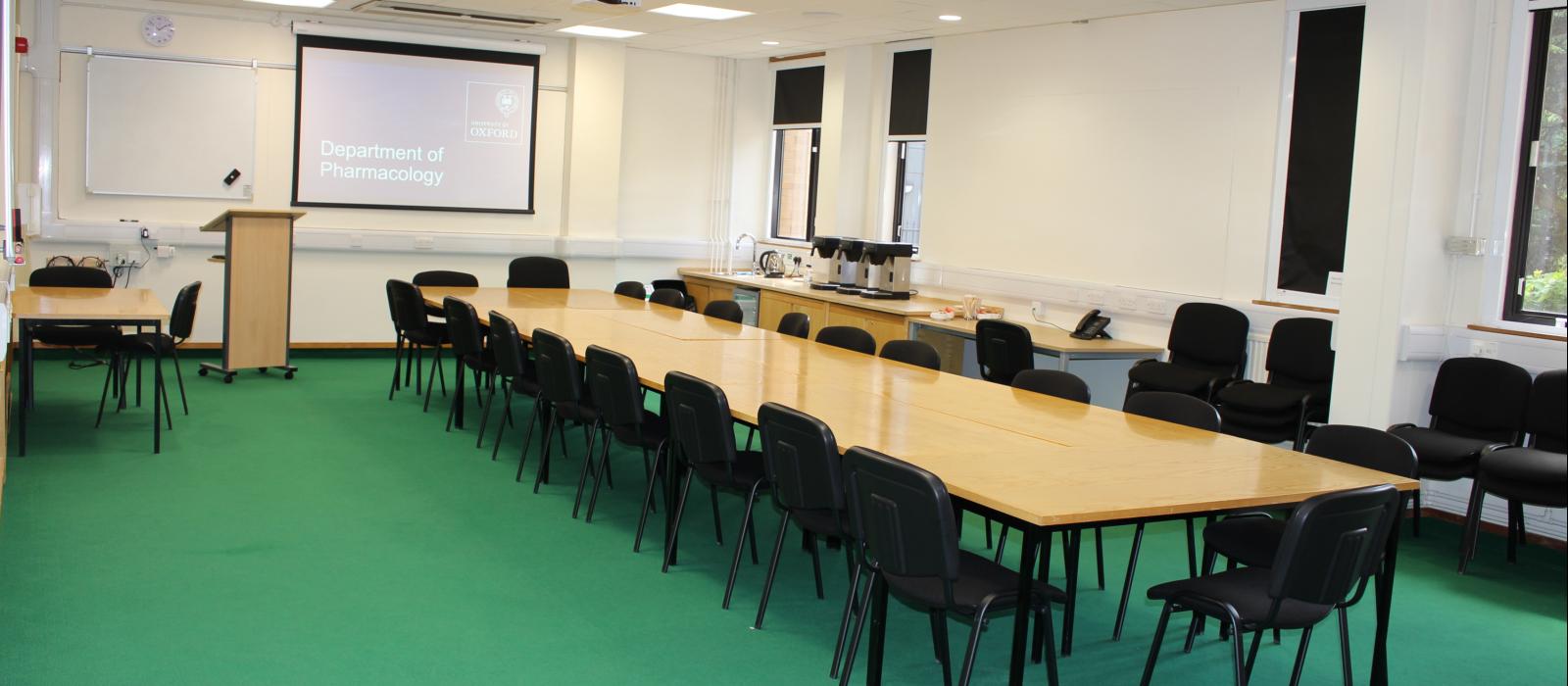 Department of Pharmacology
The Department of Pharmacology is a modern, purpose-built research building in the heart of the University Science Area within easy walking distance of the City Centre, many Oxford Colleges and other Oxford landmarks such as the University Parks, Botanic Garden and Museums. The Department has excellent facilities for the disabled and offers a range of meeting facilities, along with support staff in situ, to ensure that your event will be a success.
The Department has one large Lecture Theatre and two smaller conference rooms, plus a Common Room with views across Oxford that is perfect for catering and entertaining.
Department of Pharmacology
Mansfield Rd, Oxford OX1 3QT
4 meeting spaces with capacity for up to 132 guests for Theatre, Buffet, Classroom, and Boardroom functions.
Bedrooms
Ensuite
Standard
Breakfast
Lunch
Dinner
"I received lots of responses from different colleges, it was really great and made life so much easier finding a venue for the meeting."
Wiley
Carolyn Thackrah, Deputy Administrator and Katie Hickman, Receptionist
admin@pharm.ox.ac.uk or katie.hickman@pharm.ox.ac.uk
01865 271850
www.pharm.ox.ac.uk

Lecture Theatre

This ground-floor purpose-built lecture theatre has level access and a capacity of 132, including two wheelchair spaces

Facilities

A fixed projector and PC, whiteboards, air-conditioning, programmable lighting and electrically-operated blackout curtains

Accessibility

Full disabled access, ramp access to building, two wheelchair spaces, hearing loop

Available

Vacation

Seminar Room

Buffet 106

Theatre 55

Classroom 55

Boardroom 30

The ground floor Seminar Room is a flexible space that can be set up in boardroom or theatre style or can be used as a breakout space for catering

Facilities

A fixed projector with PC is available with connections for laptops, whiteboards and poster boards available, air-conditioning

Accessibility

Full disabled access, ramp access to building, hearing loop

Available

Vacation

Meeting Room 2

Theatre 20

Classroom 20

Boardroom 12

This room is ideal for small breakout sessions and meetings

Facilities

Meeting Room 2 has facilities for catering, a fixed projector for PC or Mac laptops, air-conditioning, and a sound bar

Accessibility

Full disabled access, ramp access to building, ground floor

Available

Term & Vacation

Common Room

Situated on the fourth floor, with lift access, the Common Room offers an ideal space for late afternoon or early evening receptions, poster sessions or presentations (exclusive use after 3pm only)

Facilities

Access to kitchen, formal and informal seating, external balcony

Accessibility

Fourth floor, lift access, level access to Department

Available

Term & Vacation