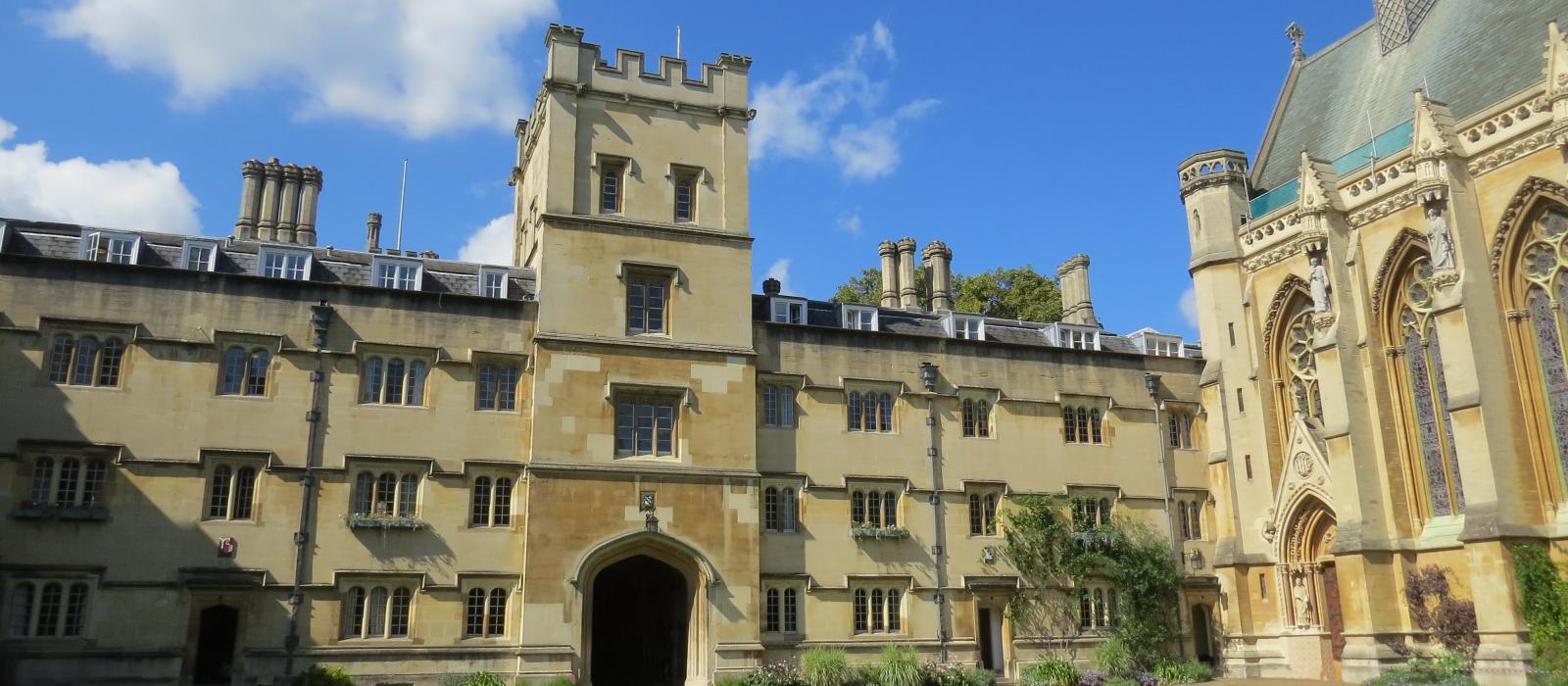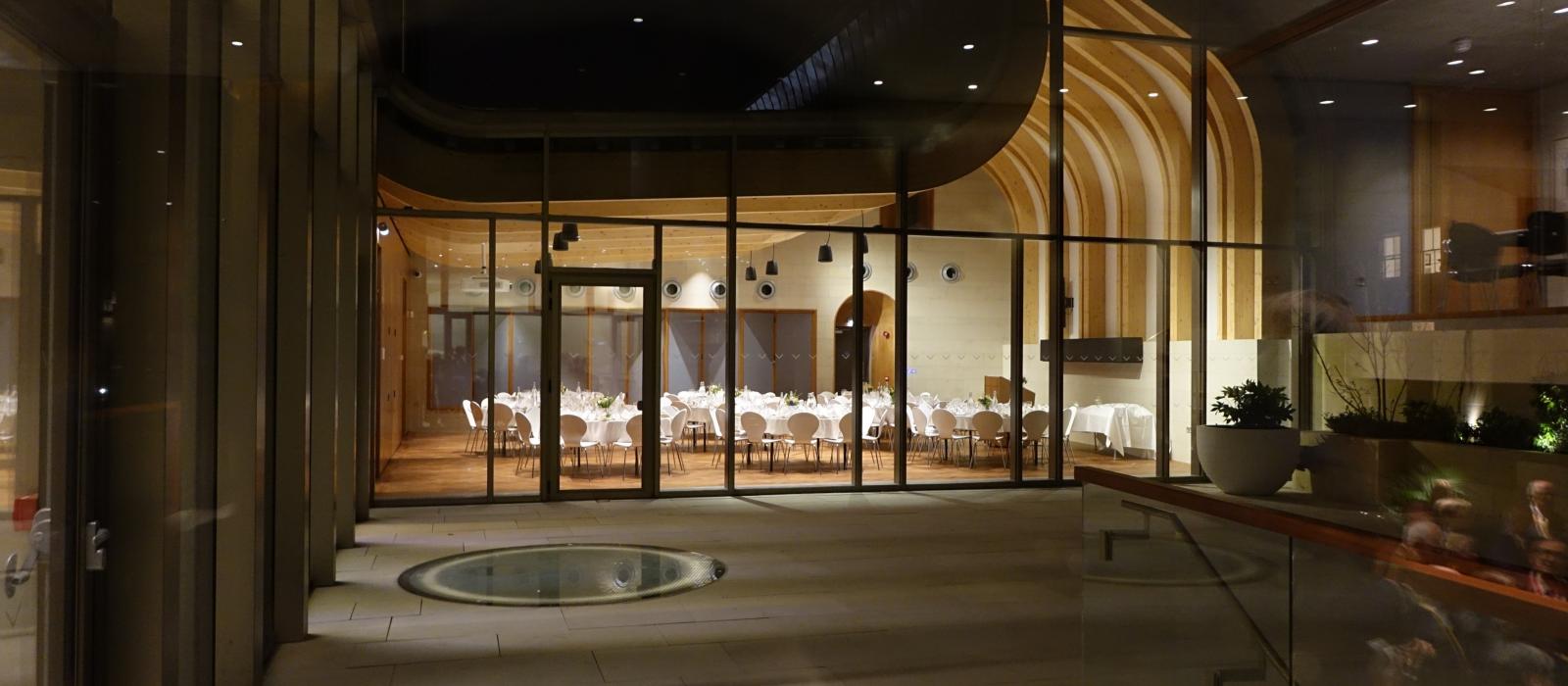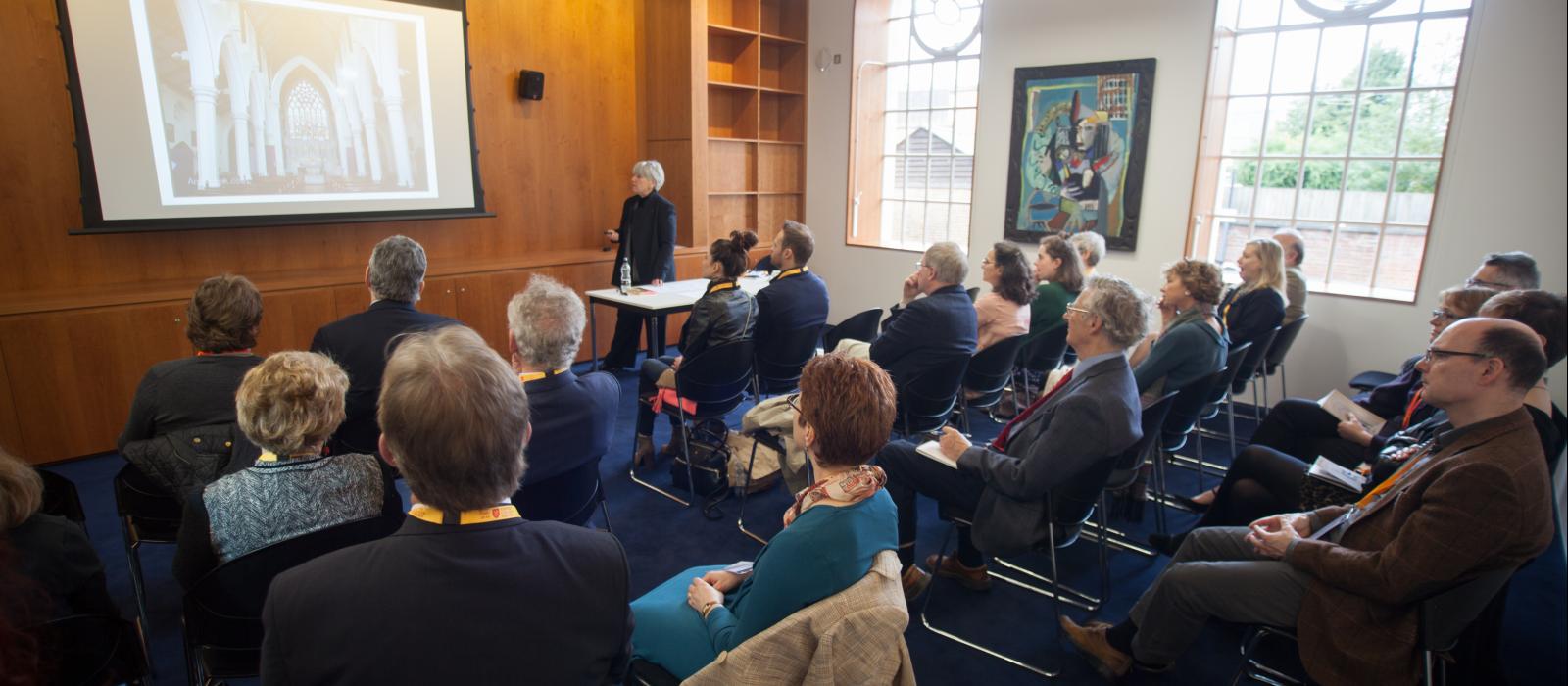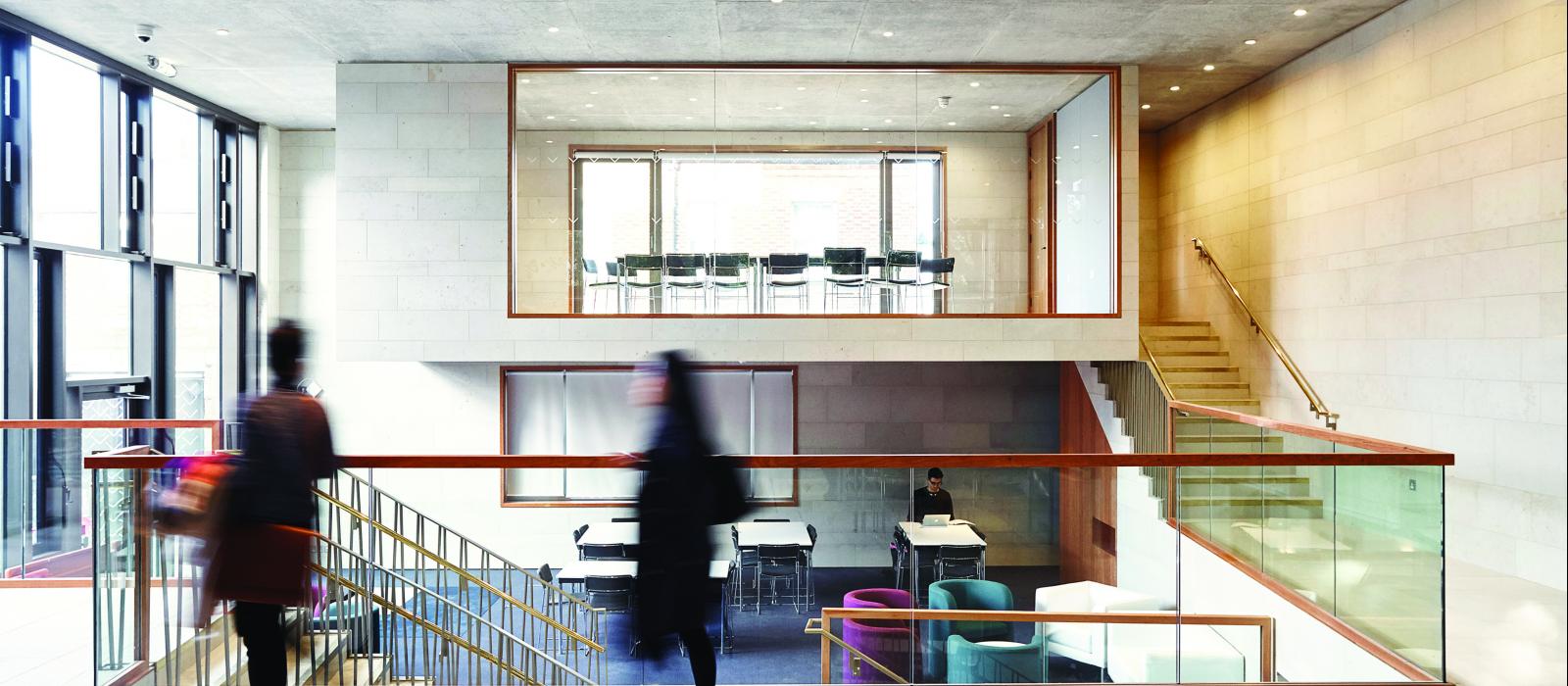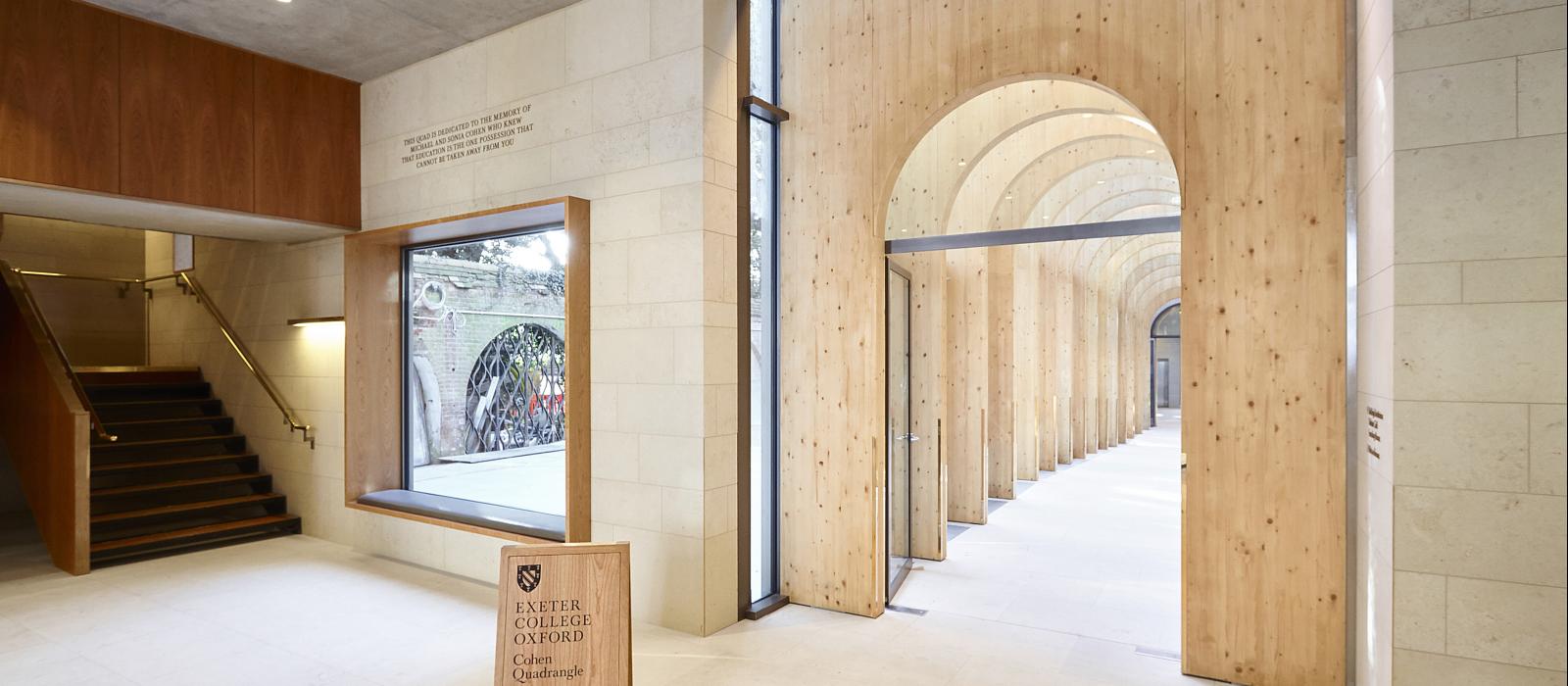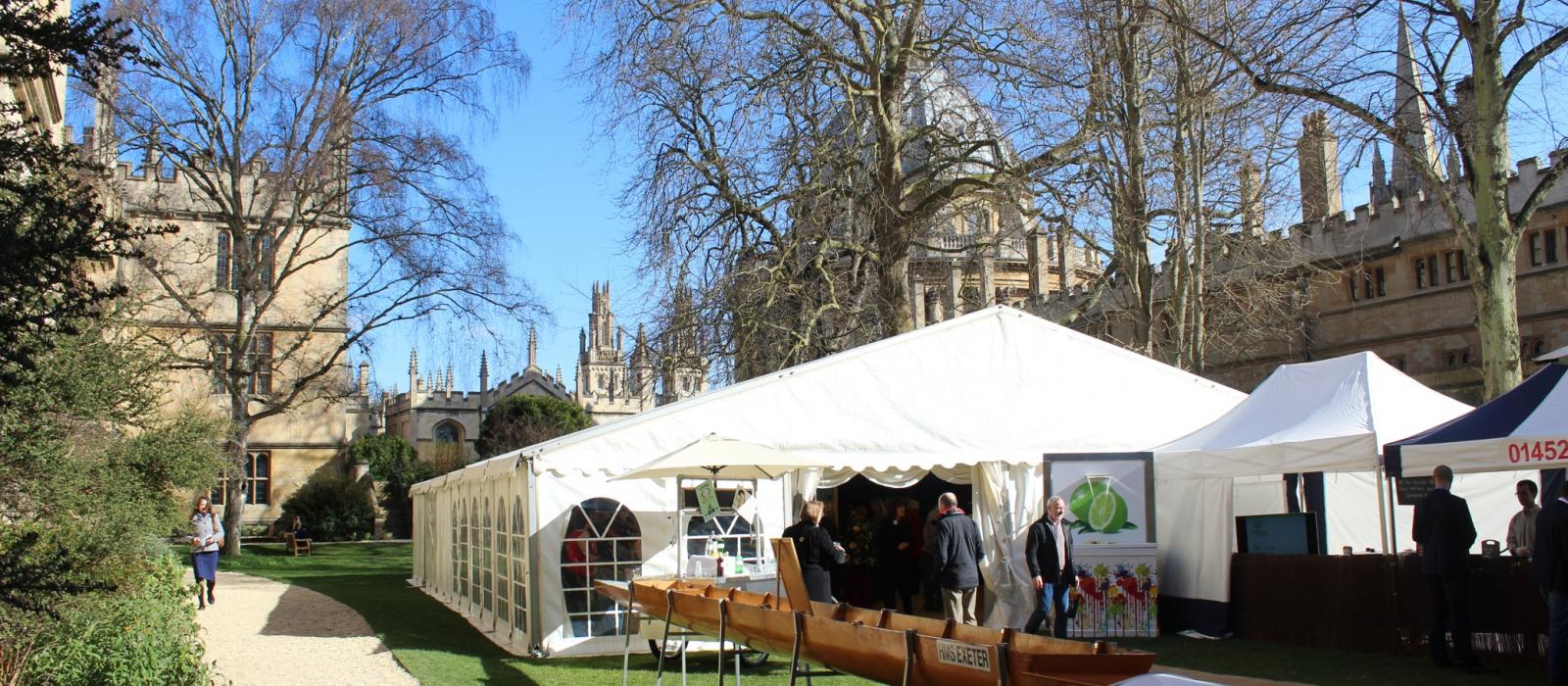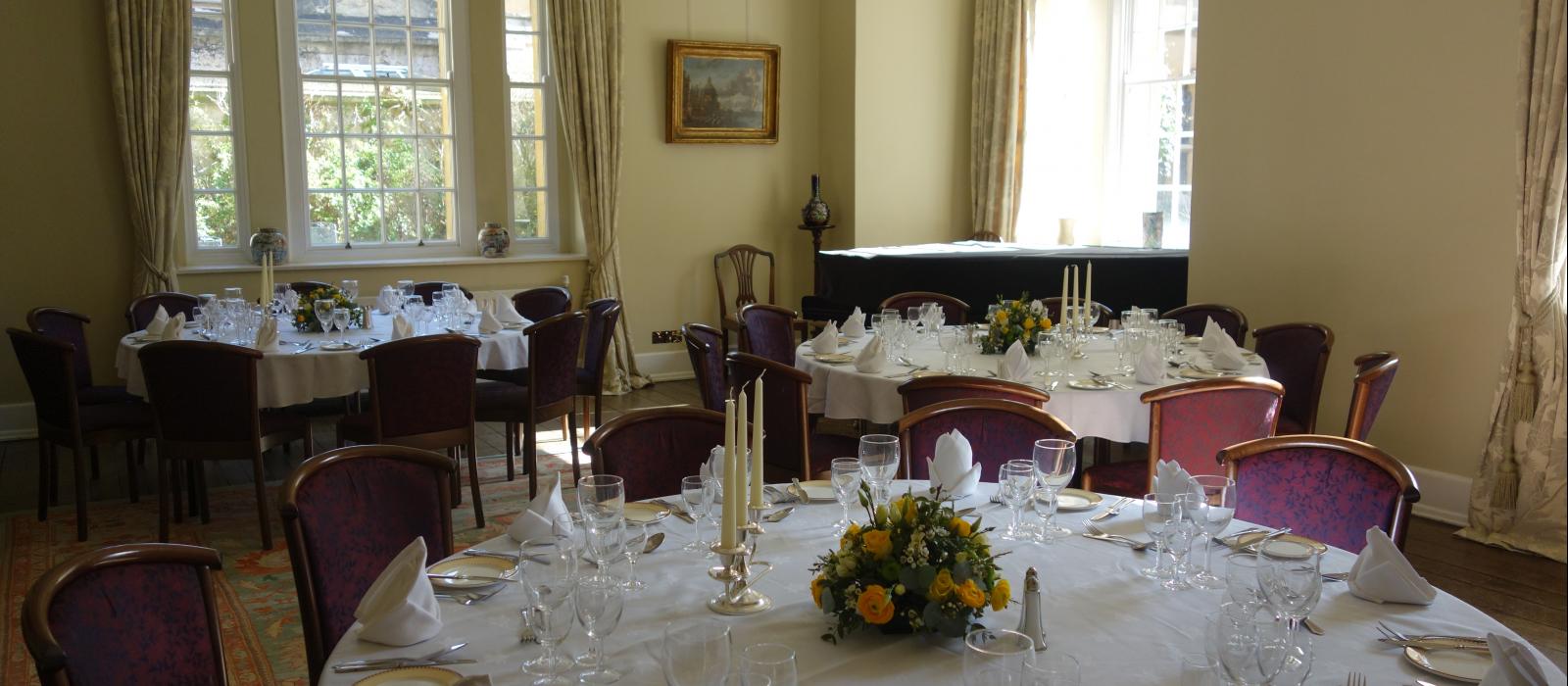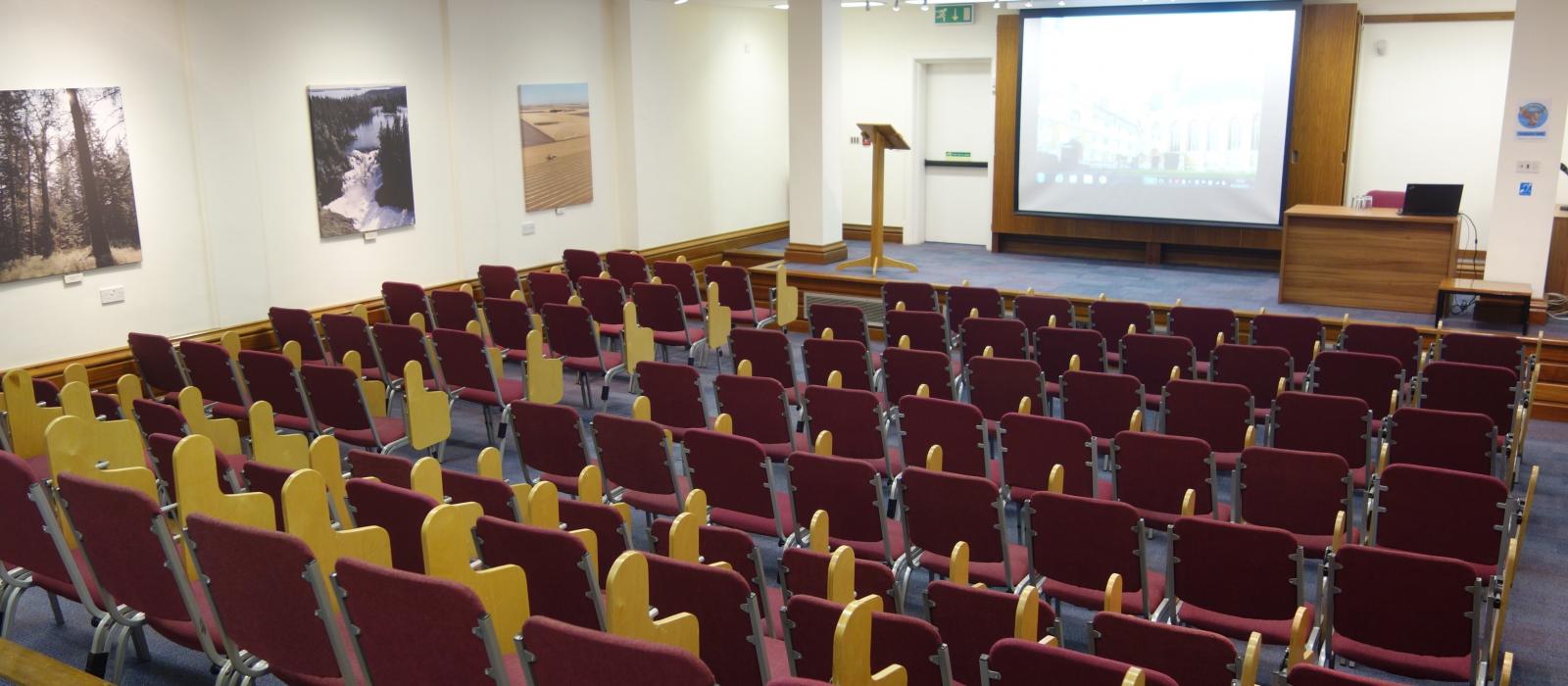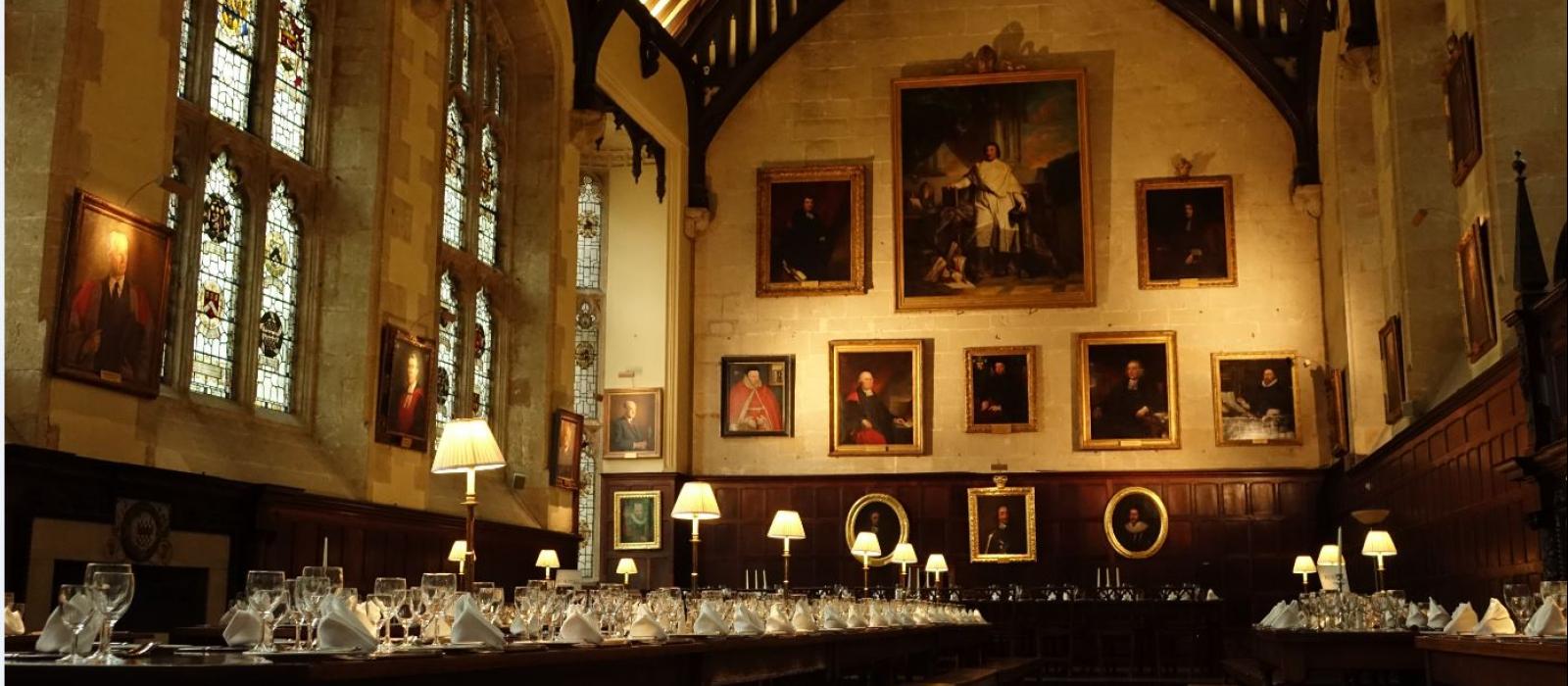 Exeter College can offer an ideal setting for meetings, dinners and conferences across its two sites. The main college site is centrally located on Turl Street, and has peaceful quadrangles and beautiful gardens along with a variety of meeting rooms with internet access and good audio-visual facilities throughout. All meeting rooms may be hired for the half day, with or without meals or refreshments.
The newly-opened Cohen Quad offers state-of-the-art facilities including en-suite single bedrooms, an auditorium, a number of breakout rooms, a learning commons and a café, all in a stunning site designed by award-winning architect Alison Brooks. Located in Walton Street, Jericho and only 12 minutes' walk from the main college site, this building is close to the railway station and the centre of Oxford. The Cohen Quad stands on the site of Ruskin College and it's only the front façade that remains of the original building. During term the students enjoy this light and spacious building. In the vacations we can accommodate groups of up to 90 for week long programmes. The Auditorium is also a popular venue for concerts and other performances. A conference office can be provided for organisers.
We offer competitive rates for both residential and daily delegates and would be delighted to discuss your special requirements.  We take pride in being responsive to the needs of our guests and many return to us year after year. Old members are always assured of a warm welcome.
This venue offers facilities for hybrid/virtual meetings.
Exeter College
Turl Street, Oxford OX1 3DP
16 meeting spaces with capacity for up to 220 guests for Theatre, Classroom, Boardroom, U-shape, Buffet, Dining, and Receptions functions.
Bedrooms 240
Ensuite 150
Standard 90
Breakfast yes
Lunch yes
Dinner yes
"Your team have been absolutely fantastic, so a huge thanks to you."
Procter & Gamble
Philip Munday
cateringandconferences@exeter.ox.ac.uk
01865 279653
www.exeter.ox.ac.uk/conferences
Saskatchewan Lecture Theatre

Theatre 120

Classroom 50

Boardroom 25

U-shape 25

Purpose-built lecture theatre on the main site and close to all other facilities.

Facilities

Fully air-conditioned lecture theatre with full wireless and broadband internet access, ceiling-mounted data projector, whiteboards.

Accessibility

Limited access as steps down to lecture theatre and no lift.

Available

Term & Vacation

Quarrell Room

Buffet 30

Theatre 30

Classroom 20

Boardroom 14

U-shape 20

Wall-to-wall book cases conducive to studying and for meetings.

Facilities

Natural light with good full wireless and broadband internet access, projection facilities, whiteboards.

Accessibility

Limited access as steps down to meeting room and no lift.

Available

Term & Vacation

Rector's Drawing Room

Dining 30

Buffet 30

Theatre 30

Classroom 20

Boardroom 20

Unique room with chandeliers and natural light, with own private garden.

Facilities

Full wireless and broadband internet access, projection facilities, whiteboards.

Accessibility

Full disabled access; ground floor with specially adapted toilet.

Available

Term & Vacation

Rector's Dining Room

Part of the Rector's private lodgings, polished oak table, ideal for small meetings.

Facilities

Full wireless and broadband internet access, projection facilities.

Accessibility

Full disabled access; ground floor with specially adapted toilet.

Available

Term & Vacation

Stapeldon Room

Theatre 25

Classroom 25

Boardroom 20

U-shape 18

Oak-beamed ceiling with boating trophies on the walls.

Facilities

Full wireless and broadband internet access, projection facilities, whiteboards.

Accessibility

Limited access as steps down to meeting room and no lift.

Available

Term & Vacation

Morris Room

Named after William Morris who studied at Exeter, plenty of artefacts on walls.

Facilities

Full wireless and broadband internet access, projection facilities, whiteboards.

Accessibility

Full disabled access; ground floor.

Available

Term & Vacation

Dining Hall

Dating back to 1618, one of the most attractive dining halls in the university.

Facilities

Full wireless and broadband internet access, projection facilities.

Accessibility

Full disabled access; first floor, lift.

Available

Term & Vacation

Old Bursary

Room used every day for fellows' lunch with wonderful views of the fellows' garden.

Facilities

Full wireless and broadband internet access.

Accessibility

Full disabled access; ground floor.

Available

Term & Vacation

Fellows' Garden

Walled garden with amazing views of Radcliffe Square.

Facilities

Suitable for short-term marquees.

Accessibility

Full disabled access.

Available

Vacation

FitzHugh Auditorium, Cohen Quad

Dining 81

Buffet 100

Theatre 110

Classroom 50

Boardroom 40

Receptions 220

Versatile lecture theatre space with plenty of natural light

Facilities

Ceiling mounted data projector, microphone system and blackout facilities.

Accessibility

Full disabled access; ground floor

Available

Term & Vacation

Kloppenburg Room, Cohen Quad

Theatre 42

Classroom 30

Boardroom 20

Receptions 100

Modern light and spacious room with traditional features.

Facilities

Ceiling mounted data projector, microphone system and blackout facilities.

Accessibility

Full disabled access; ground floor

Available

Term & Vacation

Maddicott Room, Cohen Quad

Theatre 24

Classroom 20

Boardroom 18

Receptions 80

Glass fronted room with high ceiling, flooded by natural light

Facilities

Large multipurpose television screen with connections for laptops

Accessibility

Full disabled access; ground floor

Available

Term & Vacation

Marilyn Butler Room, Cohen Quad

Theatre 18

Classroom 10

Boardroom 14

Receptions 40

Also known as the hanging room, this glass fronted room overlooks the learning commons.

Facilities

We can provide a portable data projector, screen and laptop

Accessibility

Limited access; number of steps to room

Available

Term & Vacation

Ashdown Room, Cohen Quad

Quiet modern room with high ceiling and plenty of light.

Facilities

We can provide a portable data projector, screen and laptop

Accessibility

Full disabled access

Available

Term & Vacation

Scott Room, Cohen Quad

Multi-purpose room with natural light.

Facilities

We can provide a portable data projector, screen and laptop

Accessibility

Full disabled access

Available

Term & Vacation

Eltis room

Multi-purpose room with natural light.

Facilities

We can provide a portable data projector, screen and laptop

Accessibility

Full disabled access

Available

Term & Vacation