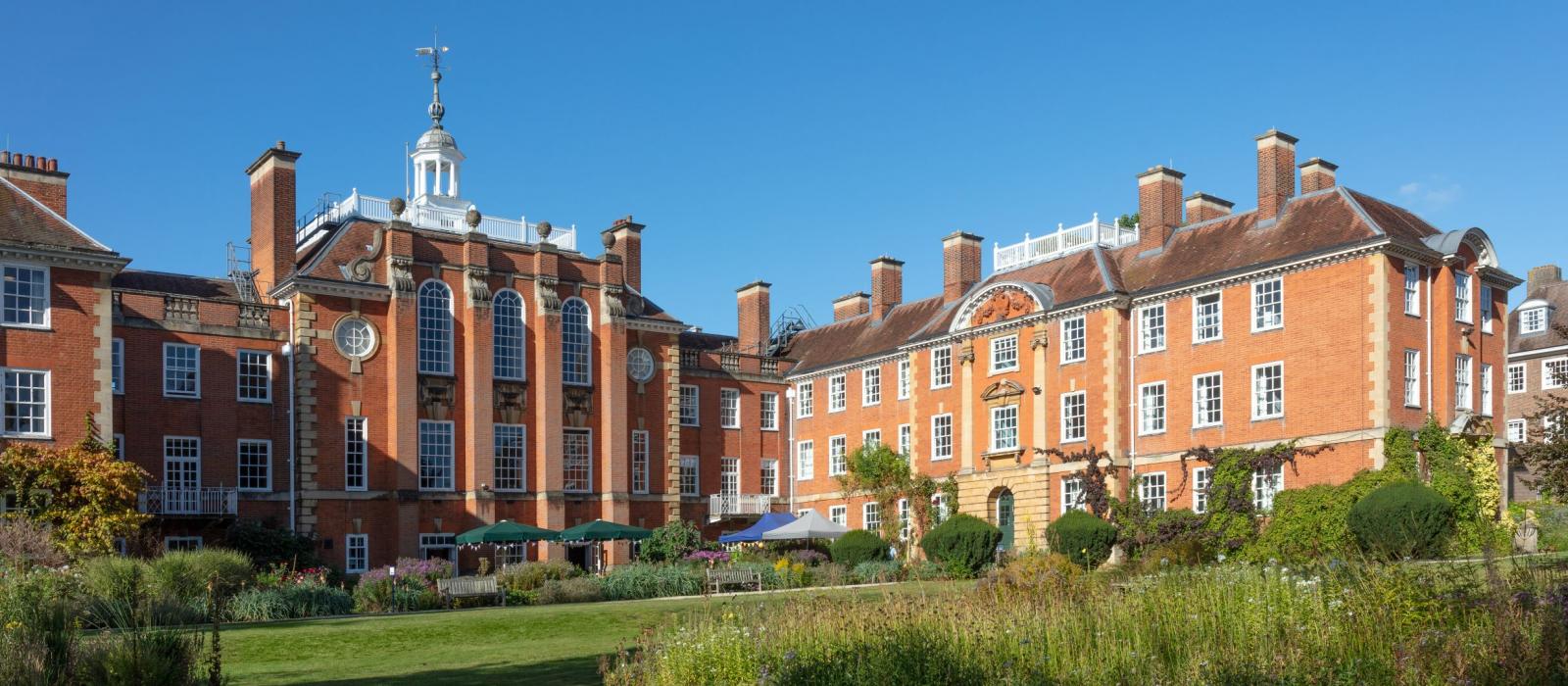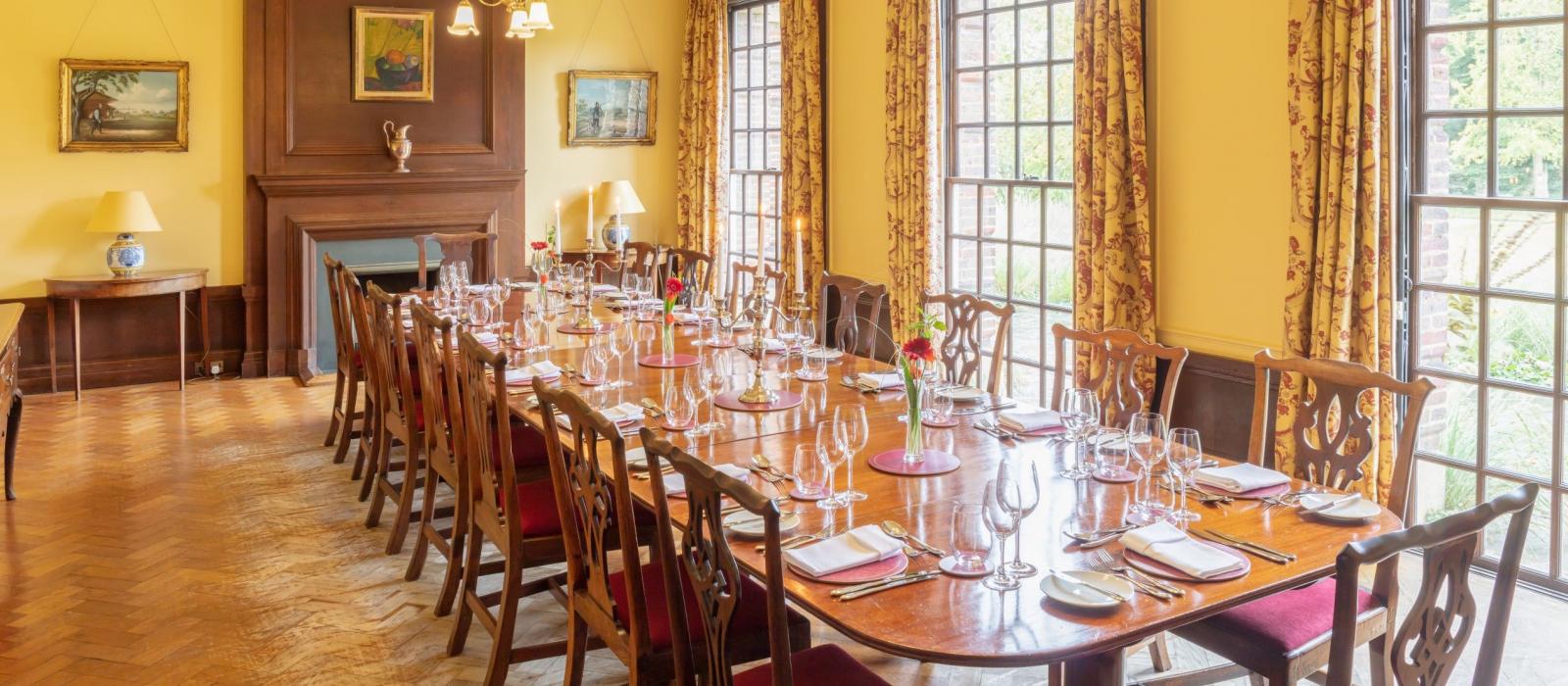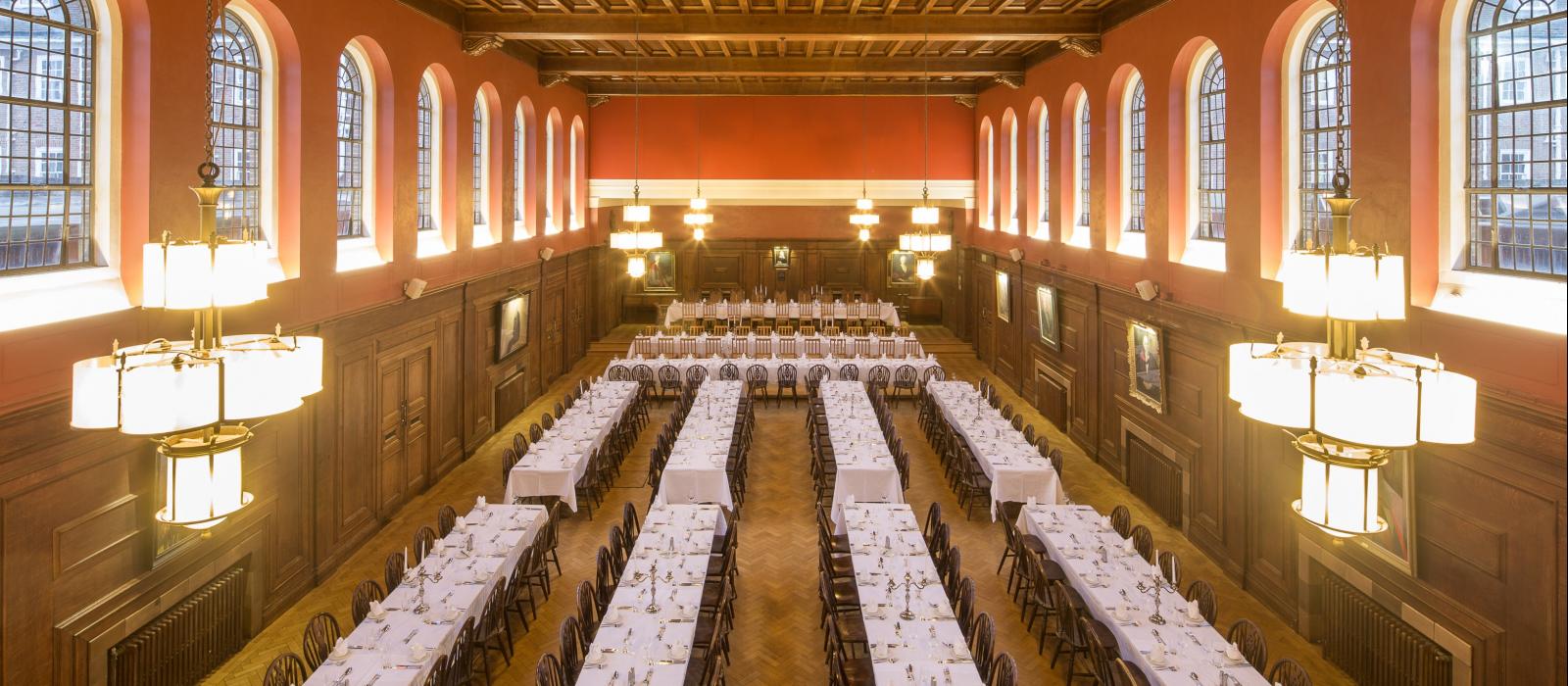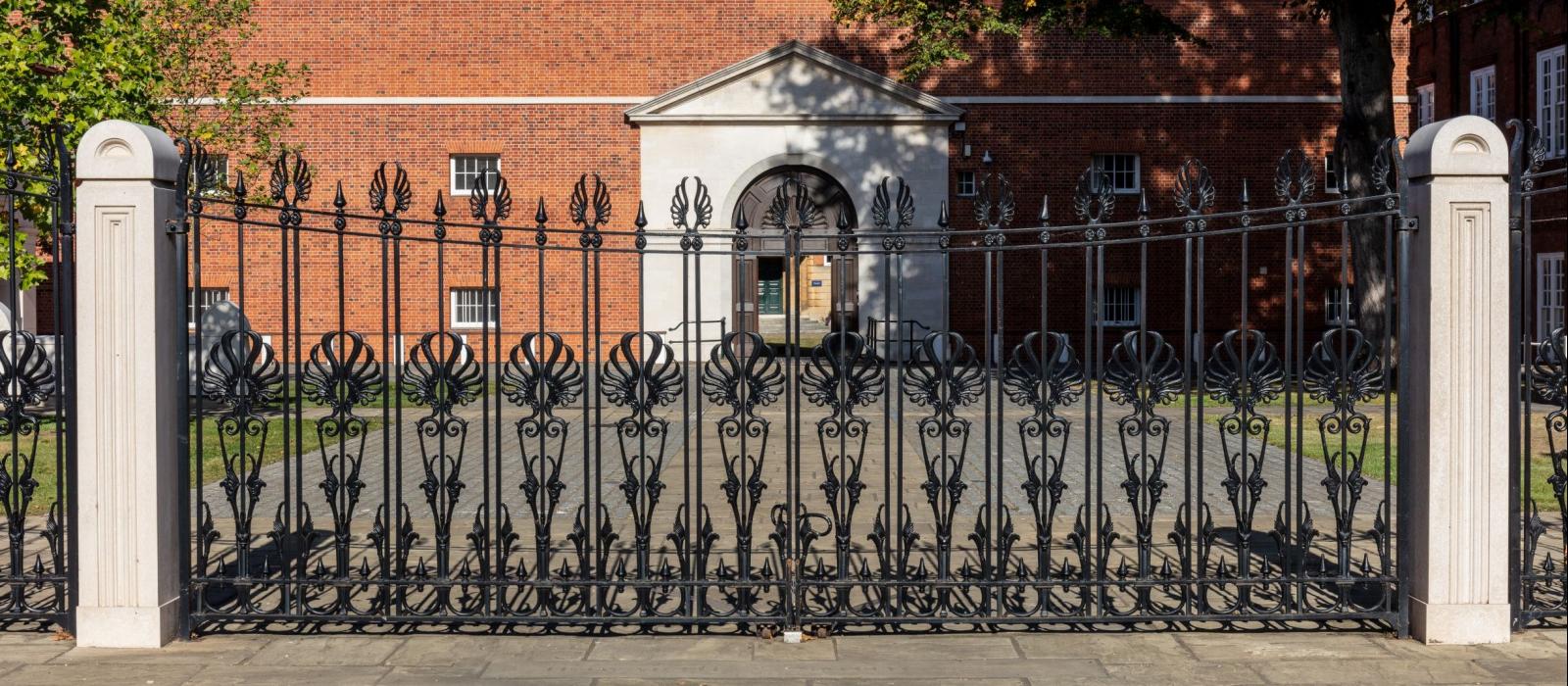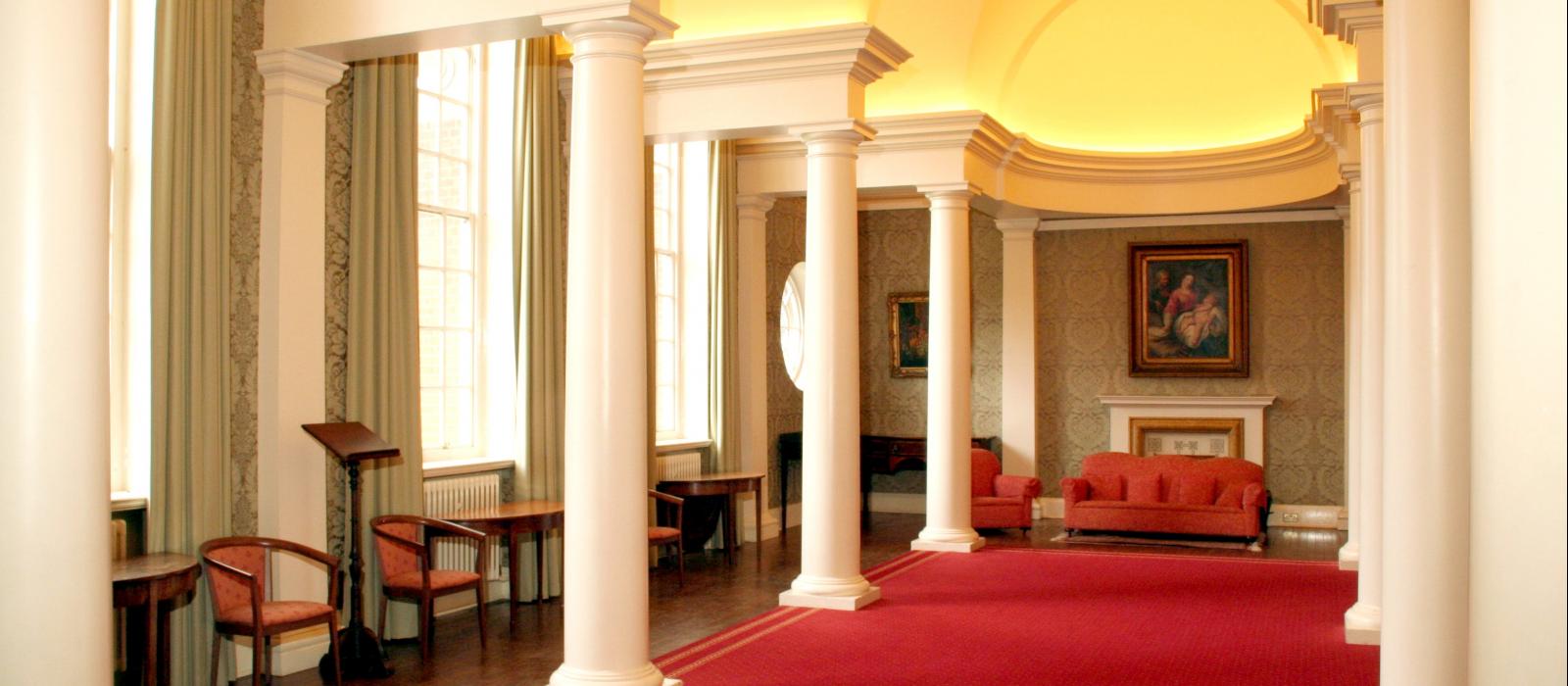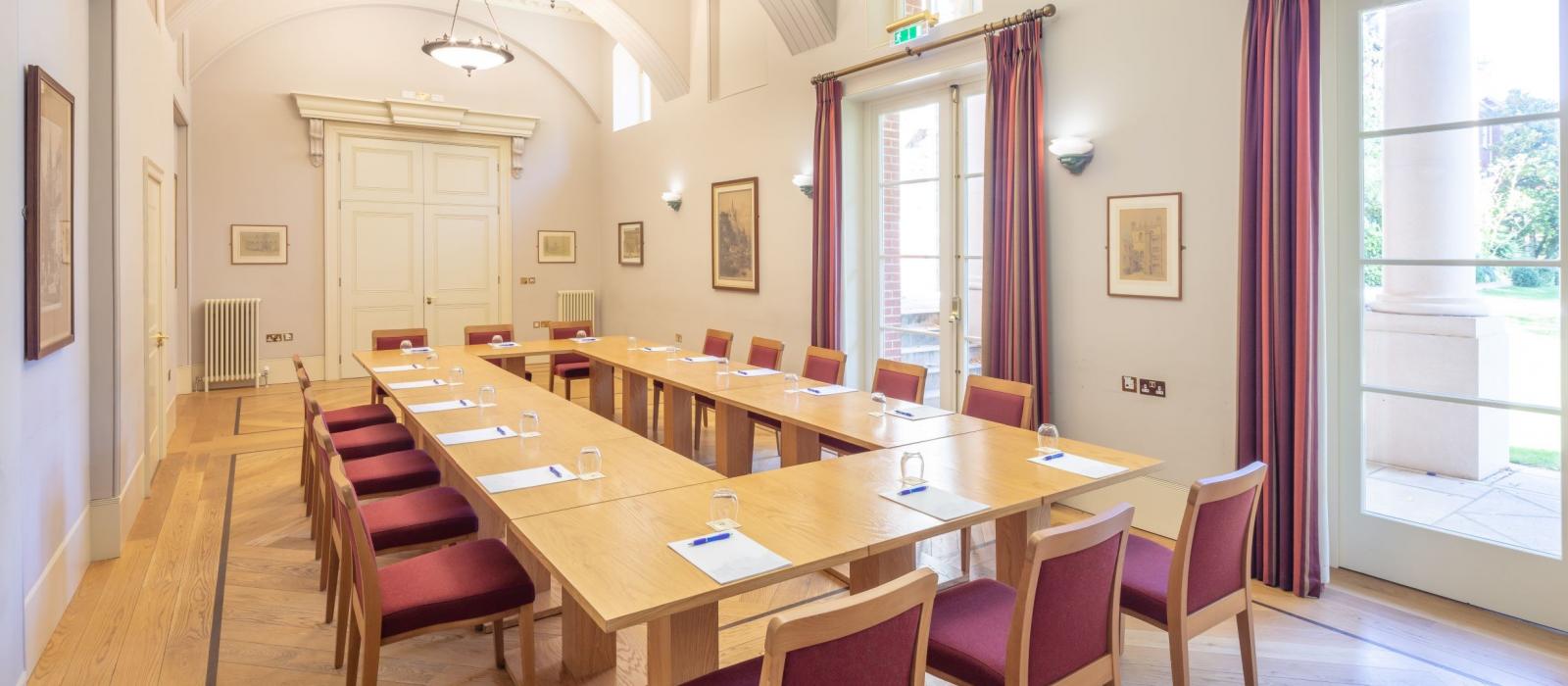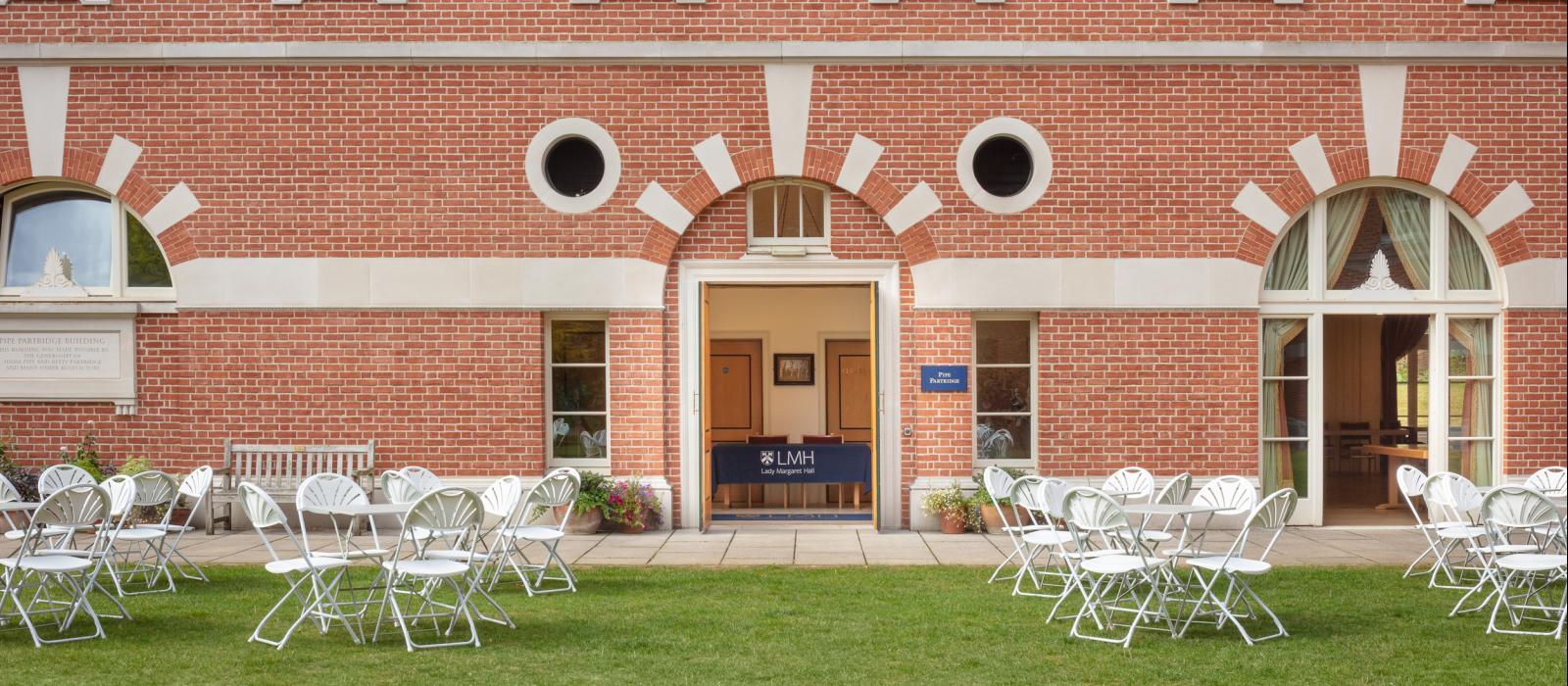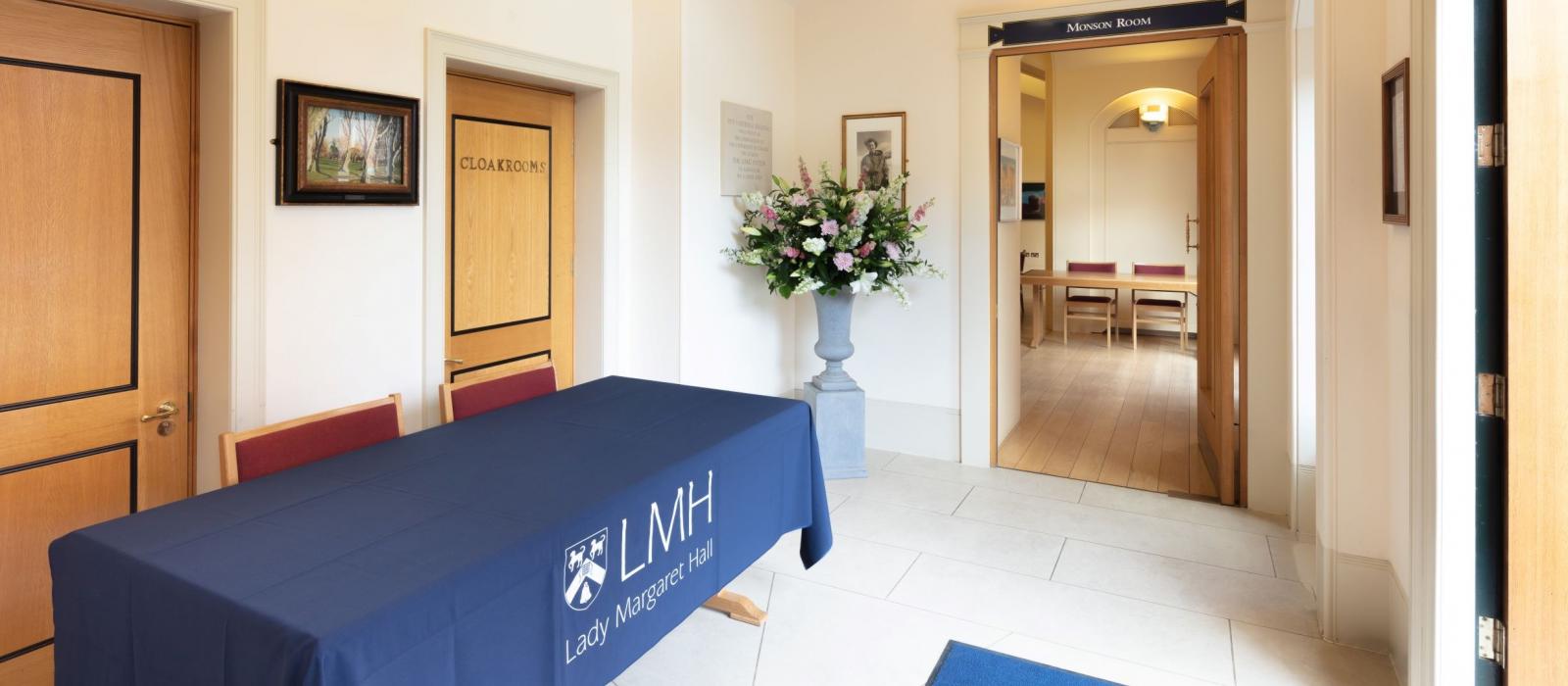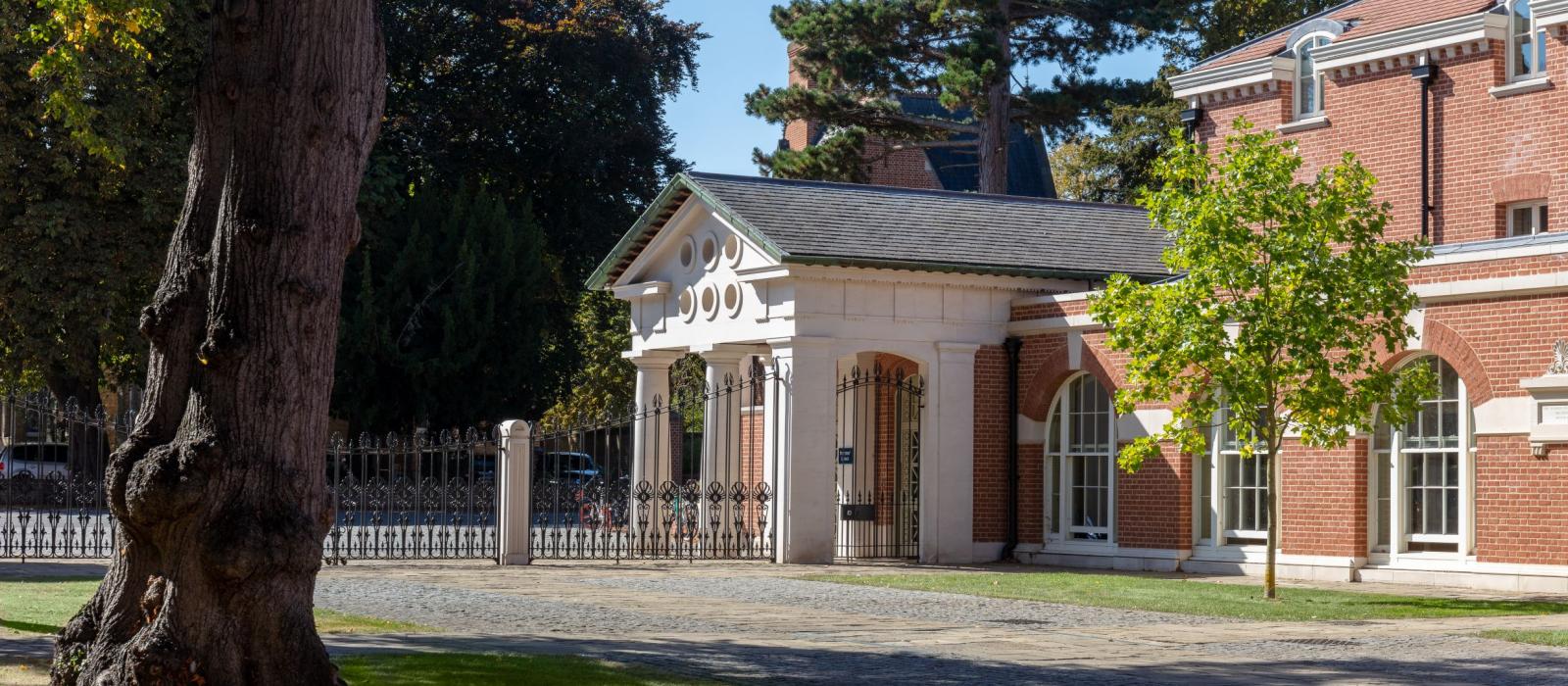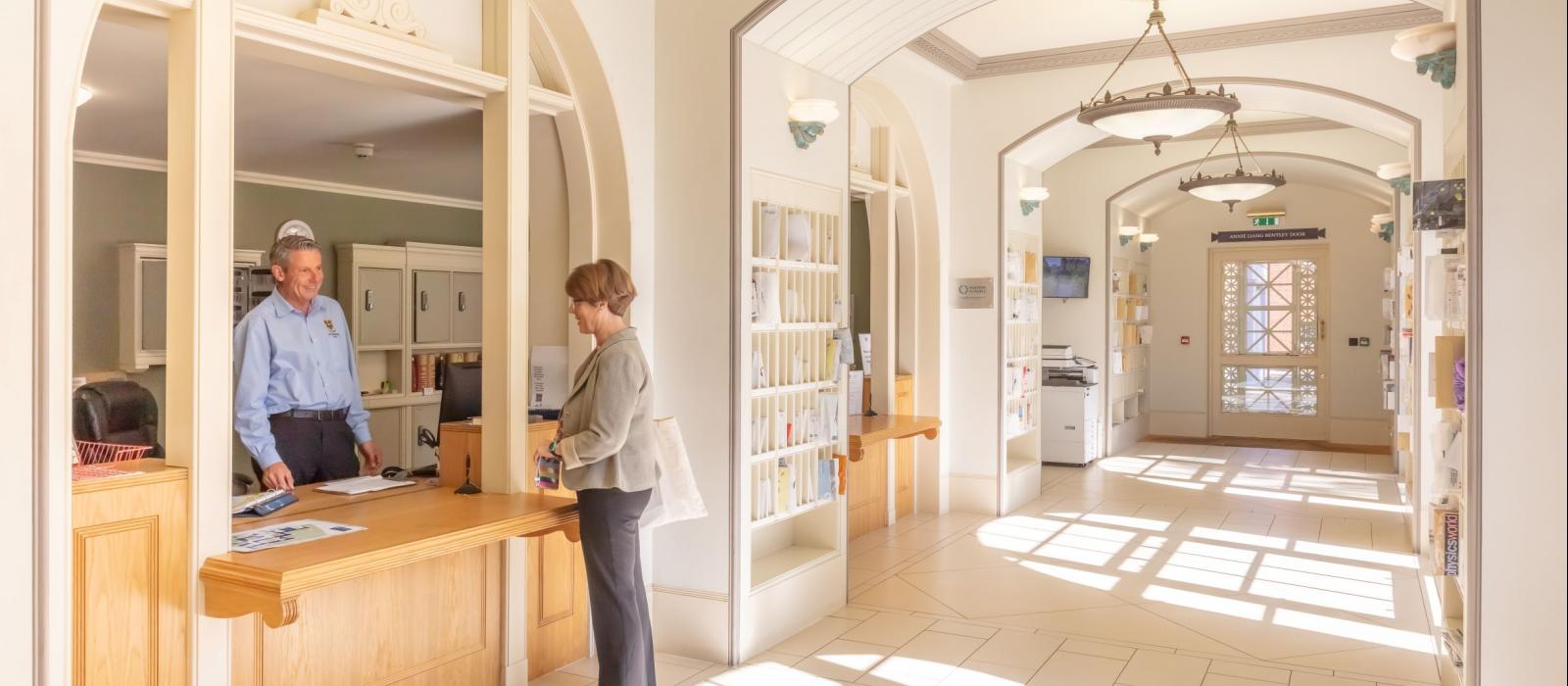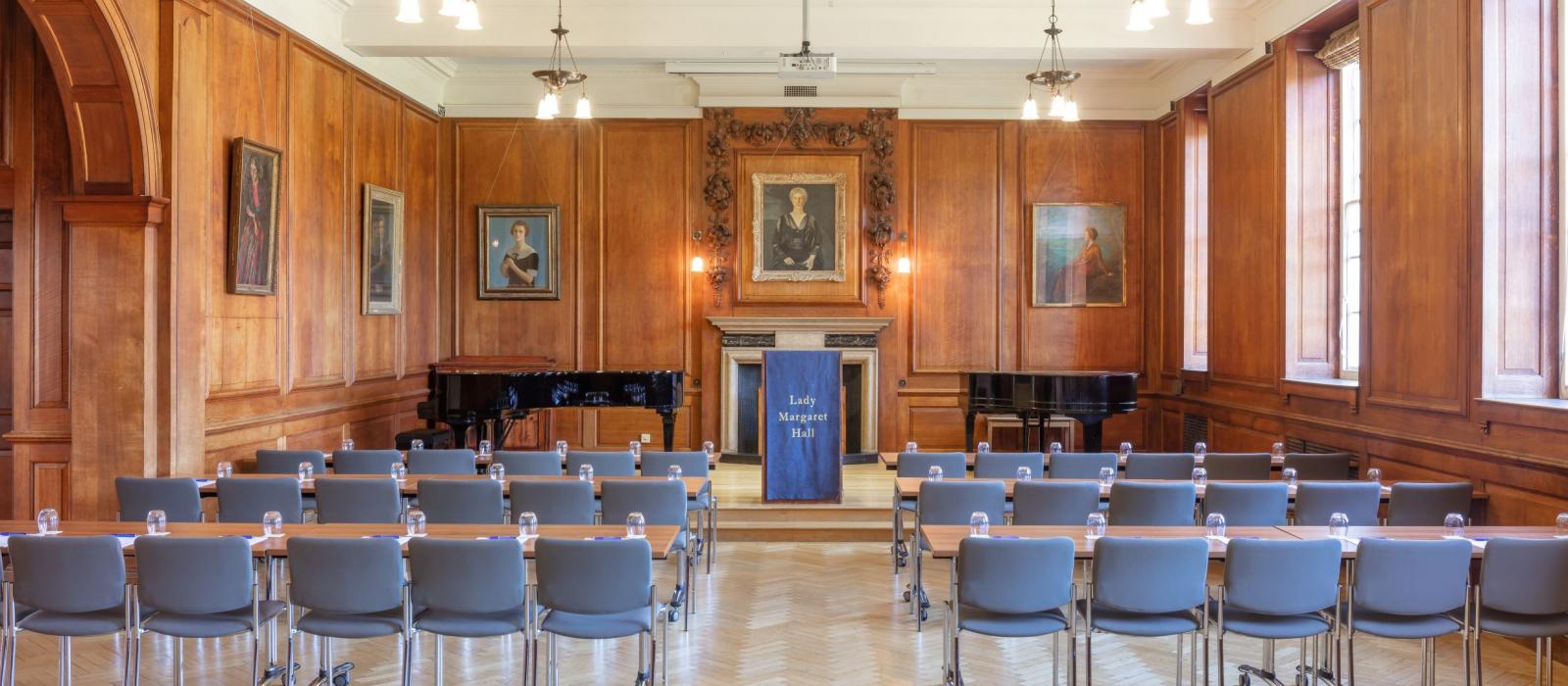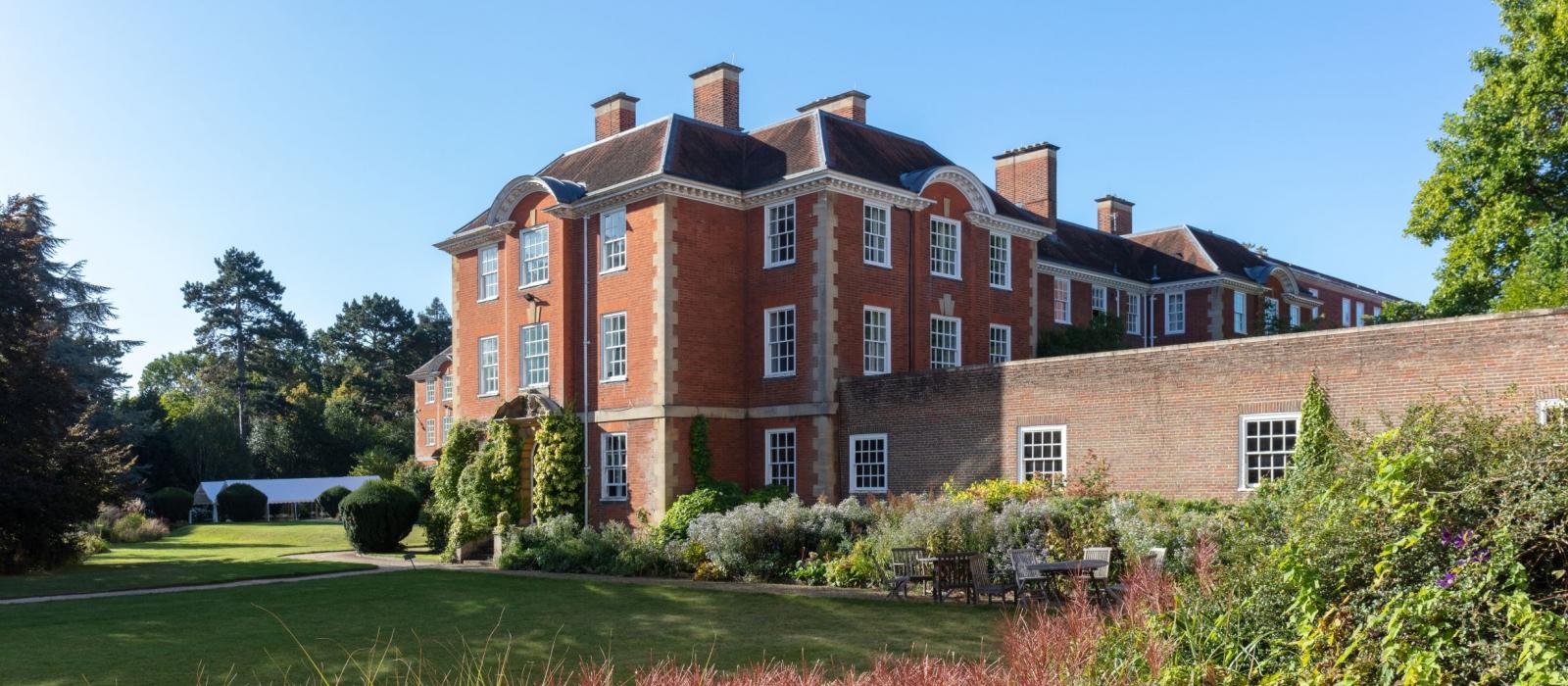 Lady Margaret Hall has been open to new ideas since it was founded in 1878 to admit the first female students to the University of Oxford. Our fresh approach, distinctive buildings and spacious, natural landscape make LMH the perfect setting for memorable events that engage and inspire your guests.

The college is available for meetings, conferences, seminars and functions. We can provide dining for small groups or up to 275 people in our splendid wood-panelled dining hall. Outside term time we can host residential conferences for up to 180 guests in en suite rooms.

The rooms at LMH range from grand function rooms to more intimate spaces perfect for encouraging open dialogue and creative thinking. Sometimes it is good to get away from it all. LMH offers a quiet and peaceful place for guests to relax and enjoy themselves. Visitors can explore our pretty gardens or saunter down to the river and try their hand at punting. Croquet and tennis are also available. In summer months we offer al fresco dining with BBQs and picnics, and afterwards guests can finish their evening on the garden terrace outside the College Bar.
This venue offers facilities for hybrid/virtual meetings.
Lady Margaret Hall
Norham Gardens, Oxford OX2 6QA
15 meeting spaces with capacity for up to 275 guests for Theatre, Classroom, Boardroom, Cabaret, Dining, and Buffet functions.
Bedrooms 386
Ensuite 216
Standard 170
Breakfast yes
Lunch yes
Dinner yes
"Thanks for an excellent service - it really helped us in finding an appropriate venue."
Institute of New Economic Thinking
Lady Margaret Hall Conference Team
conference@lmh.ox.ac.uk
01865 611079
http://conference.lmh.ox.ac.uk/
Simpkins Lee Theatre

Our new raked lecture theatre has fixed seats for 136 and can be upgraded to 150 with extra rows of chairs. It includes a projection room and integral audio-visual system. It is located in our newest building, which also contains 64 en-suite bedrooms, a dining room/meeting rooms/a reception space and a common room/refreshment area.

Facilities

Fully integrated projection, PA system, CD – DVD player, lighting and backstage area.

Accessibility

Two disabled spaces.

Available

Term & Vacation

Talbot Hall

Theatre 90

Classroom 60

Boardroom 36

Cabaret 48

Built in 1910 and for many years used as the college dining hall, it is the ideal room for lectures. It comfortably seats 110 theatre style, but its flexibility allows us to set it up in a variety of other styles.

Facilities

Equipped with a ceiling-mounted data projector, screen, lectern for laptop and speaker notes, DVD and video player, PA system, wireless ethernet access, and induction loop system.

Accessibility

Steps up.

Available

Term & Vacation

Old Library

Theatre 45

Classroom 30

Boardroom 25

Cabaret 32

This classic and elegant room, designed as the college's library in 1910, is now used mainly for receptions (up to 100 guests). It can also be arranged for lectures, meetings or classes and provides a quite intimate atmosphere.

Facilities

PA system and screen. Portable audio-visual equipment can be set up on request.

Accessibility

Second floor.

Available

Term & Vacation

Monson Room

Dining 72

Buffet 100

Theatre 60

Boardroom 40

Cabaret 72

One of our newest rooms, opposite the Simpkins Lee Theatre. It can be divided by moving walls, holding for example a dinner on one side and a lecture on the other.

Facilities

Can be divided by moving walls. Adjacent kitchen. Portable audio-visual equipment can be set up on request.

Accessibility

Full disabled access.

Available

Term & Vacation

Amanda Foreman

Elegant and modern room specially recommended for small business meetings, providing an intimate atmosphere.

Facilities

Flat TV screen.

Accessibility

Full disabled access.

Available

Term & Vacation

Lodge Seminar

Theatre 30

Classroom 25

Boardroom 20

Functional room ideal for teaching and small boardrooms.

Facilities

Ceiling projection, wall-mounted speakers, screen and white board.

Accessibility

Ground floor.

Available

Term & Vacation

Lodge Coaching

Functional room ideal for teaching and small boardrooms.

Facilities

White board.

Accessibility

Steps down.

Available

Term & Vacation

Lavinia Talbot Room

Functional room ideal for teaching and small boardrooms.

Facilities

Flat TV screen with speakers.

Accessibility

Available

Term & Vacation

Lyttleton Room

Classroom 20

Boardroom 16

Functional room ideal for teaching and small boardrooms.

Facilities

Wall-mounted projection and speakers.

Accessibility

Available

Term & Vacation

Committee Room

Wide, full-length windows mean you can step from this beautiful room onto the garden terrace. Also available for intimate dinners (up to 18 guests), it is the perfect venue for board meetings and seminars.

Facilities

Portable audio-visual equipment can be set up.

Accessibility

Available

Term & Vacation

Mary O'Brien

Theatre 45

Classroom 30

Boardroom 20

Medium–sized room, with huge windows bringing natural light and comfortable sofas.

Facilities

Adjacent kitchen. Portable audio-visual equipment can be set up.

Accessibility

Steps down.

Available

Term & Vacation

Jerwood Room

Dining 40

Buffet 50

Boardroom 32

Designed as an exhibition space, the Jerwood Room can accommodate larger board meetings, lectures or classes. The tables can be moved or rearranged. The Jerwood Room is also ideal for buffets or formal dinners with up to 40 guests.

Facilities

Portable audio-visual equipment can be set up.

Accessibility

Available

Term & Vacation

Deneke Dining Hall

Elegant oak-panelled dining hall with a minstrel's gallery and large windows, creating a light room. It can be provided in a number of layouts for dining. DJs and bands can be accommodated.

Facilities

Portable audio-visual equipment can be set up.

Accessibility

Available

Term & Vacation

Olga Pocock & Carol Gibson Room

Theatre 40

Classroom 21

Boardroom 16

The Olga Pocock and Carol Gibson Rooms are interlinked and pleasant, sunny rooms occupying a central position within the College. They can be used as separate rooms with different set ups for different purposes, or as one inter-connecting space. They make a useful additional room for residential conferences centred on the Theatre and Monson Room. The Olga Pocock room has windows on two sides, and the Carol Gibson room has French doors which can be opened up for a breath of fresh air.

Facilities

Portable audio – visual equipment can be set up on request.

Accessibility

Disabled access

Available

Term & Vacation

Paul Oster Room

Theatre 38

Boardroom 20

Cabaret 24

This is an elegant room with tall French windows opening onto a terrace with a view down the length of the LMH grounds. The new building has the same neo-classical styling as the nearby Pipe Partridge building, and the Paul Oster Room is a graceful and flexible space for meetings and drinks receptions.

Facilities

Portable audio – visual equipment can be set up on request.

Accessibility

Disabled access via lift

Available

Term & Vacation