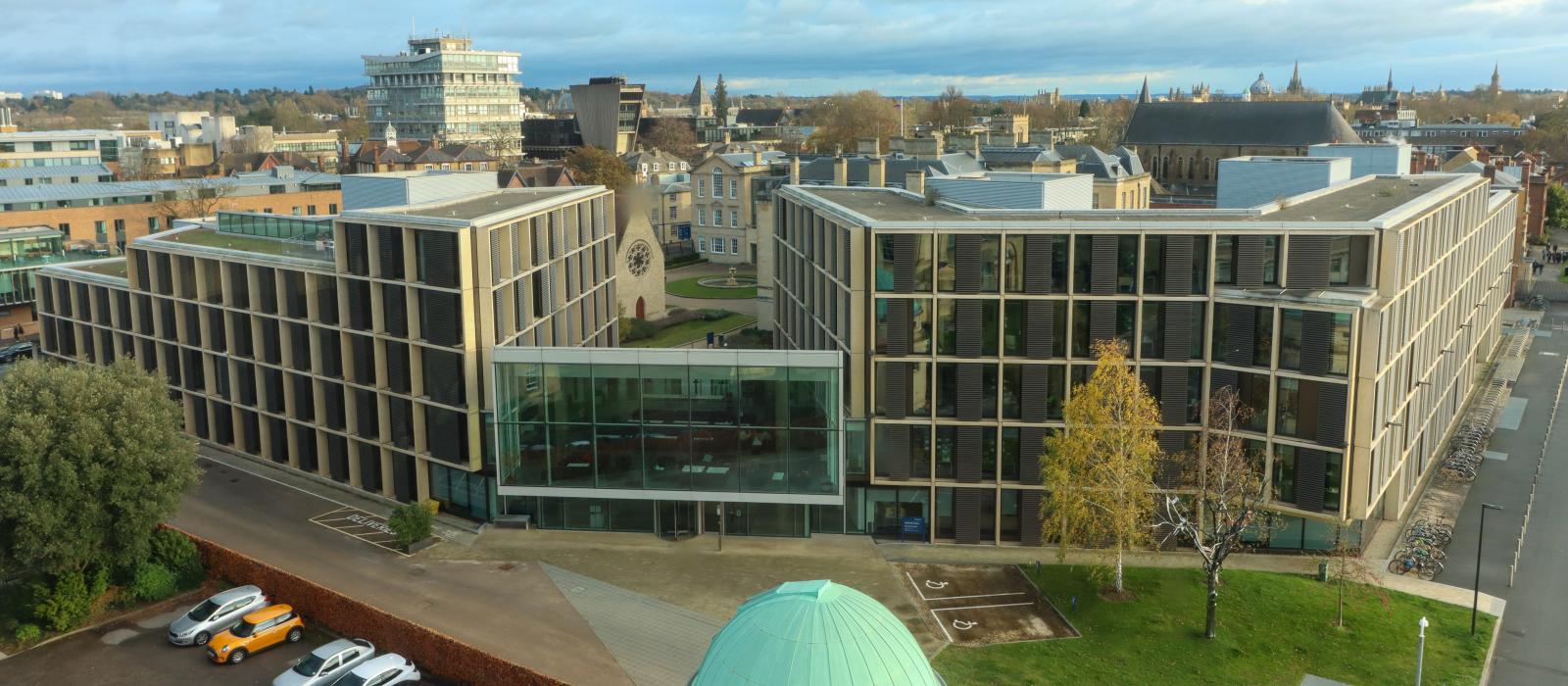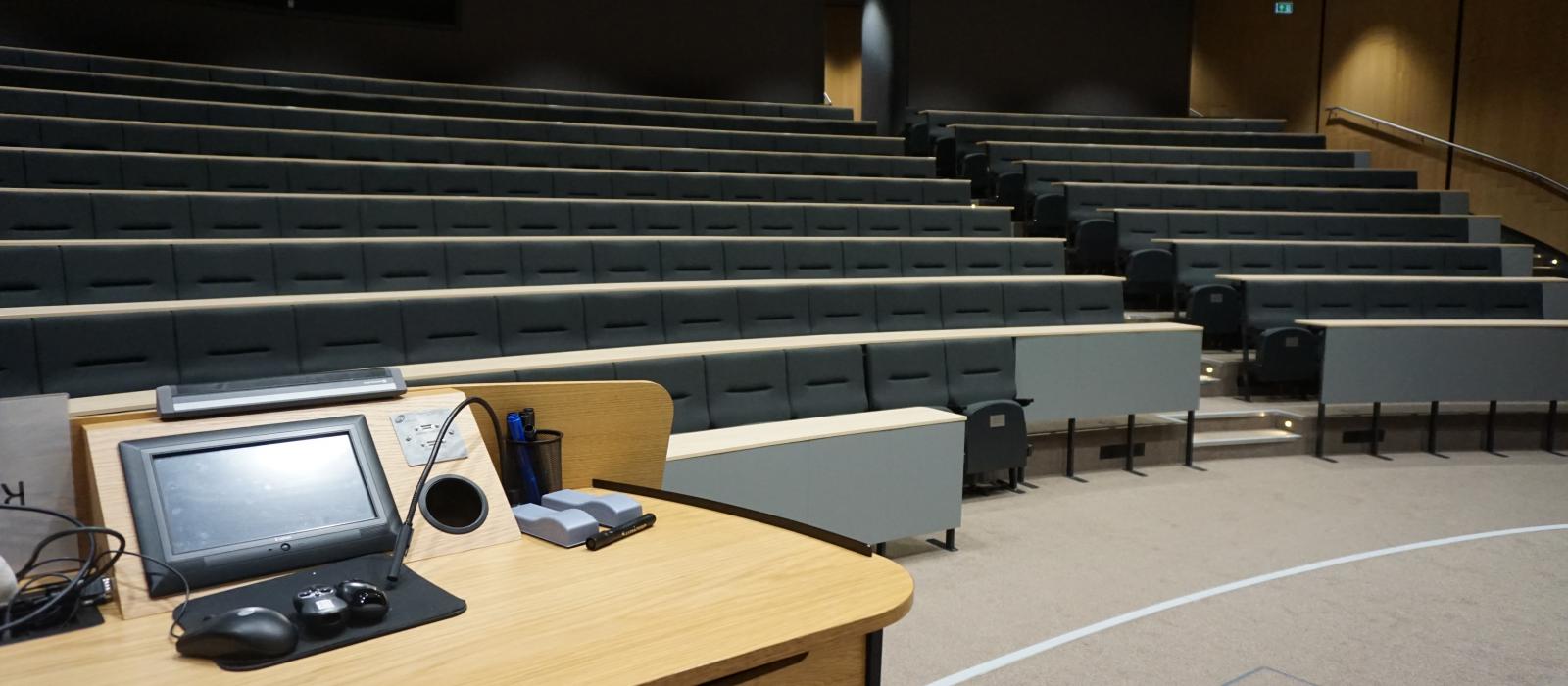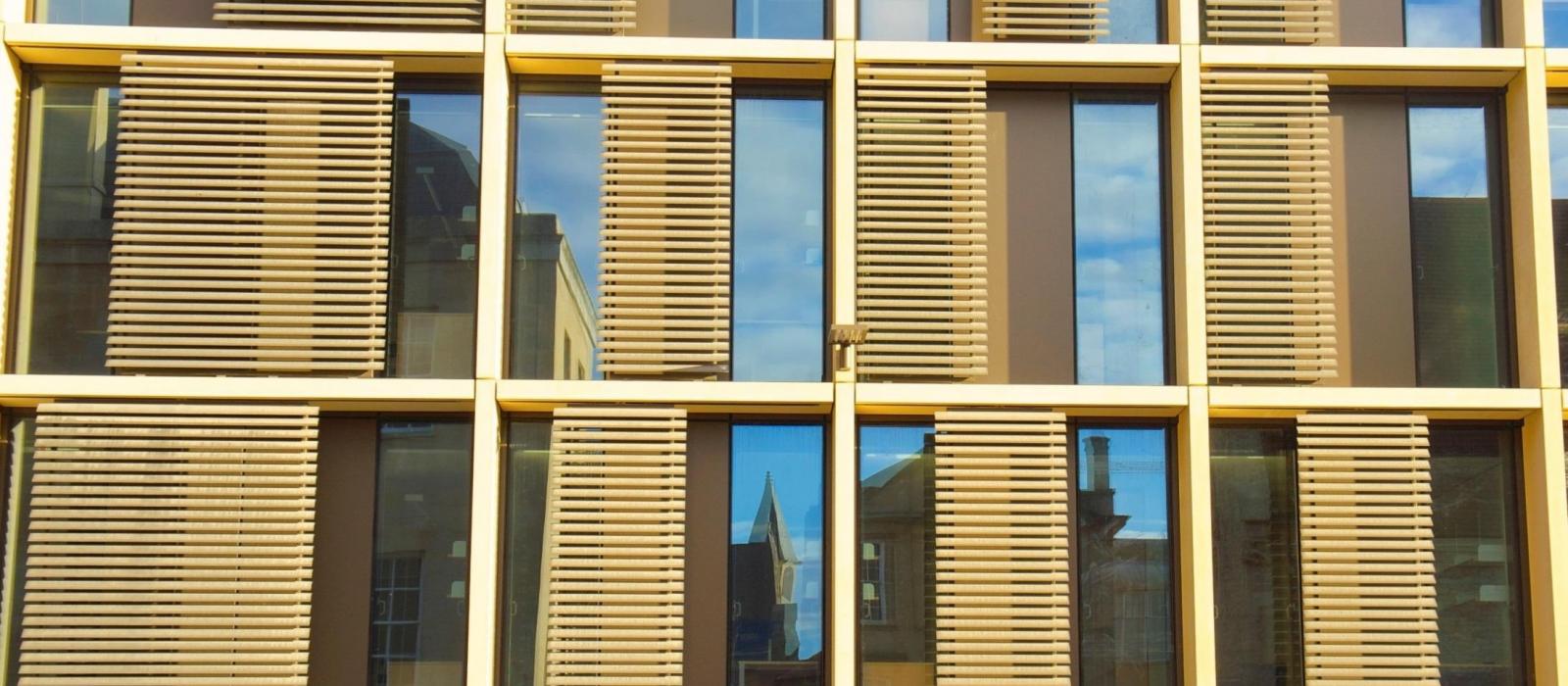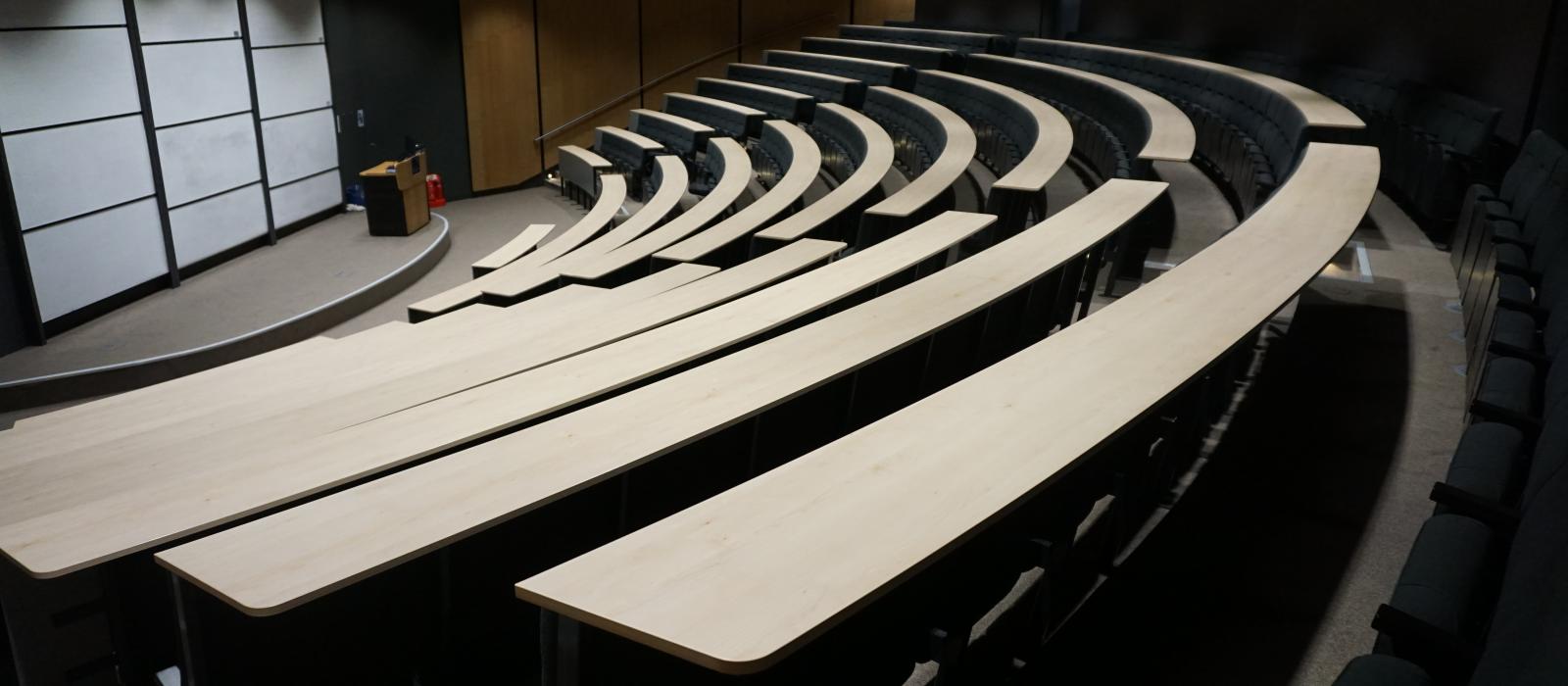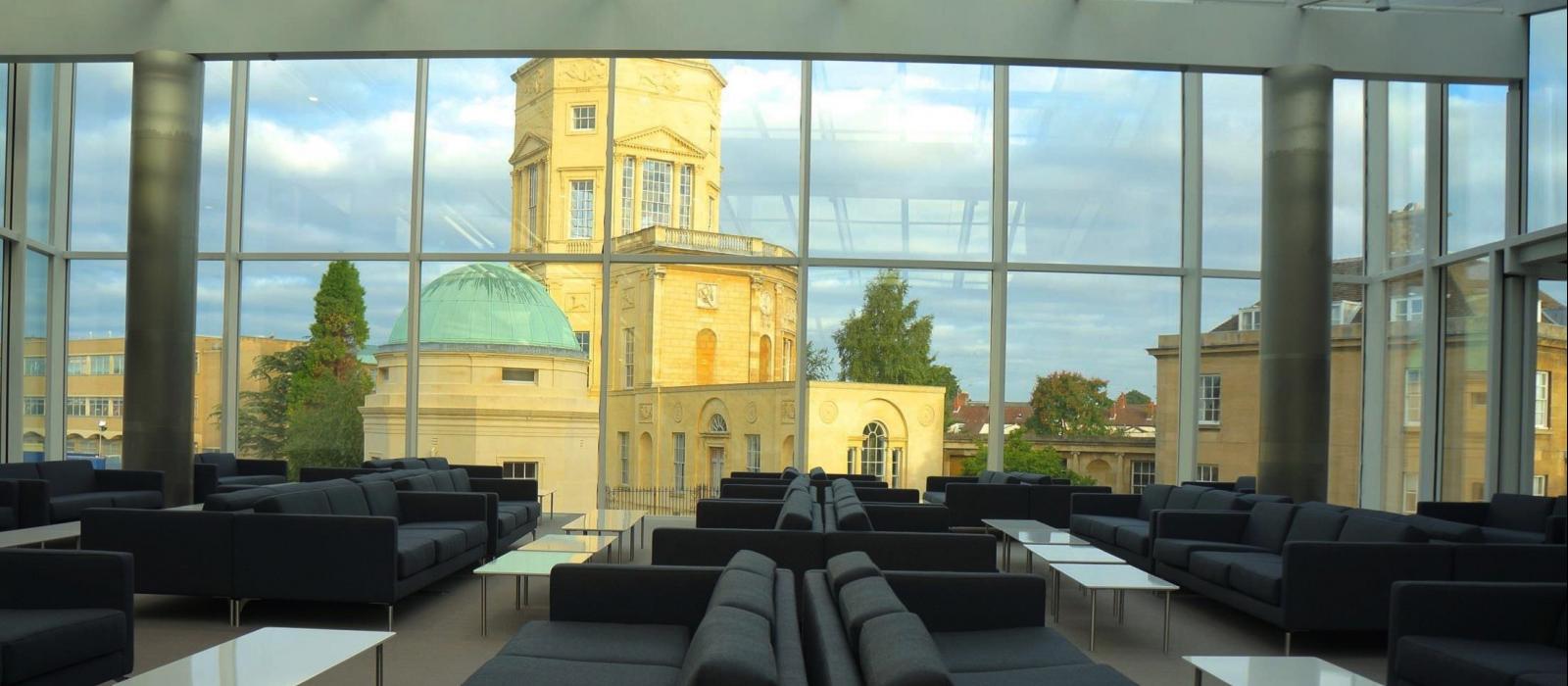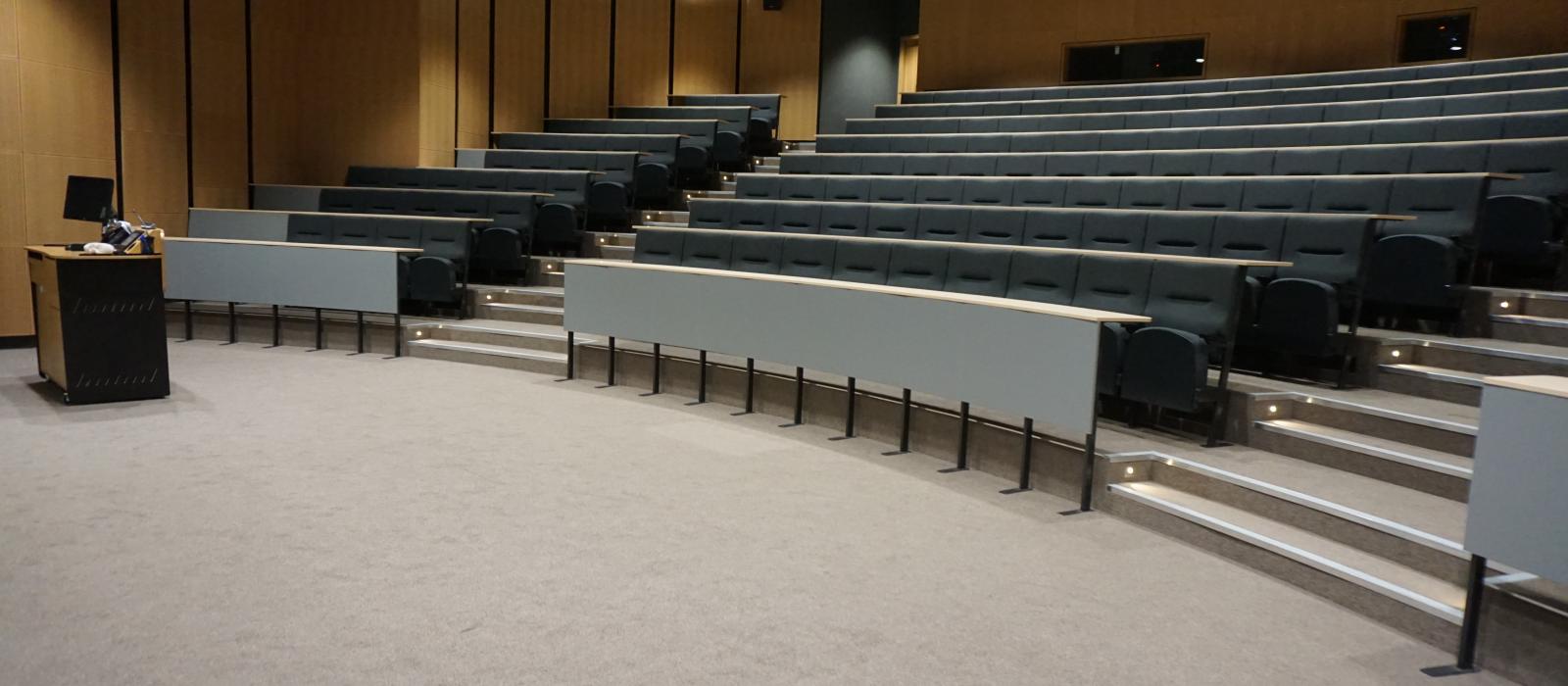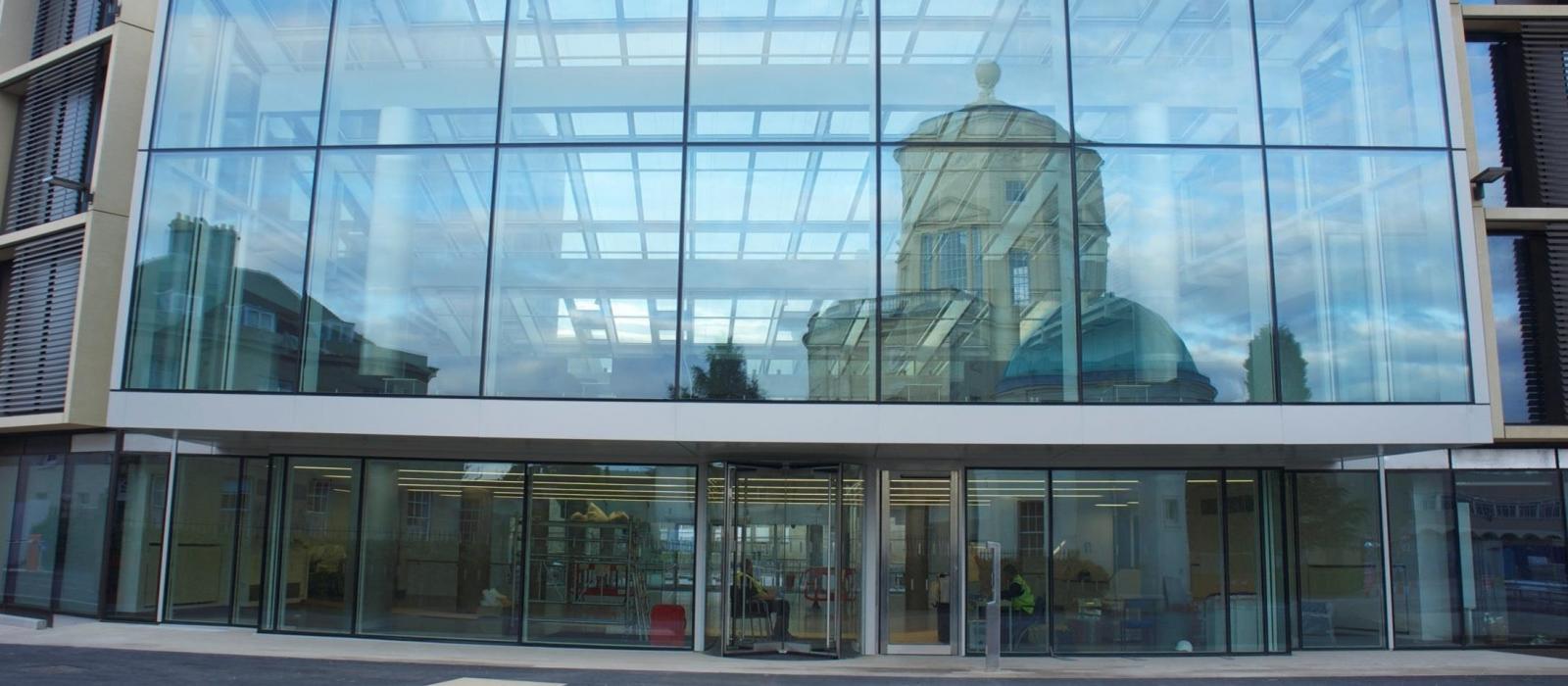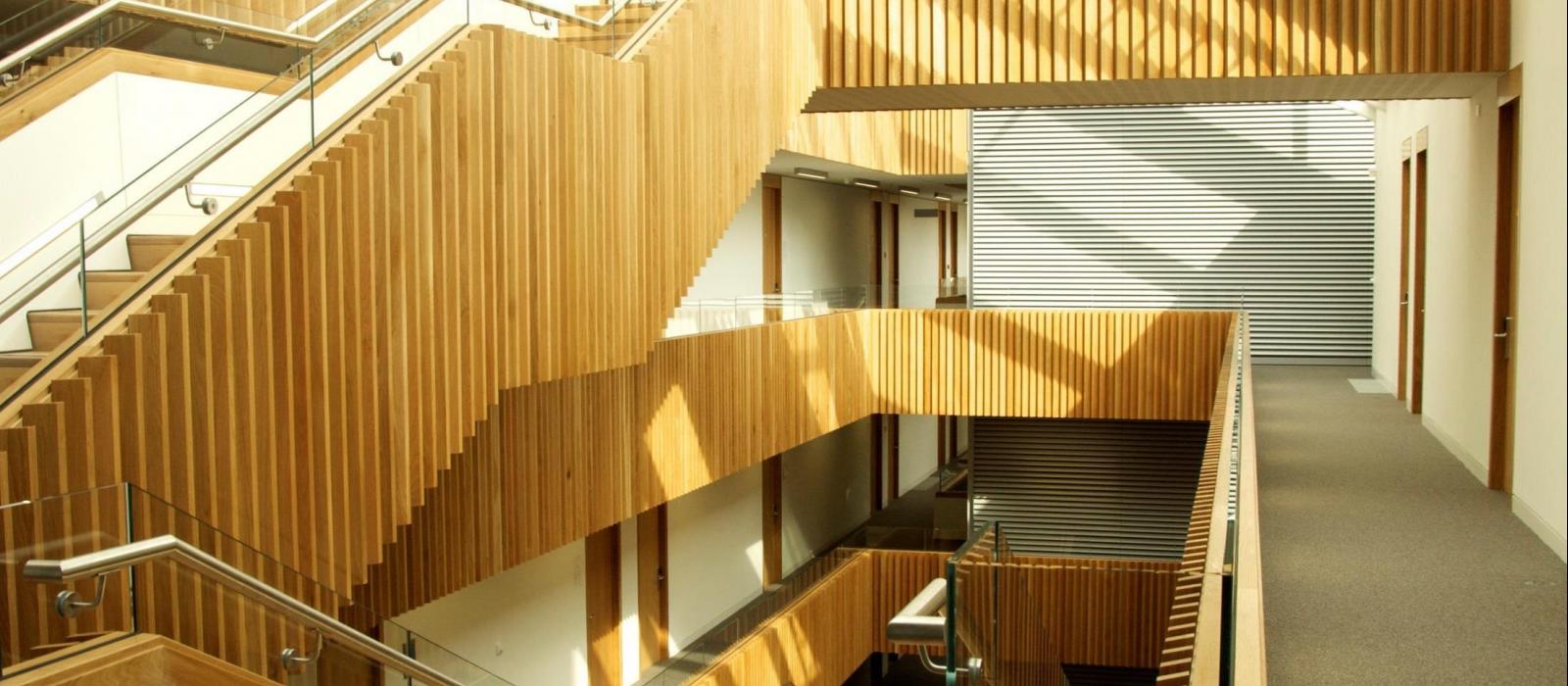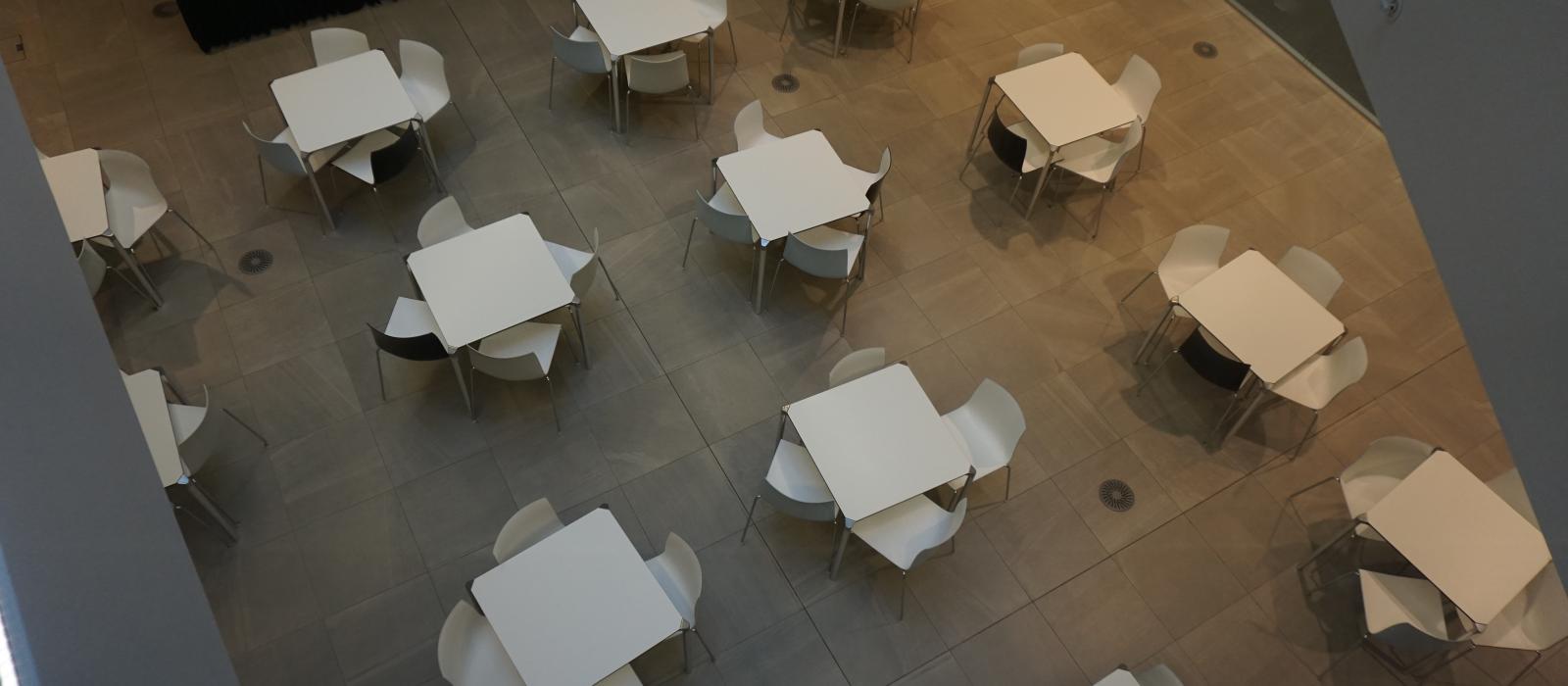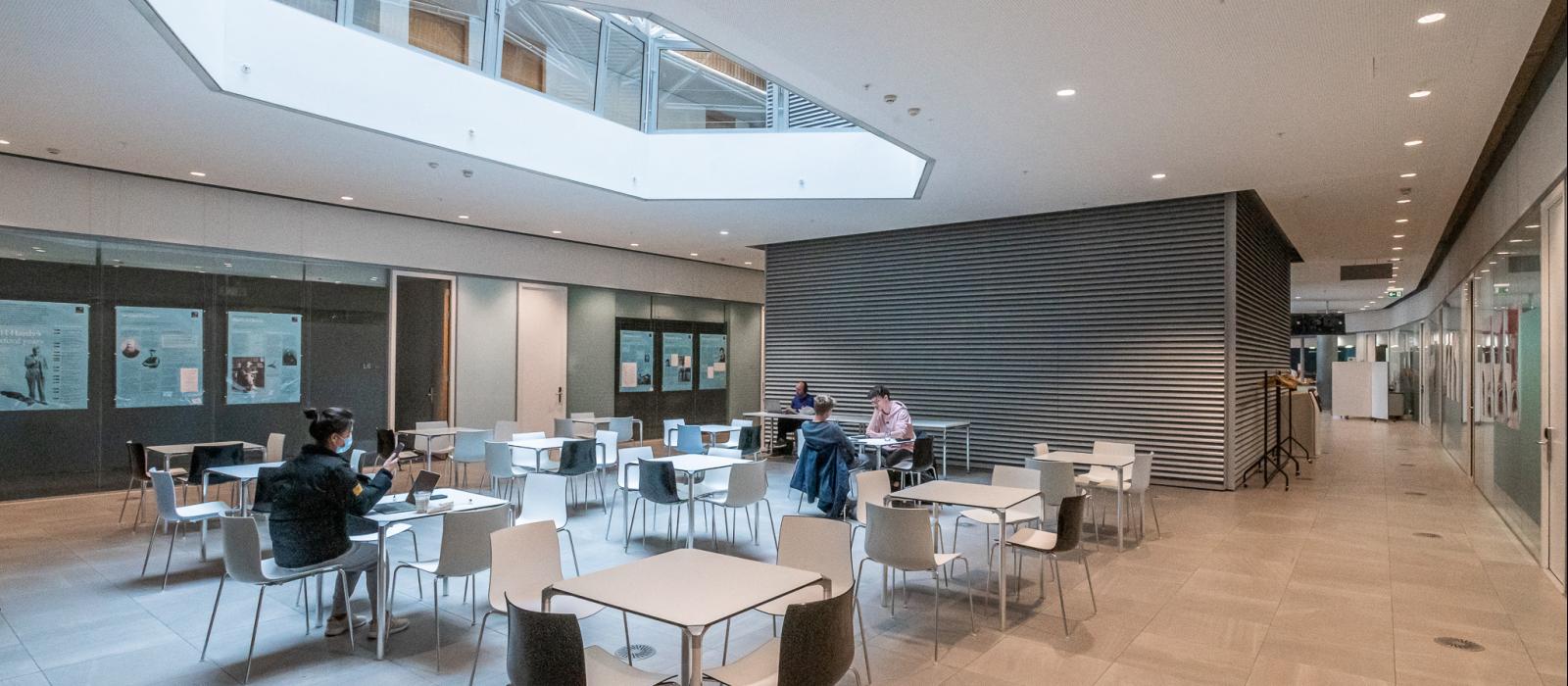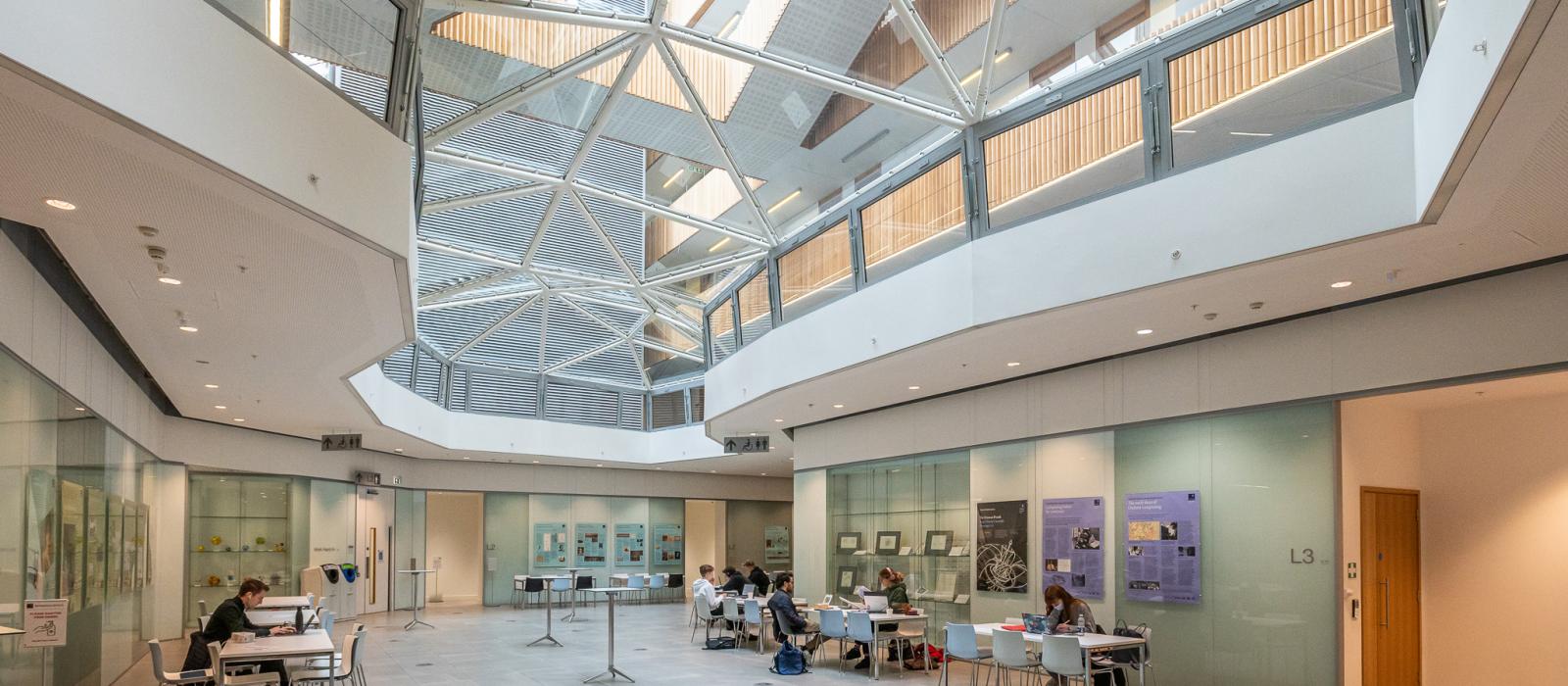 The Mathematical Institute is Oxford's newest and largest purpose built venue. With a main lecture theatre seating 360, two further large lecture theatres and plenty of seminar rooms, classrooms and meeting rooms the Mathematical Institute has answered Oxford's need for large modern facilities that can deliver a high-quality experience for clients and their delegates. Since opening in 2013 we have hosted hundreds of conferences and events from satisfied clients from all over the world.
The Mathematical Institute is located in the heart of Oxford with easy access to rail and bus links. We look forward to welcoming you.
This venue offers facilities for hybrid/virtual meetings.
Mathematical Institute
University of Oxford, Andrew Wiles Building, Radcliffe Observatory Quarter, Woodstock Road, Oxford OX2 6GG
16 meeting spaces with capacity for up to 360 guests for Theatre, Classroom, Boardroom, Cabaret, and Buffet functions.
Bedrooms
Ensuite
Standard
Breakfast
Lunch
Dinner
"We were all extremely appreciative of the kindness shown to us, and of the interest which the college staff took in us."
Conference customer
Evan Nedyalkov
events@maths.ox.ac.uk
01865 615 164/235
www.maths.ox.ac.uk/events/conference-facilities
L1

Lecture Theatre 1 is the largest purpose built lecture theatre in Oxford with comfortable seats and great acoustics.

Facilities

Two data projectors, two screens, five microphones (two clip on, two handheld and one attached to the lectern), rolling whiteboards, Windows and Linux machines as well as connections for laptops via VGA or HDMI. Power sockets at the end of each row. Wi-Fi is available throughout the building.

Accessibility

Mezzanine level access via lift. 4 stairs at the back of the lecture theatre or an accessible lift to the front of the lecture theatre. Stage lift for wheelchair access to the stage.

Available

Term & Vacation

L2

Lecture Theatre 2 is a medium sized lecture theatre with tiered comfortable seats and great acoustics.

Facilities

Two data projectors, two screens, five microphones (two clip on, two handheld and one attached to the lectern), rolling whiteboards, Windows and Linux machines as well as connections for laptops via VGA or HDMI. Power sockets at the end of each row.

Accessibility

Mezzanine level access via lift. Wheelchair access from the back of the lecture theatre with an accessible lift to the front of the lecture theatre.

Available

Term & Vacation

L3

Lecture Theatre 3 is a lecture theatre with tiered comfortable seats and great acoustics.

Facilities

Two data projectors, two screens, five microphones (two clip on, two handheld and one attached to the lectern), rolling whiteboards, Windows and Linux machines as well as connections for laptops via VGA or HDMI. Power sockets at the end of each row.

Accessibility

Mezzanine level access via lift. Wheelchair access only to the back of the room.

Available

Term & Vacation

L4

Theatre 75

Classroom 56

Boardroom 24

Cabaret 40

Lecture Theatre 4 is a flat seminar room with furniture that can be rearranged. The standard set up of the room is classroom, if you would like a different layout, please enquire.

Facilities

Two data projectors, two screens, three microphones (two clip on and one attached to the lectern), rolling whiteboards, Windows and Linux machines as well as connections for laptops via USBC or HDMI. Power sockets throughout the room.

Accessibility

Mezzanine level access via lift. Room is fully accessible.

Available

Term & Vacation

L5

Theatre 75

Classroom 56

Boardroom 24

Cabaret 40

Lecture Theatre 5 is a flat seminar room with furniture that can be rearranged. The standard set up of the room is classroom, if you would like a different layout, please enquire.

Facilities

Two data projectors, two screens, three microphones (two clip on and one attached to the lectern), rolling whiteboards, Windows and Linux machines as well as connections for laptops via USBC or HDMI. Power sockets throughout the room.

Accessibility

Mezzanine level access via lift. Room is fully accessible.

Available

Term & Vacation

L6

Theatre 50

Classroom 36

Boardroom 20

Cabaret 25

Lecture Theatres 6 is a flat seminar room with furniture that can be rearranged. The standard set up of the room is classroom, if you would like a different layout, please enquire.

Facilities

Two data projectors and two screens, three microphones (two clip on and one attached to the lectern), rolling whiteboards, Windows and Linux machines as well as connections for laptops via USBC or HDMI. Power sockets throughout the room.

Accessibility

Mezzanine level access via lift. Room is fully accessible.

Available

Term & Vacation

C1

Theatre 32

Classroom 20

Boardroom 16

Cabaret 16

The classrooms are flat classrooms with furniture that can be rearranged. The standard set up of the room is classroom, if you would like a different layout, please enquire.

Facilities

One data projector and screen, rolling whiteboards, Windows and Linux machines as well as connections for laptops via VGA or HDMI. Power sockets throughout the room.

Accessibility

Mezzanine level access via lift. Room is fully accessible.

Available

Term & Vacation

C2

Theatre 32

Classroom 20

Boardroom 16

Cabaret 16

The classrooms are flat classrooms with furniture that can be rearranged. The standard set up of the room is classroom, if you would like a different layout, please enquire.

Facilities

One data projector and screen, rolling whiteboards, Windows and Linux machines as well as connections for laptops via VGA or HDMI. Power sockets throughout the room.

Accessibility

Mezzanine level access via lift. Room is fully accessible.

Available

Term & Vacation

C3

Theatre 32

Classroom 20

Boardroom 16

Cabaret 16

The classrooms are flat classrooms with furniture that can be rearranged. The standard set up of the room is classroom, if you would like a different layout, please enquire.

Facilities

One data projector and screen, rolling whiteboards, Windows and Linux machines as well as connections for laptops via VGA or HDMI. Power sockets throughout the room.

Accessibility

Mezzanine level access via lift. Room is fully accessible.

Available

Term & Vacation

C4

Theatre 32

Classroom 20

Boardroom 16

Cabaret 16

The classrooms are flat classrooms with furniture that can be rearranged. The standard set up of the room is classroom, if you would like a different layout, please enquire.

Facilities

One data projector and screen, rolling whiteboards, Windows and Linux machines as well as connections for laptops via VGA or HDMI. Power sockets throughout the room.

Accessibility

Mezzanine level access via lift. Room is fully accessible.

Available

Term & Vacation

C5

Theatre 32

Classroom 20

Boardroom 16

Cabaret 16

The classrooms are flat classrooms with furniture that can be rearranged. The standard set up of the room is classroom, if you would like a different layout, please enquire.

Facilities

One data projector and screen, rolling whiteboards, Windows and Linux machines as well as connections for laptops via VGA or HDMI. Power sockets throughout the room.

Accessibility

Mezzanine level access via lift. Room is fully accessible.

Available

Term & Vacation

C6

Theatre 32

Classroom 20

Boardroom 16

Cabaret 16

The classrooms are flat classrooms with furniture that can be rearranged. The standard set up of the room is classroom, if you would like a different layout, please enquire.

Facilities

One data projector and screen, rolling whiteboards, Windows and Linux machines as well as connections for laptops via VGA or HDMI. Power sockets throughout the room.

Accessibility

Mezzanine level access via lift. Room is fully accessible.

Available

Term & Vacation

Boardroom

The Boardroom is a prestigious room at the top of the building with a large boardroom table, a roof terrace and great views over North Oxford.

Facilities

One data projector and a plasma screen TV, a fixed whiteboard, connections for laptops via USBC or HDMI. Power sockets throughout the room.

Accessibility

Fourth floor access via lift.

Available

Term & Vacation

Common Room

The Common Room is a stunning room with glass walls and ceiling, ideal for prestigious drinks receptions. The comfortable occupancy of the room is 200 people, but there is some flexibility depending on the layout, please enquire.

Facilities

Wifi throughout the space

Accessibility

First floor access via lift.

Available

Term & Vacation

South Mezzanine

A large open space which is flexible for catering, poster sessions and exhibitors.

Facilities

40 poster frames, A0 portrait. Large tables and poseur tables throughout the space.

Accessibility

Mezzanine level access via lift

Available

Term & Vacation

North Mezzanine

An open space which is flexible for catering, poster sessions and exhibitors.

Facilities

10 poster frames, A0 portrait. Small tables and poseur tables throughout the space.

Accessibility

Mezzanine level access via lift

Available

Term & Vacation