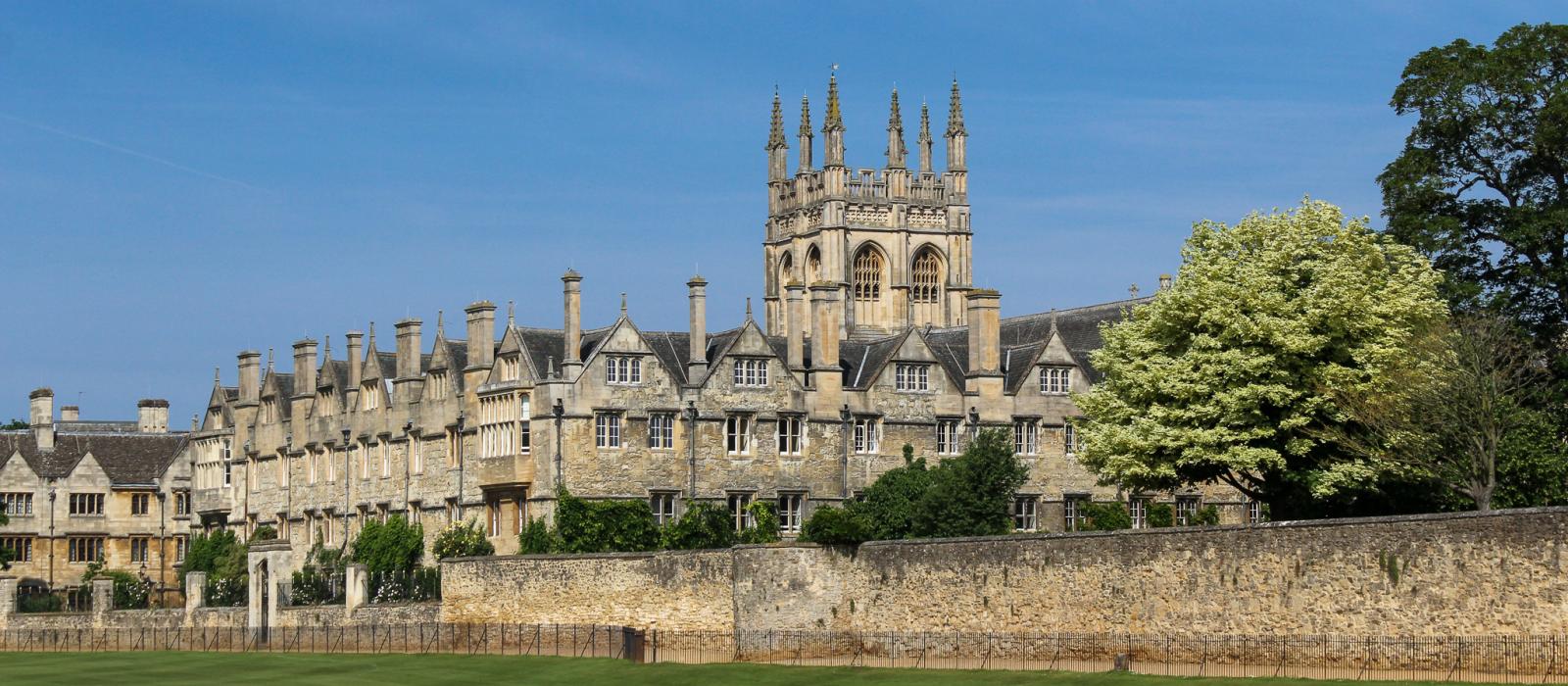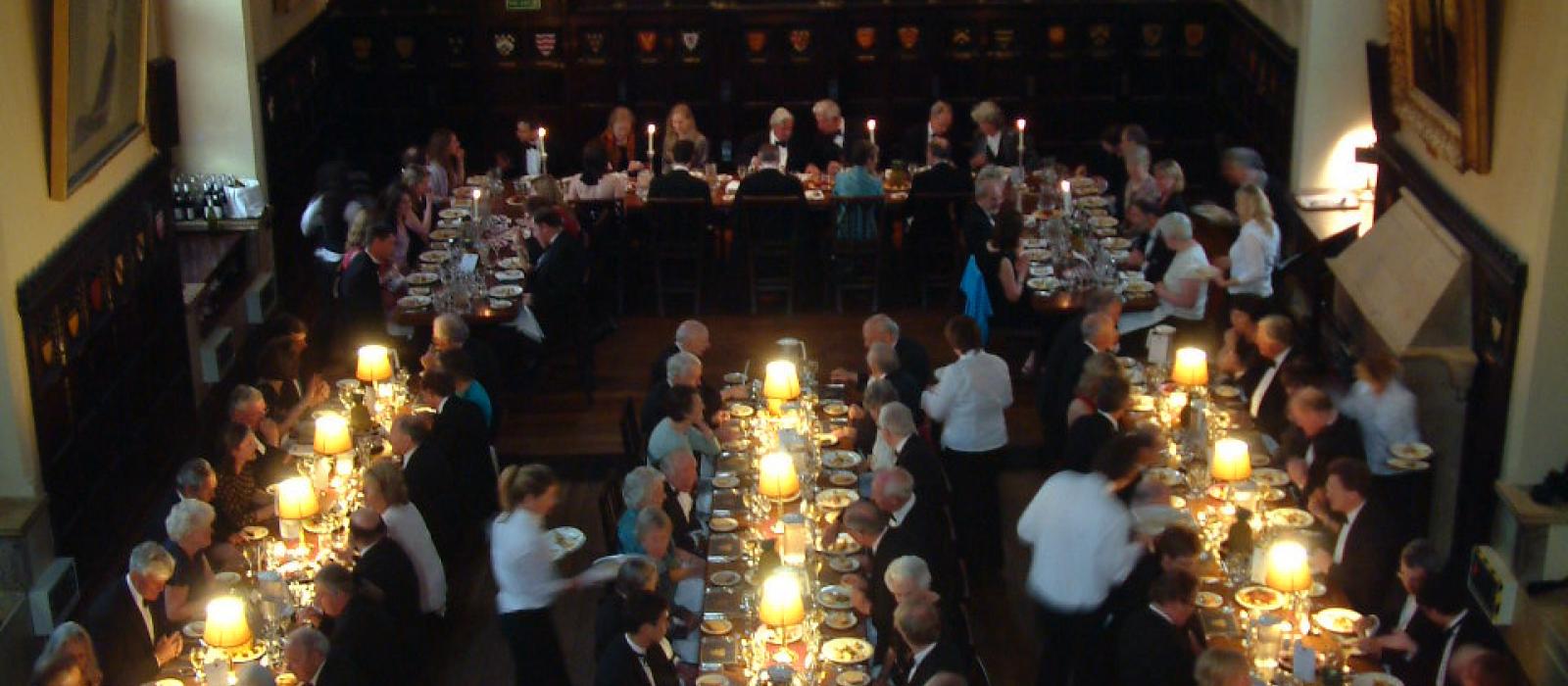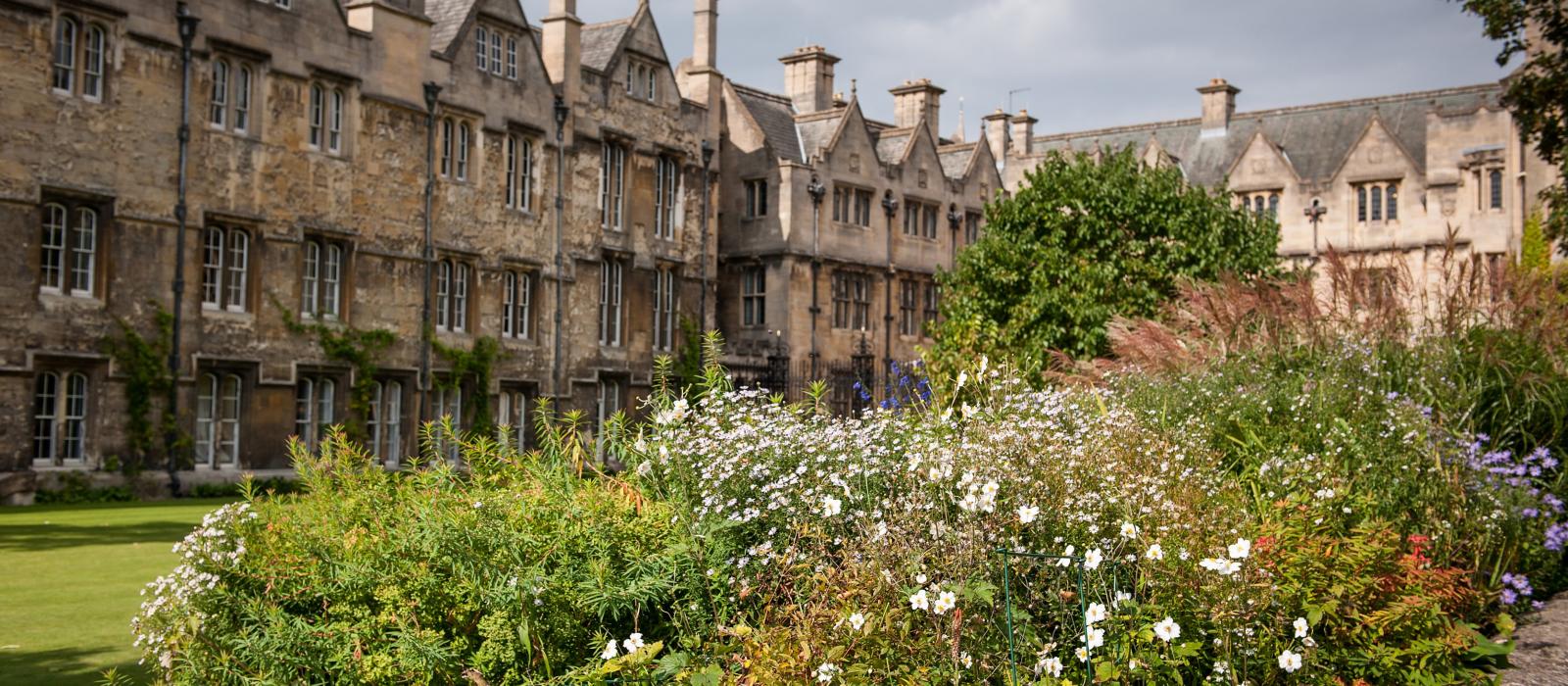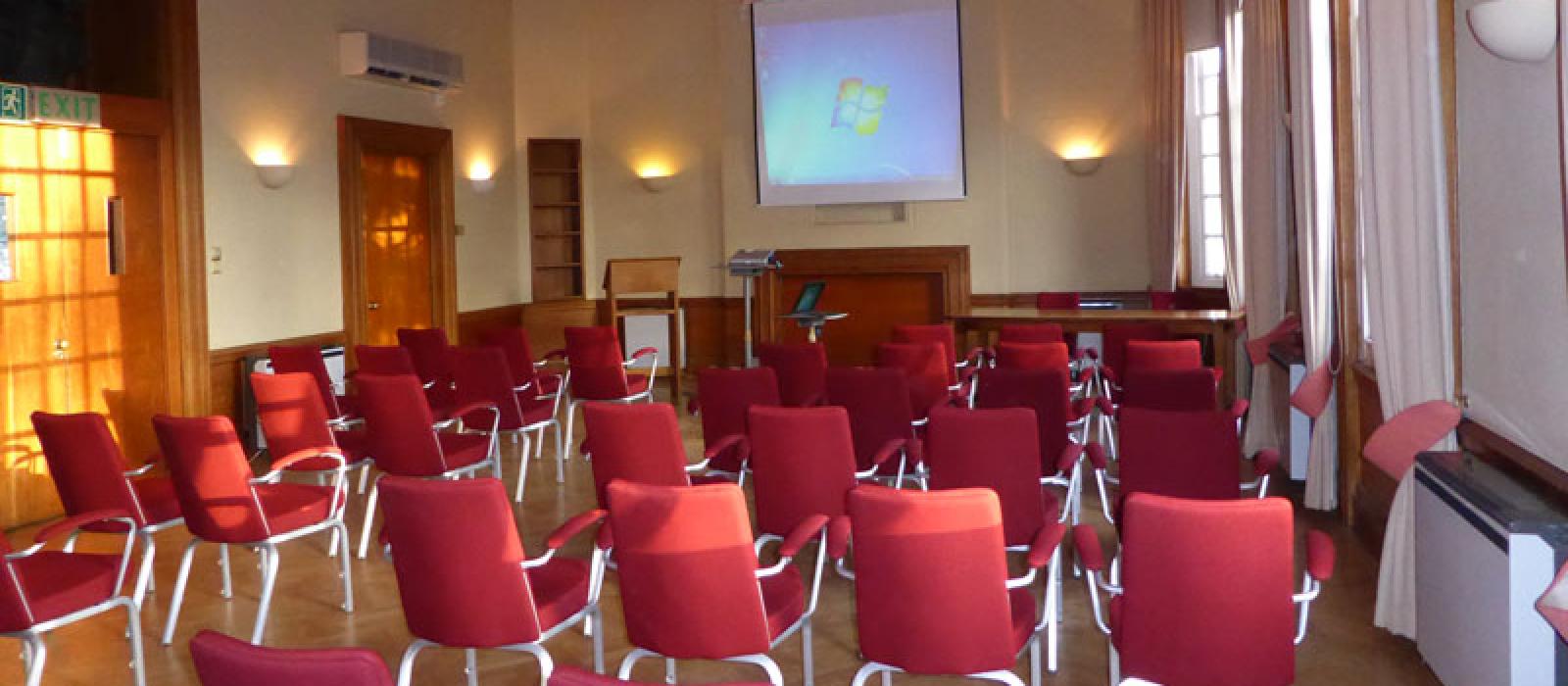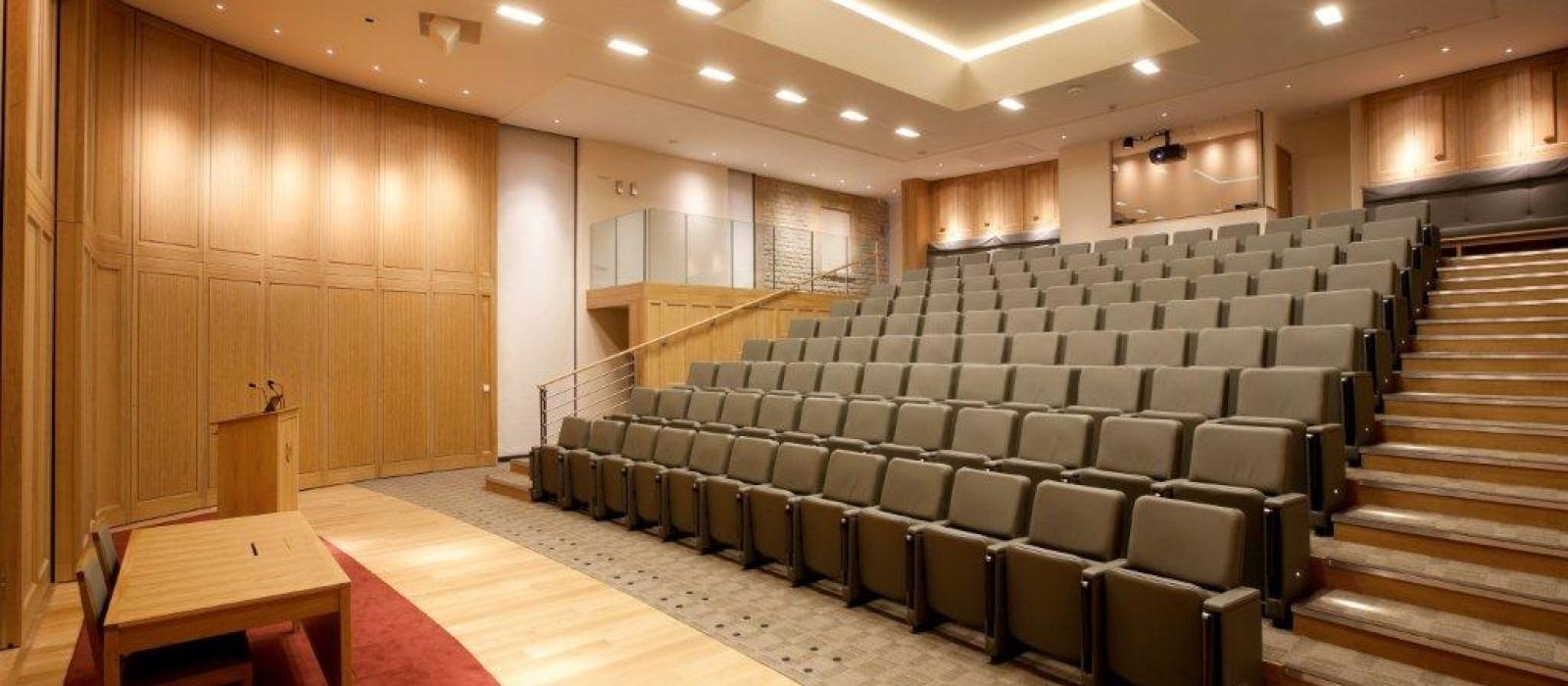 Merton College is continuously evolving and combines state-of-the-art facilities with traditional grandeur across its diverse collection of spaces, boasting modern convenience and idyllic surroundings.  The college offers fantastic contemporary spaces such as the purpose-built TS Eliot lecture theatre with adjoining syndicate rooms, as well as smaller, traditional rooms such as the Americas Room overlooking the secluded Fellow's Garden, and the wood panelled Harrison Room and Breakfast Room.
With over 130 bedrooms, residential conferences are welcomed during college vacation time, when we have a selection of ensuite and standard rooms available across both our modern and traditional buildings.  Guests can enjoy breakfast, lunch and dinner prepared by our experienced catering team, with banquet menus being available upon request.  The exquisite ante-chapel provides an enchanting setting for a drinks reception, alongside our picturesque lawns with the historic college as your backdrop.
With prior arrangement, delegates can have the use of a comfortable common room to relax in during their free time, along with access to the modest college gym.  Wi-Fi internet access is available for all guests in accommodation and meeting areas.
360 Degree virtual tours of the facilities can be found by clicking on each area below:
* Conference and Meeting
* Dining and Accommodation
* Social and Relaxation 
Merton College
Merton St, Oxford OX1 4JD
13 meeting spaces with capacity for up to 140 guests for Theatre, Classroom, Dining, Boardroom, Buffet, Reception, and Other functions.
Bedrooms 120
Ensuite 85
Standard 35
Breakfast yes
Lunch yes
Dinner yes
"Very impressed with the booking system "
Oxfordshire County Council
Alexandra Moore
conferences@merton.ox.ac.uk
01865 276327
http://www.merton.ox.ac.uk/
T S Eliot Theatre

Theatre 140

Classroom 118

Modern facilities with a traditional feel, extensive wood panelling, and tiered leather seating.

Facilities

Full wireless and broadband internet access. Extensive audio-visual facilities.

Accessibility

Full disabled access.

Available

Term & Vacation

Hall

Traditional wood-panelled walls and banquet seating.

Facilities

Built in PA system if required.

Accessibility

Steps to Hall entrance. Wheelchair lift.

Available

Vacation

Sir Howard Stringer Room

Purpose-built boardroom with moveable tables.

Facilities

Full wireless and broadband internet access. Plasma screen TVs, projection facilities, white boards.

Accessibility

Full disabled access

Available

Vacation

David Harvey Room

Purpose-built boardroom with moveable tables.

Facilities

Full wireless and broadband internet access. Plasma screen TVs, projection facilities, white boards.

Accessibility

Full disabled access.

Available

Vacation

Ian Taylor Room

Purpose-built boardroom with moveable tables.

Facilities

Full wireless and broadband internet access. Plasma screen TVs, projection facilities, white boards.

Accessibility

Full disabled access.

Available

Vacation

Foyer

Large open space, beautifully light and modern, slate floors and natural finished walls.

Facilities

Full wireless and broadband internet access. Plasma screen TV.

Accessibility

Full disabled access.

Available

Vacation

John Moussouris Room

Small office area or meeting/interview room.

Facilities

Full wireless and broadband internet access.

Accessibility

Full disabled access.

Available

Vacation

Mure Room

Theatre 40

Classroom 27

Boardroom 24

Reception 60

Simple and traditional, with high ceilings, wooden floor and large windows.

Facilities

Built-in screen. White board. Full wireless and broadband internet access.

Accessibility

Steps to room.

Available

Vacation

Breakfast Room

Stunning wood-panelled room, with fantastic views of Fellows Quad.

Facilities

White board. Full wireless and broadband internet access.

Accessibility

First floor, no lift.

Available

Vacation

Fitzjames 1

Traditional styled room with views of Fellows Quad.

Facilities

Ceiling-mounted data projector. Full wireless and broadband internet access.

Accessibility

Ground floor.

Available

Vacation

Fitzjames 2

Traditional styled room with views of Fellows Quad.

Facilities

White boards. Full wireless and broadband internet access.

Accessibility

Ground floor, one step on entry.

Available

Vacation

Hawkins Room

Fantastic room for small lectures and training. Also has own kitchen.

Facilities

Facilities: Ceiling-mounted data projector. White boards.

Accessibility

Second floor, no lift.

Available

Vacation

Harrison Room

Beautiful wood-panelled room. Very traditional.

Facilities

Free-standing white board. Full wireless and broadband internet access.

Accessibility

Ground floor.

Available

Vacation