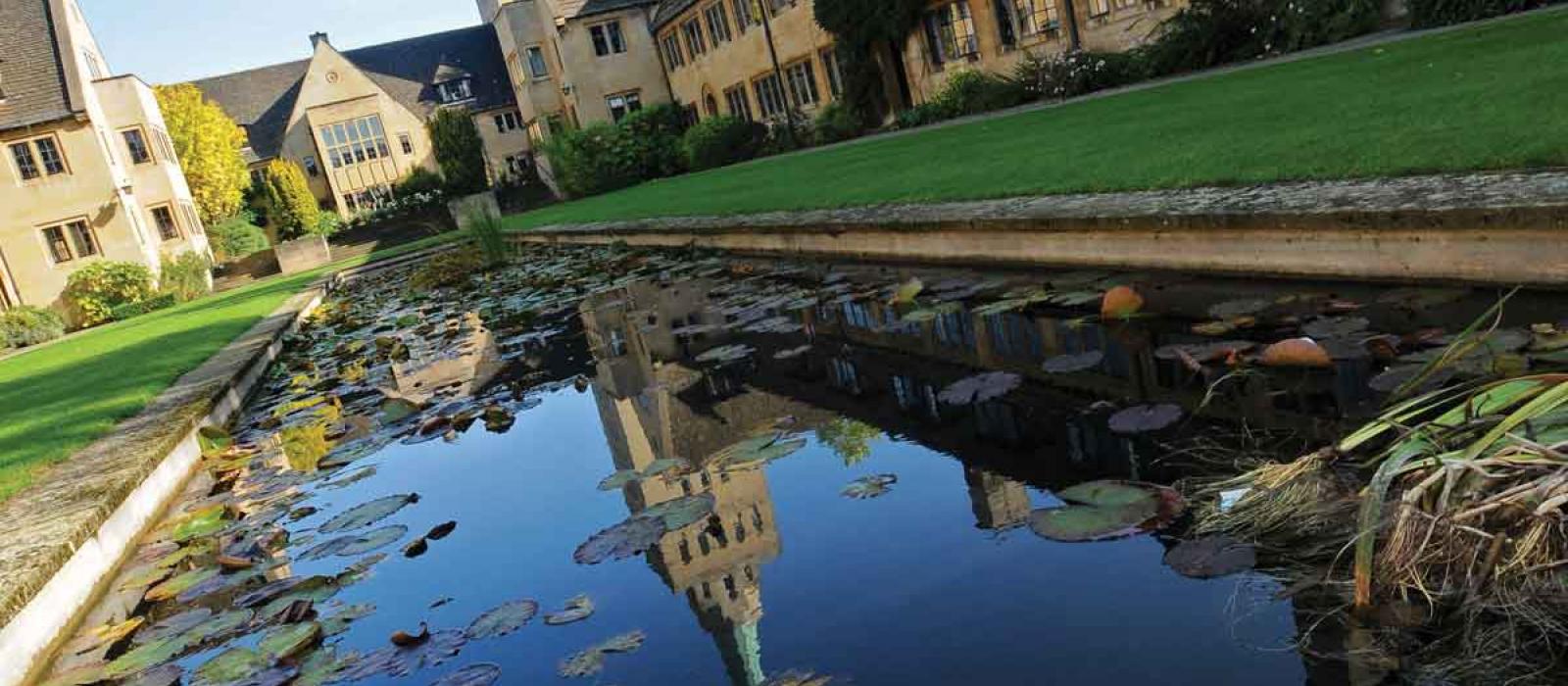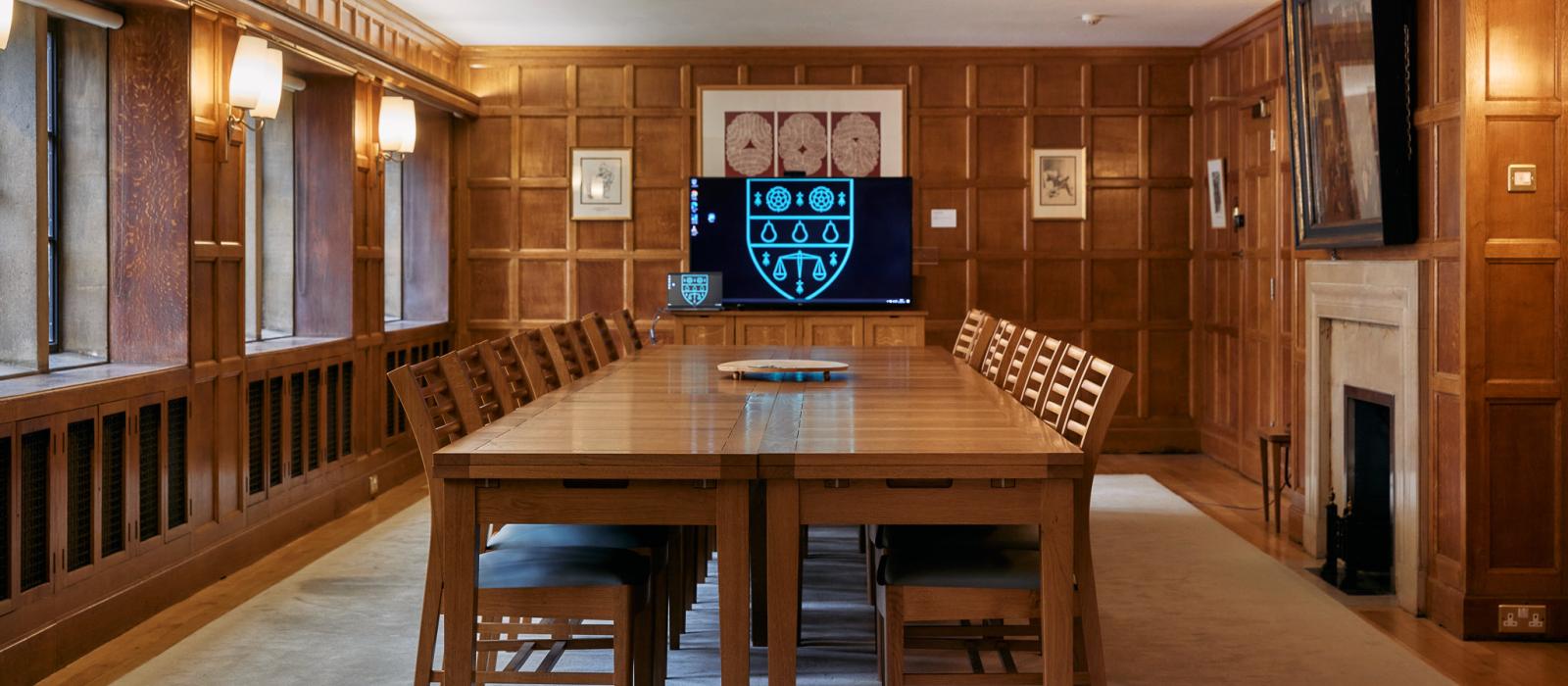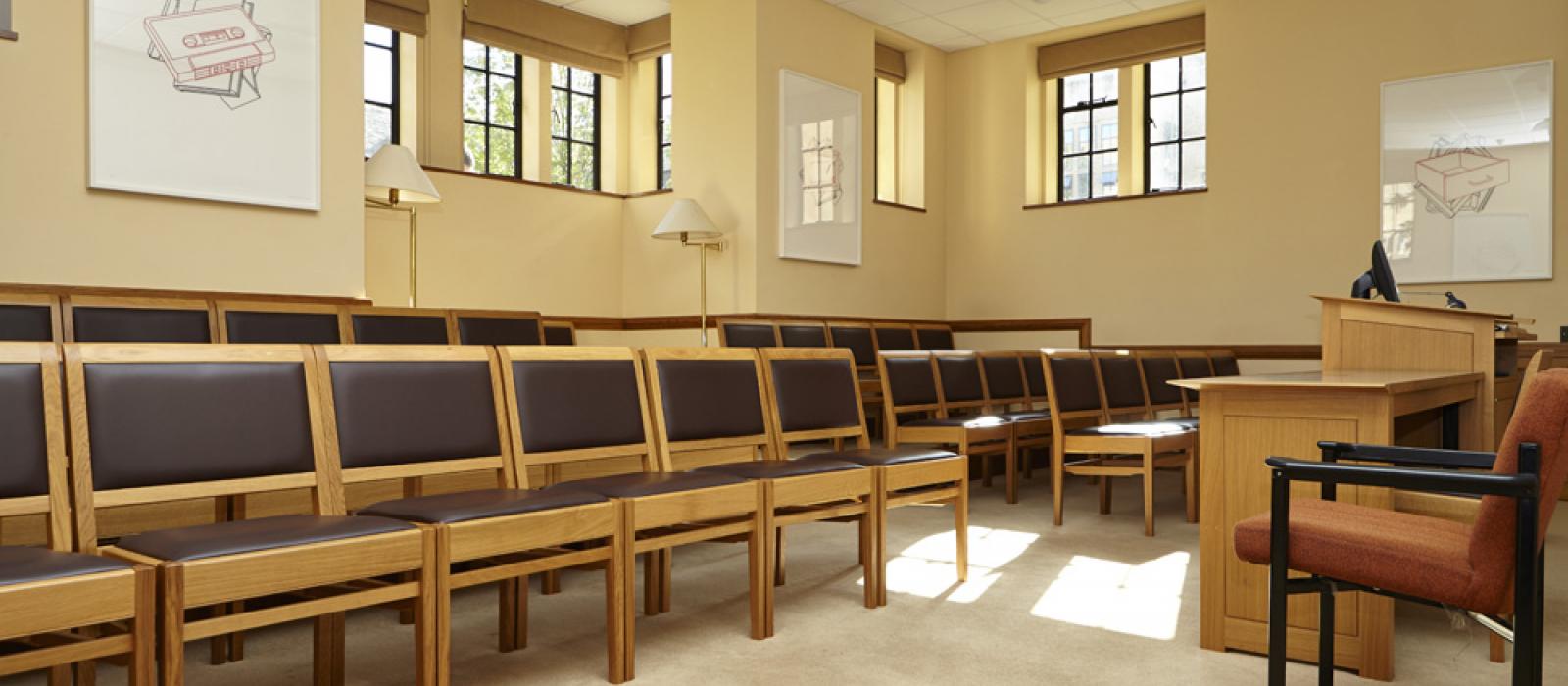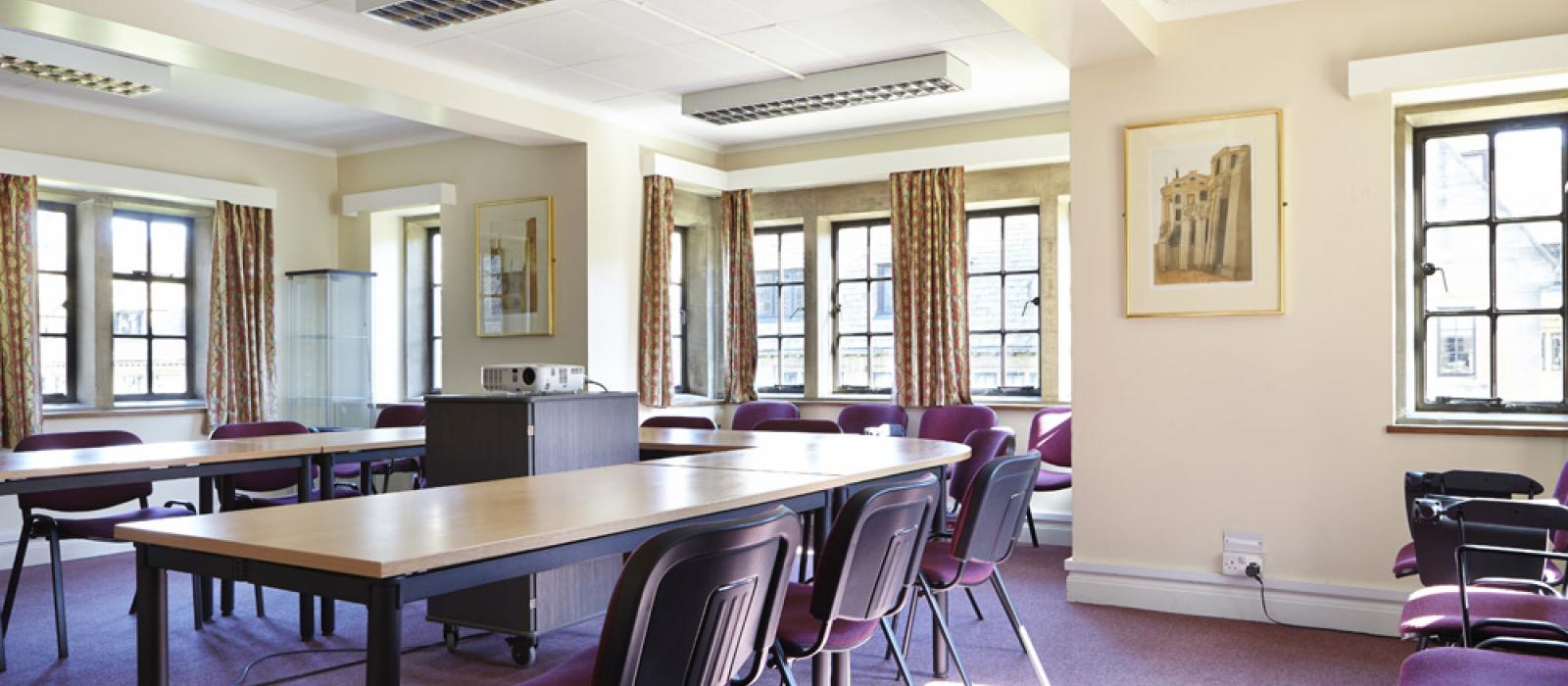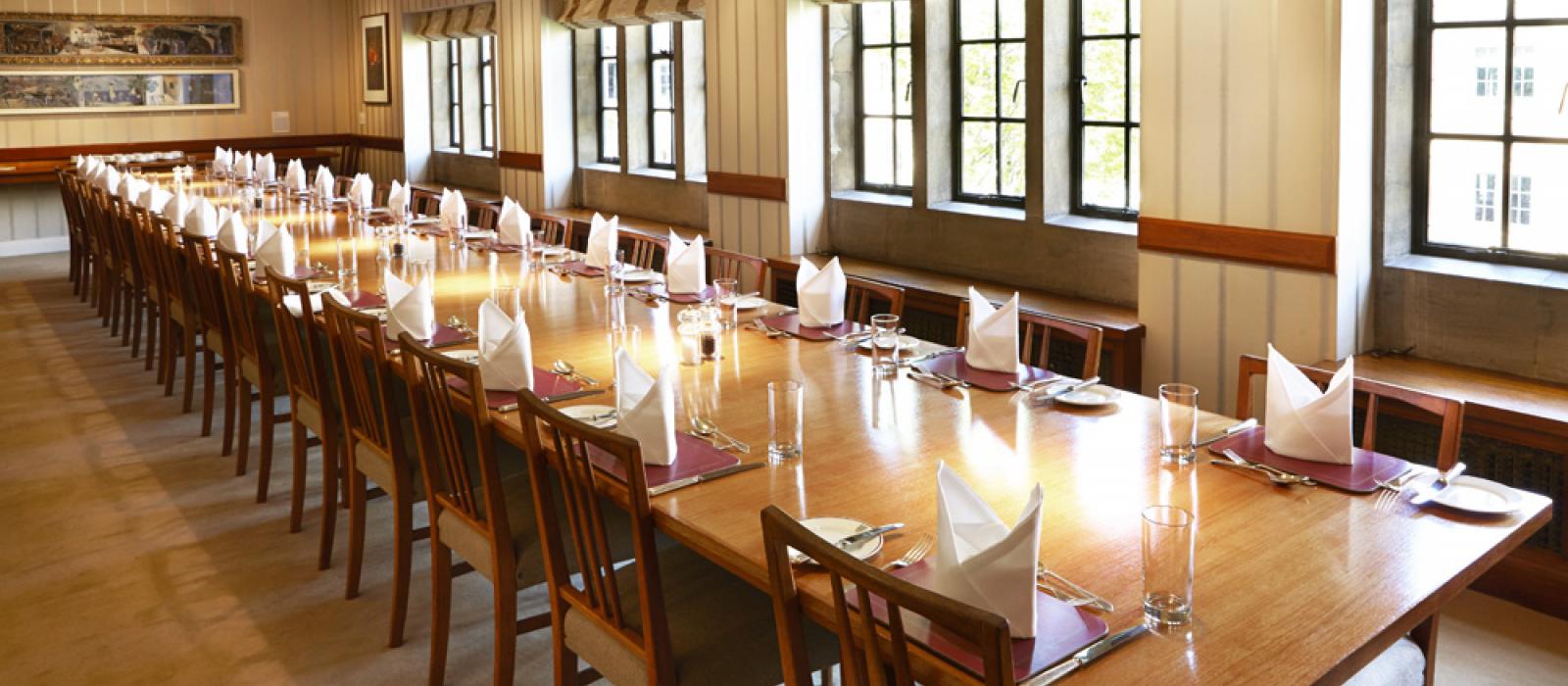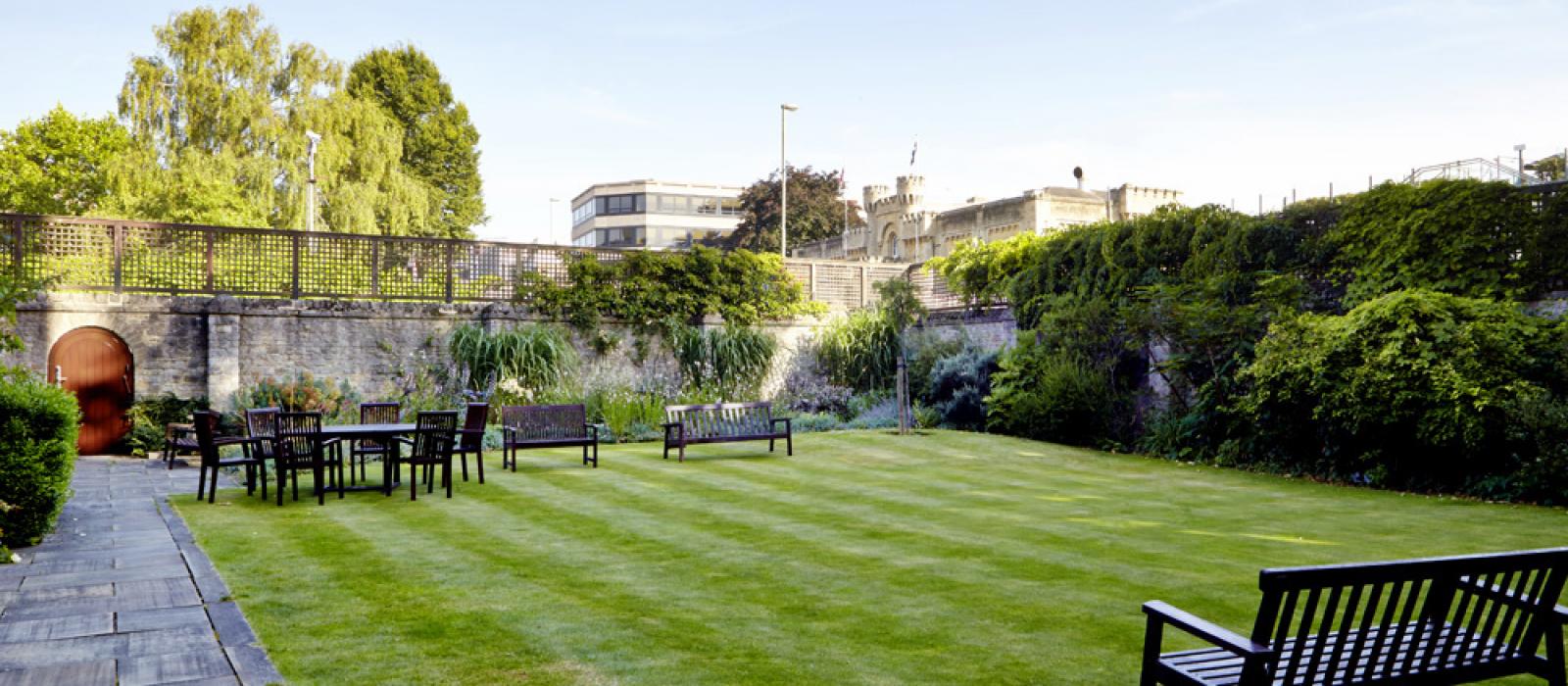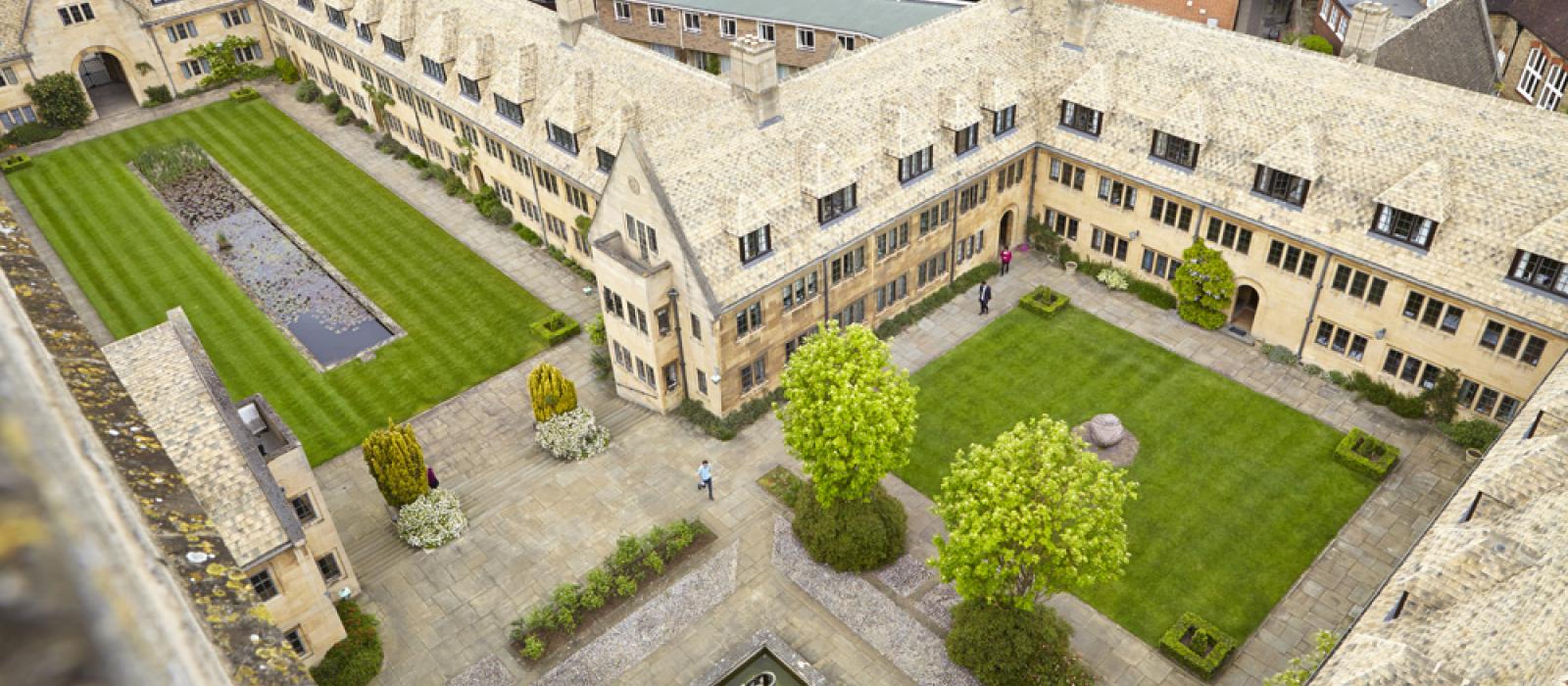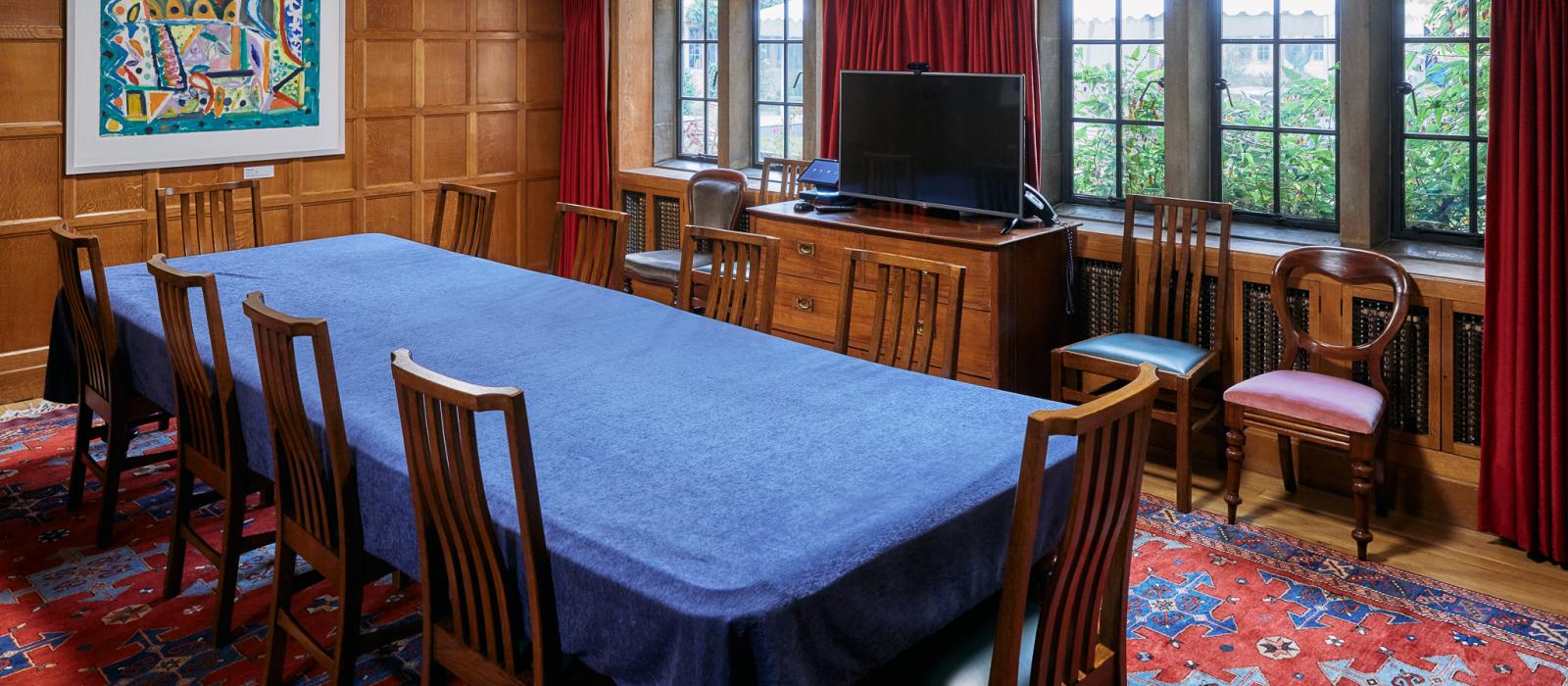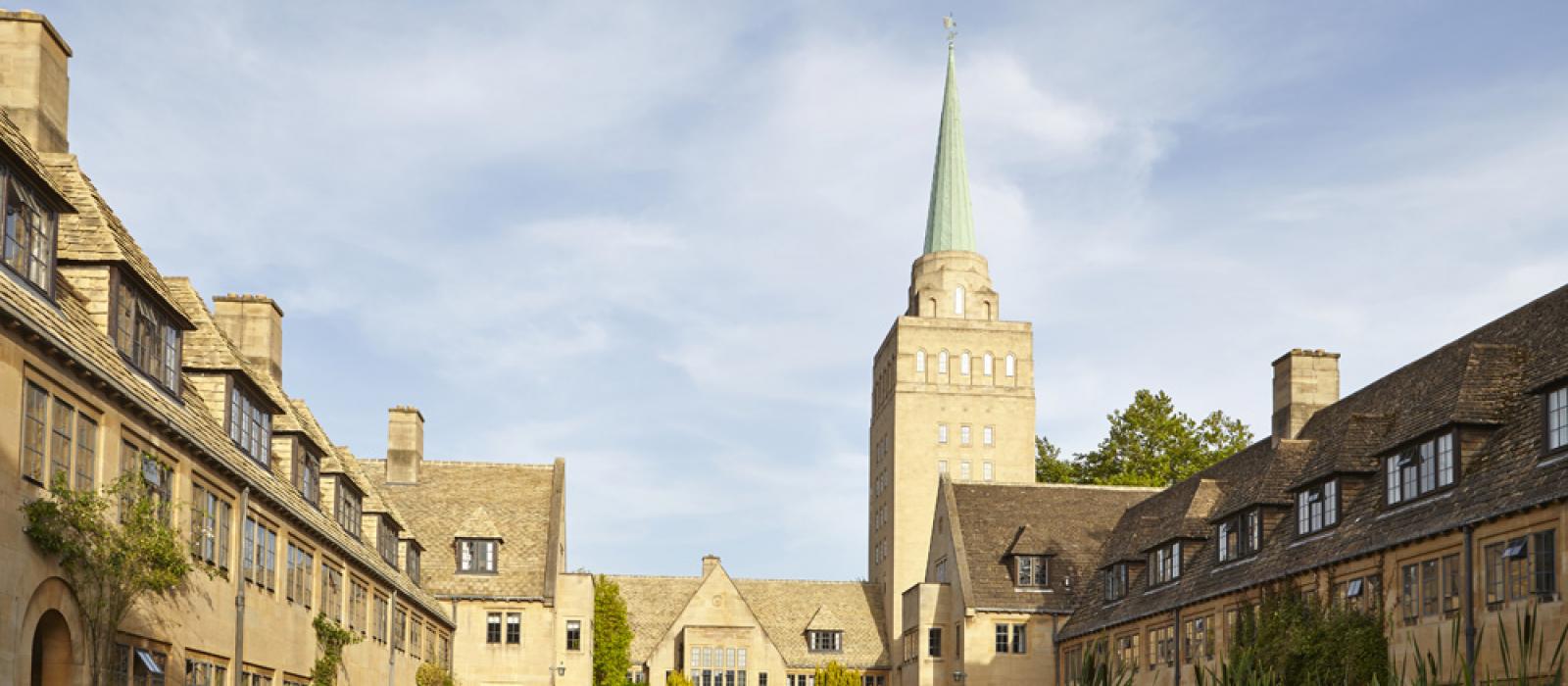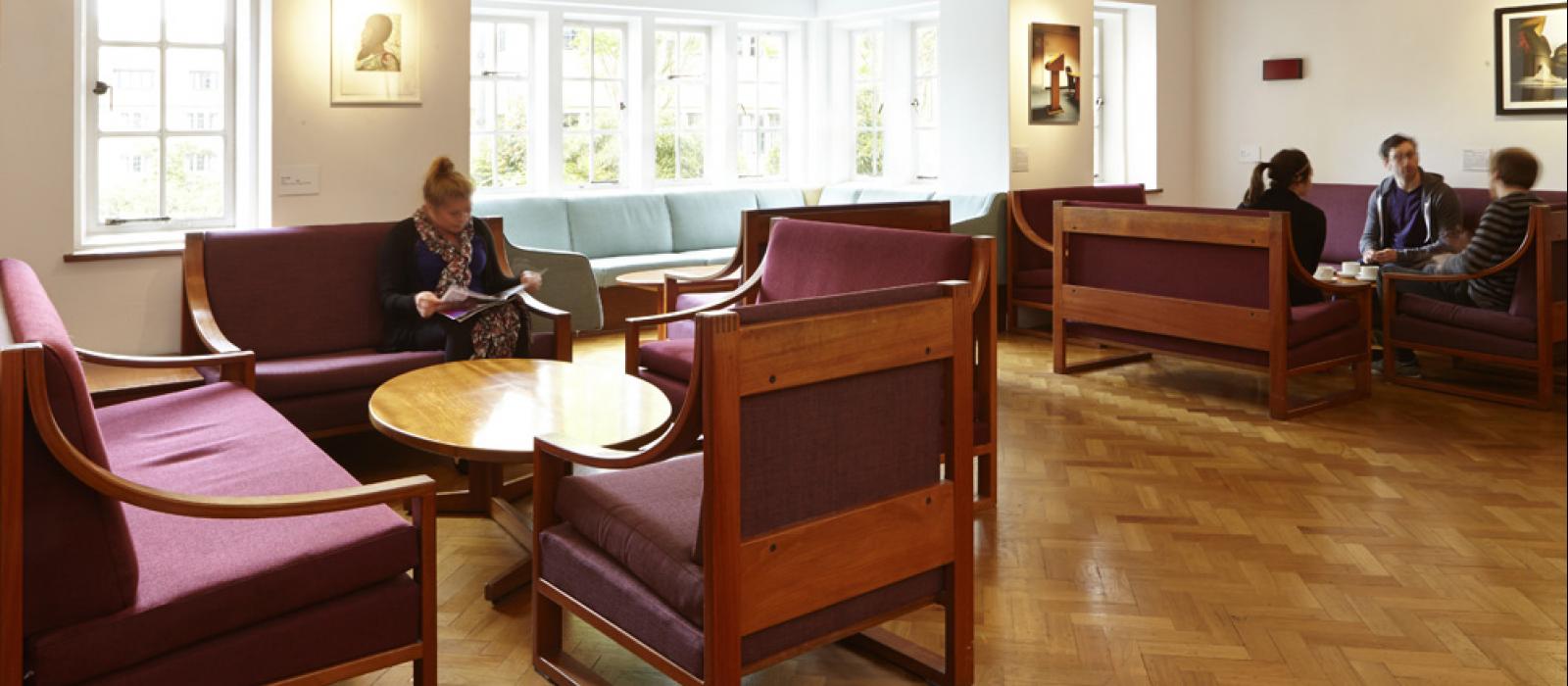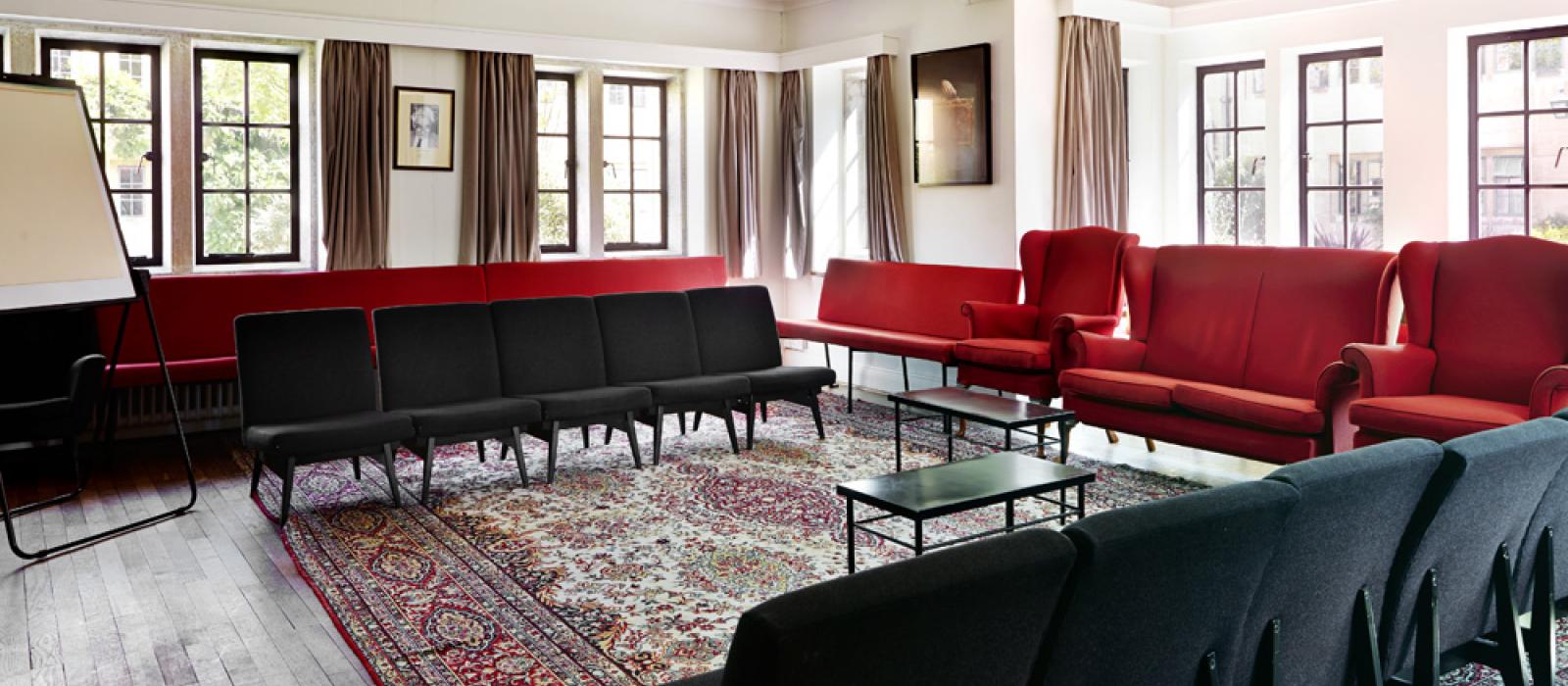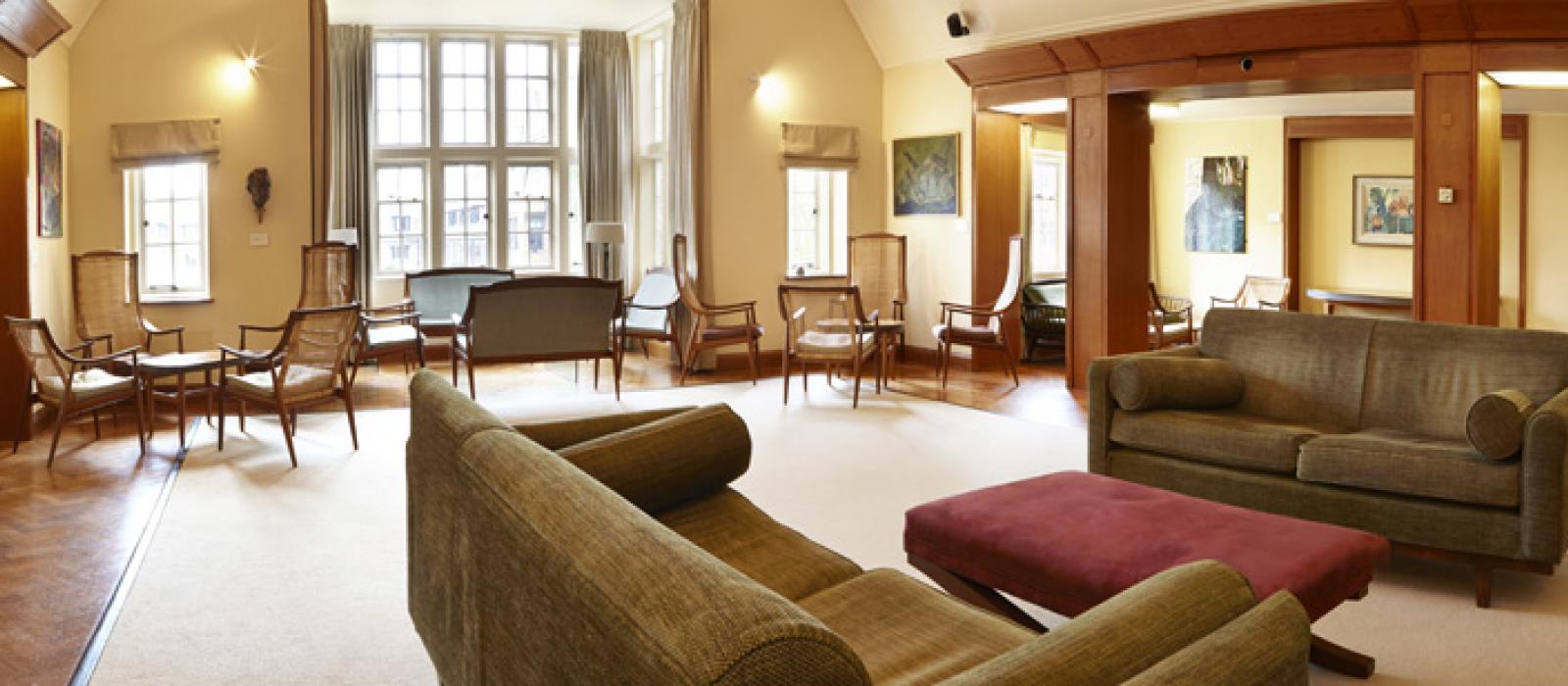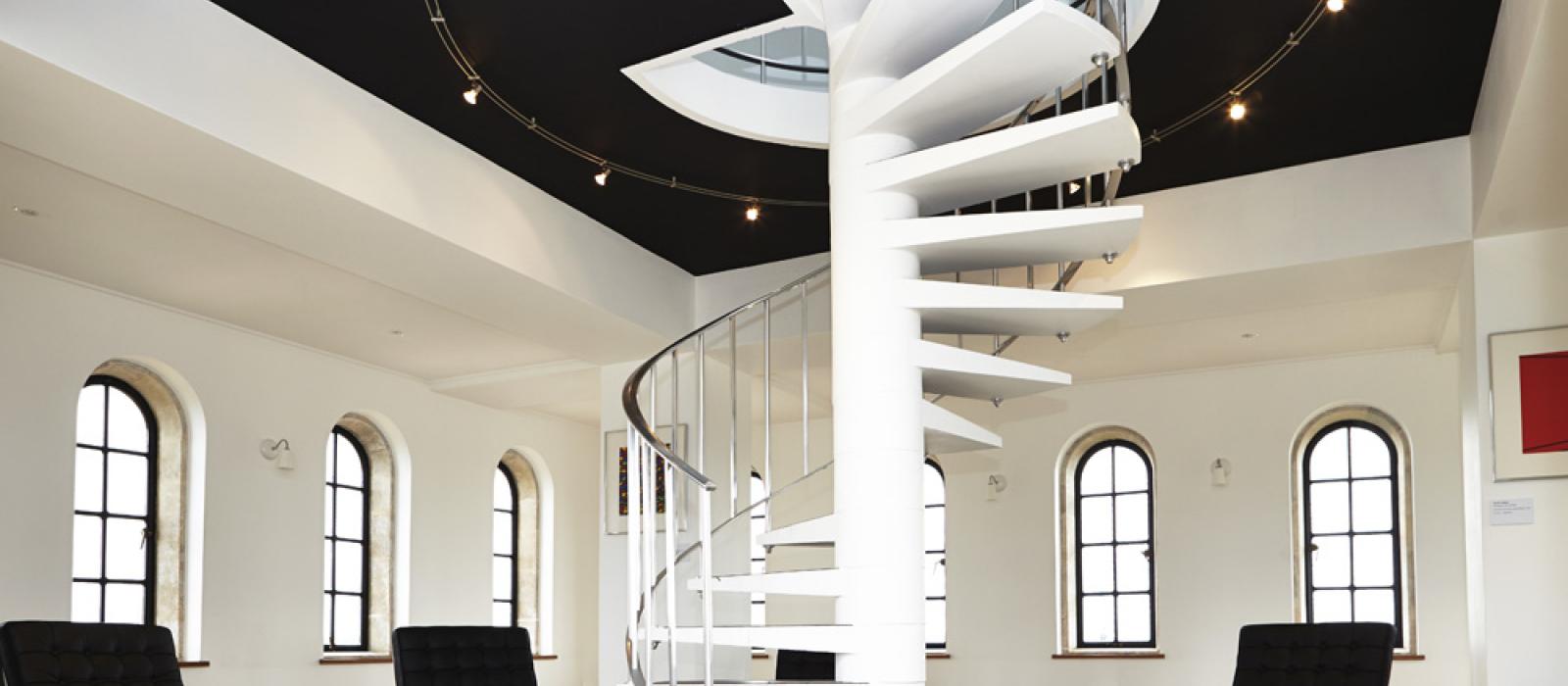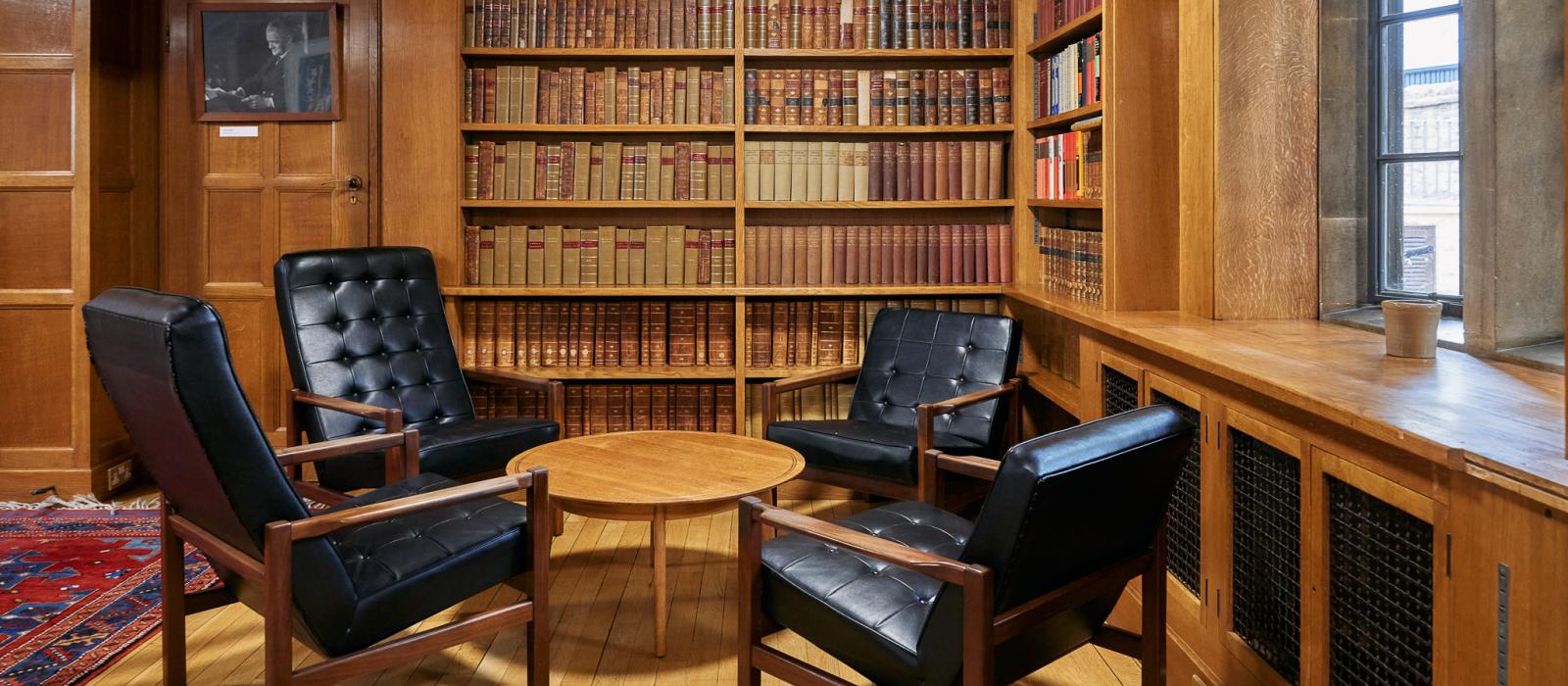 Nuffield College has embarked on major refurbishment works of the main college site, which are based on a 52-week programme. Therefore, we are not able to confirm any external future bookings at present. We would really appreciate your patience and if you have any questions just give us a call.
Many thanks,
Events Team
Nuffield College was founded in November 1937 by Lord Nuffield (William Richard Morris), the famous motorcar manufacturer.  He presented the site and some £900,000 to the university for the purpose of erecting a college that would be principally devoted to the study of social, economic and political problems.  The site formerly contained the wharfs and terminus of the Oxford-Coventry Canal; before that it had been part of the ditch around the castle. 
The college is well situated for public transport, being a two-minute walk from the bus station, and approximately five minutes from the train station.  Despite being at a busy intersection, the college provides a calm and peaceful atmosphere to those using the facilities.
The meeting rooms are generally suited to smaller conferences/management away days, with internet access and audio-visual facilities available in most.  Fine dining is available for four to 96 people.
Overnight stays are available for up to 10 visitors out of term, in newly decorated ensuite rooms.  All ensuite rooms have desks with computer and telephones.
Nuffield College
New Road, Oxford OX1 1NF
13 meeting spaces with capacity for up to 96 guests for Theatre, Reception, Boardroom, Drinks, Informal, Dining, and Buffet functions.
Bedrooms 4
Ensuite 4
Standard 0
Breakfast yes
Lunch yes
Dinner yes
"Thank you for dealing with these requests"
Department of Materials
Events Team
conference@nuffield.ox.ac.uk
01865 278527
www.nuff.ox.ac.uk
Large Lecture Room

A typical lecture hall with tiered seating with tables.

Facilities

Full wireless and broadband internet access; presentation facilities, hybrid events facilities and whiteboards.

Accessibility

Ground floor, two steps into staircase (ramps can be supplied).

Available

Term & Vacation

Clay Room

A modern teaching room with theatre-style seating.

Facilities

Full wireless and broadband internet access; presentation facilities, hybrid events facilities, and whiteboards.

Accessibility

Ground floor, two steps into staircase (ramps can be supplied).

Available

Term & Vacation

Butler Room

A comfortable lecture room with soft chairs laid out in an informal manner.

Facilities

Full wireless and broadband internet access; presentation facilities, hybrid events facilities and whiteboards.

Accessibility

Ground Floor, two steps into a staircase.

Available

Term & Vacation

Chester Room

A wood-panelled board room with an anteroom for light catering and refreshments; overlooks the upper quad.

Facilities

Wireless internet access. Large screen television (optional) allowing laptop connections for slides and hybrid meetings in Microsoft Teams, Zoom and Webex.

Accessibility

First floor, no lift. Not accessible for wheelchair users.

Available

Term & Vacation

Brock Room

A wood-panelled board room with small soft seating area; suitable for small board meetings.

Facilities

Wireless internet access, and a large screen television allowing laptop connections for slides and hybrid meetings in Microsoft Teams, Zoom and Webex.

Accessibility

Ground Floor, two steps into staircase (ramps can be supplied)

Available

Term & Vacation

Conference Room

A modern lecture room with movable tables; seats 10 around the table plus extra chairs with tables. Can be laid out lecture style without tables.

Facilities

Full wireless and broadband internet access; presentation facilities, hybrid events facilities, and whiteboards.

Accessibility

First floor, no lift.

Available

Term & Vacation

Fellows' Dining Room

A stunning modern dining room overlooking the upper quad.

Facilities

Accessibility

First Floor, two steps into staircase (ramps can be supplied), lift to first floor.

Available

Term & Vacation

Dining Hall

A traditional college dining hall overlooking the Fellows' garden.

Facilities

Accessibility

Ground Floor, two steps into staircase (ramps can be supplied).

Available

Term & Vacation

Junior Common Room

A large, modern room with window seating areas that look onto the upper quad.

Facilities

Accessibility

Ground Floor, two steps into staircase (ramps can be supplied).

Available

Term & Vacation

Senior Common Room

A large modern, light-filled room with views onto the upper quad.

Facilities

Full wireless and broadband internet access; projection facilities and lectern.

Accessibility

First Floor, two steps into staircase (ramps can be supplied), lift to the first floor.

Available

Term & Vacation

Tower Room

A stunning reception room on the 10th floor of the college tower that gives 360-degree views of Oxford.

Facilities

A reception room, no audio-visual facilities.

Accessibility

10th floor. Lift from ground floor with ramped access into building. Guests must be able to walk downstairs unaided. Not accessible for wheelchair users.

Available

Term & Vacation

Fellows' Garden

Lovely enclosed garden with access to the hall.

Facilities

Limited seating.

Accessibility

Ground floor, accessible to wheelchair users.

Available

Term & Vacation

Quad

Quad laid out in a traditional style with sculptures and water feature.

Facilities

No seating, suitable for drinks reception or pre-dinner drinks.

Accessibility

Ground floor, accessible to wheelchair users.

Available

Term & Vacation