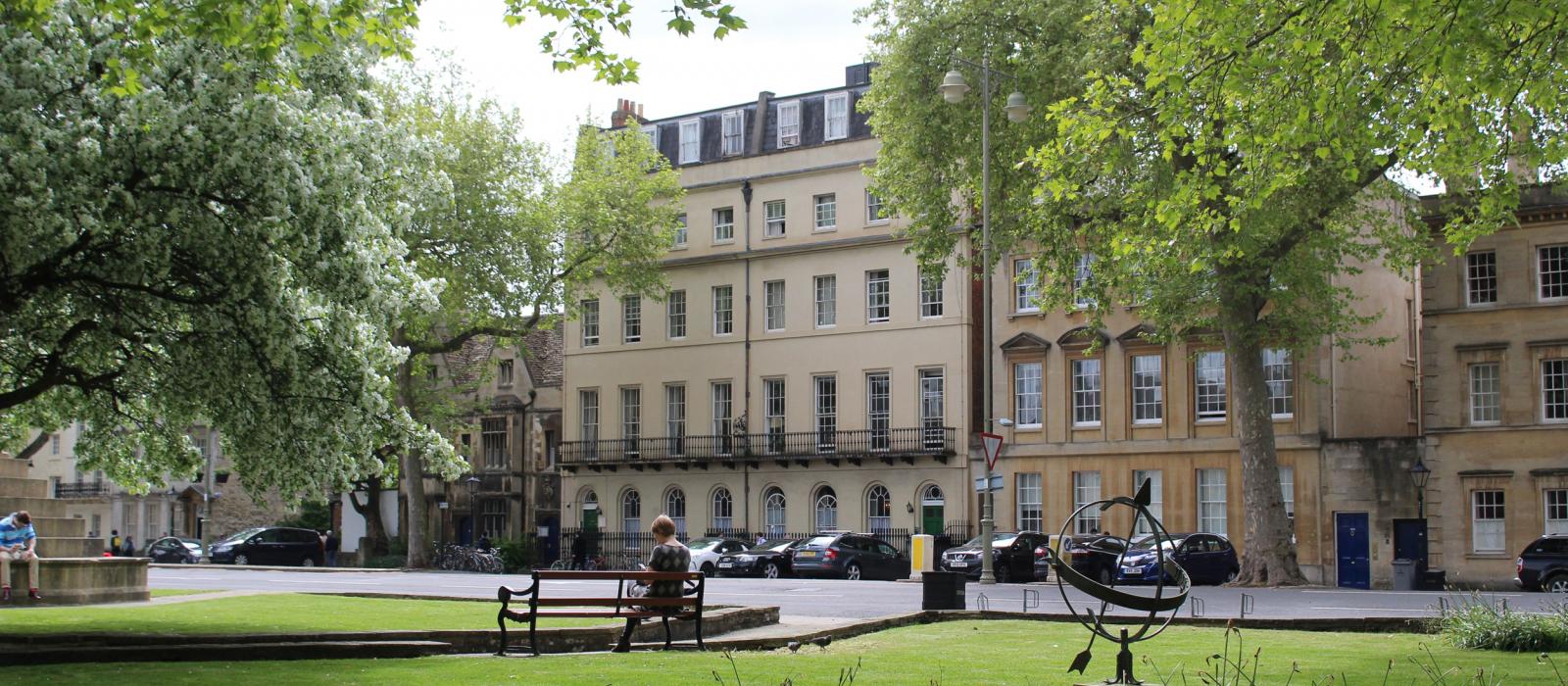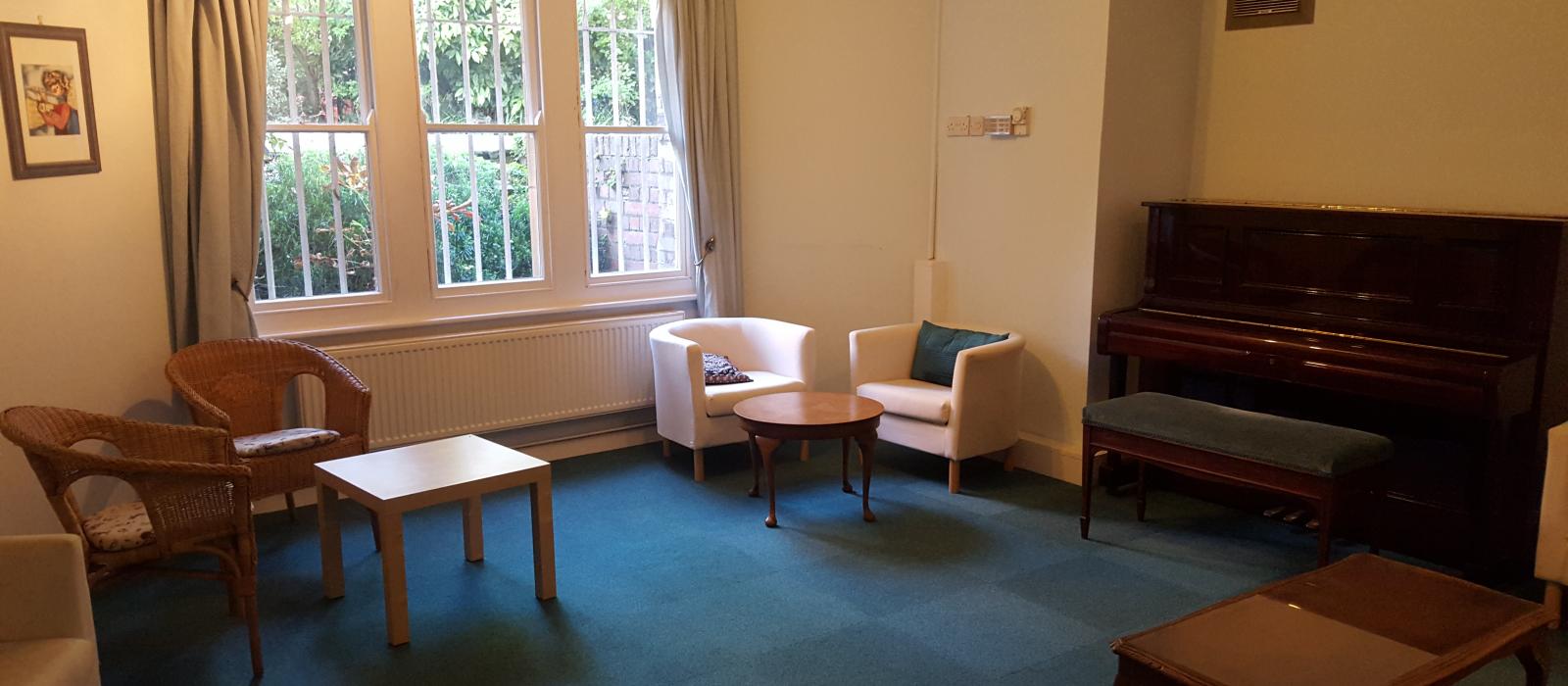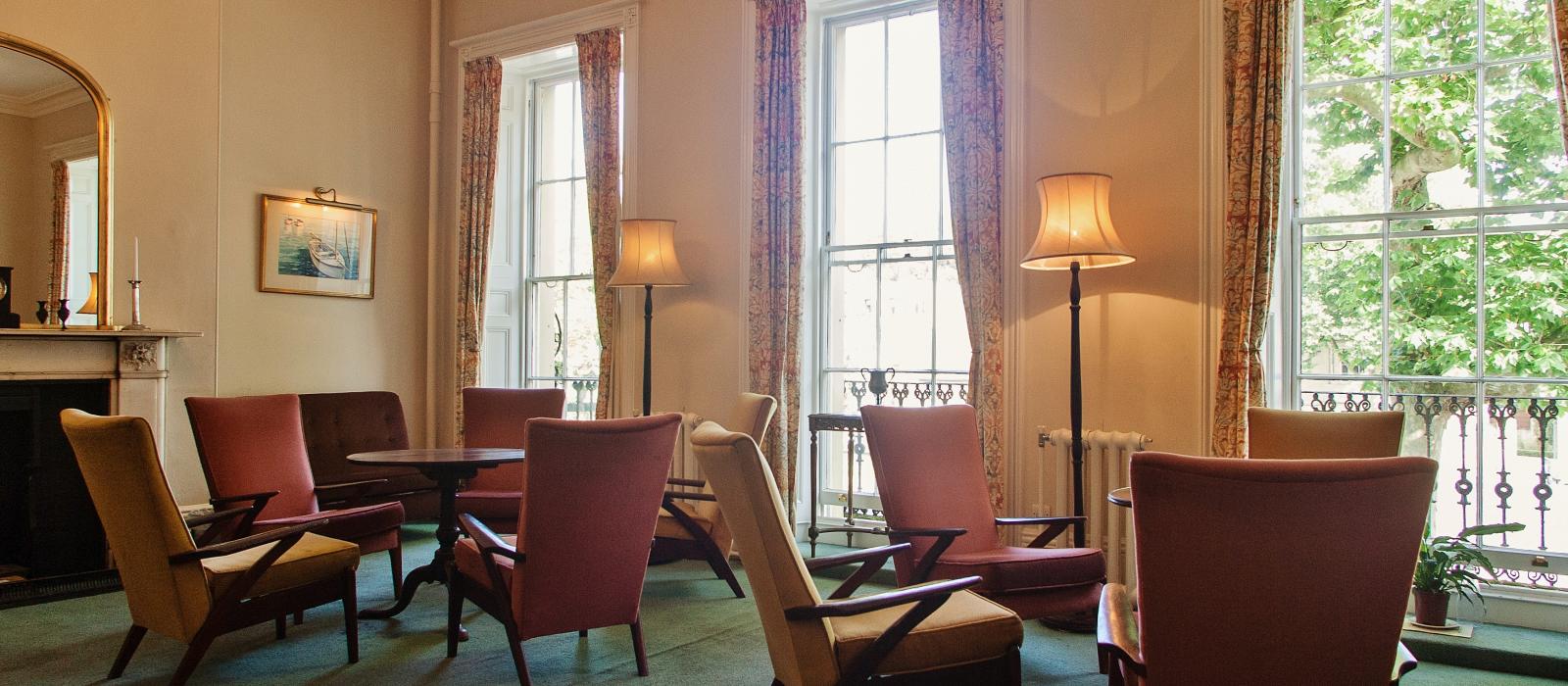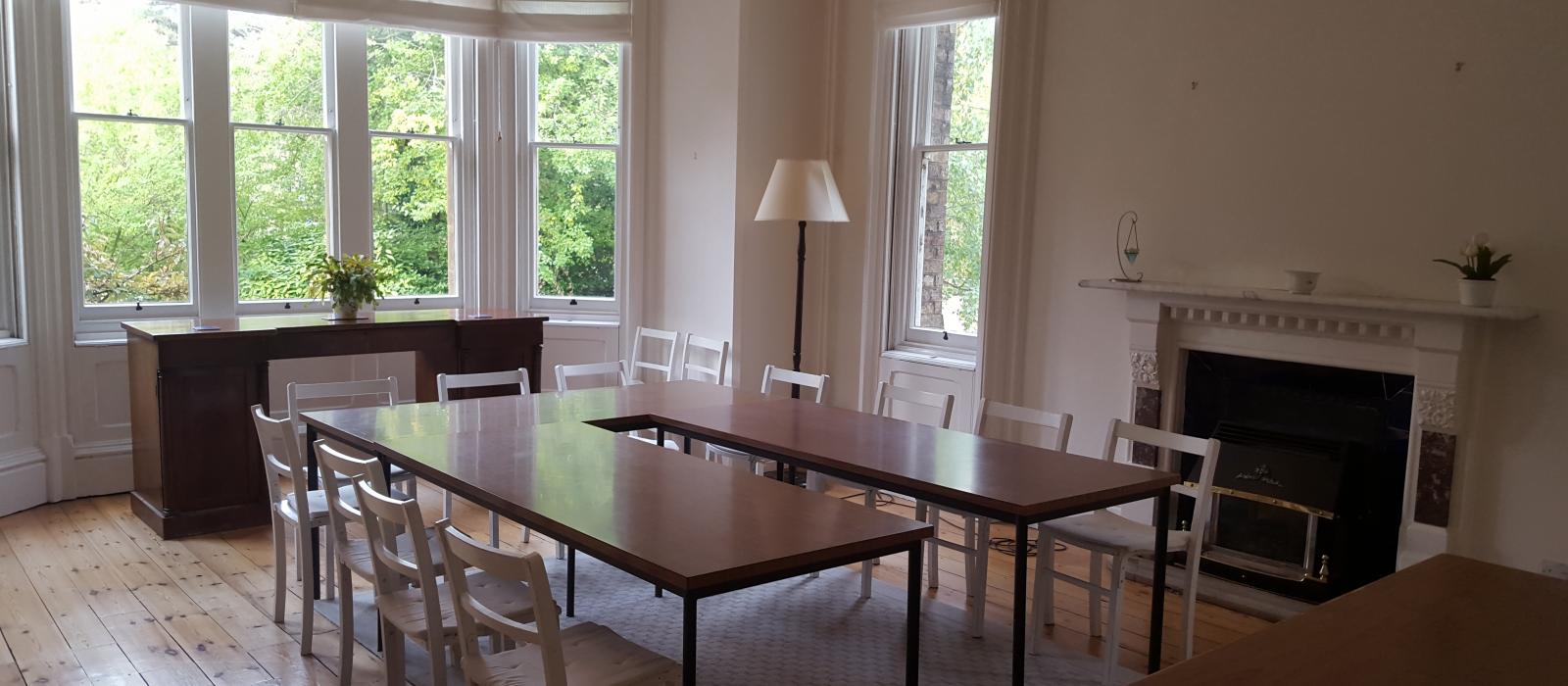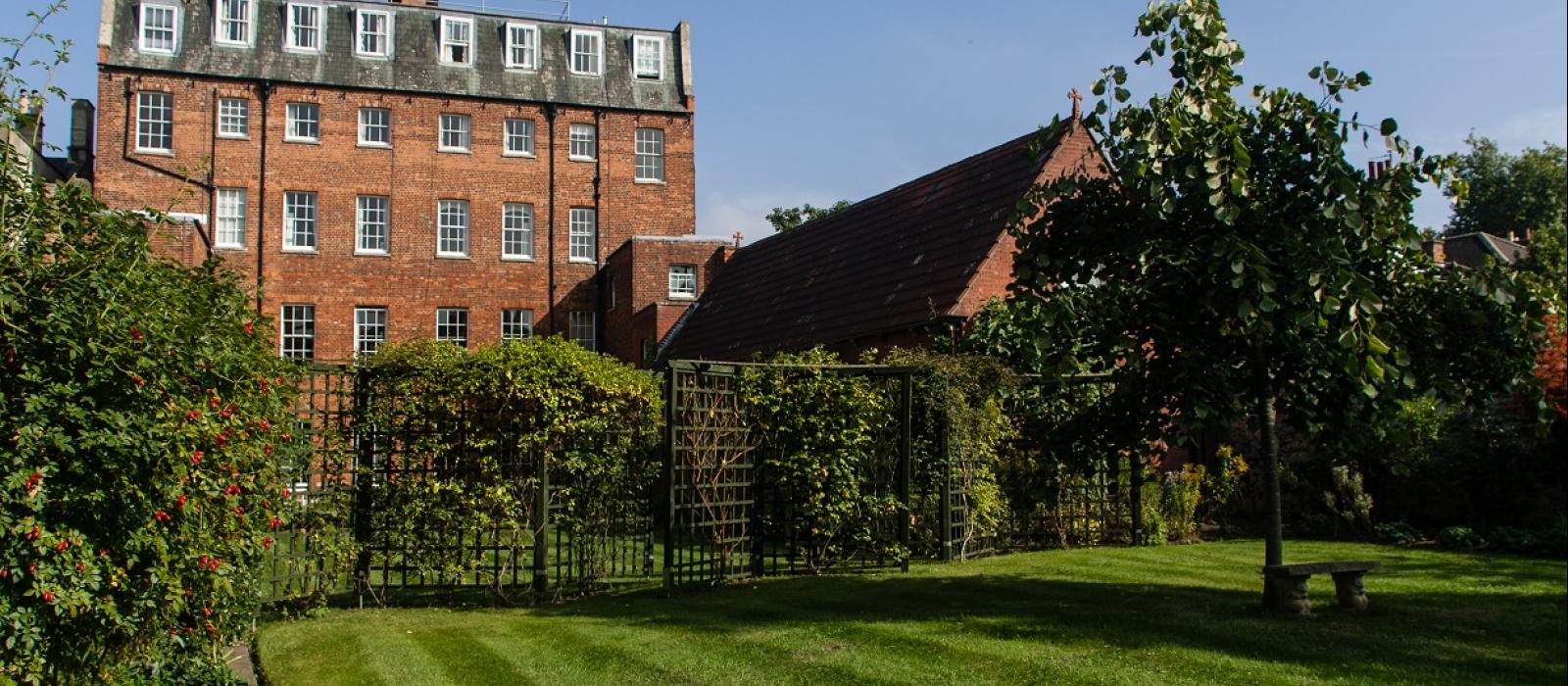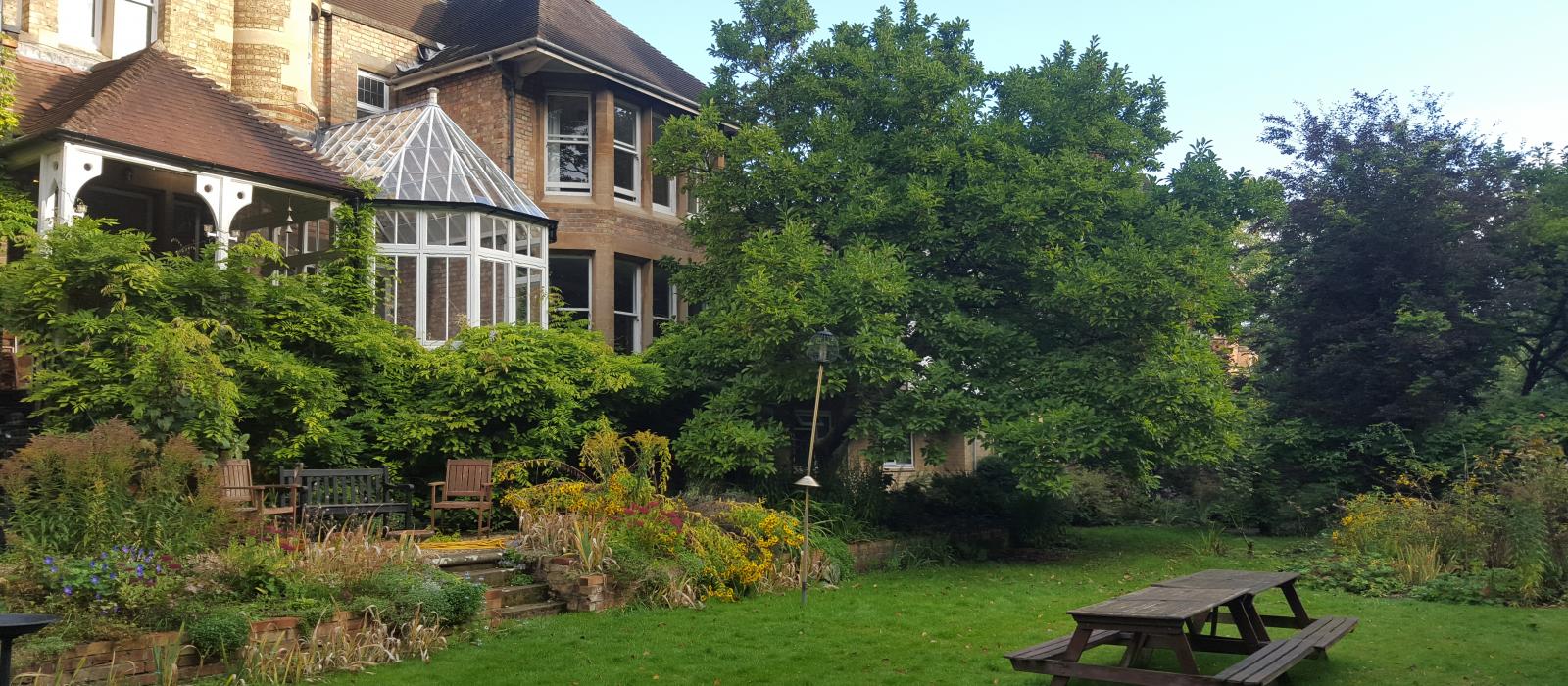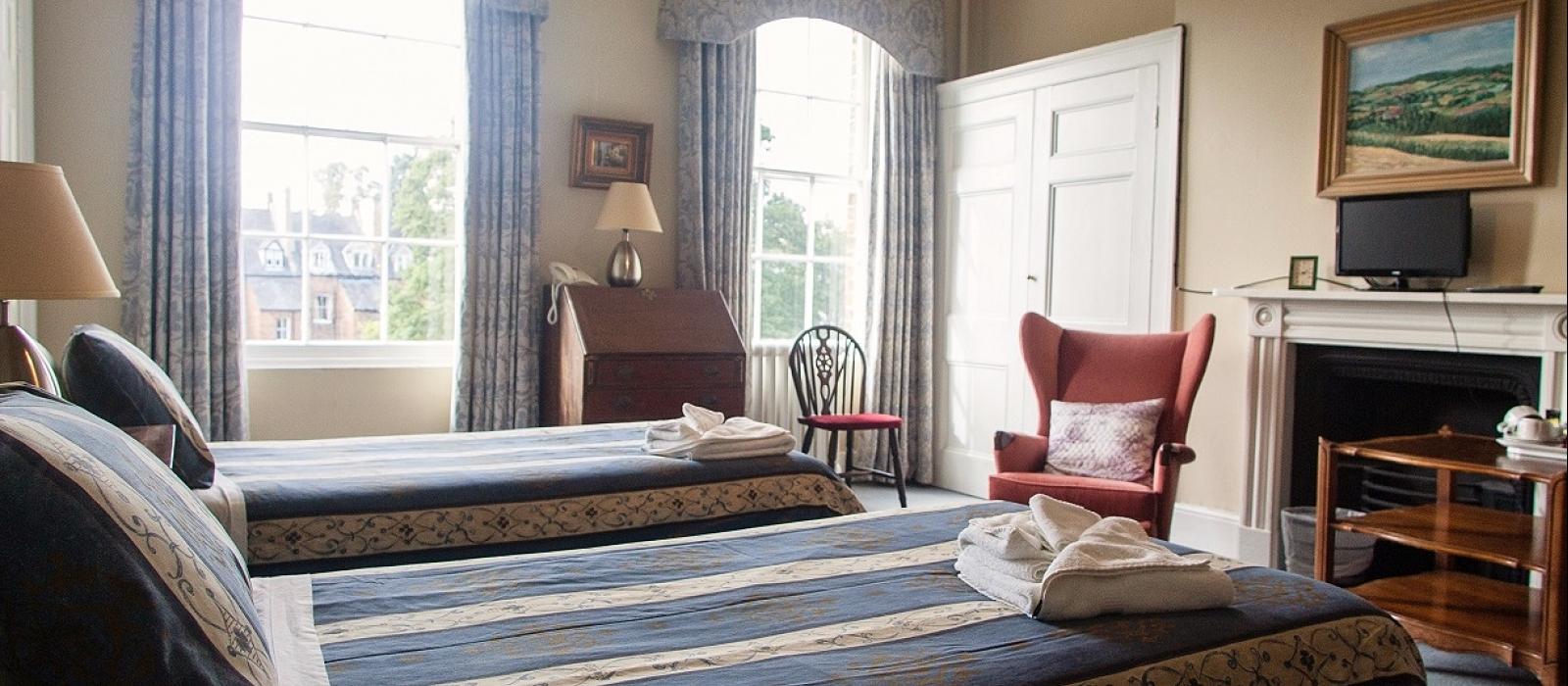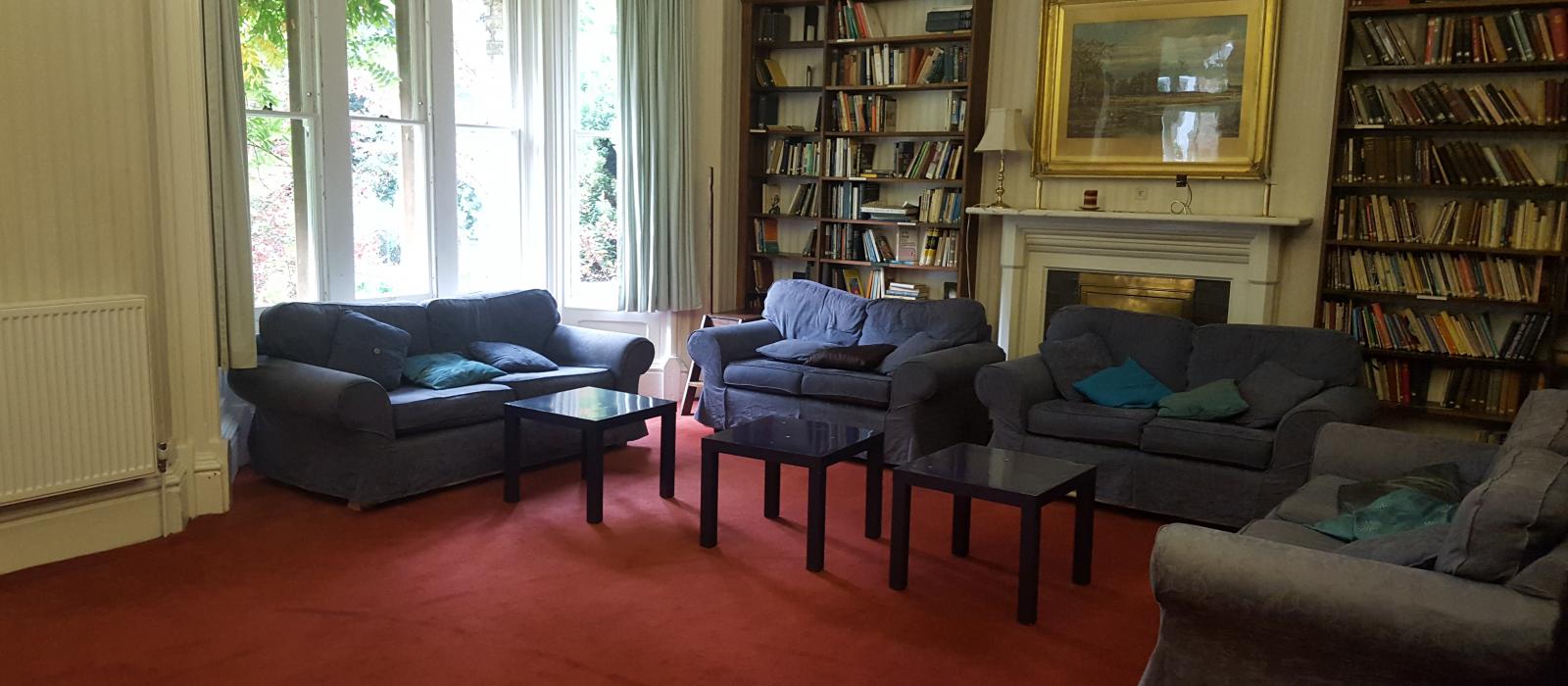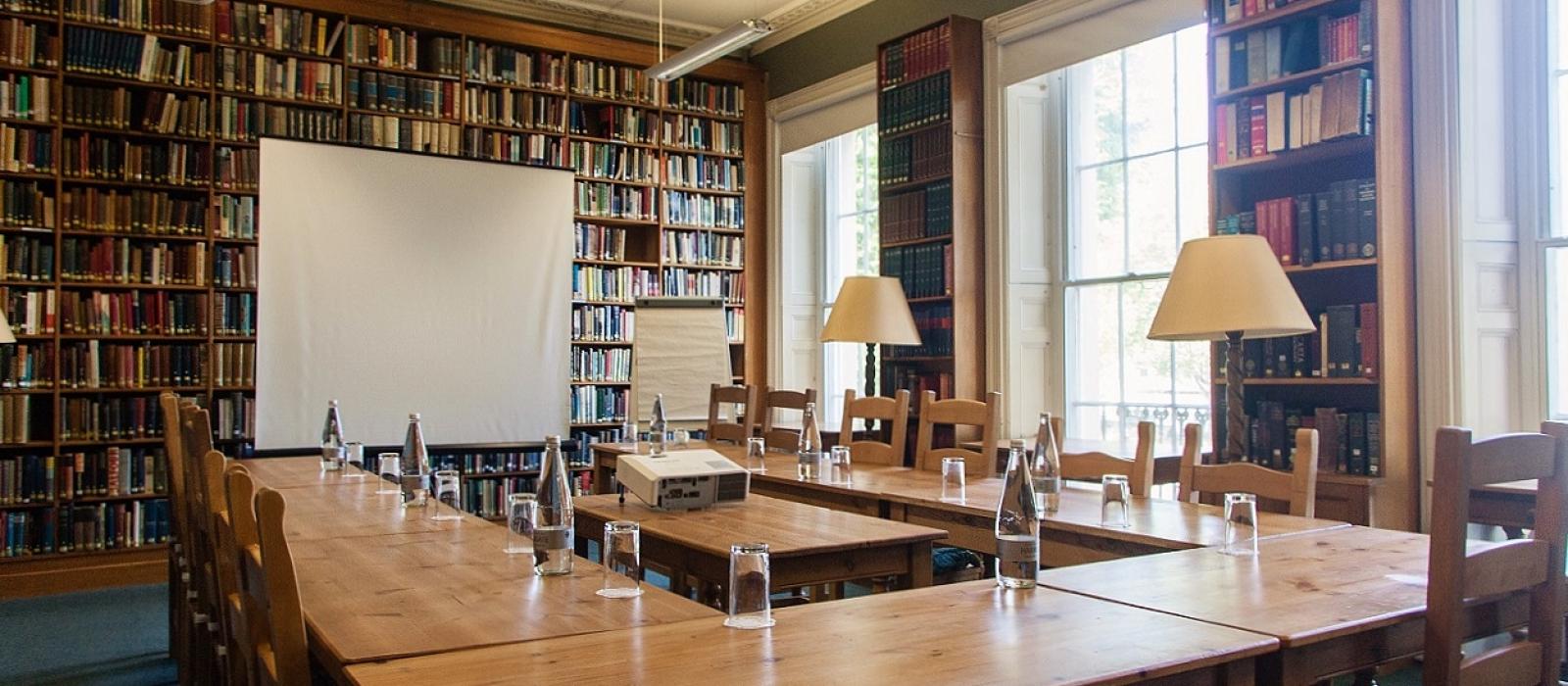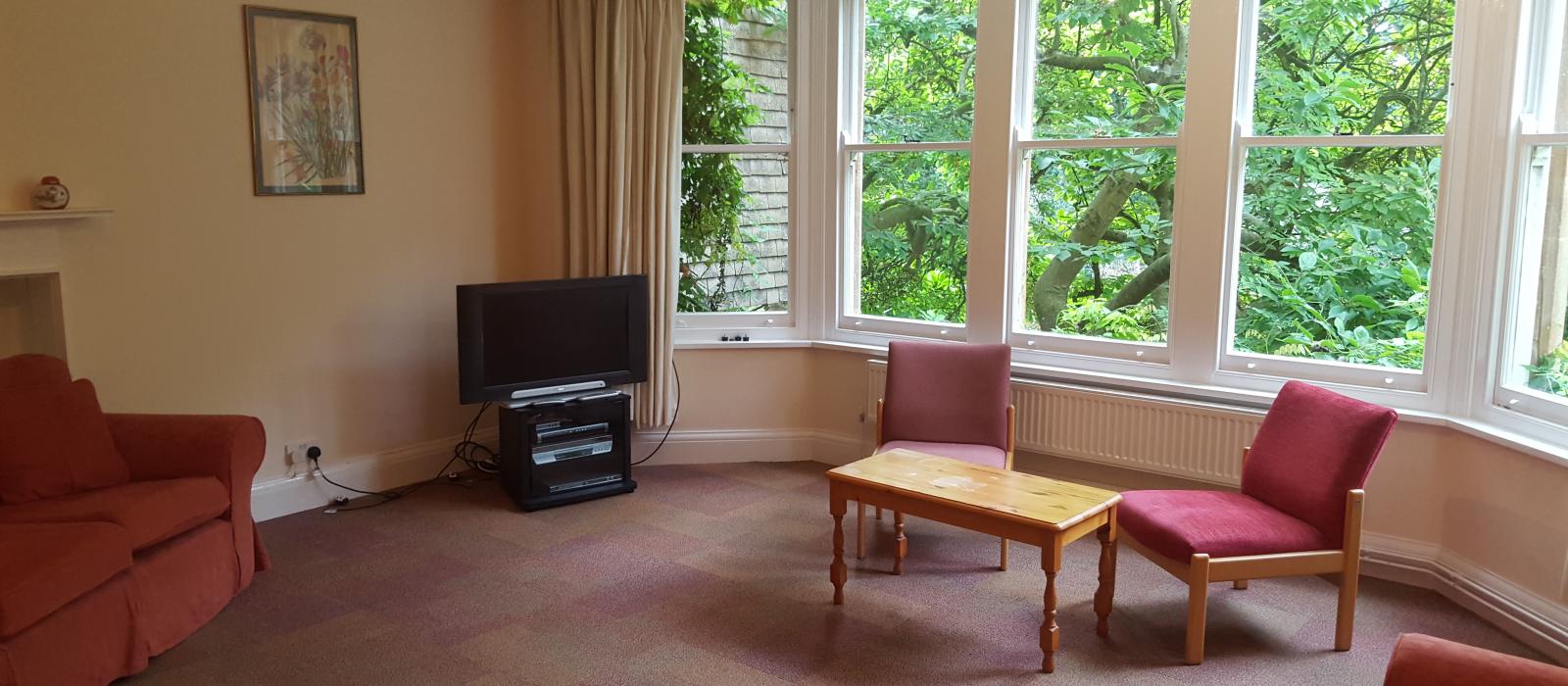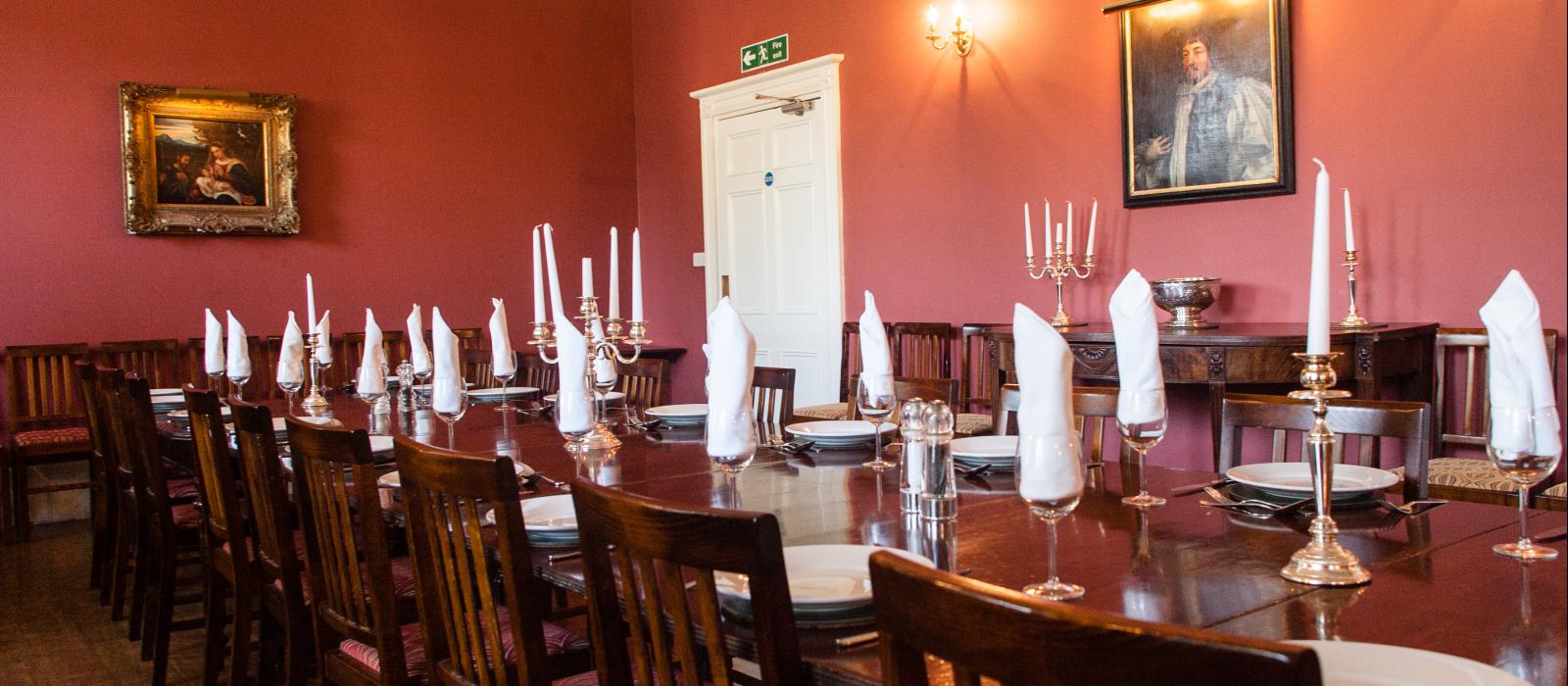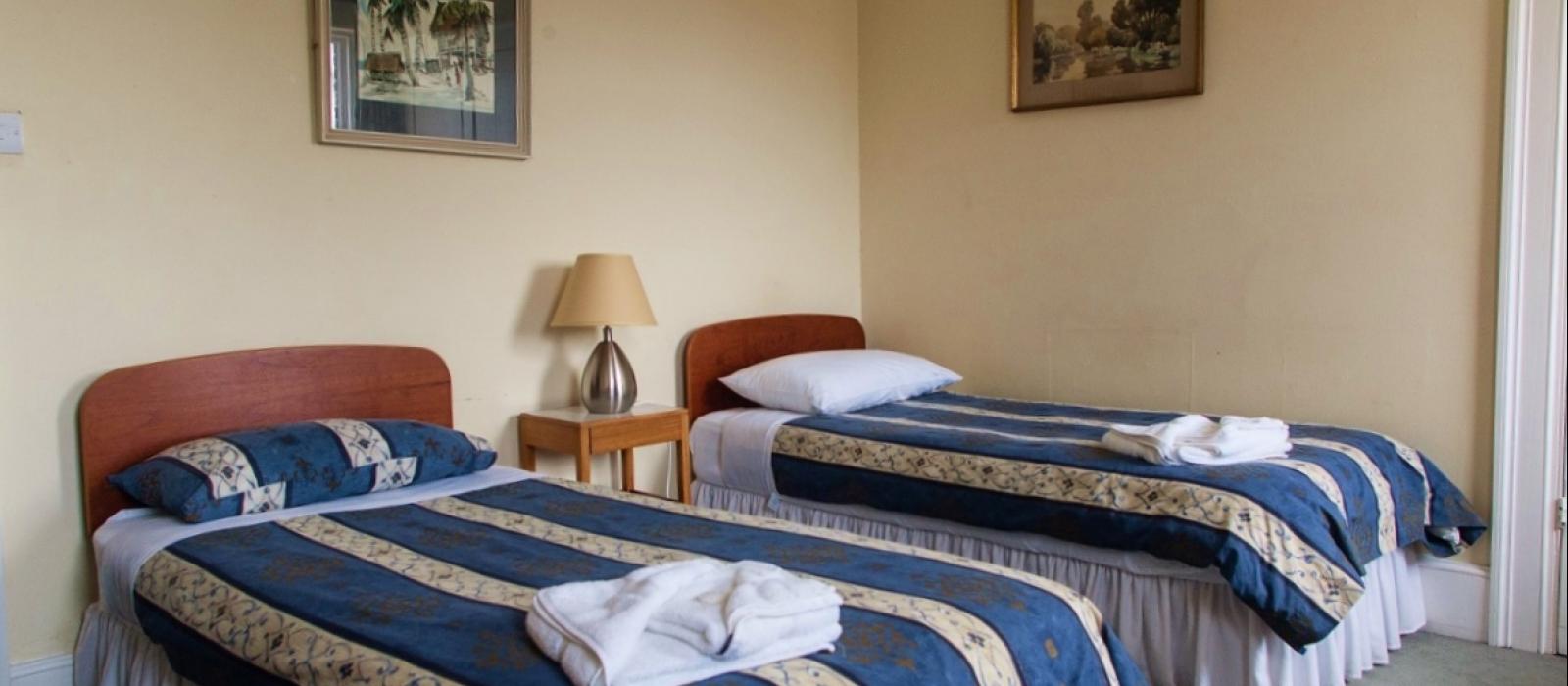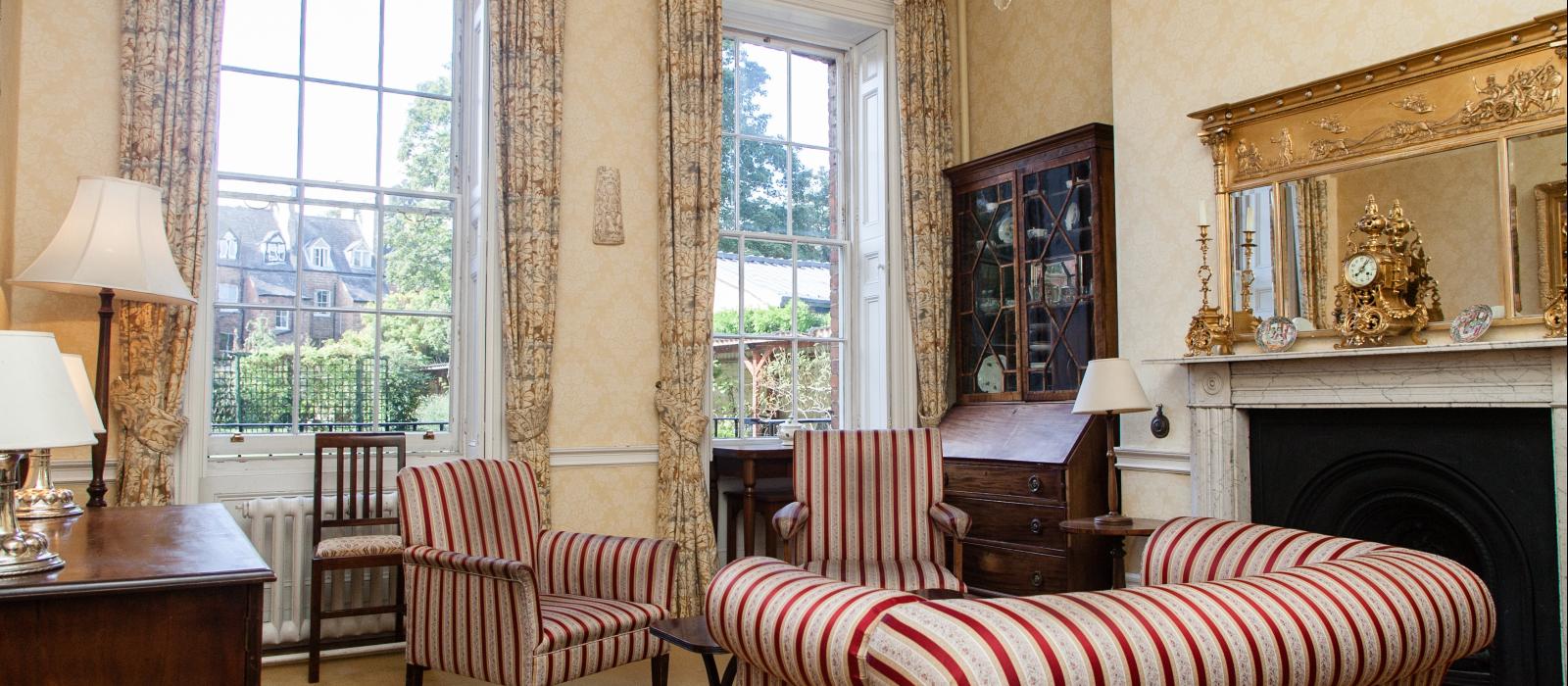 St Benet's Hall was founded in 1897 as a place for the monks of Ampleforth Abbey and other monasteries to live while they read for Oxford degrees. Twenty years later it became a Permanent Private Hall of the University. The Hall is composed of a handsome Georgian house in St Giles', conveniently located close to the city centre, and a Victorian house in Norham Gardens, adjacent to the University Parks, about 7 minutes' walk from St Giles'.
Overnight stays are available for up to 60 visitors.There are 11 ensuite and 35 standard rooms. All rooms have working desks and hand basins. Shared bath and shower rooms are close to the standard rooms.
The Refectory seats 56 at one long table, allowing a high standard of dining. For larger numbers a buffet for up to 60 can be provided.
The Hall offers conference rooms, comfortable lounges, either overlooking St Giles' or the garden, libraries and other smaller rooms for social events, or informal meetings. A photocopier, fax and other facilities are available.
St Benet's Hall
38 St Giles', Oxford OX1 3LN
12 meeting spaces with capacity for up to 120 guests for Theatre, Classroom, Boardroom, Informal Meeting, Dining, Other, and Buffet functions.
Bedrooms 46
Ensuite 11
Standard 35
Breakfast yes
Lunch yes
Dinner yes
"The venue was great, I've had very positive feedback from both my colleagues and our participants."
WildBear Entertainment
Natalie Garbett
natalie.garbett@stb.ox.ac.uk
01865 280556
www.st-benets.ox.ac.uk
Library - St Giles'

Theatre 50

Classroom 16

Boardroom 25

Elegant Georgian room full of natural light from floor-to-ceiling windows. Abundant book collection used for studying and meetings. Seats 30 boardroom style and about 20 classroom style.

Facilities

Audio-visual and flipcharts. WiFi available.

Accessibility

No disabled access; first floor, no lift.

Available

Vacation

Calefactory

Relaxed and airy room furnished with armchairs and sofas. Adjacent to the Library. Particularly useful for refreshment breaks or breakout sessions. Can also be used for informal teaching or meetings for up to 15.

Facilities

Flipcharts, WiFi available.

Accessibility

No disabled access; first floor, no lift.

Available

Vacation

Yellow Room

Small, but very light and cosy room, overlooking the garden. Formal setting, ideal for small group study, meetings or fine dining for up to 12 people.

Facilities

Flipcharts, WiFi available.

Accessibility

Ground floor, steps to Hall entrance.

Available

Vacation

Refectory

Our Dining Hall is full of Georgian character with a stylish and serene dining atmosphere. Can host formal dinners for up to 50 and buffets for up to 60 people. All dietary requirements can be accommodated, and we can also provide lunches and drinks receptions.

Facilities

WiFi available.

Accessibility

Ground floor. Steps to Hall entrance.

Available

Term & Vacation

Garden

Dining 100

Buffet 120

Other 70

A wonderful outdoor space, which can be used for refreshment breaks, or set up for outside catering events such as drinks party, formal or informal dinners and weddings. The Garden is walled, private and can accommodate up to 120 people.

Facilities

Accessibility

Ground floor. Steps to Hall entrance.

Available

Term & Vacation

JCR Common Room

Area used for relaxing, watching television, listening to music and playing games.

Facilities

Large TV Screen, tea/coffee making facilities. WiFi available.

Accessibility

Underground, no lift.

Available

Vacation

Conference Room - Norham Gardens

Theatre 40

Classroom 16

Boardroom 20

Elegant, high-ceilinged Victorian room used for a small conference or seminar.

Facilities

Audio-visual and flipcharts. WiFi available.

Accessibility

Ground floor. Steps to the building's entrance.

Available

Term & Vacation

Library - Norham Gardens

Theatre 60

Classroom 20

Boardroom 30

Relaxed and spacious library overlooking the garden. Can be set up for theatre, boardroom or classroom style.

Facilities

Audio-visual and flipcharts. WiFi available.

Accessibility

Audio-visual and flipcharts. WiFi available.

Available

Term & Vacation

Blue Room - Norham Gardens

Classroom 10

Boardroom 10

Relaxed small teaching room or music room with a piano.

Facilities

Flipcharts, WiFi available.

Accessibility

Slightly below ground floor. Steps to the building's entrance.

Available

Term & Vacation

Dining Room - Norham Gardens

Light and modern open dining space. Can host formal dinners for up to 30 and buffets for up to 50 people. All dietary requirements can be accommodated, and we can also provide lunches and drinks receptions.

Facilities

Accessibility

Slightly below ground floor. Steps to the building's entrance.

Available

Term & Vacation

Lounge - Norham Gardens

Cosy and spacious room used for relaxation, reading or entertainment, overlooking the garden.

Facilities

Wall-mounted TV.

Accessibility

Ground floor. Steps to the building's entrance.

Available

Term & Vacation

Garden - Norham Gardens

A wonderful outdoor space, which can be used for refreshment breaks, or set up for outside catering events such as drinks party, formal or informal dinners and weddings. The Garden is walled, private and can accommodate up to 100 people.

Facilities

Accessibility

Ground floor. Outside access available. Disabled access.

Available

Vacation