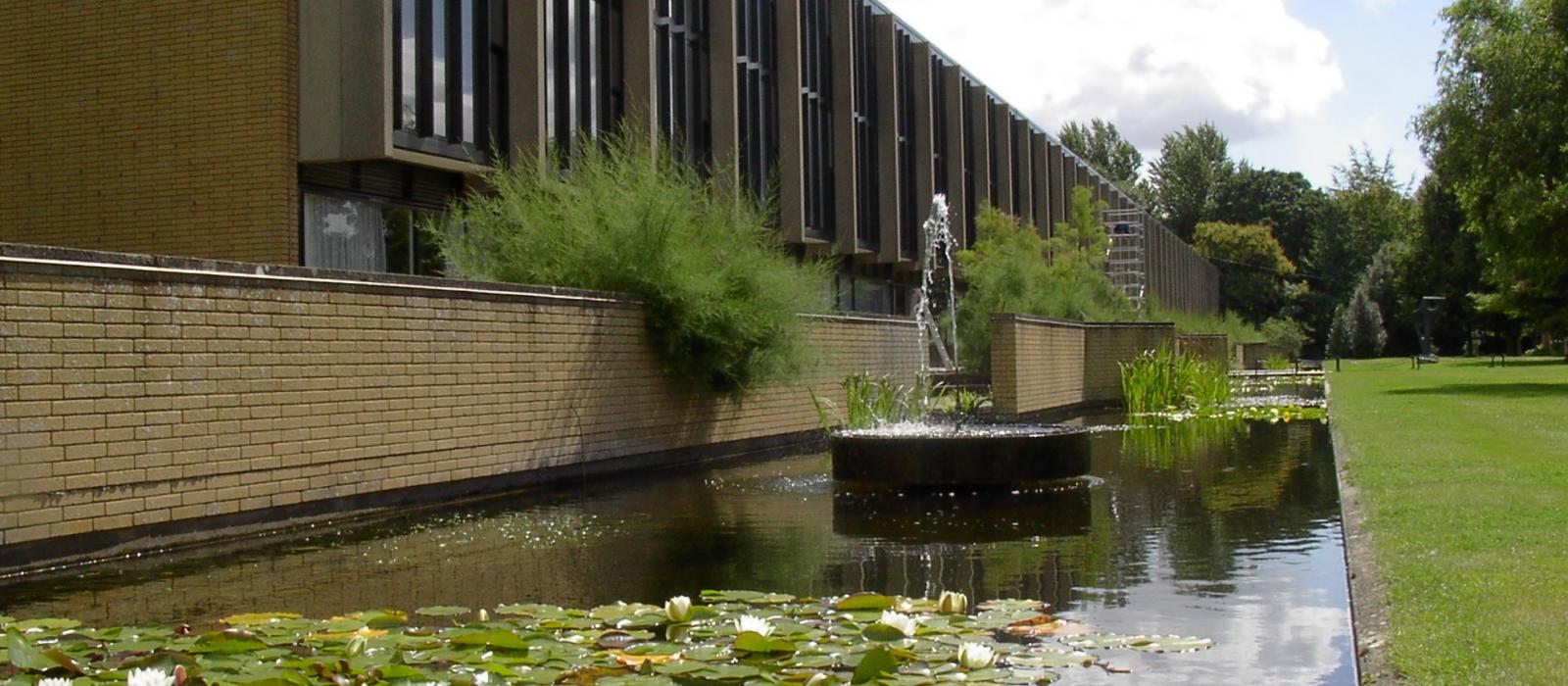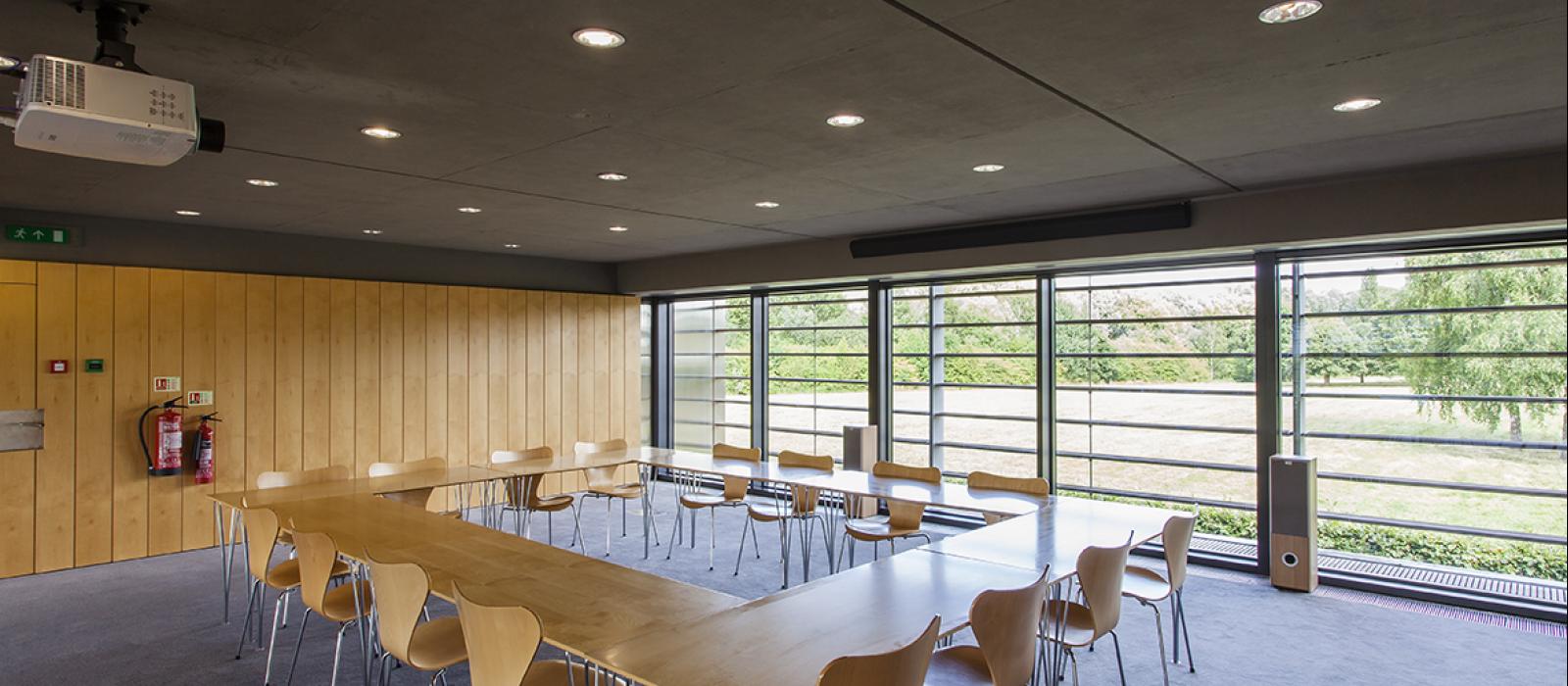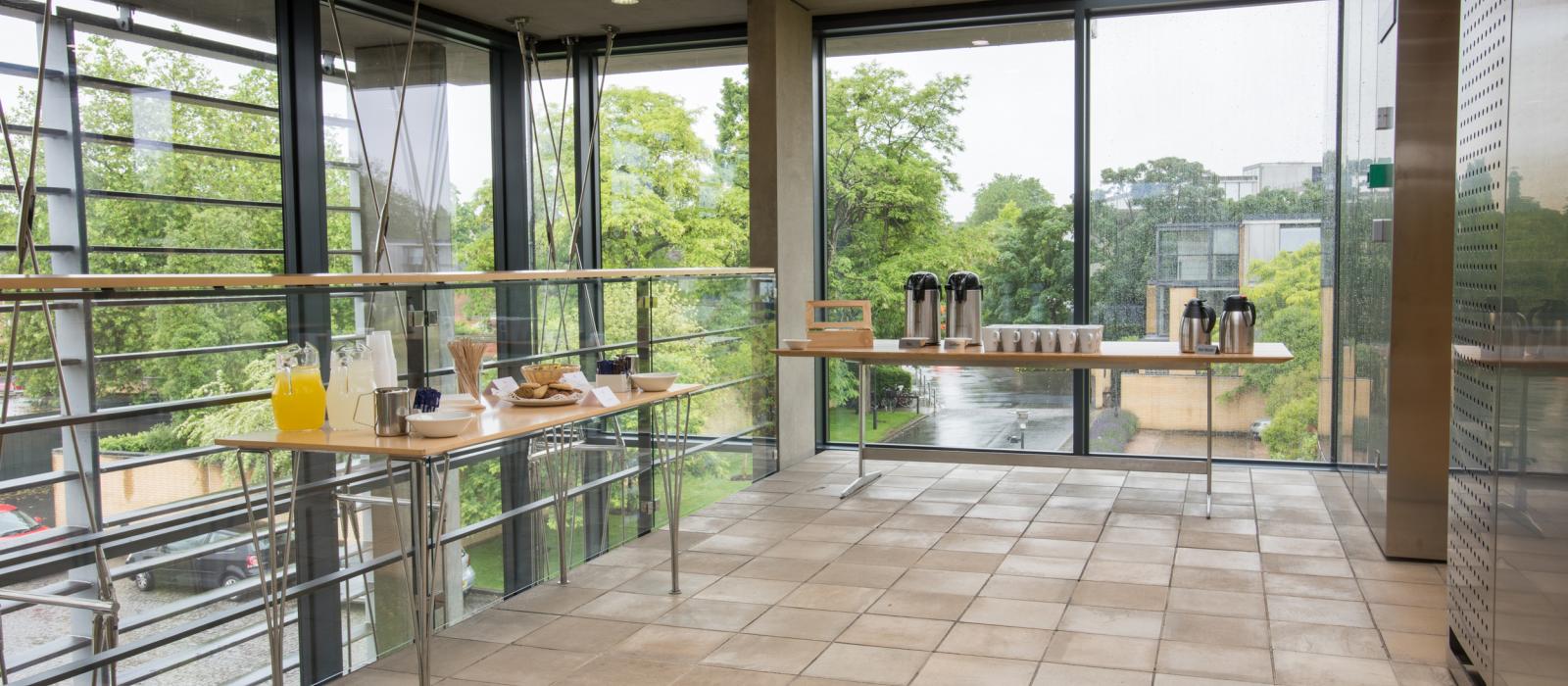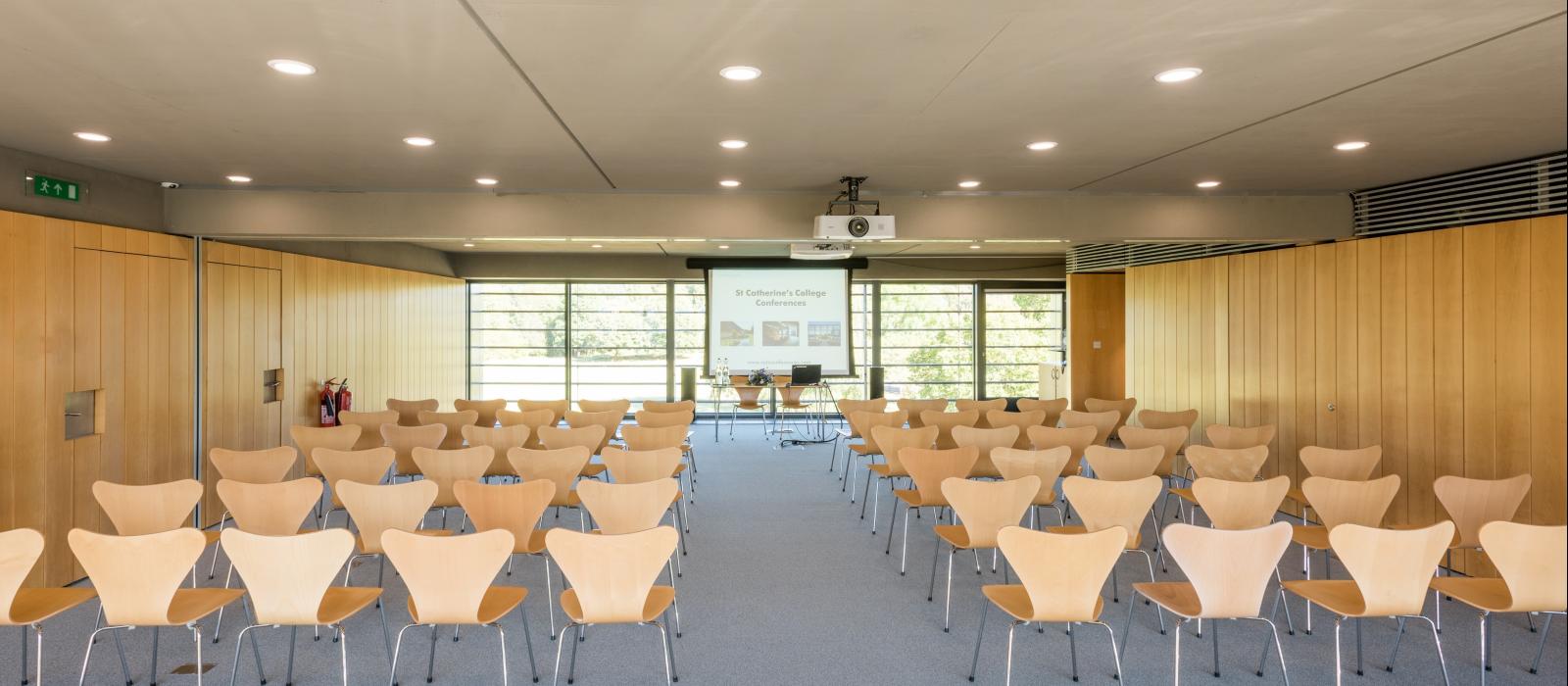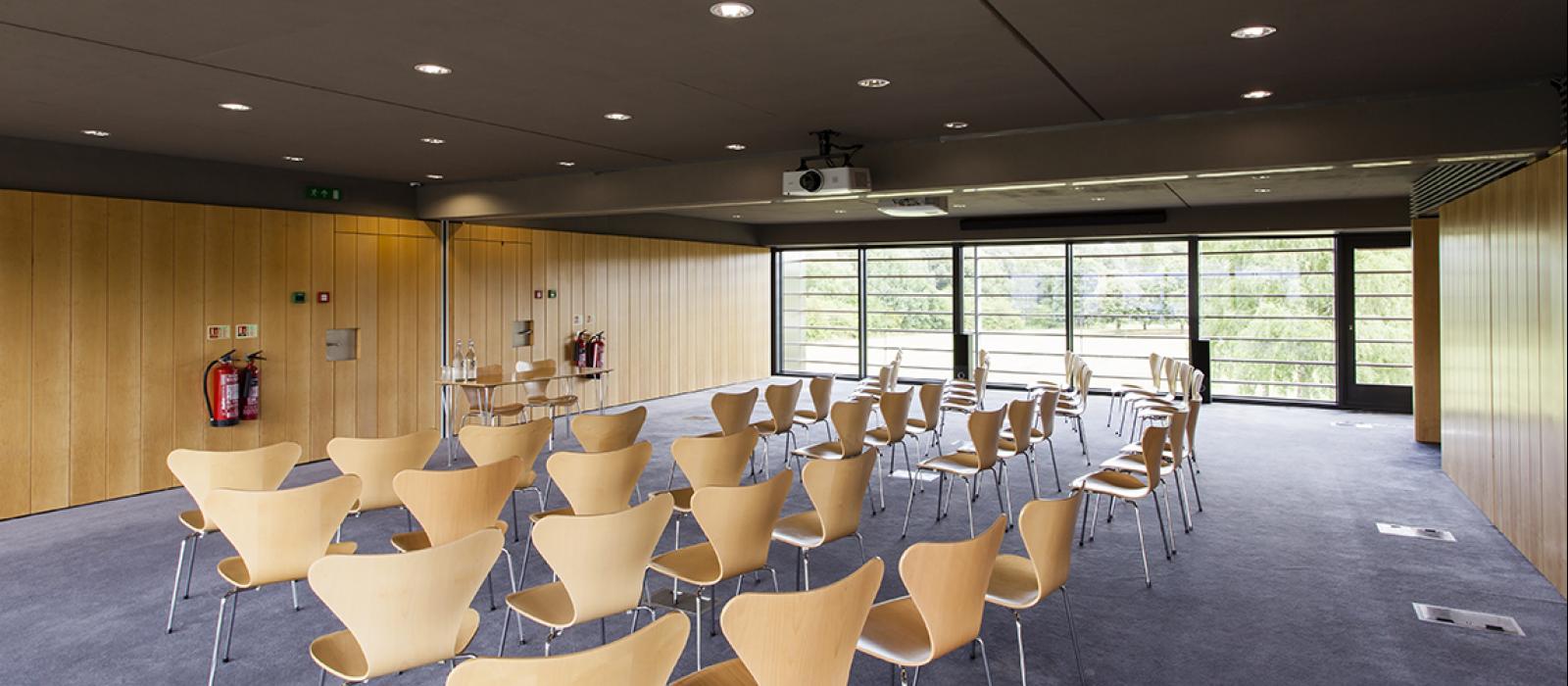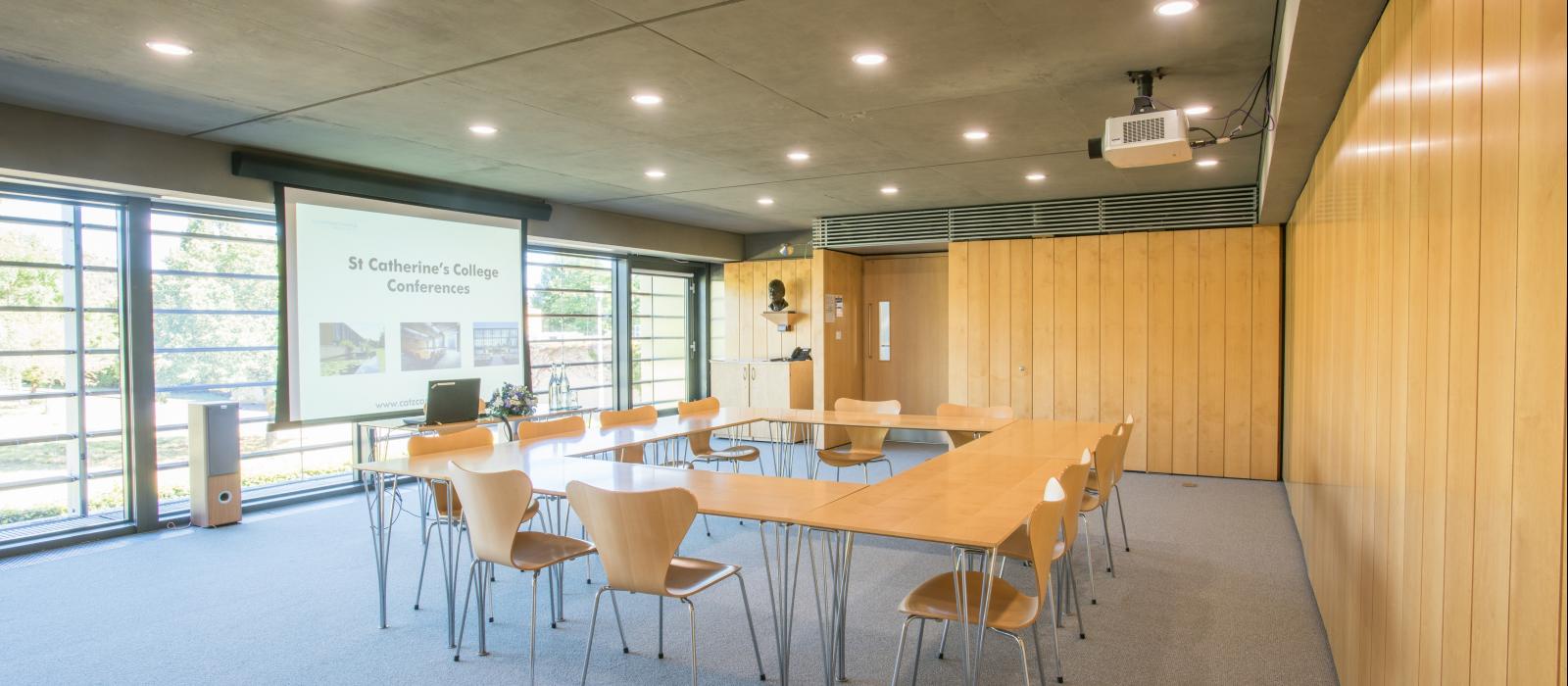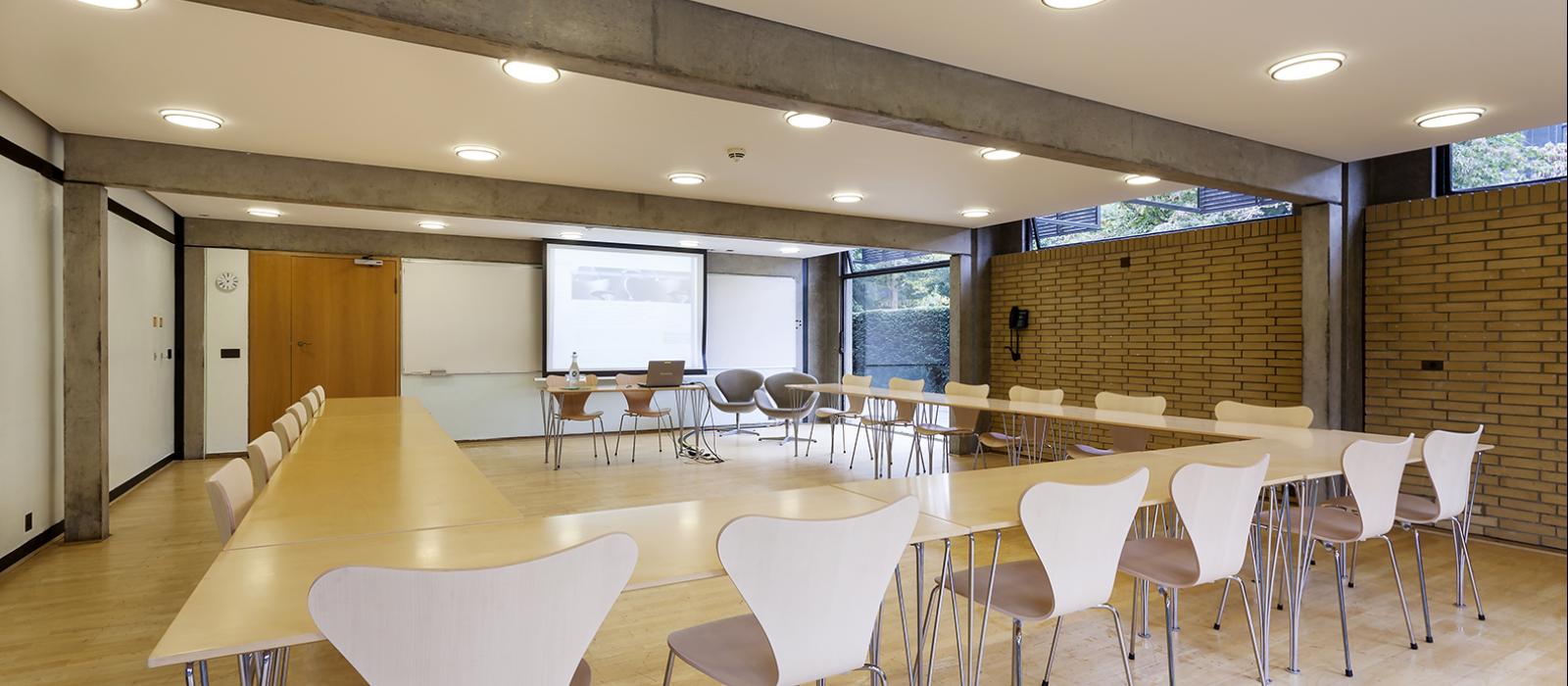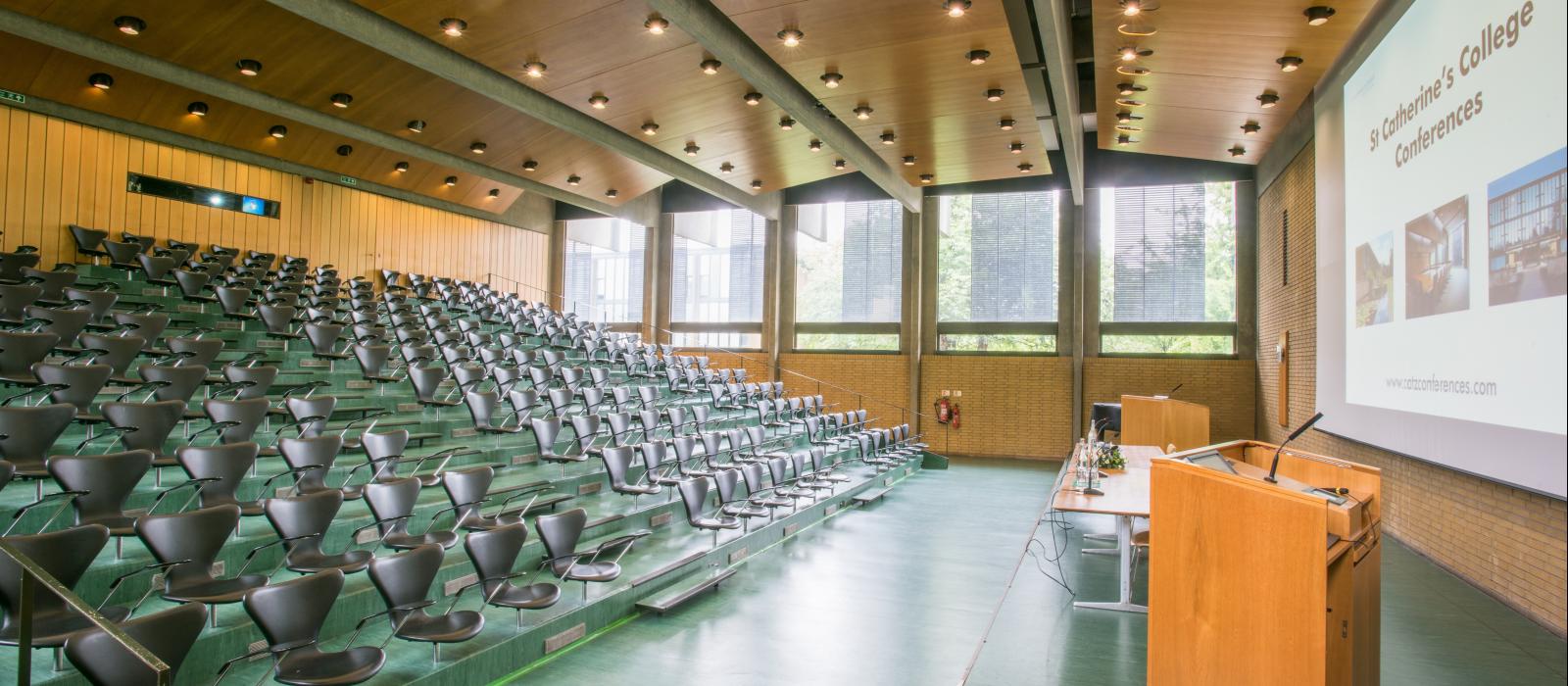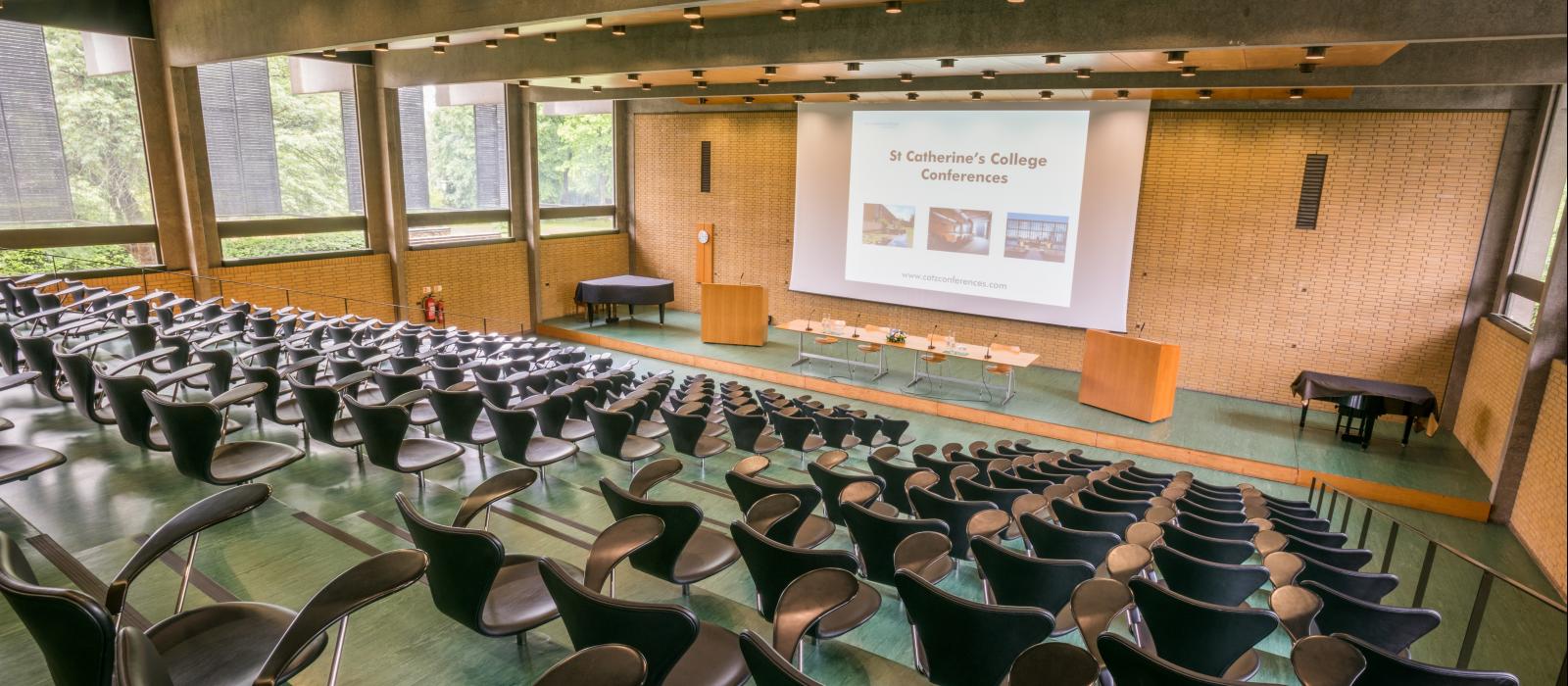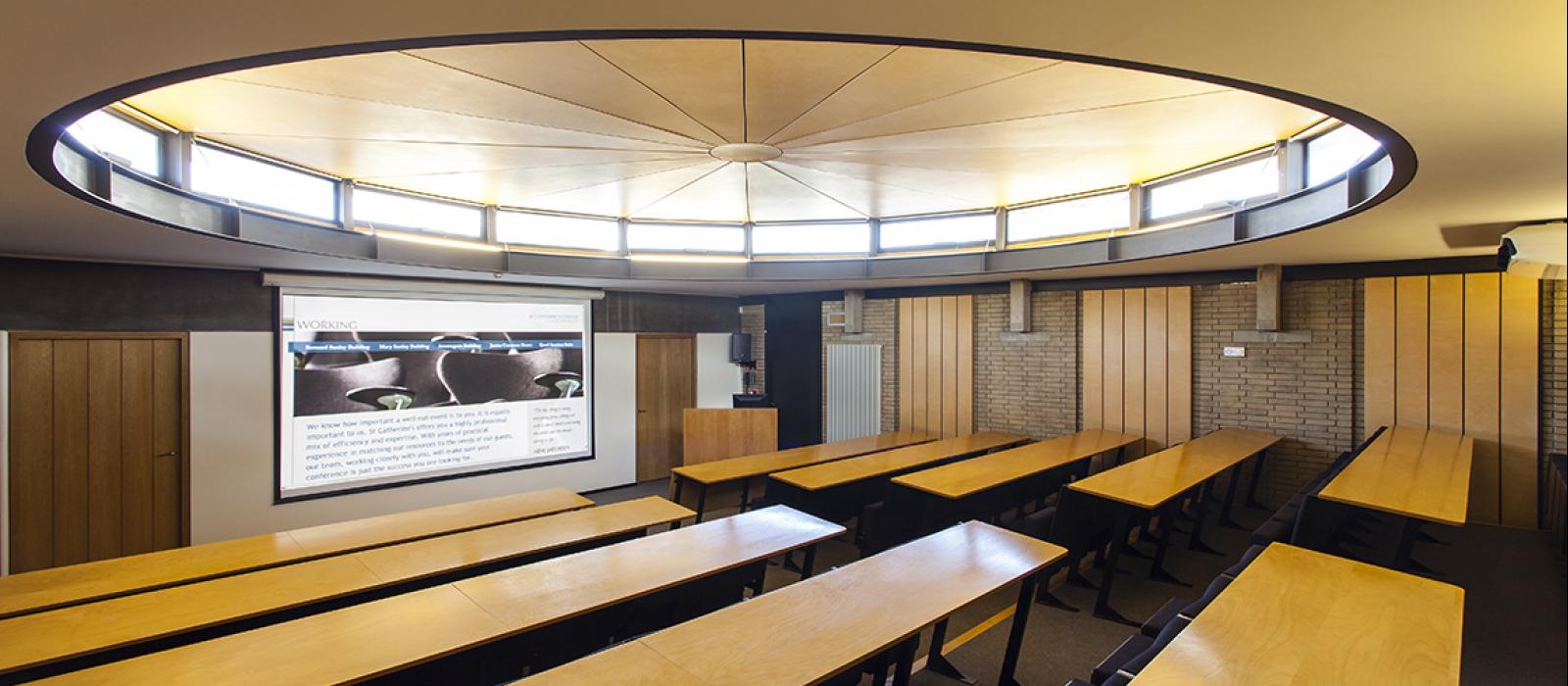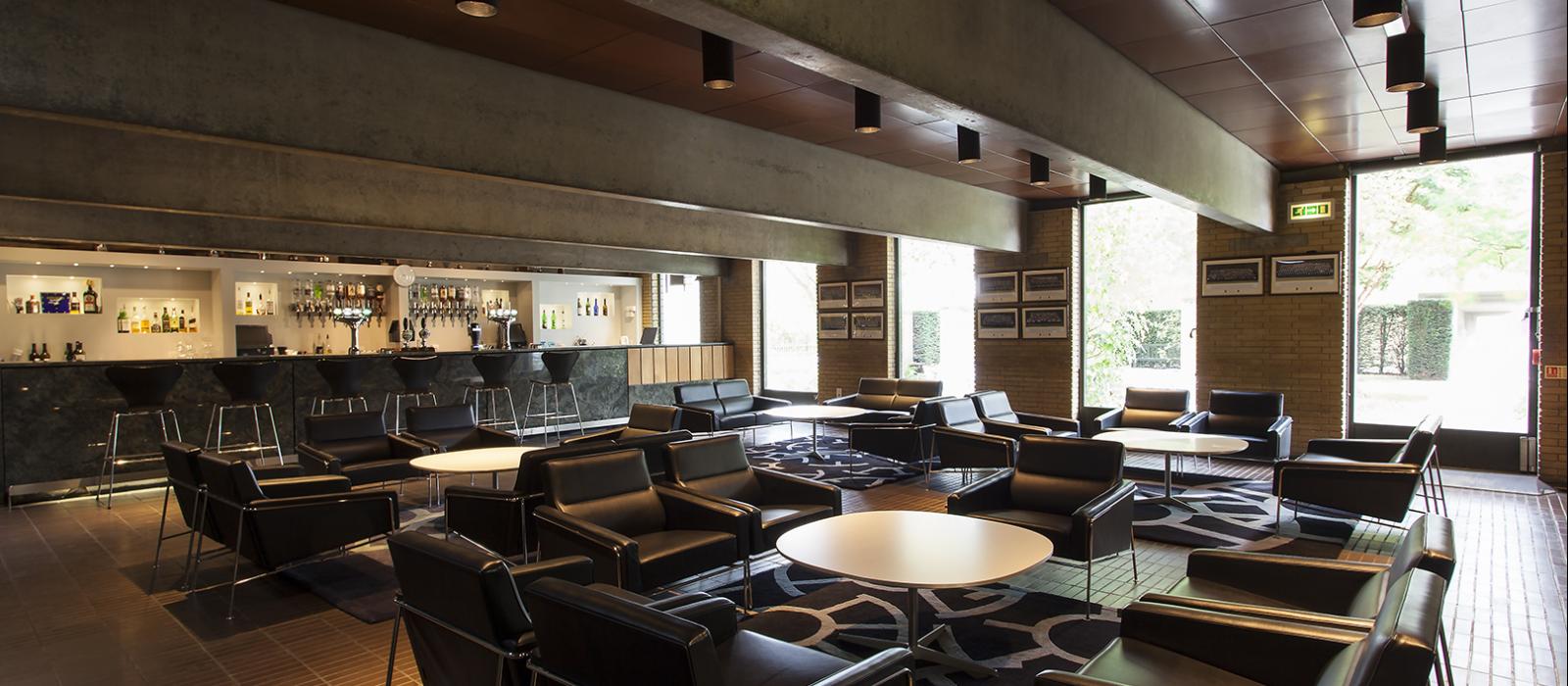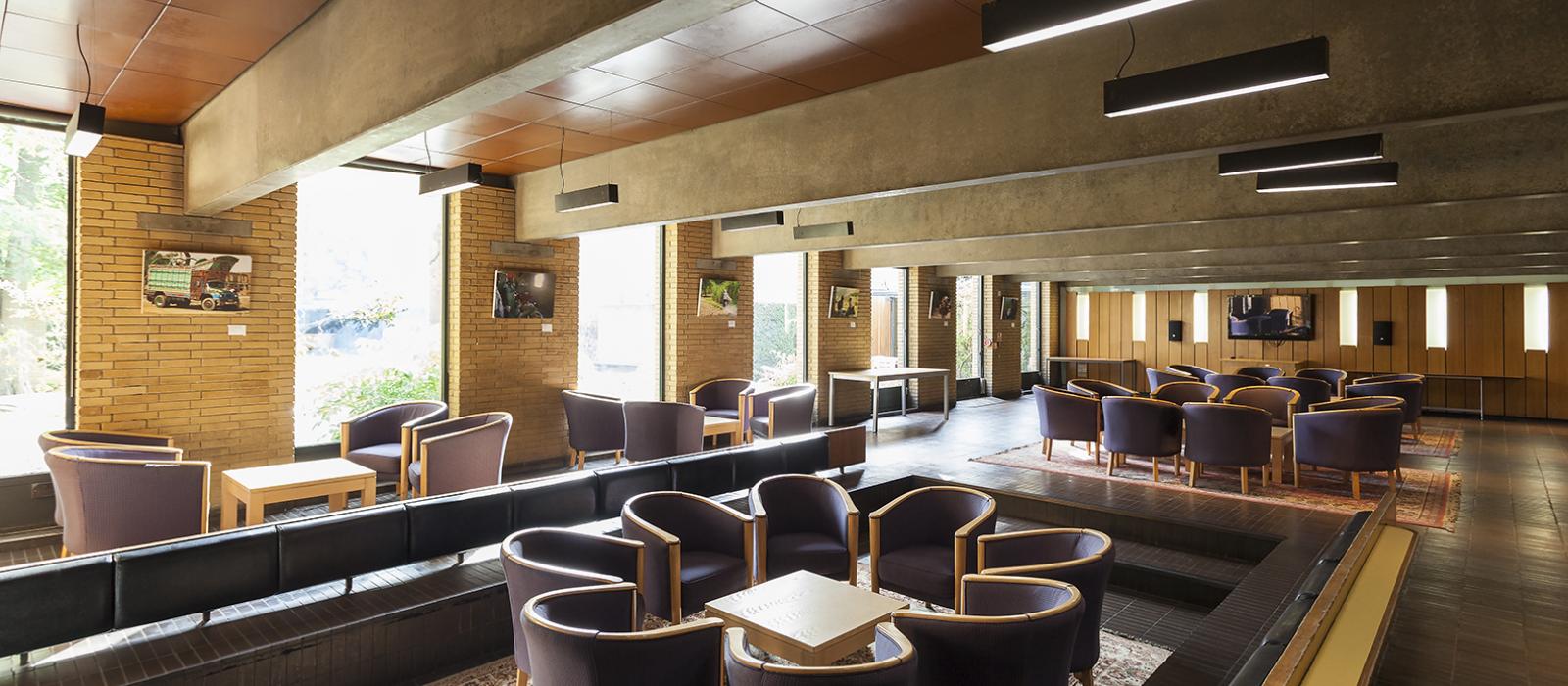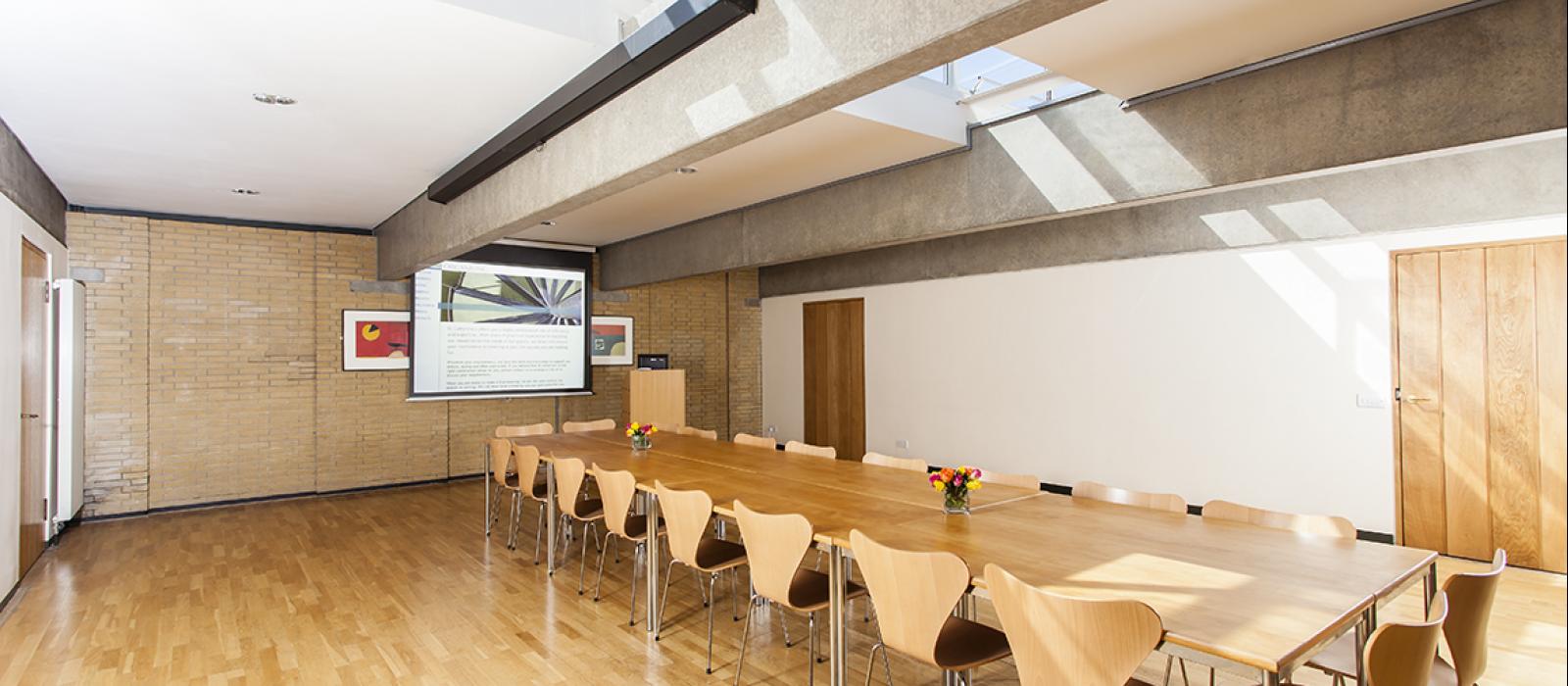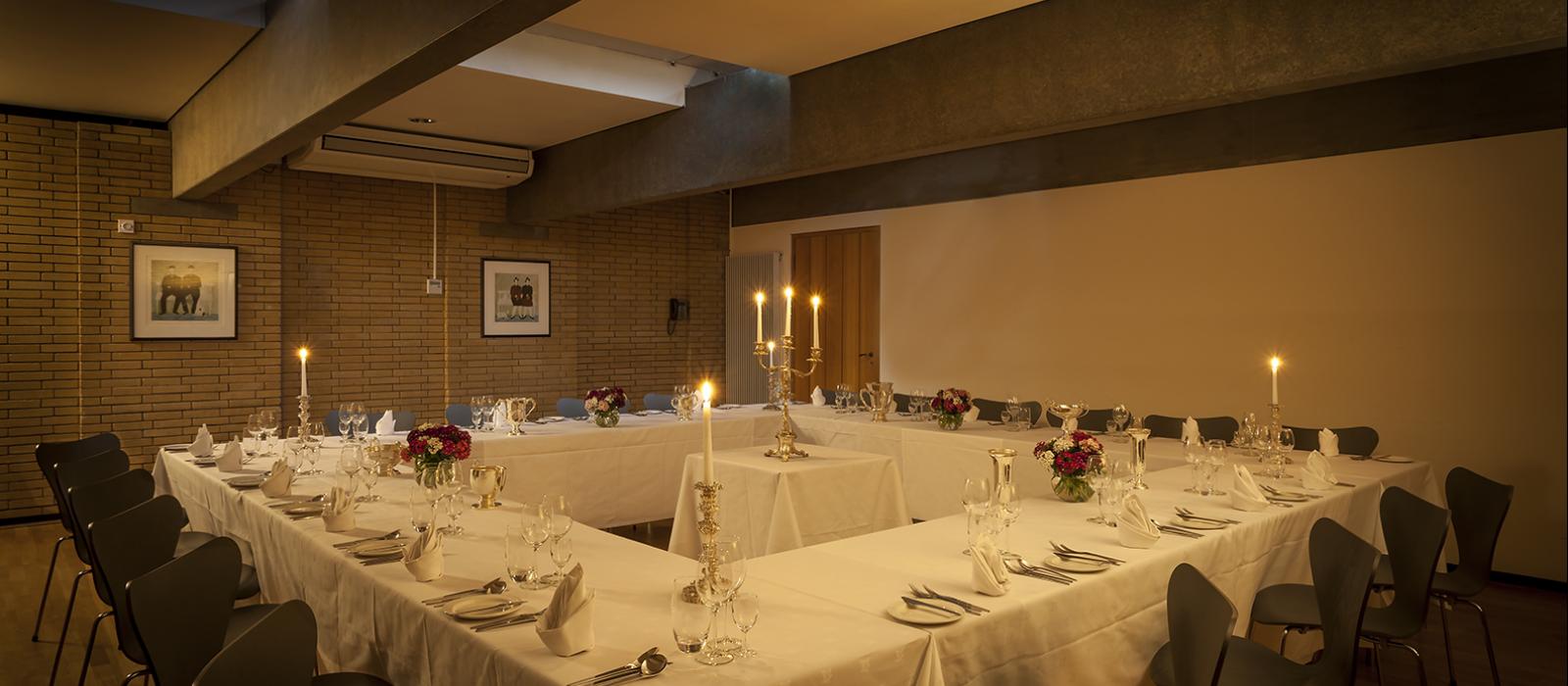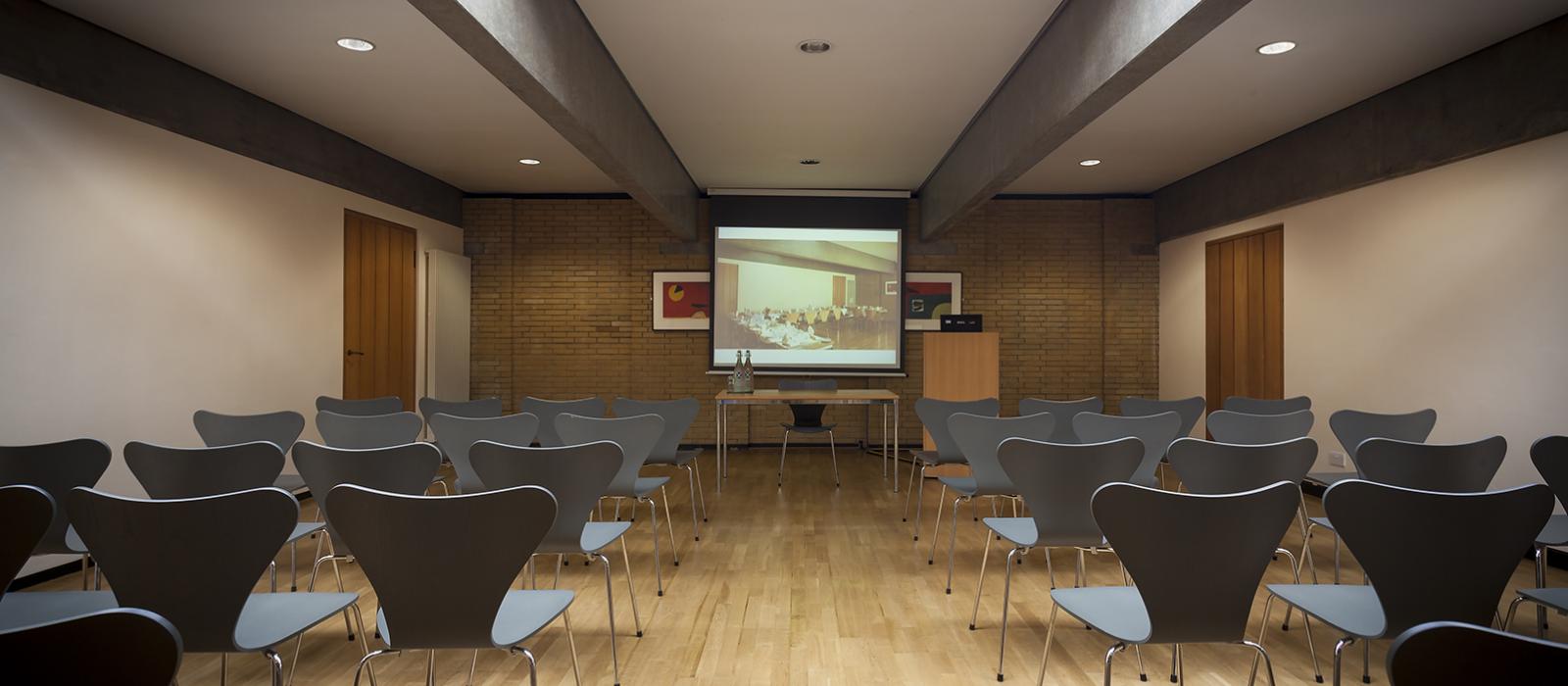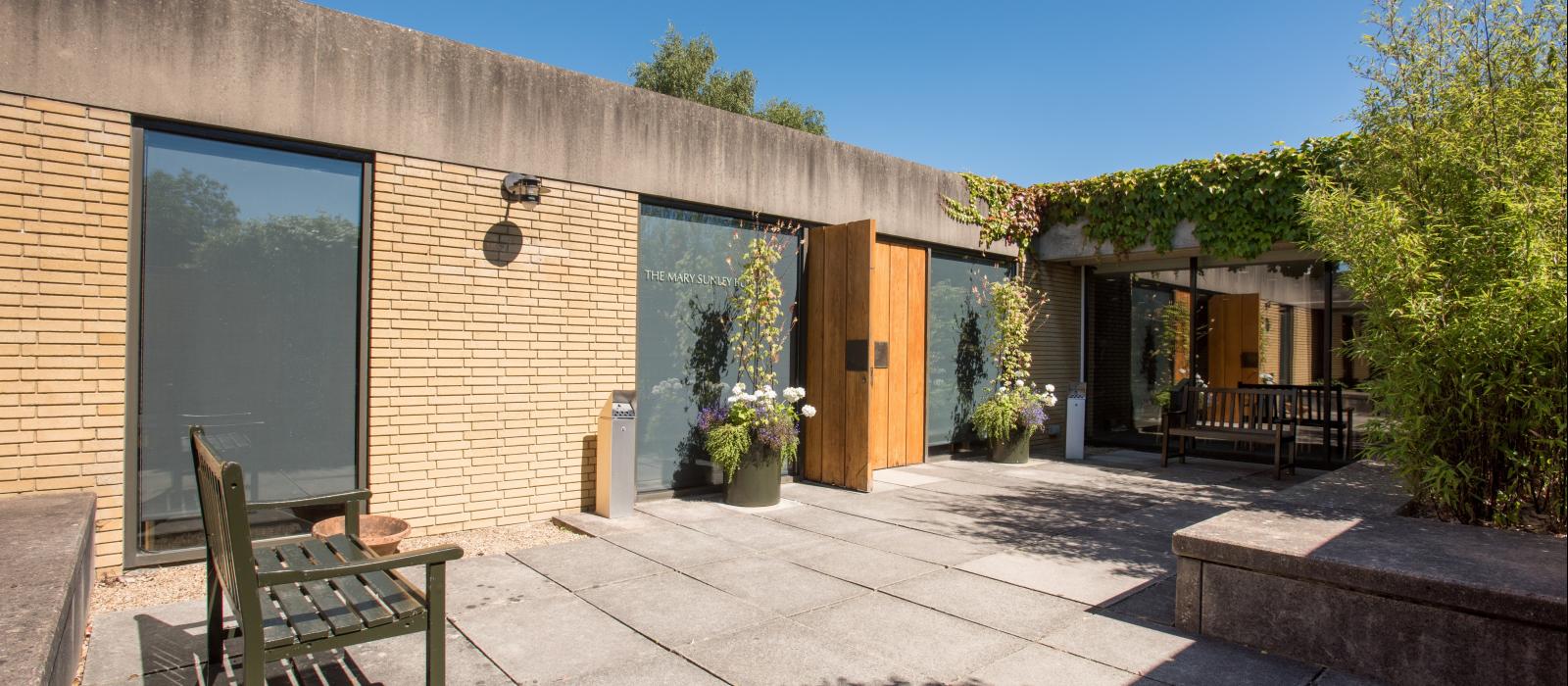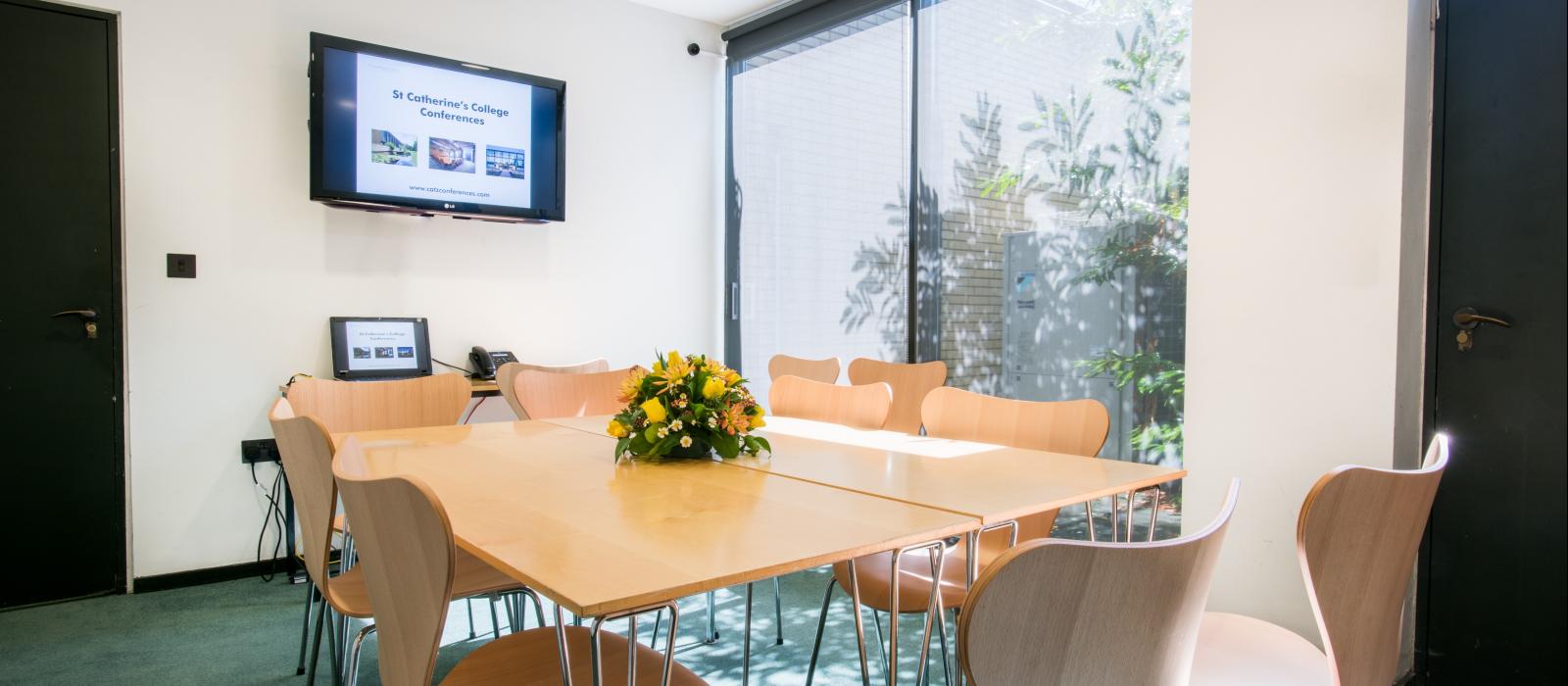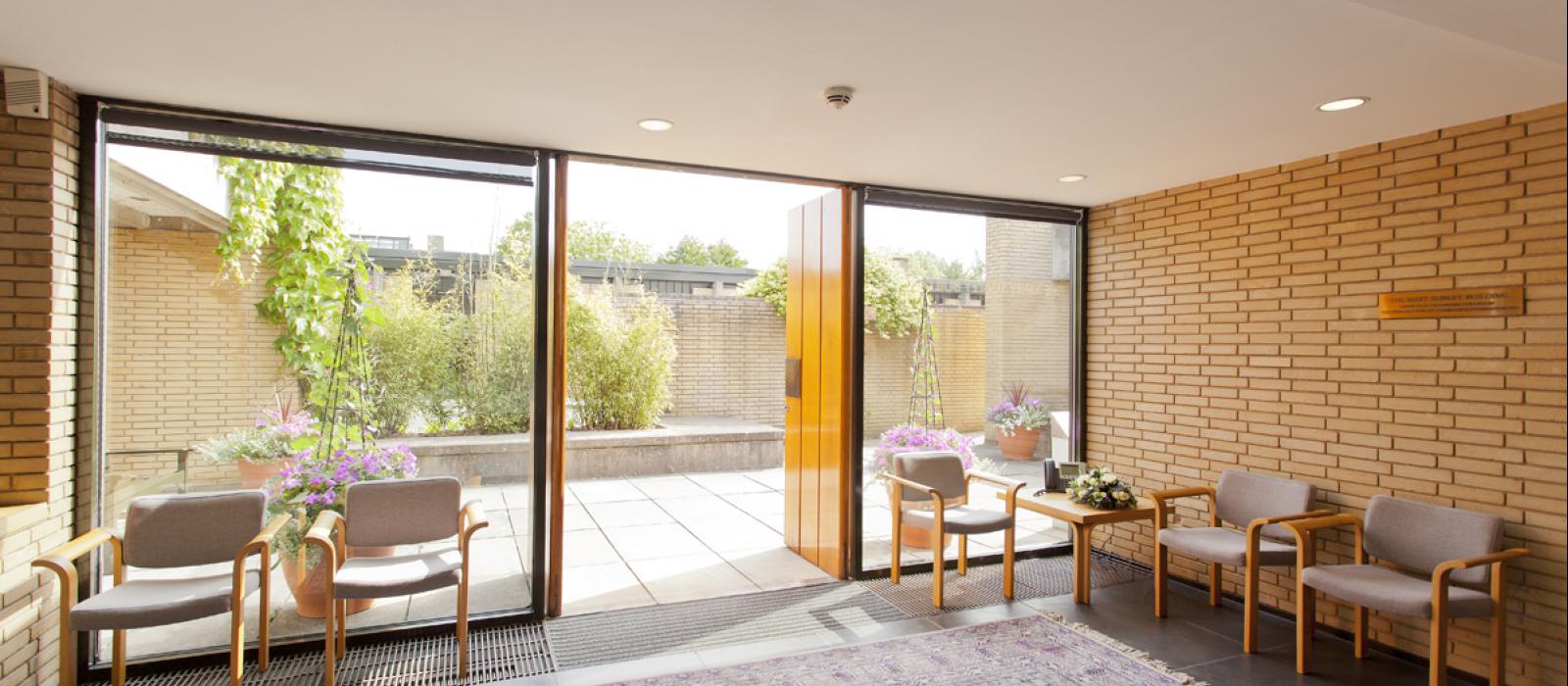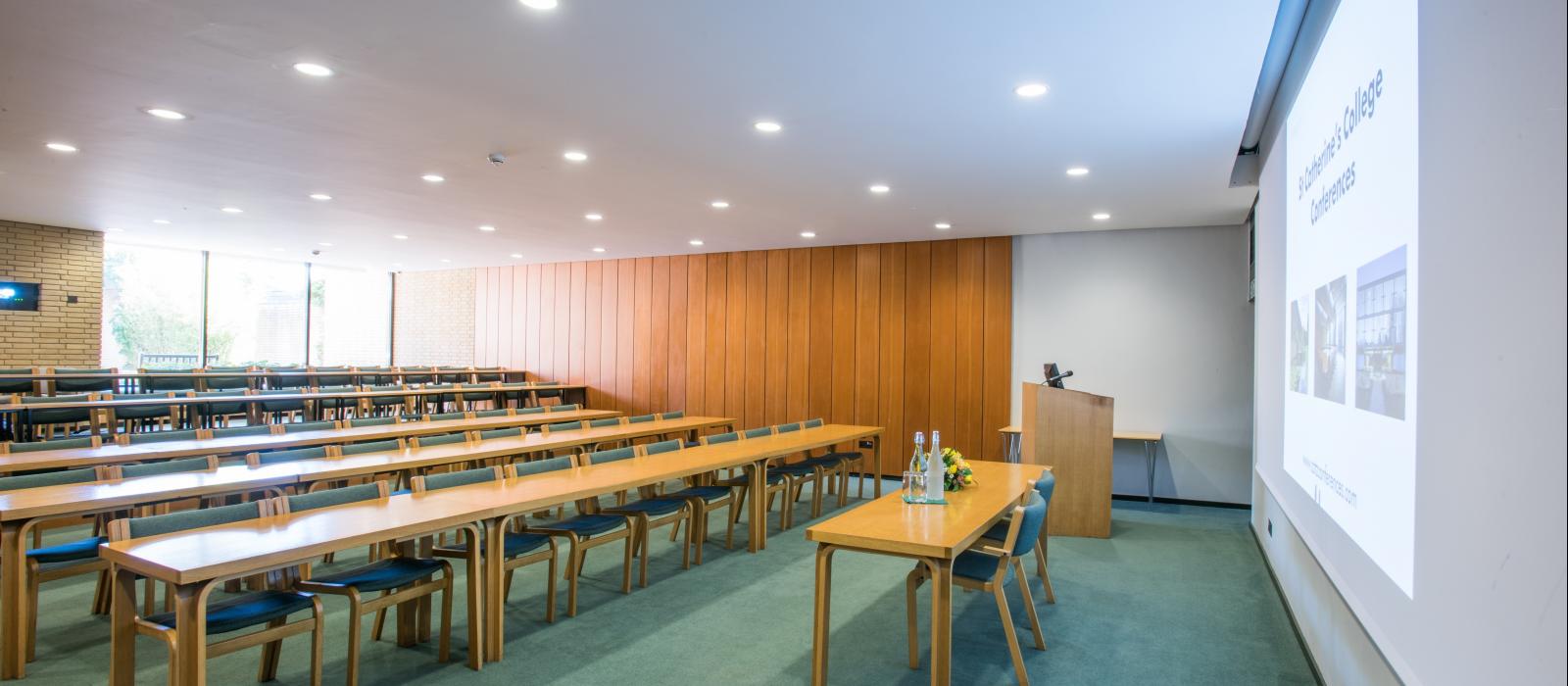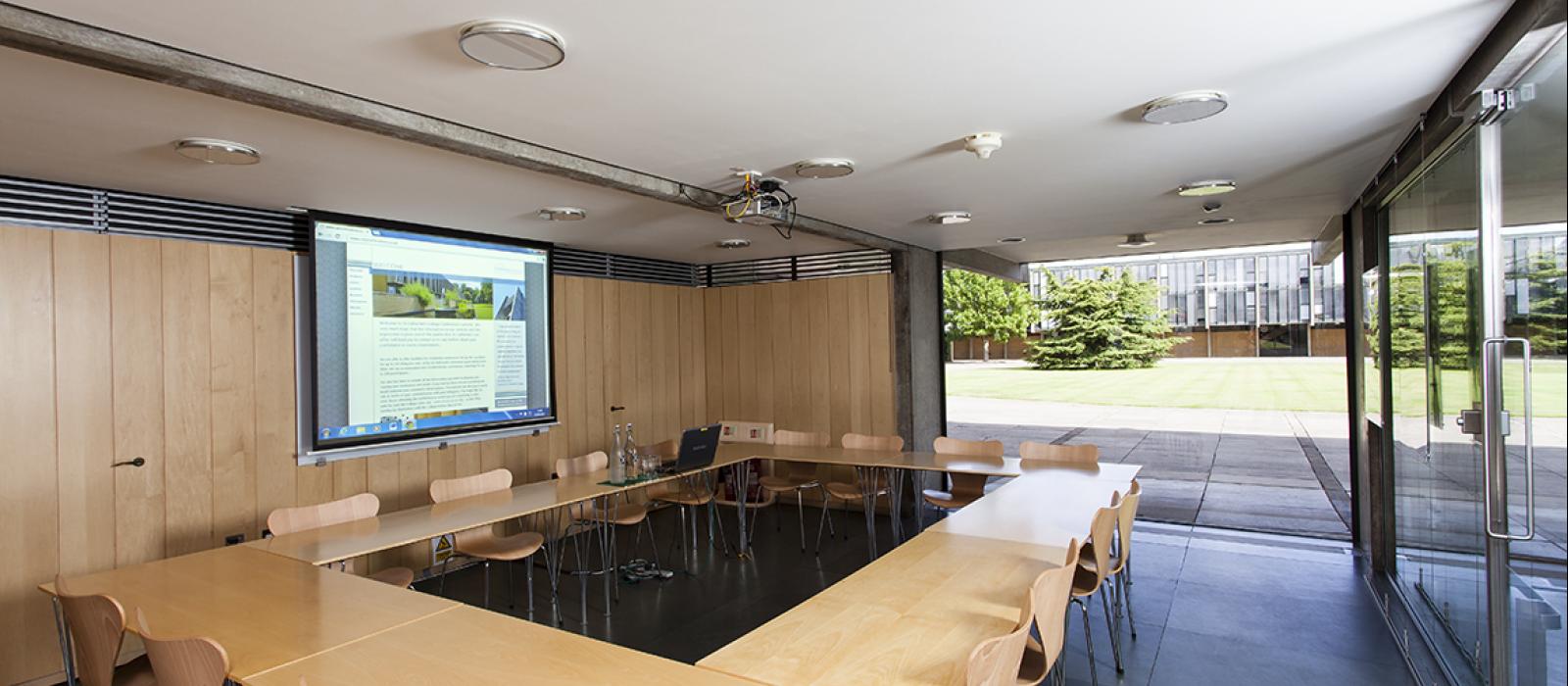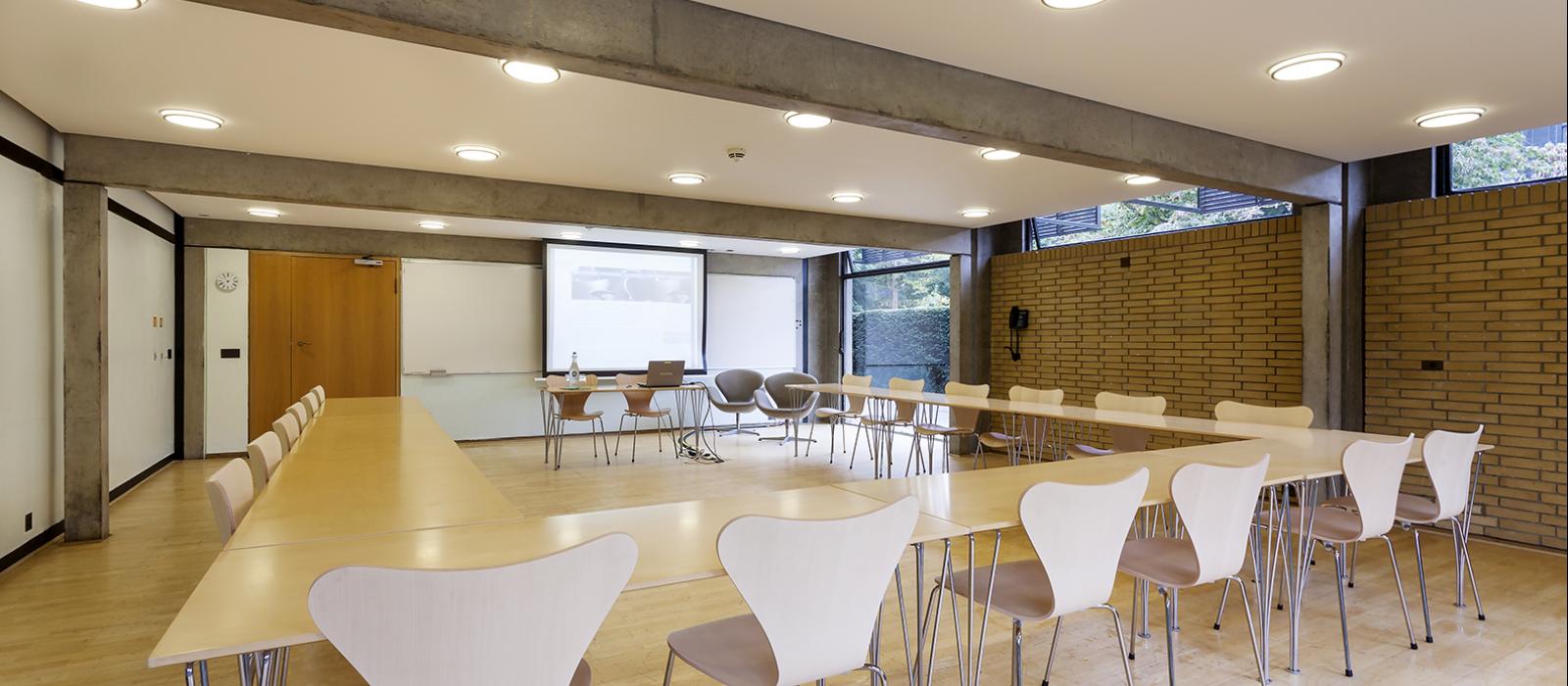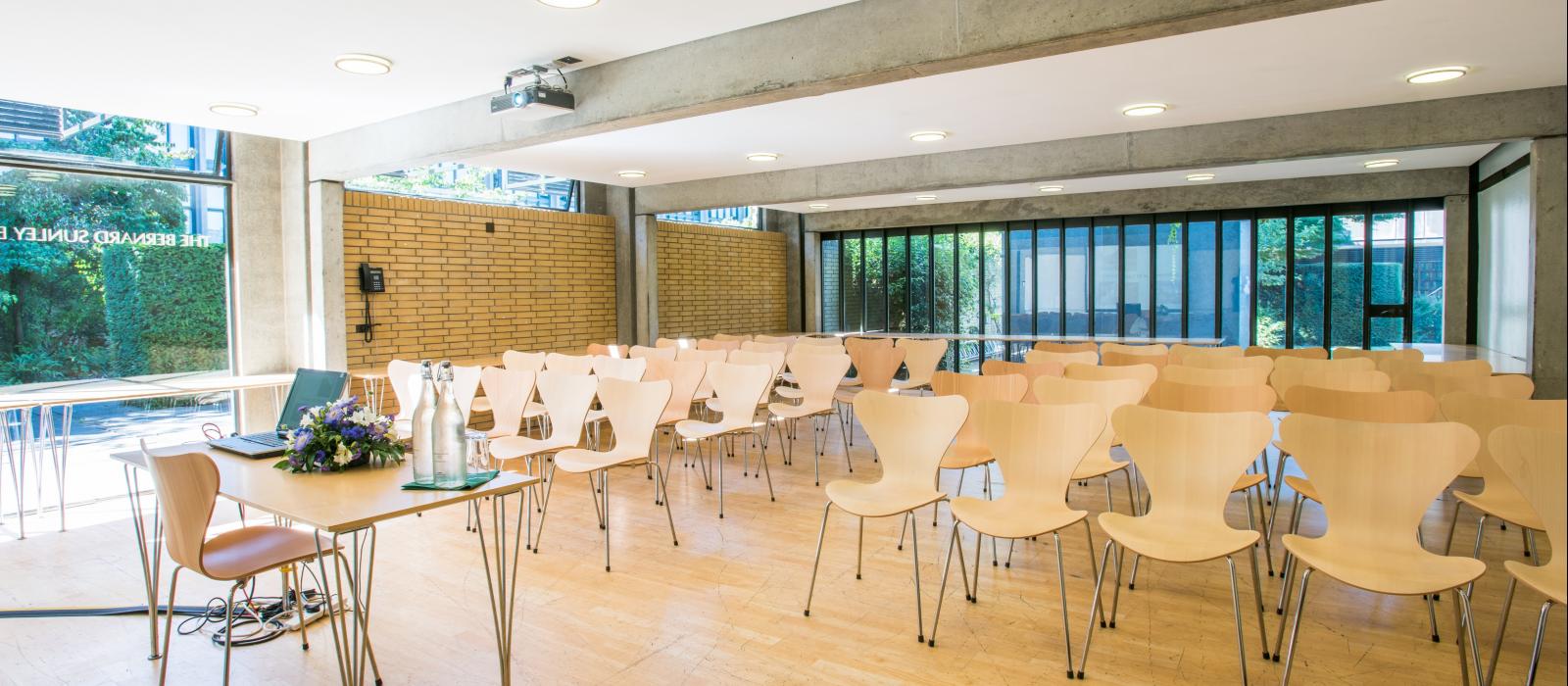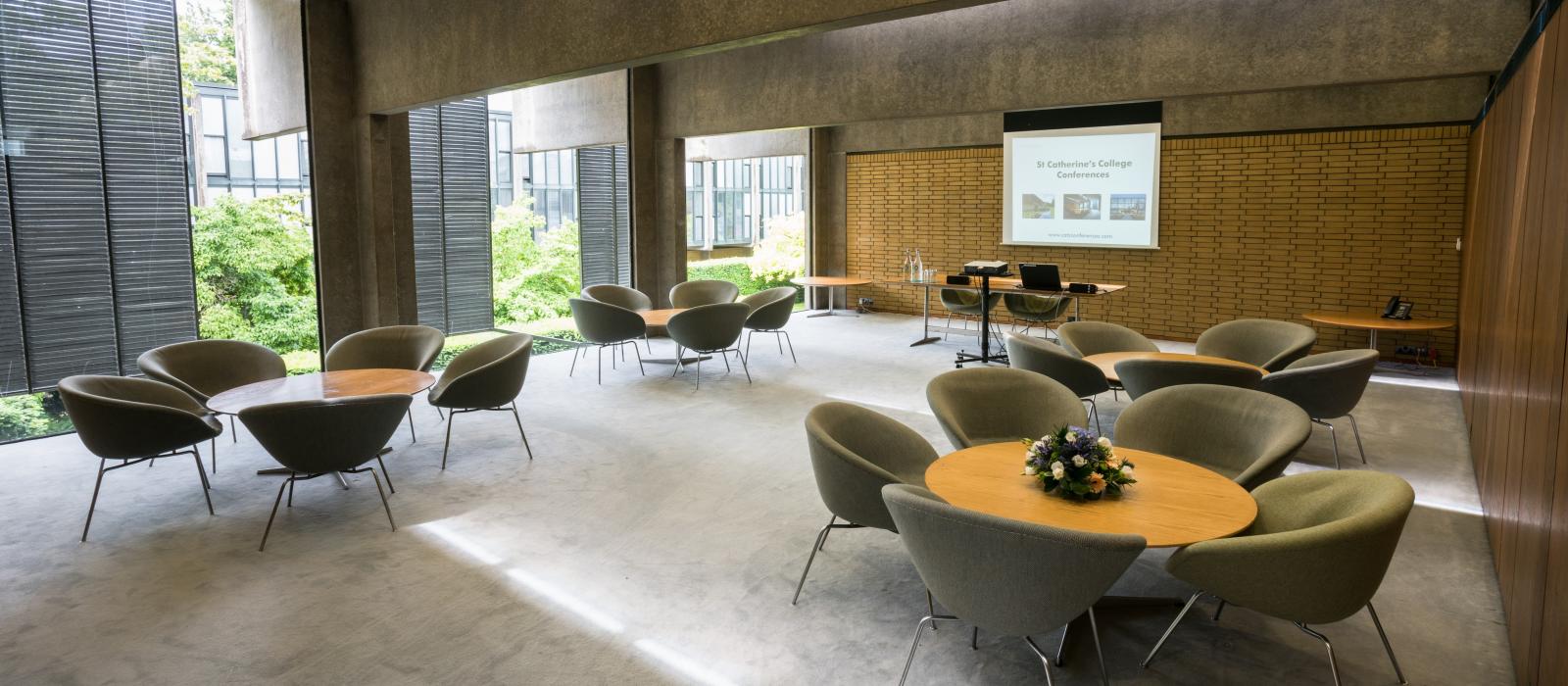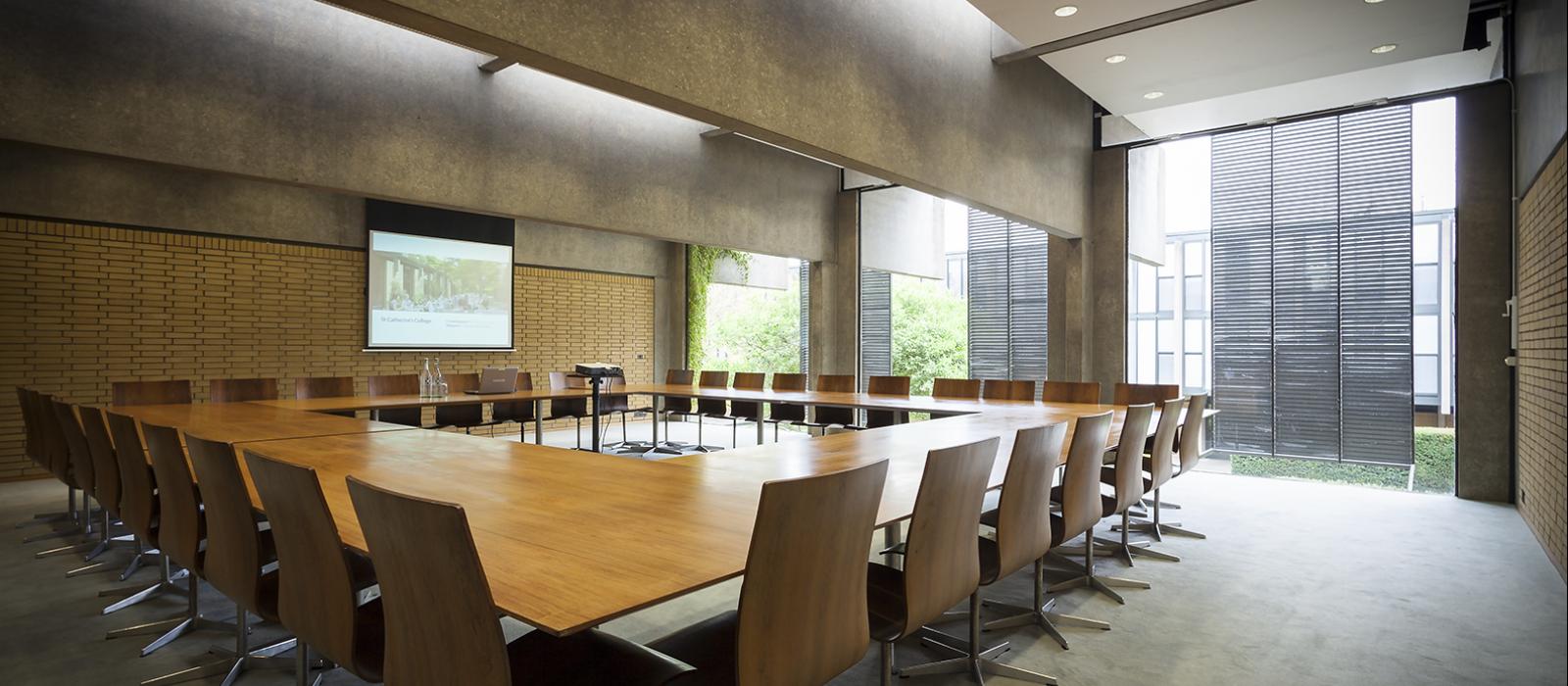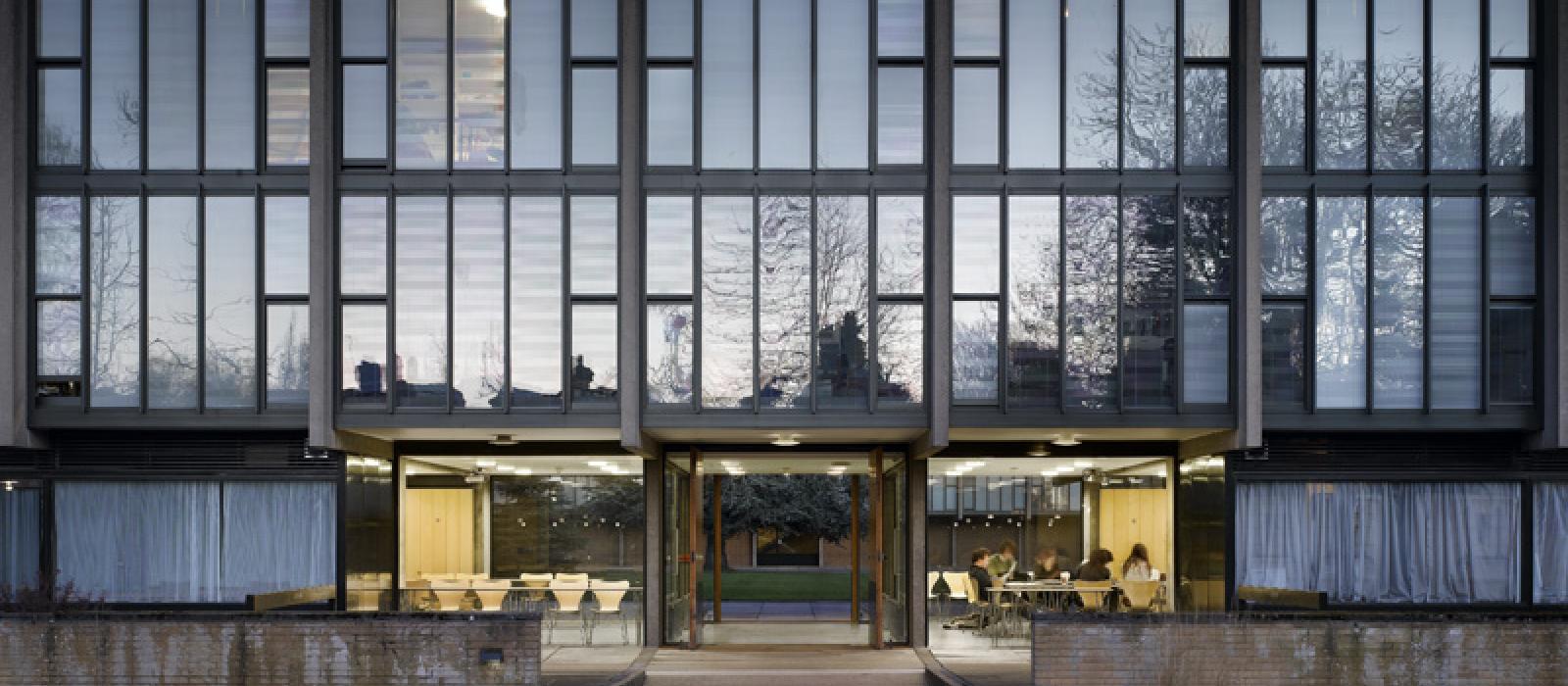 As Oxford's youngest undergraduate college we bring a fresh, contemporary perspective to the Oxford experience. Eight hundred years of university history, cast in a modern mould. Our buildings, facilities and gardens all form part of an all-round designed setting for every aspect of your conference and stay – working, eating, relaxing and sleeping.
This venue offers facilities for hybrid/virtual meetings.
St Catherine's College, Manor Road, Oxford OX1 3UJ
22 meeting spaces with capacity for up to 380 guests for Theatre, Classroom, Boardroom, Posters, Office, U-shape, Tea and coffee service, Buffet, Cabaret, Free space, Dining, Computer room, and En-Suite bedroom functions.
Bedrooms 455
Ensuite 230
Standard 225
Breakfast yes
Lunch yes
Dinner yes
"Thank you for offering this service, it was so easy to use and I had several responses."
Santa Clara University
Louise Hudson & Sarah Airey
catz.conferences@stcatz.ox.ac.uk
01865 281552/271
www.catzconferences.co.uk

Bernard Sunley Lecture Theatre

Fixed, tiered lecture theatre for 208, can go up to 250 with extra seats at front. Lots of natural light and black-out blinds when needed.

Facilities

Built-in data projector and PC at lectern as well as up to five microphones (handheld, lapel and one fixed to lectern).

Accessibility

This theatre is on the ground floor, full accessibility.

Available

Term & Vacation

Room A

Theatre 50

Classroom 40

Boardroom 28

Posters 40

Ground floor room in the Bernard Sunley Building, opposite the theatre. Flexible set-up, can be used for posters, breakout sessions, exhibiters or just as a cleared area for tea and coffee overspill for groups meeting in the theatre. Floor-to-ceiling windows.

Facilities

Ceiling-mounted data projector, white board.

Accessibility

Ground floor room, full accessibility.

Available

Vacation

Room B

Theatre 12

Classroom 10

Boardroom 8

Office 1

This room is usually set up as an office but can also be used for smaller breakout sessions. Floor-to-ceiling windows.

Facilities

Printer, phone, fax, photocopier, fridge, tea and coffee-making facilities.

Accessibility

First floor, accessible via stair lift.

Available

Vacation

Room C

Theatre 50

Classroom 40

Boardroom 28

First floor room in the Bernard Sunley building opposite the theatre, with flexible seating this room can be used for breakout sessions, posters, drinks receptions or for exhibiters. Floor-to-ceiling windows. Black-out blinds fitted.

Facilities

Ceiling-mounted screen.

Accessibility

First floor, accessible via stair lift.

Available

Vacation

Room D

This room can only be set up either boardroom style for 40 or u-shape for 30 with a top table. Floor-to-ceiling windows.

Facilities

It is possible to have a portable screen and data projector set up in this room.

Accessibility

First floor, accessible via stair lift.

Available

Vacation

Bernard Sunley Foyer

Tea and coffee service 250

A flat opoen space outside the Bernard Sunley Lecture Theatre where teas and coffee are served.

Facilities

Accessibility

Fully accessible

Available

Term & Vacation

Mary Sunley Theatre

Theatre 80

Classroom 60

Boardroom 28

A large flexible flat space, and two wide steps at the back to add a slight tier. The theatre lends itself to a variety of layouts.

Facilities

30-station IT suite available to hire. Data projector and presentation PC.

Accessibility

Available

Term & Vacation

Mary Sunley Seminar Room

Buffet 30

Theatre 40

Classroom 30

Boardroom 32

Cabaret 16

Free space 80

A large room that can be used for refreshments, breakout sessions, meetings and seminars.

Facilities

Audio-visual facilities and catering/bar

Accessibility

Wheelchair accessible.

Available

Term & Vacation

Mary Sunley Foyer

Tea and coffee service 40

Flat open space outside Mary Sunley Lecture Theatre for registration and tea and coffee service.

Facilities

Accessibility

Fully accessible

Available

Term & Vacation

Arumugam First Floor (as one room)

Theatre 70

Classroom 50

Boardroom 30

This room is a flexible space, floor-to-ceiling windows, can be divided into two rooms with a soundproof removable partition. Black-out blinds fitted.

Facilities

Fixed, ceiling-mounted data projector and laptop.

Accessibility

This room is on the first floor and has no disabled access.

Available

Term & Vacation

Arumugam First Floor (as two rooms)

Theatre 30

Classroom 15

Boardroom 12

This room is a flexible space, floor-to-ceiling window. Black-out blinds fitted.

Facilities

Fixed, ceiling-mounted data projector and laptop.

Accessibility

This room is on the first floor and has no disabled access.

Available

Term

Arumugam Second Floor (as one room)

Theatre 70

Classroom 50

Boardroom 30

This room is a flexible space, floor-to-ceiling windows, can be divided into two rooms with a soundproof removable partition. Black-out blinds fitted.

Facilities

Fixed, ceiling-mounted data projector and laptop.

Accessibility

This room is on the second floor and has no disabled access.

Available

Term & Vacation

Arumugam Second Floor (as two rooms)

Theatre 30

Classroom 15

Boardroom 12

This room is a flexible space, floor-to-ceiling window. Black-out blinds fitted.

Facilities

Fixed, ceiling-mounted data projector and laptop.

Accessibility

This room is on the first floor and has no disabled access.

Available

Term & Vacation

The Arumugam Balcony

Tea and coffee service 30

A flat open space outside the seminar rooms used for tea and coffee service.

Facilities

Accessibility

Up two flights of stairs, no lift.

Available

Term & Vacation

Quad North

Theatre 25

Classroom 20

Boardroom 15

Glass-walled seminar room that is usually best suited to boardroom style for 15-20. Lots of natural light.

Facilities

Fixed, ceiling-mounted data projector and laptop.

Accessibility

This room is on the ground floor, full disabled access.

Available

Vacation

Quad South

Theatre 25

Classroom 20

Boardroom 15

Glass-walled seminar room that is usually best suited to boardroom style for 15-20. Lots of natural light.

Facilities

Fixed, ceiling-mounted data projector and laptop.

Accessibility

This room is on the ground floor. Full disabled access.

Available

Vacation

JCR Theatre

This room is a fixed, tiered theatre for 80 (can seat up to 90 max with additional seats at front)

Facilities

Data projector and built-in PC at the lectern. Microphone at lectern.

Accessibility

This theatre is on the ground floor, full accessibility.

Available

Vacation

PDR (Private Dining Room)

Dining 34

Theatre 40

Classroom 30

Boardroom 15

This room is a flexible space and is adjoined and sold alongside the JCR Theatre. This area is also available for private dining.

Facilities

Fixed, ceiling-mounted data projector and PC installed at lectern.

Accessibility

This room is on ground floor and is fully accessible.

Available

Vacation

JCR Computer Room

Computer room for word processing and Internet acces

Facilities

Eight PCs, monochrome laser printer and colour laser printer.

Accessibility

Fully accessible.

Available

Term

Dining Hall

An elegant spacious area with seating for 380.

Facilities

High table to seat 42 maximum and seating for 380 (including high table).

Accessibility

This room is on the ground floor. Full disabled access.

Available

Vacation

Bedroom

En-suite facilities

Facilities

Accessibility

Available

Vacation

JCR Bar and Common Room

Located adjacent to the JCR Theatre and near to the Dining Hall, the Bar and Common Room is a spacious, open area often used for exhibitions, posters and refreshments during the daytime and drinks receptions plus general socialising in the evenings. The area opens out onto a lovely 'café garden' which can also be utilised by delegates in good weather.

Facilities

Poster boards can be hired for use in this area

Accessibility

This area is located on the ground floor, full accessibility.

Available

Vacation