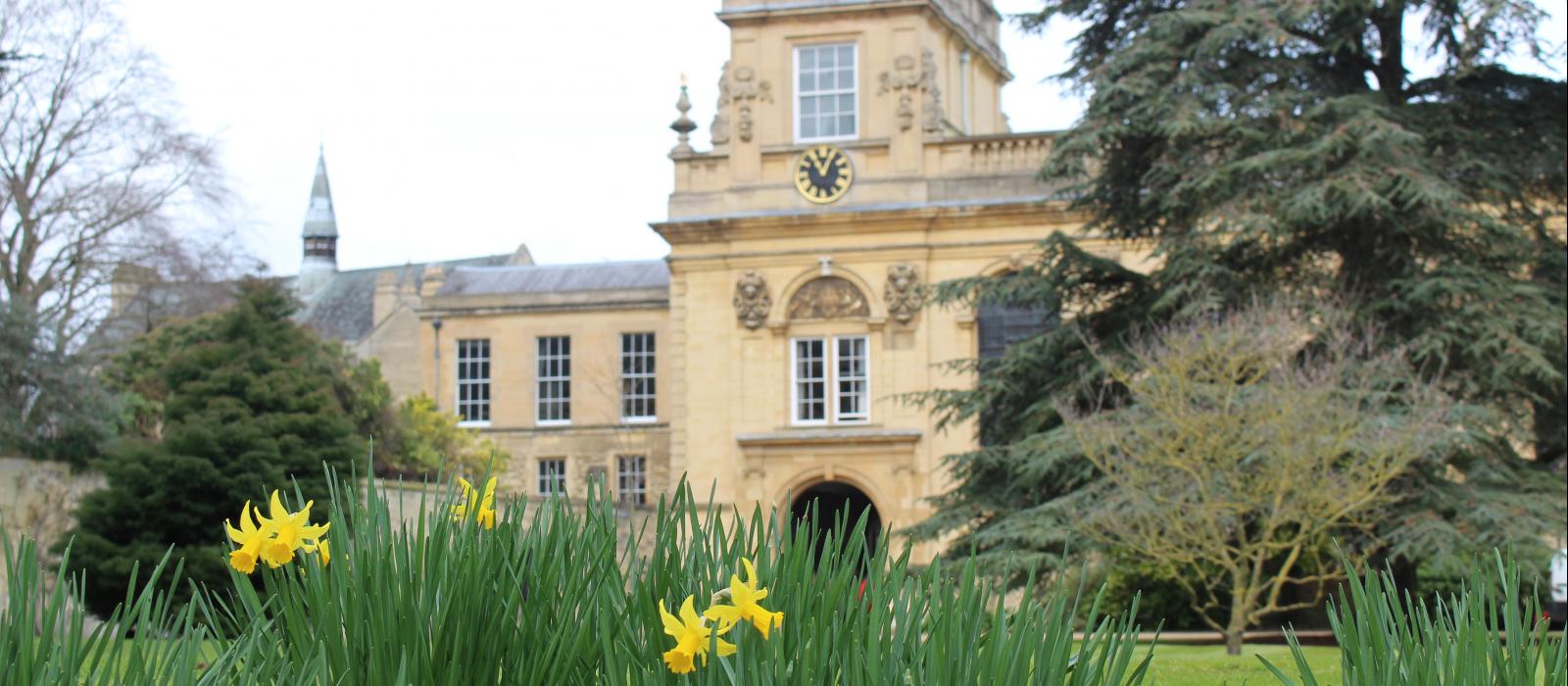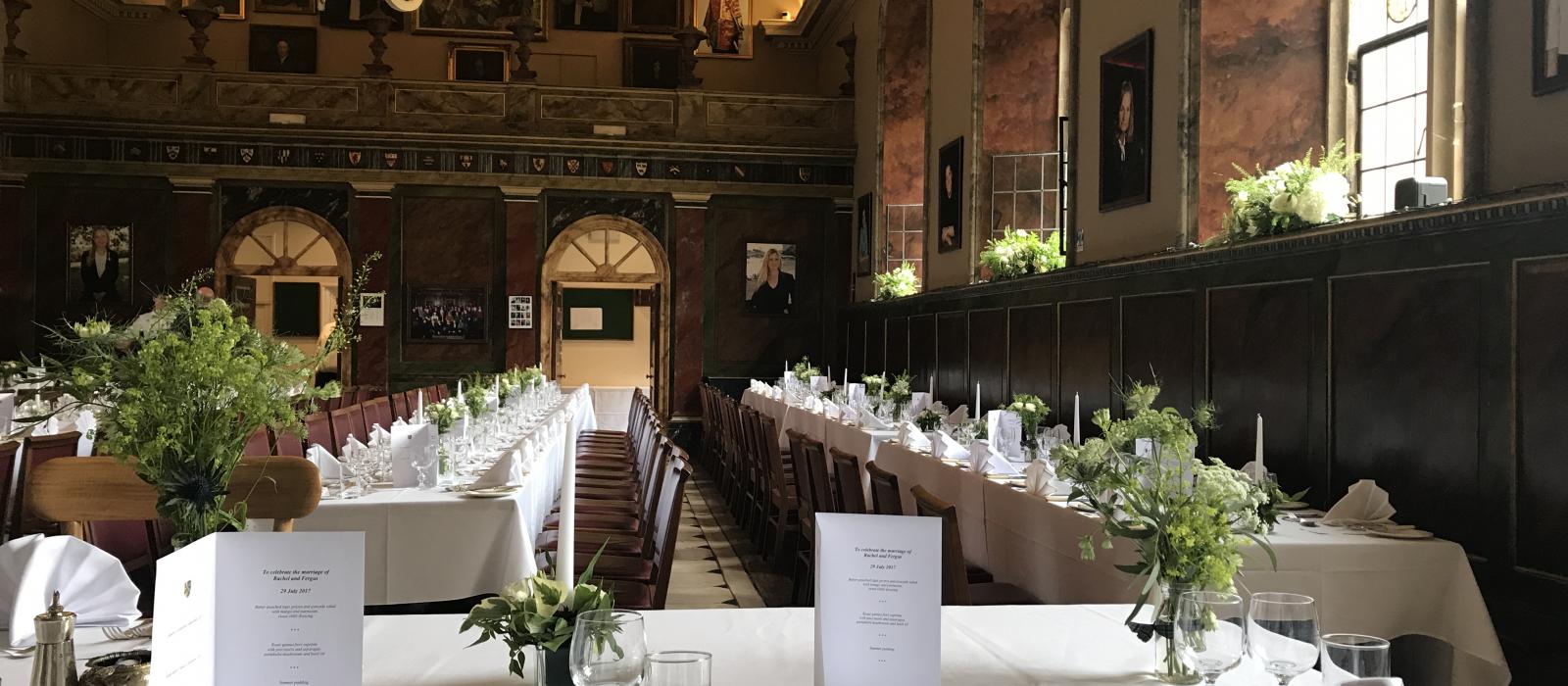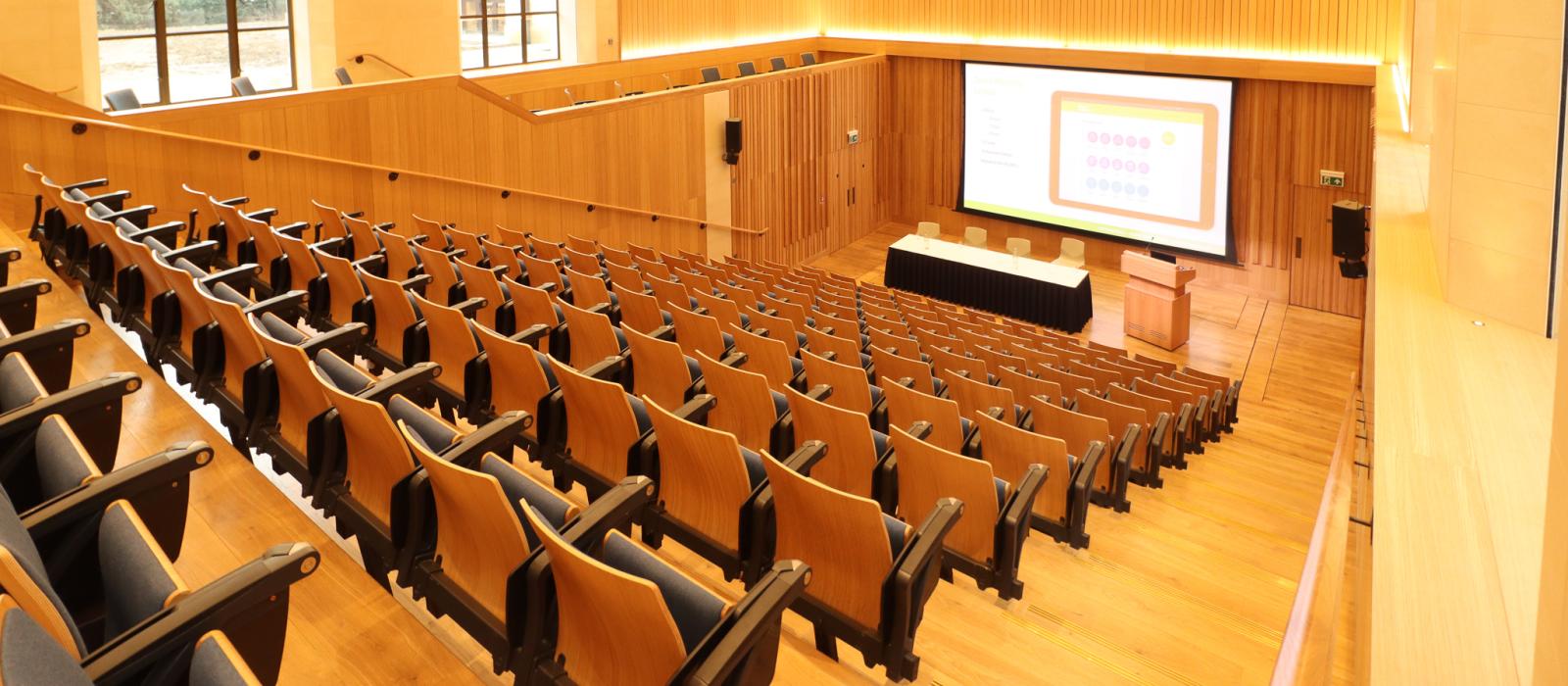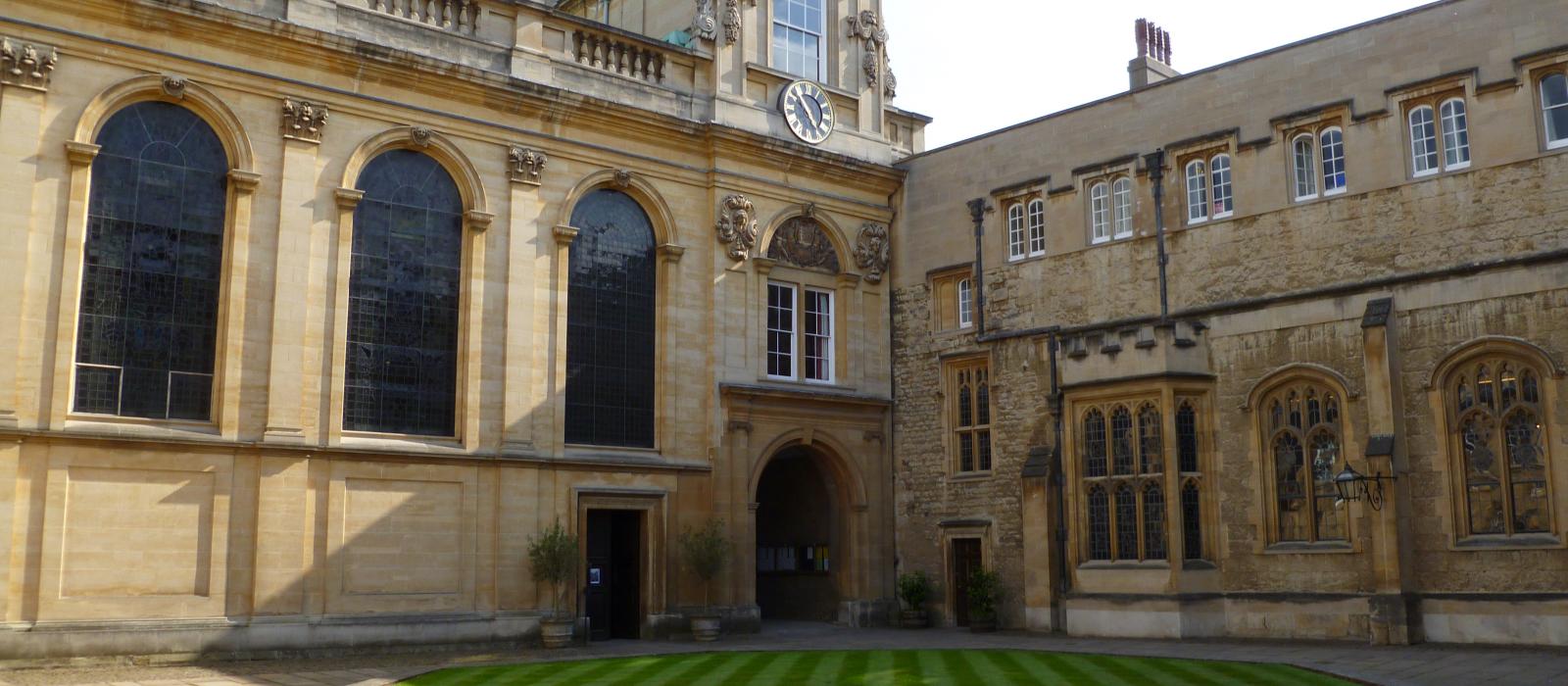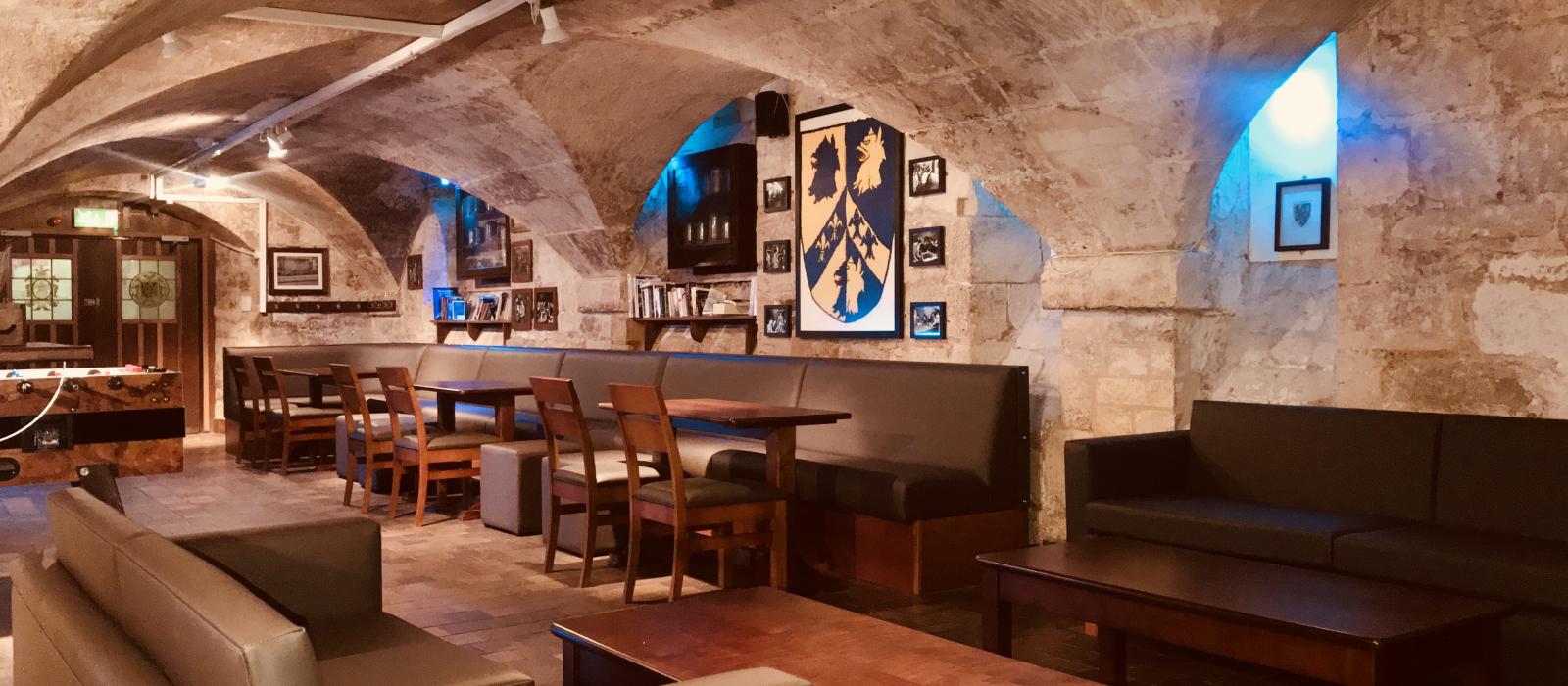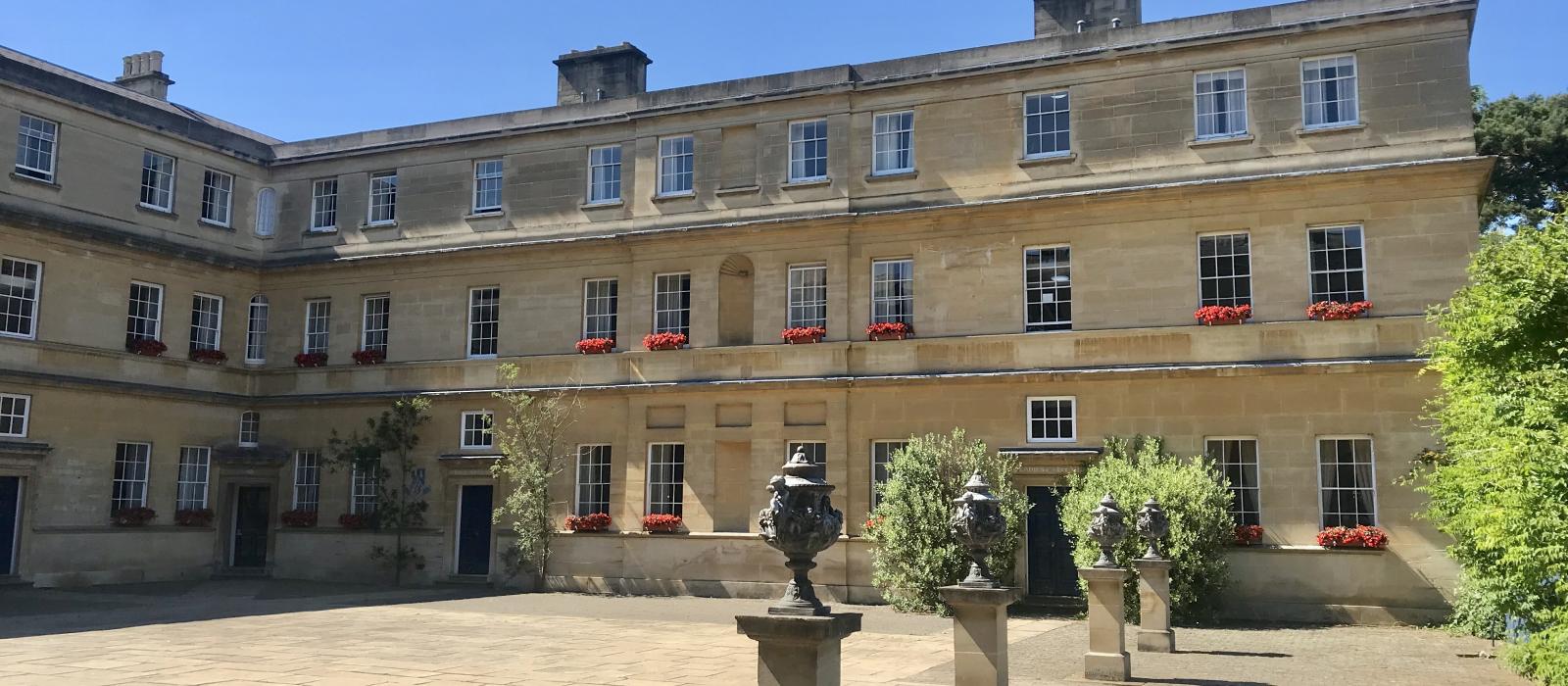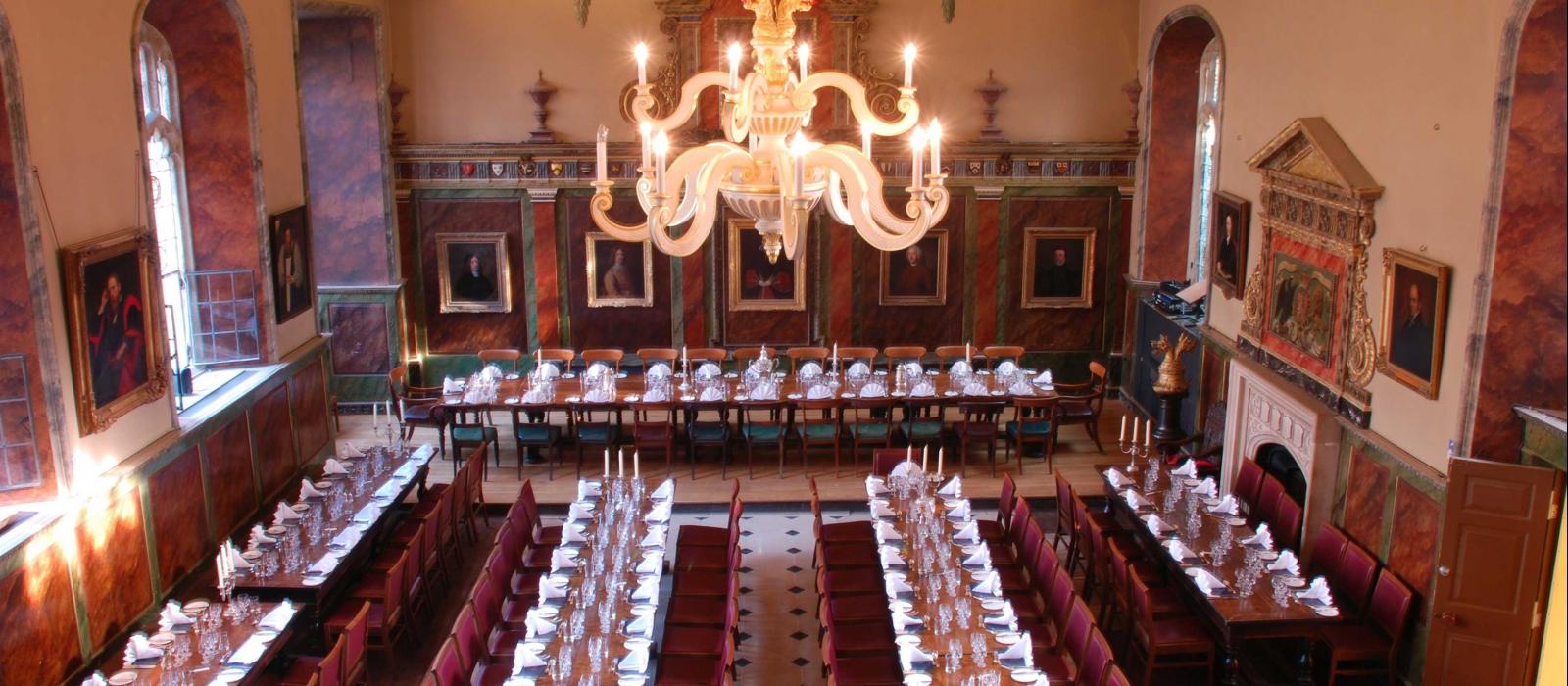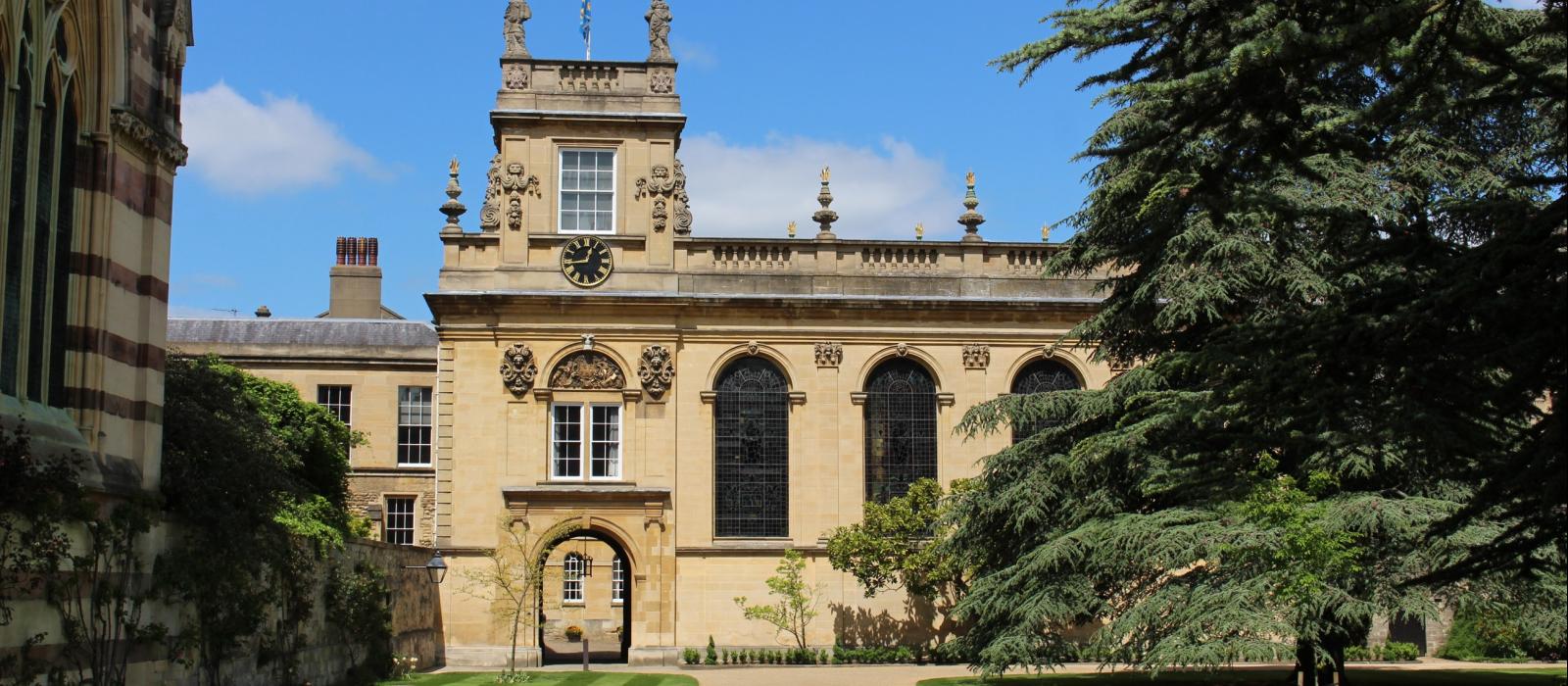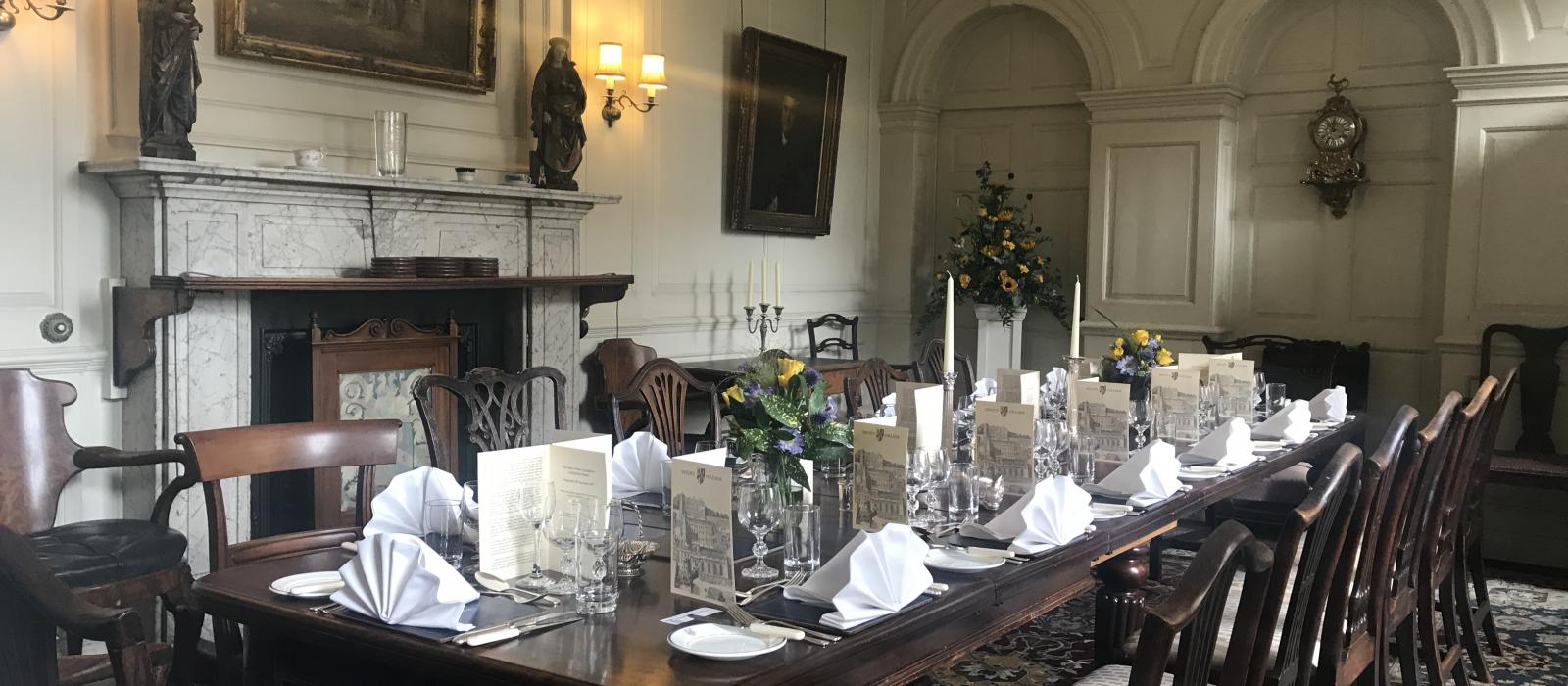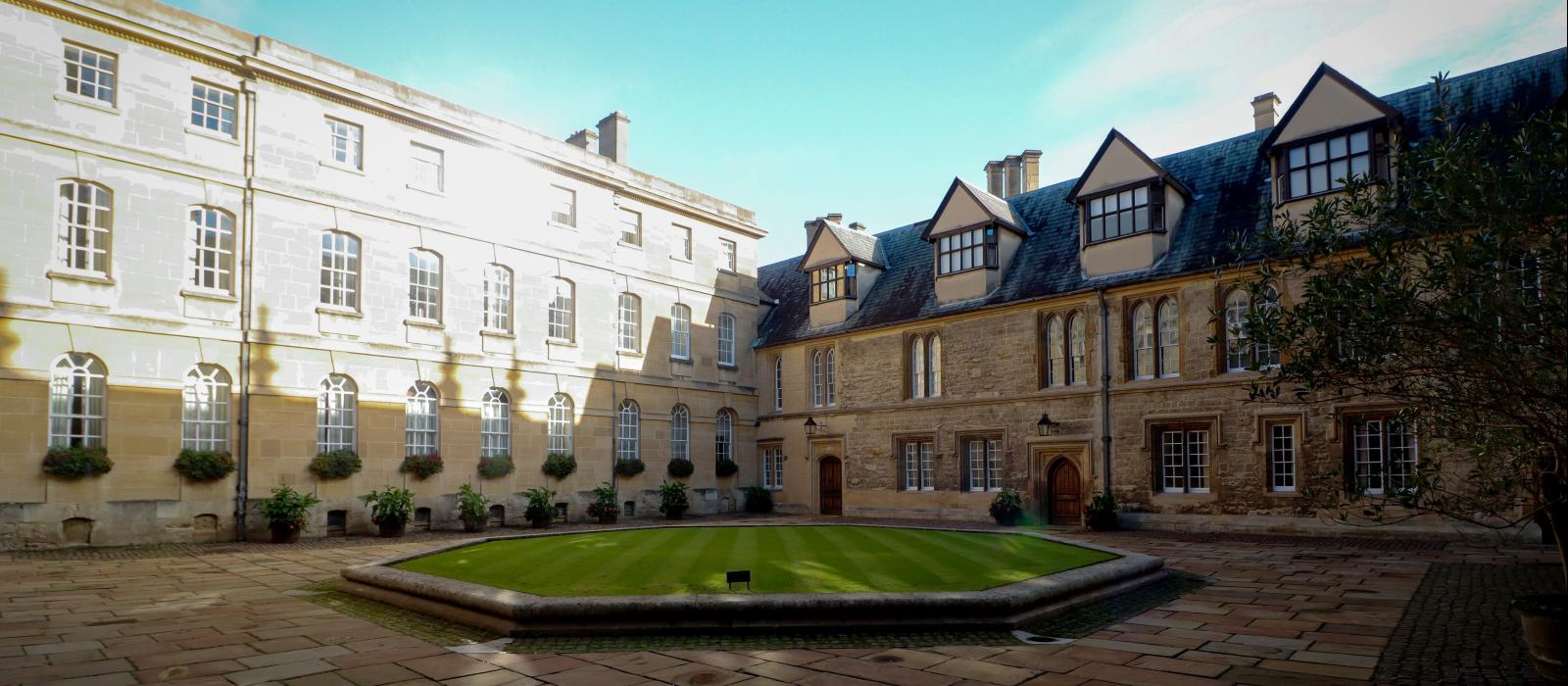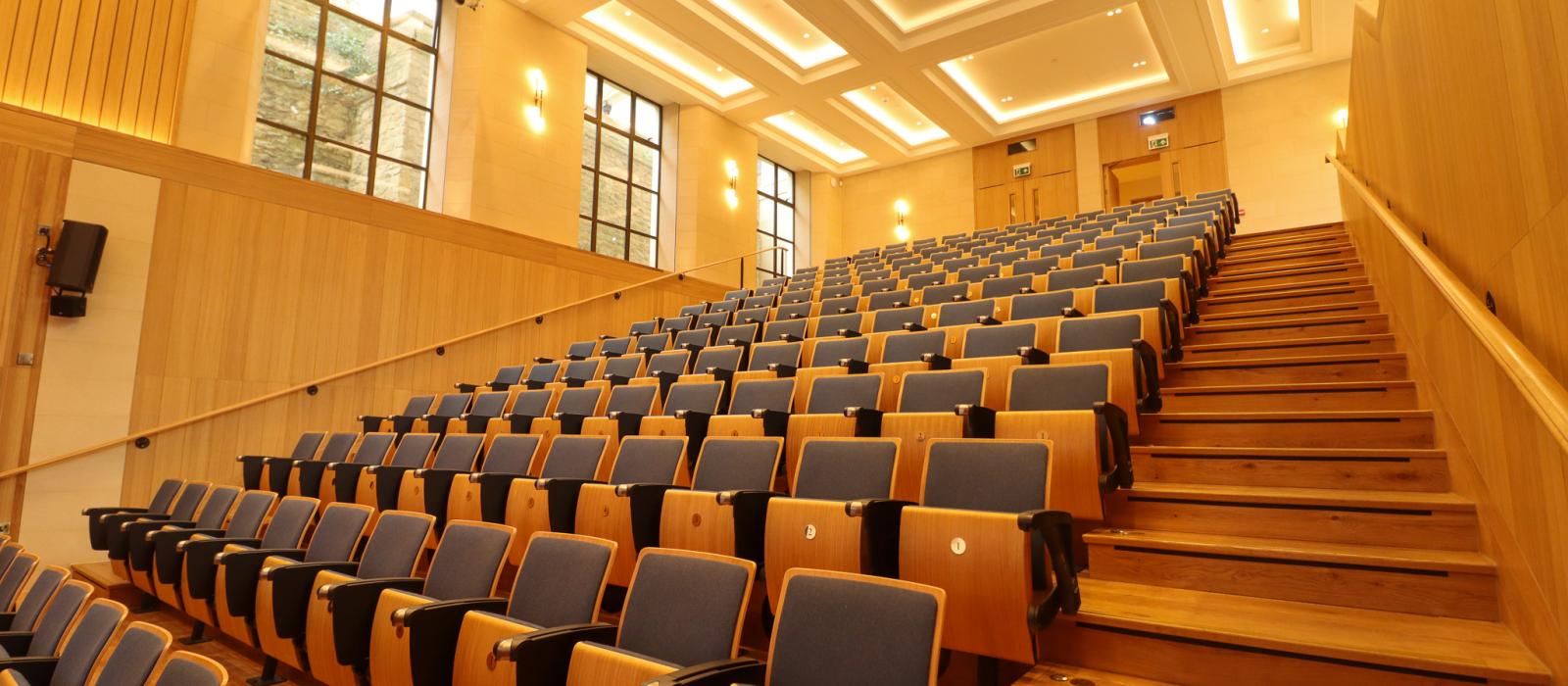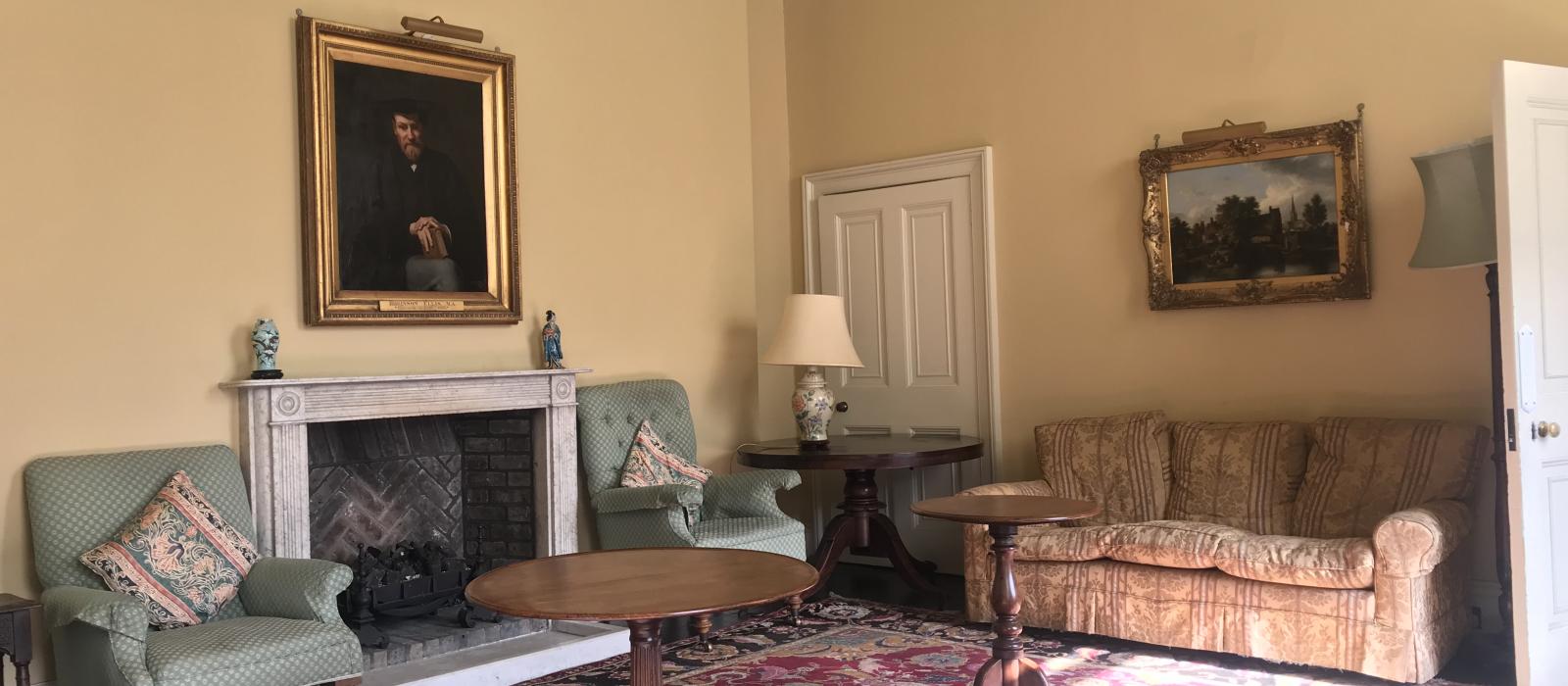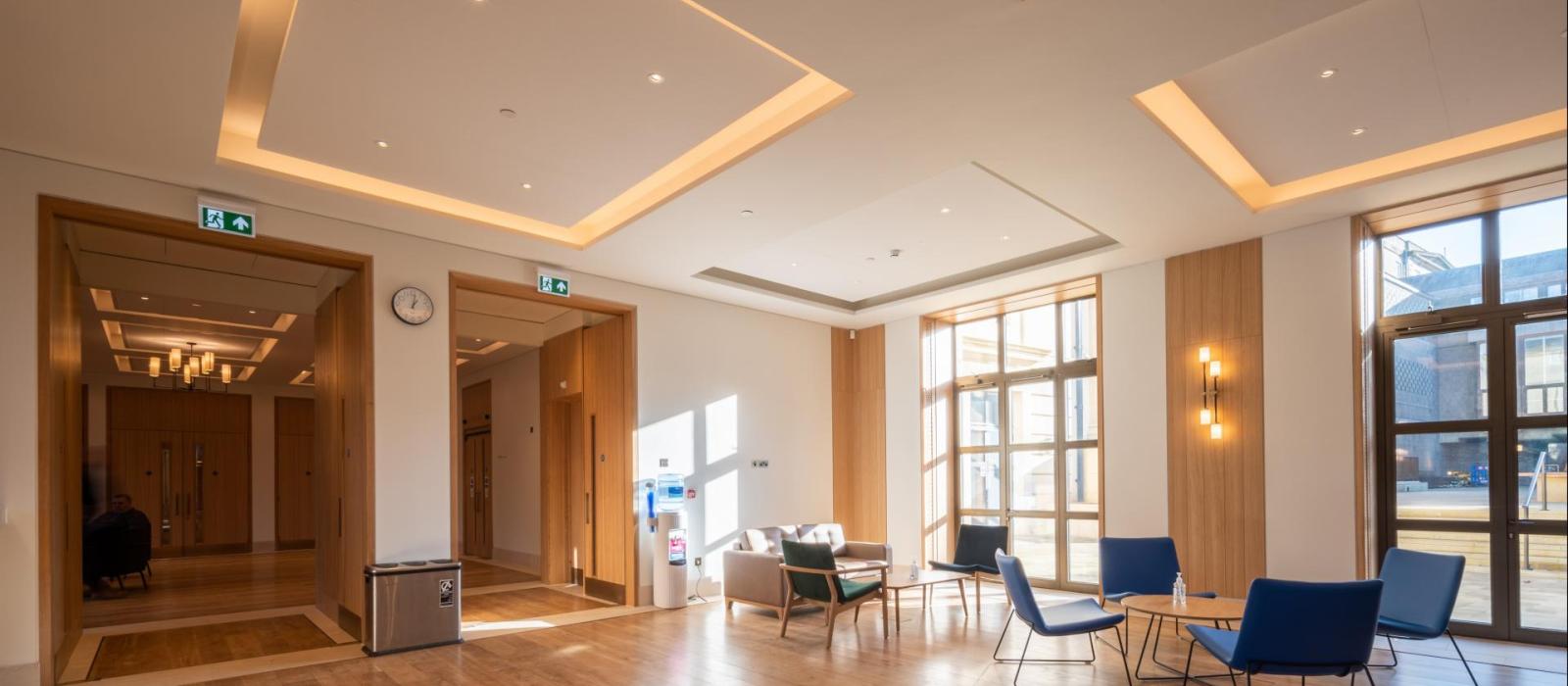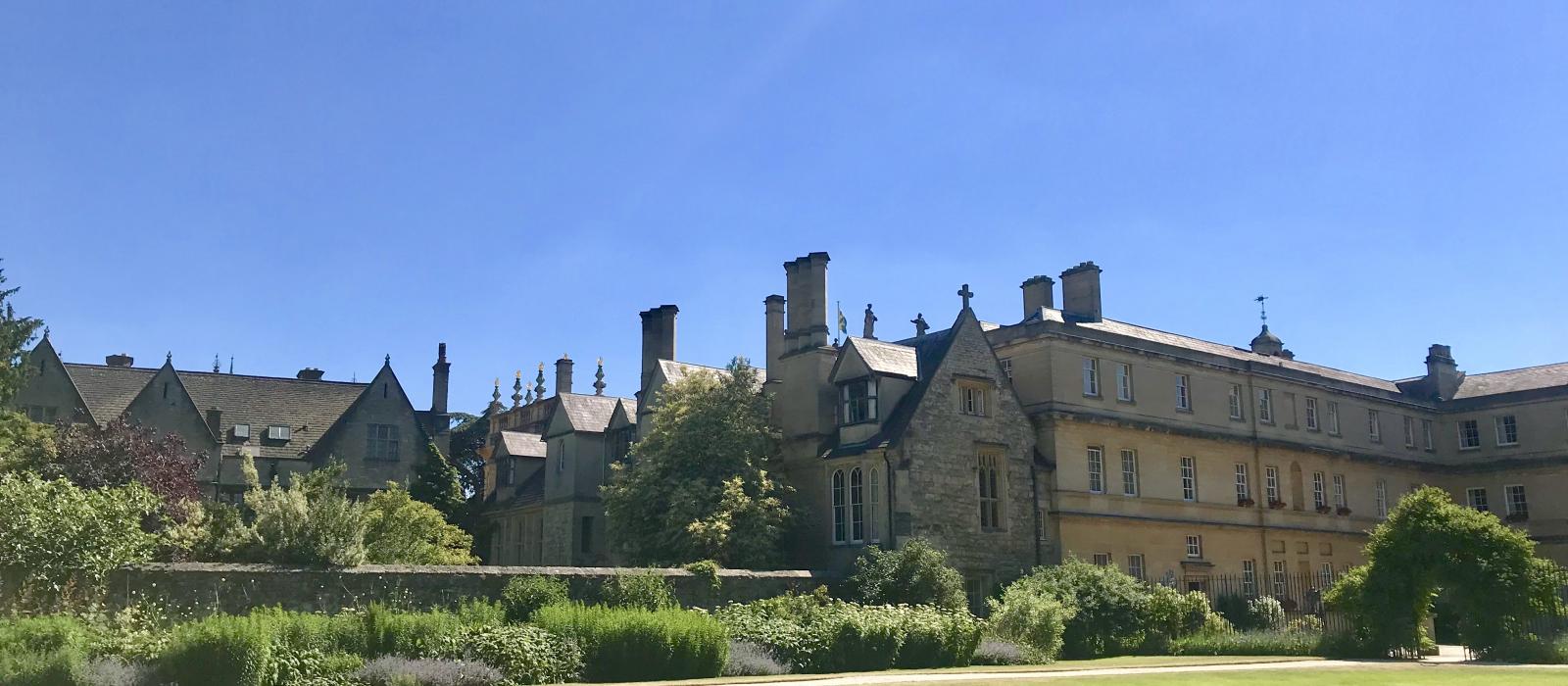 Trinity was founded in 1555 and is one of the most centrally located colleges. It is set back from the road in a quiet area with extensive gardens (where residents may relax).

All the study bedrooms have wifi, refrigerator, hospitality tray with electric kettle, bedside light and desk with lamp. The ensuite bedrooms have showers and not baths.  Each standard room has a wash hand basin and there are toilets/showers on every staircase (not necessarily on the same floor as the bedrooms) and facilities are mixed (male/female).  Towels and soap are provided and the scout (housekeeper) will service your room on weekdays.  Sheets and towels are changed twice a week. Ironing facilities are available in the laundry and visitors staying in college for more than a few days may purchase a card from the lodge to use the washers and dryers.

The minimum age for guests is 18. We have a fully adapted bedroom, however we regret that many rooms are unsuitable for those with mobility issues.  No smoking is permitted in college except in two designated outdoor areas. Parking is available to those with disabled permits who pre-book.
This venue offers facilities for hybrid/virtual meetings.
Trinity College
Broad Street, Oxford OX1 3BH
16 meeting spaces with capacity for up to 155 guests for Theatre, Classroom, Boardroom, Buffet, Reception, Dining, Drinks, and Cabaret functions.
Bedrooms 150
Ensuite 45
Standard 105
Breakfast yes
Lunch yes
Dinner yes
"Thanks for an excellent service - it really helped us in finding an appropriate venue."
Institute of New Economic Thinking
Conference administrator
conference@trinity.ox.ac.uk
01865 279888
www.trinity.ox.ac.uk
Auditorium, Levine Building

A raked auditorium seating up to 155 guests

Facilities

Equipped with projector, screen, moveable stage, lighting and sound system. Has the ability for streaming events.

Accessibility

Fully accessible

Available

Term & Vacation

Garden Room, Levine Building

Theatre 100

Classroom 60

Boardroom 40

Buffet 80

Reception 100

A flexible space accommodating up to 100 guests. Suitable for conferences and catered events. Projector, screen and sound.

Facilities

A flexible set up space suited for conferences, meetings and events such as drinks receptions. Floor to ceiling windows and doors, that open out on to the gardens in the summer months.

Accessibility

Fully accessible

Available

Term & Vacation

Cafe, Levine Building

A spacious and relaxed space, adjacent to the Auditorium, ideal for catered events and parties.

Facilities

Café style furniture with a counter top service area. Floor to ceiling windows and doors that open out on to the patio area in the summer months.

Accessibility

Fully accessible

Available

Term & Vacation

Roof Terrace, Levine Building

An open roof terrace with a view over the beautiful gardens.

Facilities

A flexible space, with furniture, suitable for drinks receptions.

Accessibility

Fully accessible

Available

Term & Vacation

Meeting Room 1, Levine Building

A small meeting room or break out space, with AV facilities.

Facilities

The meeting room has lots of natural light and offers a great space for a small meeting or breakout space for one of our larger function rooms.

Accessibility

Fully accessible.

Available

Vacation

Meeting Room 2, Levine Building

A small meeting room or break out space, with AV facilities.

Facilities

The meeting room has lots of natural light and offers a great space for a small meeting or breakout space for one of our larger function rooms.

Accessibility

Fully accessible

Available

Vacation

Meeting Room 3, Levine Building

A small meeting room or break out space, with AV facilities, in a fixed boardroom set up.

Facilities

The meeting room has lots of natural light and offers a great space for a small meeting or breakout space for one of our larger function rooms.

Accessibility

Fully accessible

Available

Term

Meeting Room 4, Levine Building

A small meeting room or break out space, with AV facilities, in a fixed boardroom set up.

Facilities

The meeting room has lots of natural light and offers a great space for a small meeting or breakout space for one of our larger function rooms.

Accessibility

Fully accessible

Available

Term

Meeting Room 5, Levine Building

A large meeting room or break out space, with AV facilities.

Facilities

The meeting room has lots of natural light and offers a great space for a larger meeting or breakout space for one of our function rooms. The room can be set up in classroom or theatre style.

Accessibility

Fully accessible

Available

Term

Fletcher Room

Meeting room, with AV facilities.

Facilities

The Fletcher Room accommodates 14 people in a fixed boardroom style.

Accessibility

Accessible by stairs only.

Available

Term & Vacation

Hall

17th-century traditional trompe l'oeil painted panelled hall lined with portraits in oil of former members of college. Undergoing refurbishment from March 2022 until April 2023. Temporary dining facilities will be in the Lawn Pavilion.

Facilities

Refectory style, with a high table seating 24 and leather seated and backed chairs throughout (not benches).

Accessibility

Ground floor, full disabled access with hearing loop.

Available

Term & Vacation

Beer Cellar

Located beneath the Dining Hall, the vaulted Beer Cellar is perfect for parties, whether you're celebrating the end of a conference or a significant birthday! Undergoing refurbishment from March 2022 until April 2023.

Facilities

Moveable bar furniture, space to hire a band or DJ, extensive Beer Menu

Accessibility

Down stairs, no lift.

Available

Vacation

Old Bursary

15th-century panelled room with windows across one wall onto fellows' private garden. Undergoing refurbishment from March 2022 until April 2023.

Facilities

One large oval table seating up to 24 laid with college silver and lit by candles.

Accessibility

Ground floor two steps down (no lift).

Available

Vacation

Senior Common Room

White-panelled room with unusual port train, portraits, ormolu clock. Undergoing refurbishment from March 2022 until April 2023.

Facilities

Rectangular table seating up to 14.

Accessibility

First floor, no lift.

Available

Vacation

Upper SCR

Sitting room suitable for small gatherings, such as drinks parties.

Facilities

Comfortable sofas and armchairs, real flame coal-effect gas fire.

Accessibility

Second floor, no lift.

Available

Vacation

Junior Common Room

Theatre 50

Classroom 30

Boardroom 24

Cabaret 24

High-ceilinged Victorian room next to gardens in front quad, with windows the width of two walls.

Facilities

Ceiling-mounted data projector. Full wireless and broadband internet access. Flip chart and white board. Fabric seated and backed chairs.

Accessibility

Ground floor with full disabled access.

Available

Vacation