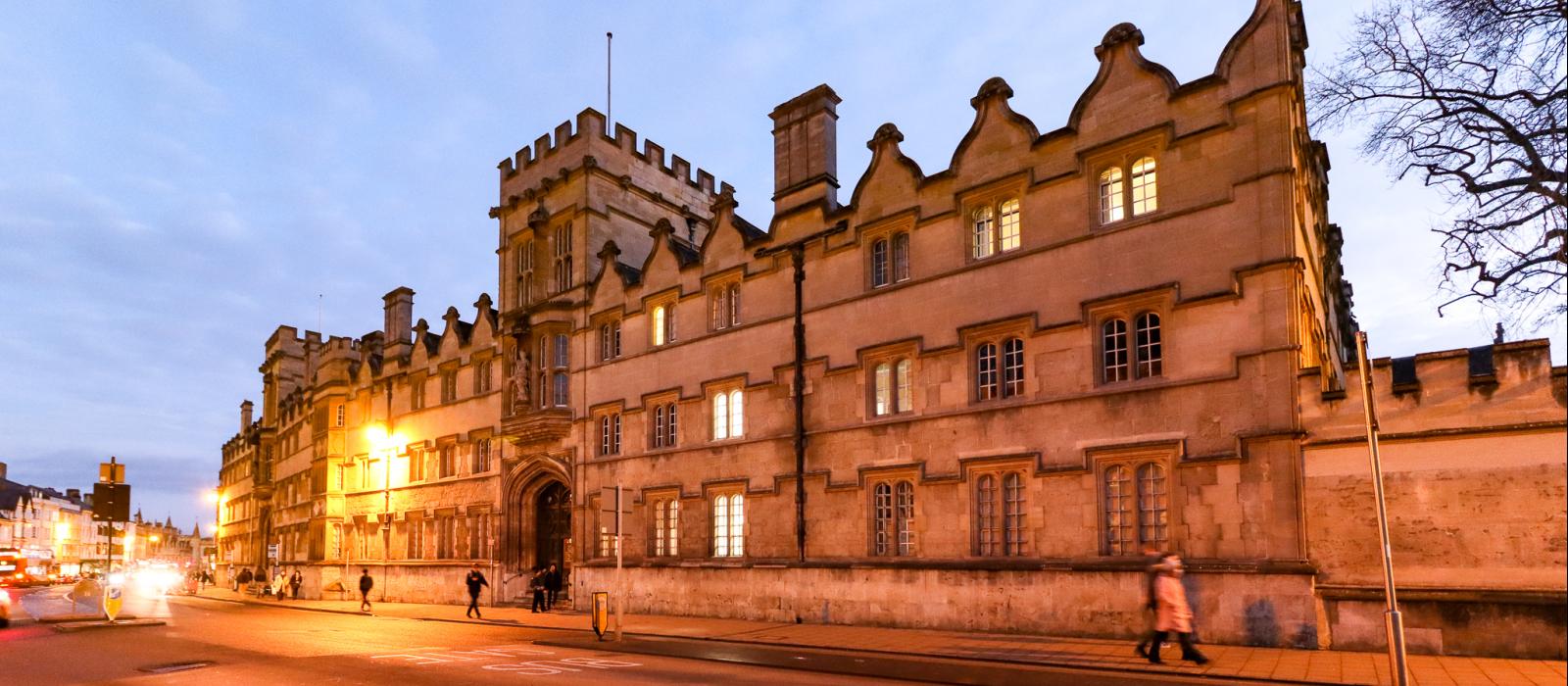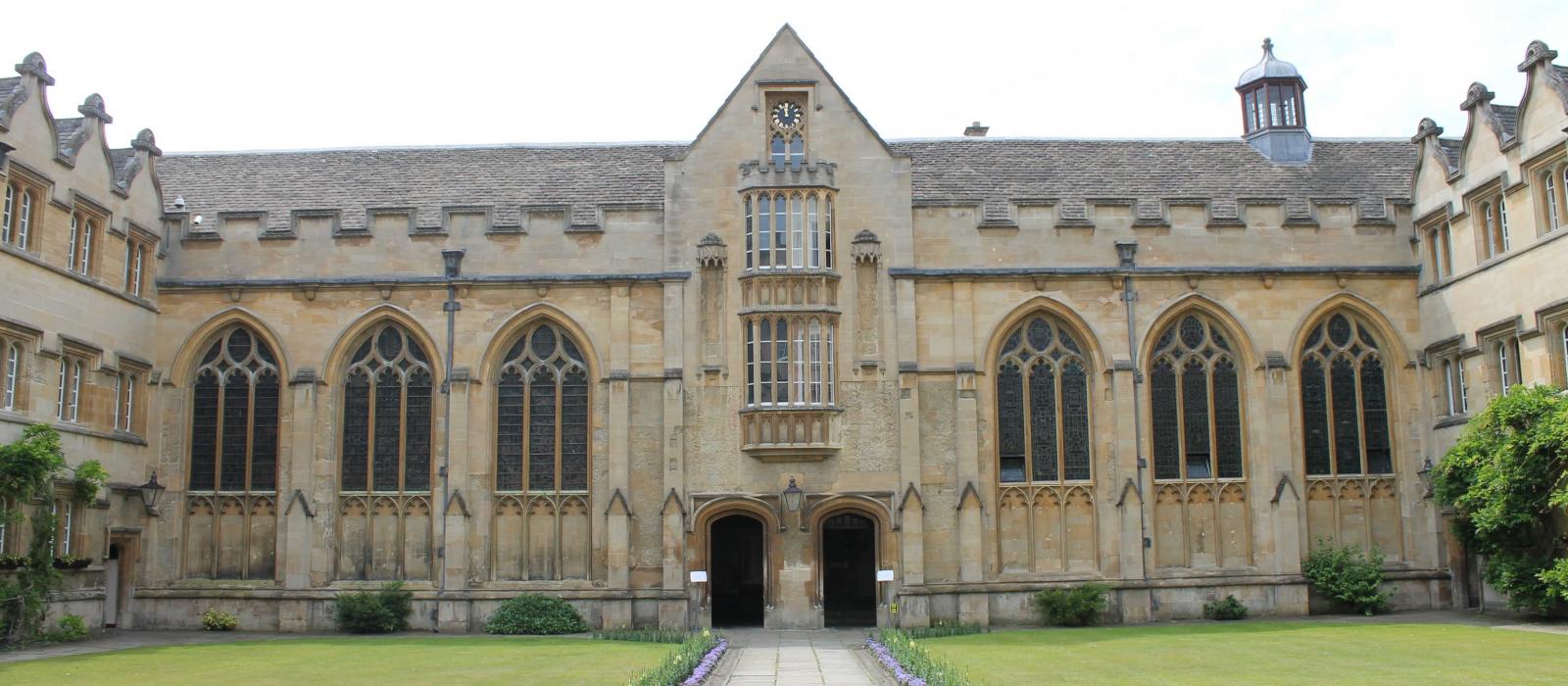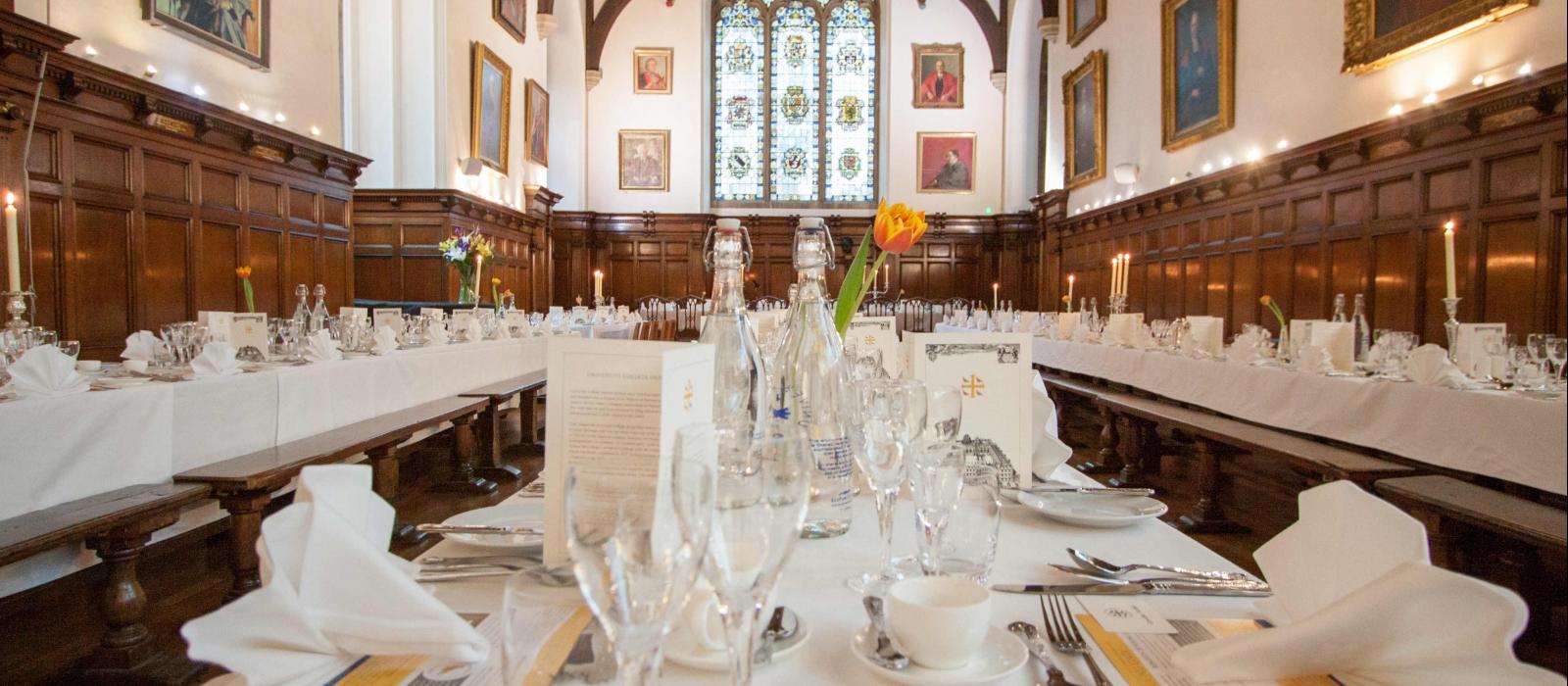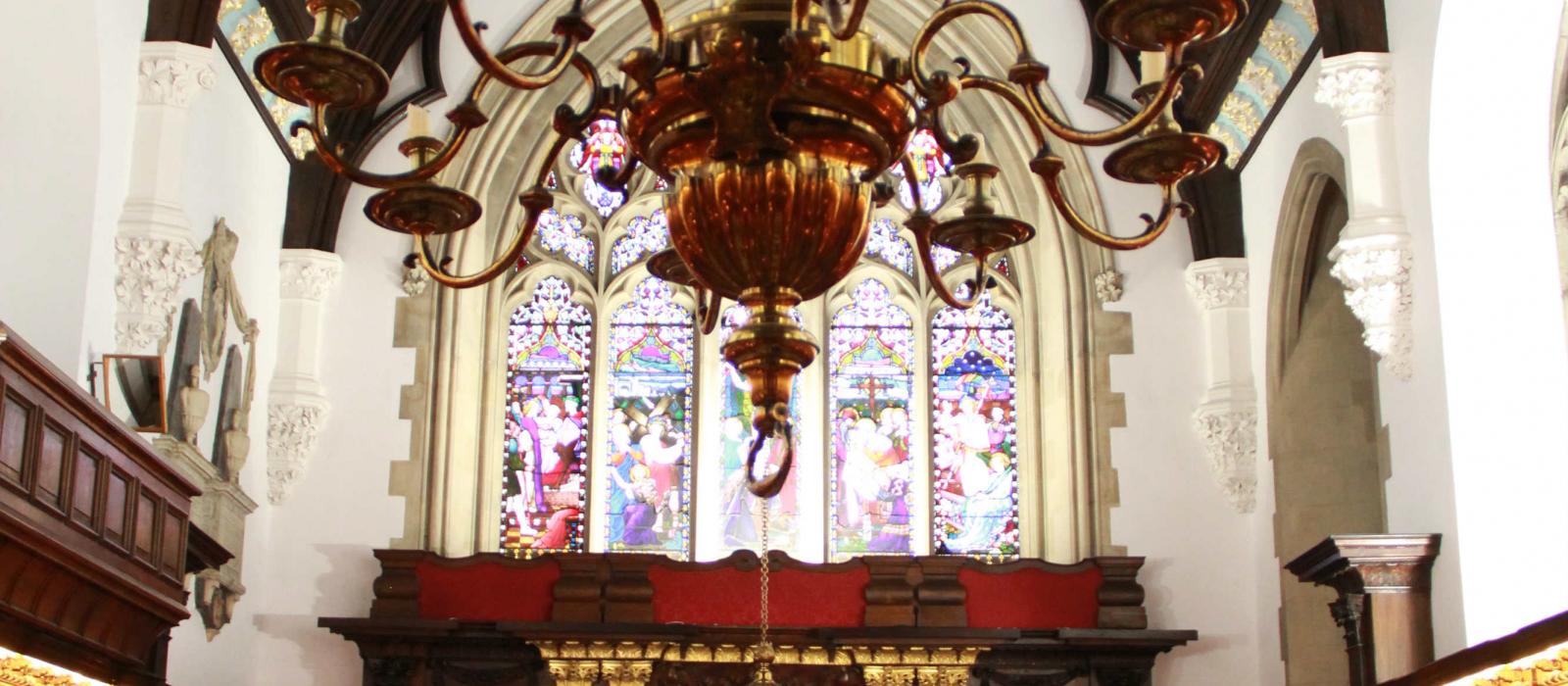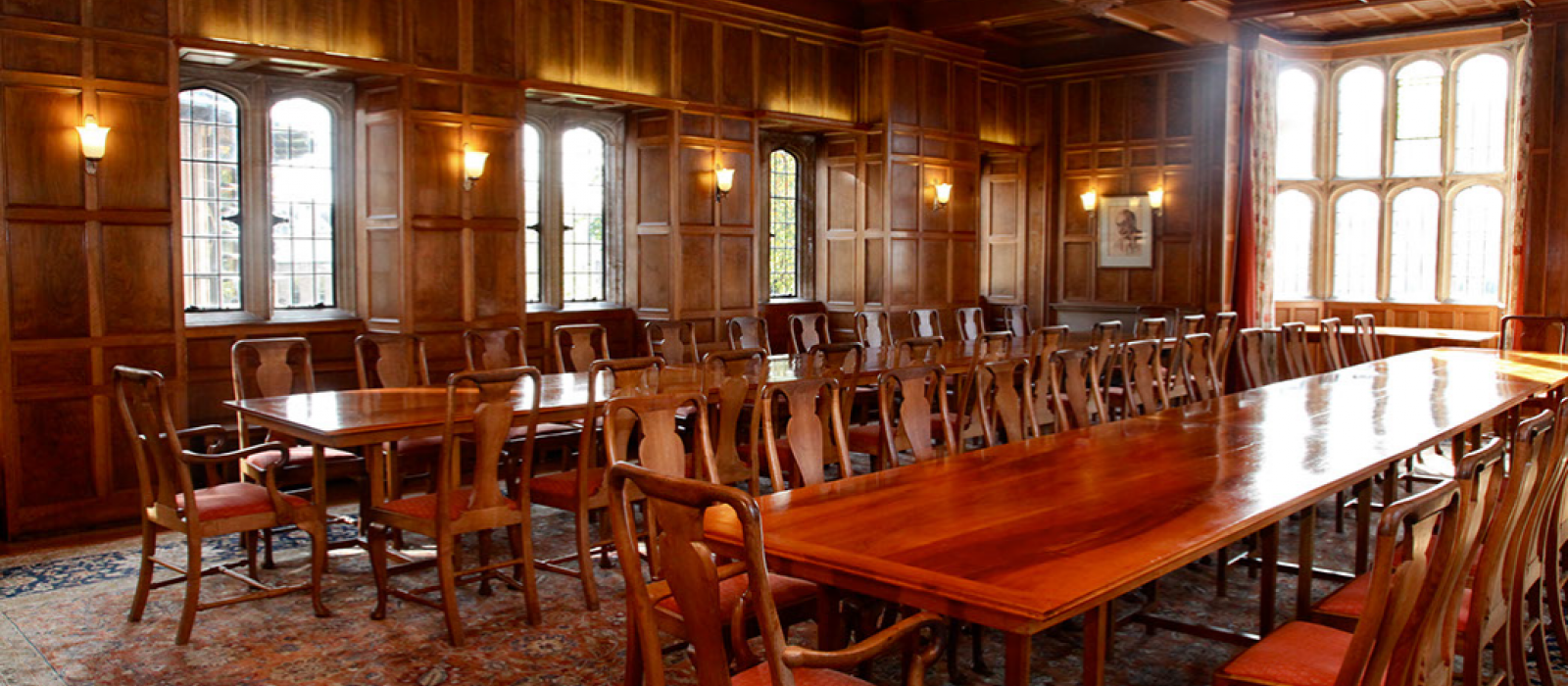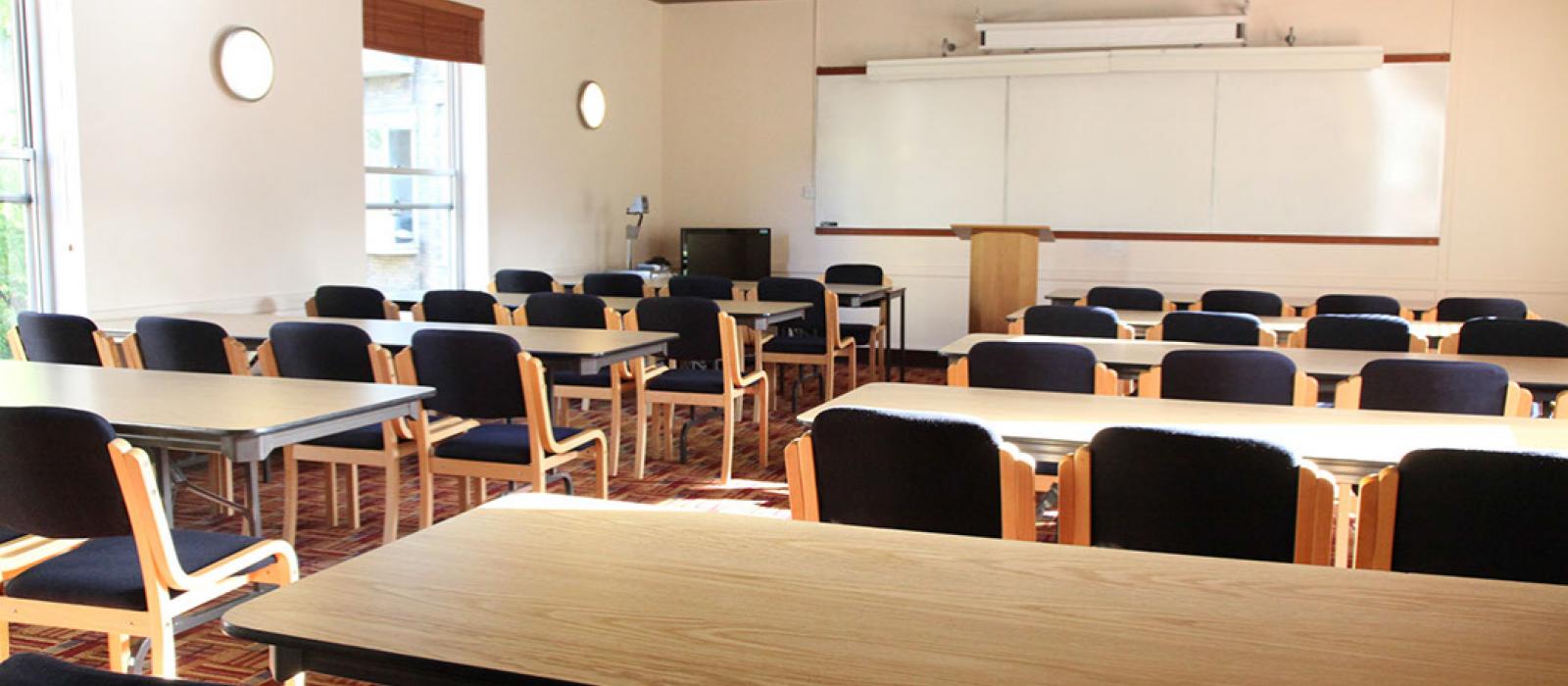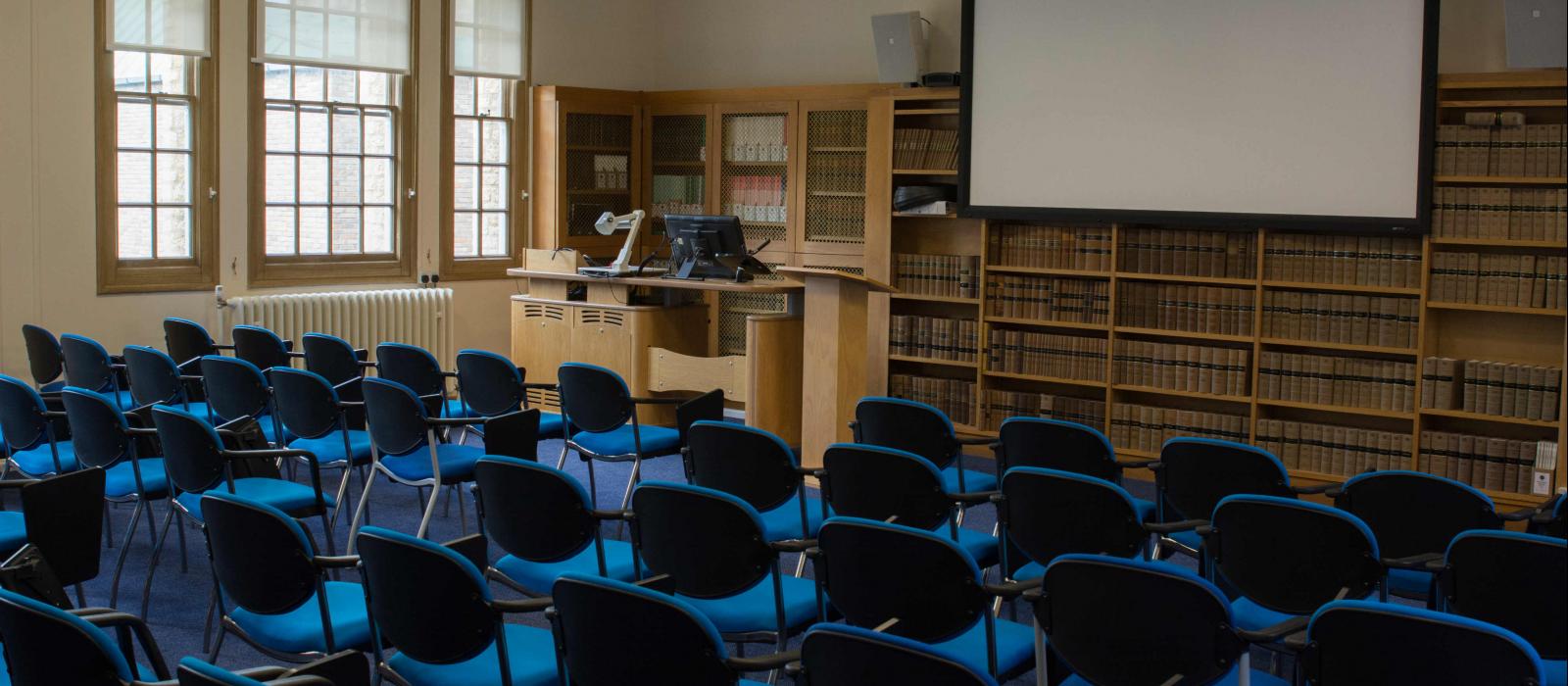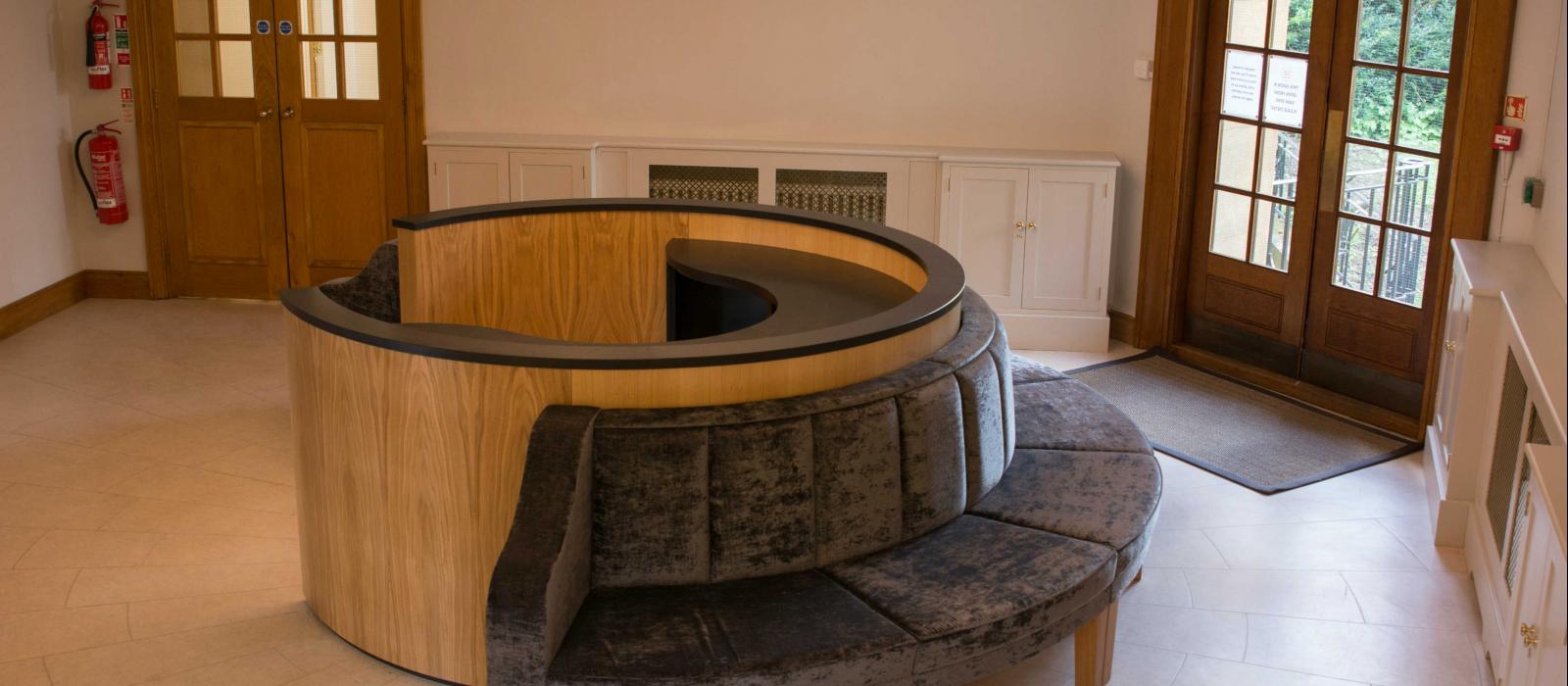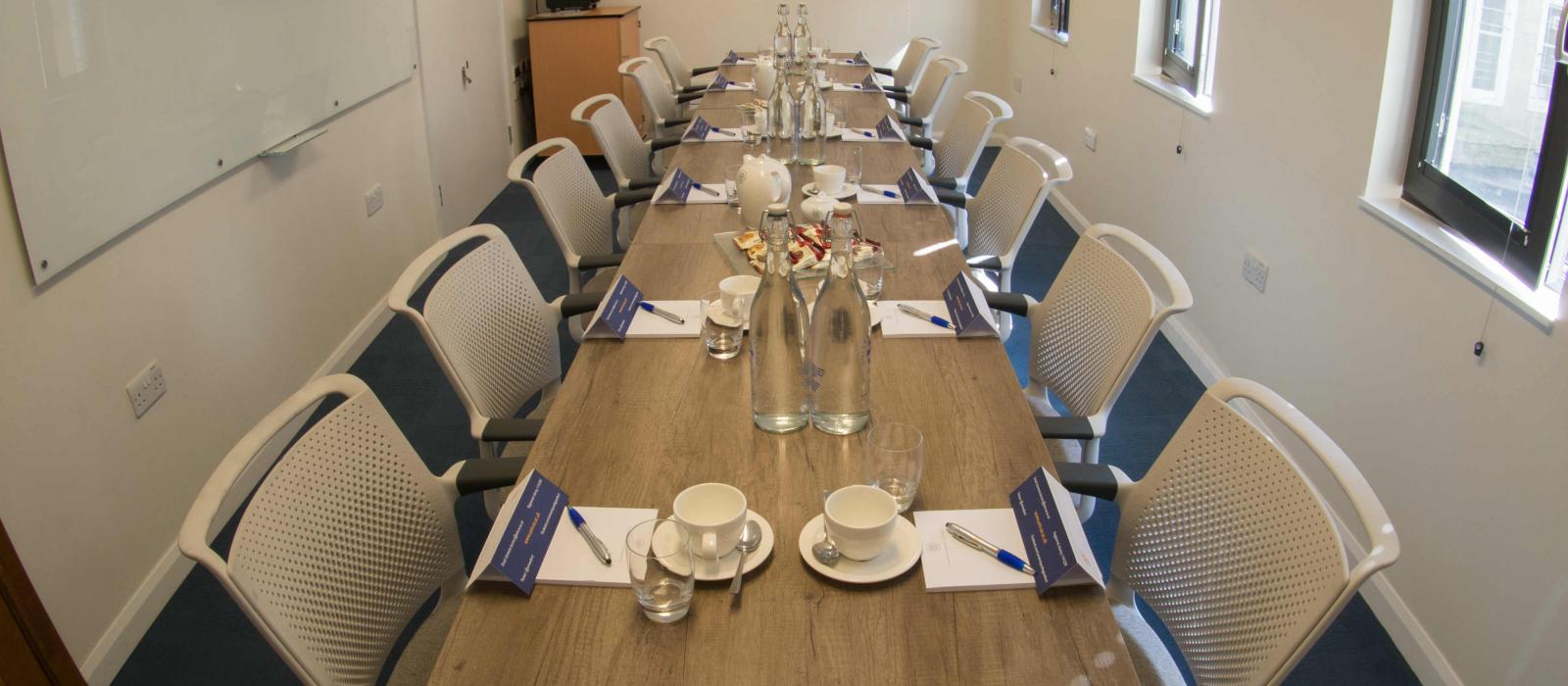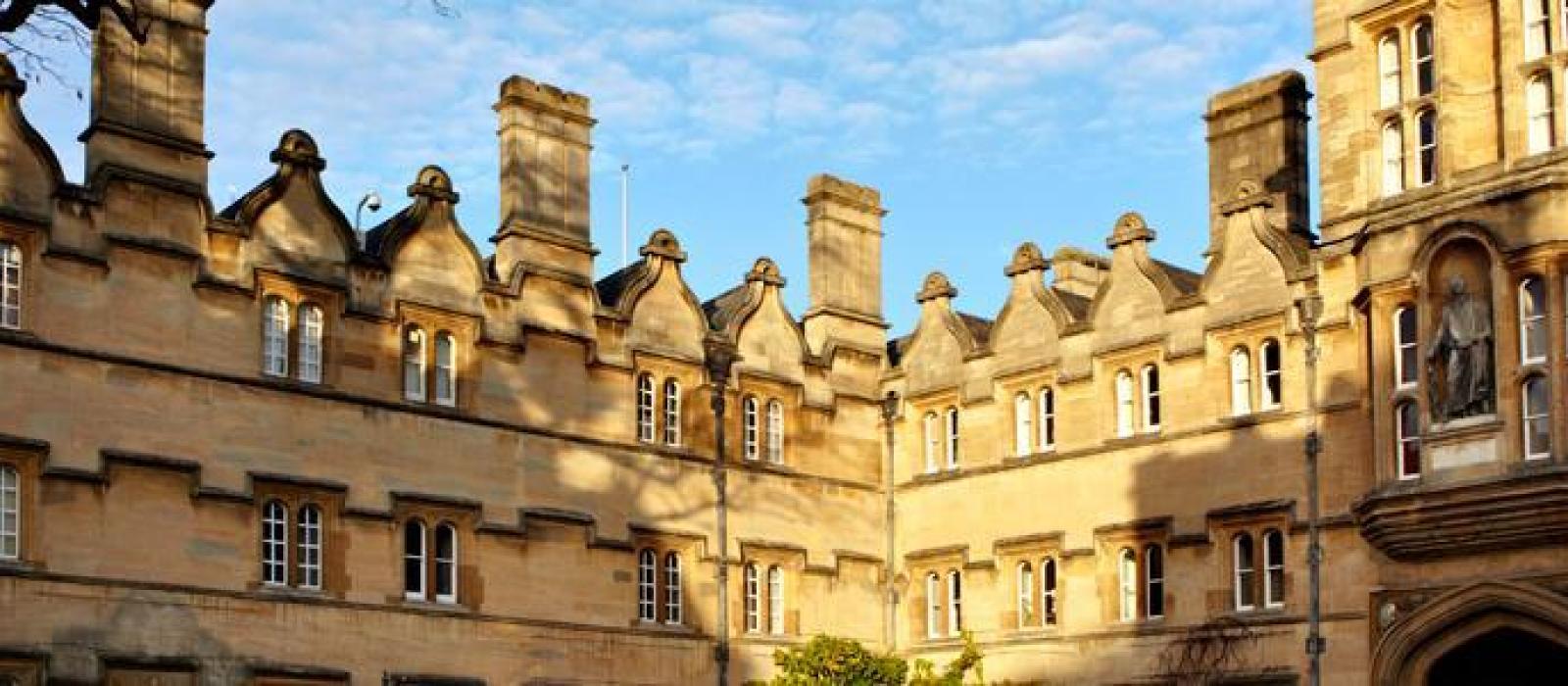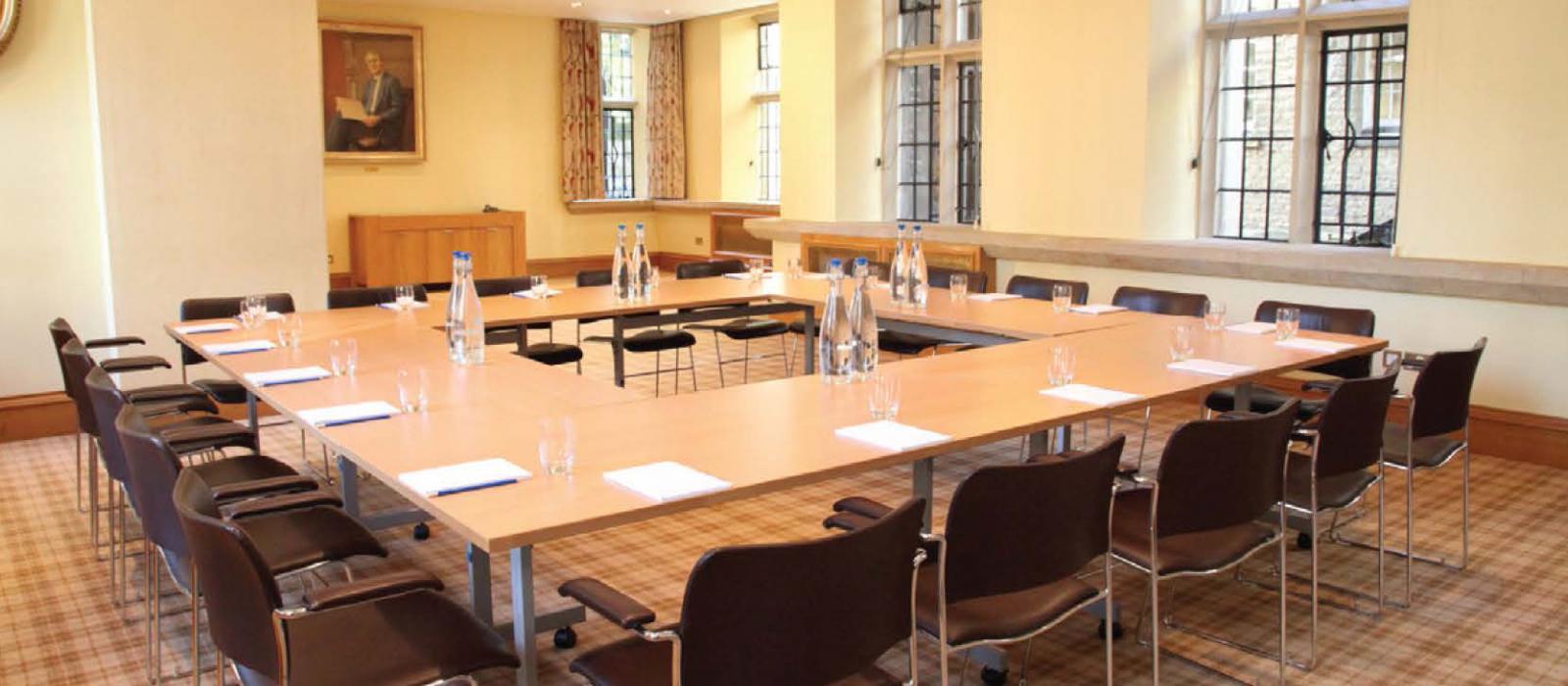 University College owes its origins to William of Durham, who died in 1249, making it the oldest college in Oxford and Cambridge.

It contains many interesting buildings, both old and new.  The Chapel dates back to 1636. Its hand-painted glass windows by Abraham van Linge and the war memorials in the Antechapel are worth the visit.

The Hall was also started in 1636 but not finished until 1656. The current   stained-glass windows were fitted in the gothic style in the1650s and include the coats of arms of many benefactors to the college.

The Shelley Memorial is undoubtedly one of the most remarkable sculptures in Oxford, and its idealised depiction of the drowned Shelley washed ashore never fails to fascinate and disturb. Percy Bysshe Shelley came up to Univ in 1810, and was expelled the following year for a publication entitled The Necessity of Atheism. At the time, the college thought it had washed its hands of a troublesome student; it only realised later that it had expelled one of England's greatest romantic poets.
Click here for their full brochure! 
University College
Oxford OX1 4BH
10 meeting spaces with capacity for up to 170 guests for Theatre, Classroom, Boardroom, U-shape, Dining, Buffet, Drinks reception, U-shaped, and Other functions.
Bedrooms 350
Ensuite 50
Standard 300
Breakfast yes
Lunch yes
Dinner yes
"The service I received from you was wonderful. I will not hesitate to use your service again"
Department for Continuing Education
Marilia Arezes
marilia.arezes@univ.ox.ac.uk
01865 276954
www.univ.ox.ac.uk
Swire Seminar Room

Theatre 50

Classroom 24

Boardroom 20

U-shape 18

Multiple room layouts possible, light and fully accessible.

Facilities

Computer, DVD, video and CD players, sound system, ceiling-mounted projector, wall-mounted screen, induction loop system and wireless microphones.

Accessibility

Full disabled access.

Available

Term & Vacation

90 High Street Lecture Room

Spacious and with abundance of natural light.

Facilities

Computer, DVD, Video and CD players, sound system, ceiling-mounted projector, wall-mounted screen, induction loop system and wireless microphones.

Accessibility

First floor, no lift

Available

Vacation

Goodhart Seminar Room

Seventies-style building with abundance of natural light.

Facilities

Ceiling-mounted projector, TV and DVD player.

Accessibility

First floor, spiral staircase, no lift.

Available

Vacation

Butler Room

Dining 33

Buffet 33

Theatre 33

Boardroom 20

Drinks reception 70

Modern room with multiple layouts possible.

Facilities

Portable equipment (screen and projector).

Accessibility

Full disabled access, first floor with lift.

Available

Term & Vacation

Boathouse Clubroom

Theatre 30

Boardroom 16

Drinks reception 70

Contemporary with abundance of natural light. Multiple layouts possible.

Facilities

Portable equipment (screen and projector).

Accessibility

Full disabled access, first floor, with lift.

Available

Term & Vacation

Dining Hall

Beautiful 17th-century Gothic-style hall.

Facilities

Accessibility

Full disabled access, with lift, ground floor two steps up.

Available

Vacation

Alington Room

Dining 60

Buffet 60

U-shaped 55

Beautiful wood-panelled room with abundance of natural light.

Facilities

Accessibility

Full disabled access, first floor, with lift.

Available

Vacation

10 Merton Street Lecture Room

A light but typical meeting room with built-in equipment that benefits from a foyer perfect for refreshments and drinks receptions.

Facilities

Built in equipment: computer, DVD and CD players, sound system with recording facilities, ceiling-mounted projector and screen, and wireless microphones.

Accessibility

This first floor, fully accessible lecture room

Available

Term & Vacation

Sykes Room I

A relaxed meeting space with built in equipment perfect for up to 12 people.

Facilities

Built-in equipment

Accessibility

Available

Vacation

Sykes Room II

With plenty of natural light, built-in equipment and easy accessibility this space is ideal for meetings- sits up to 14 people

Facilities

Built-in equipment

Accessibility

Available

Vacation