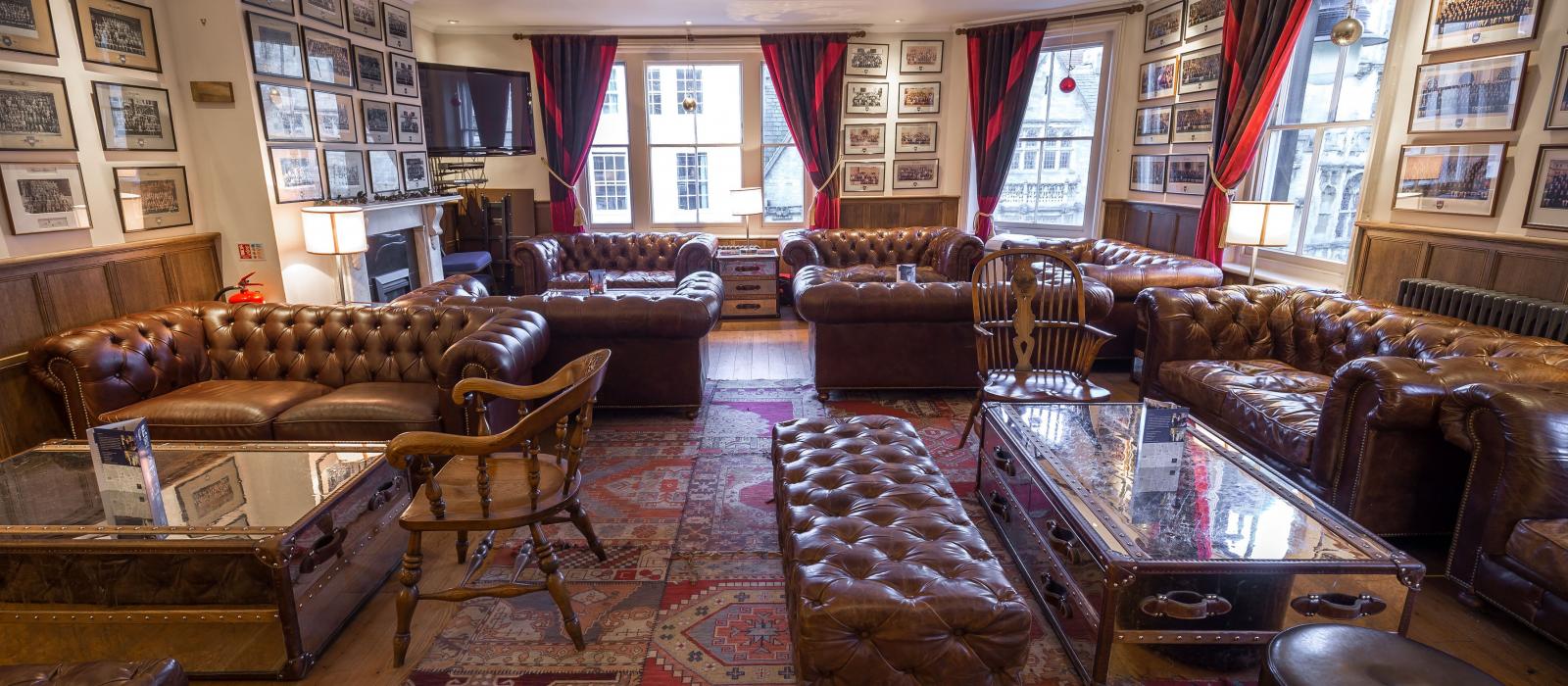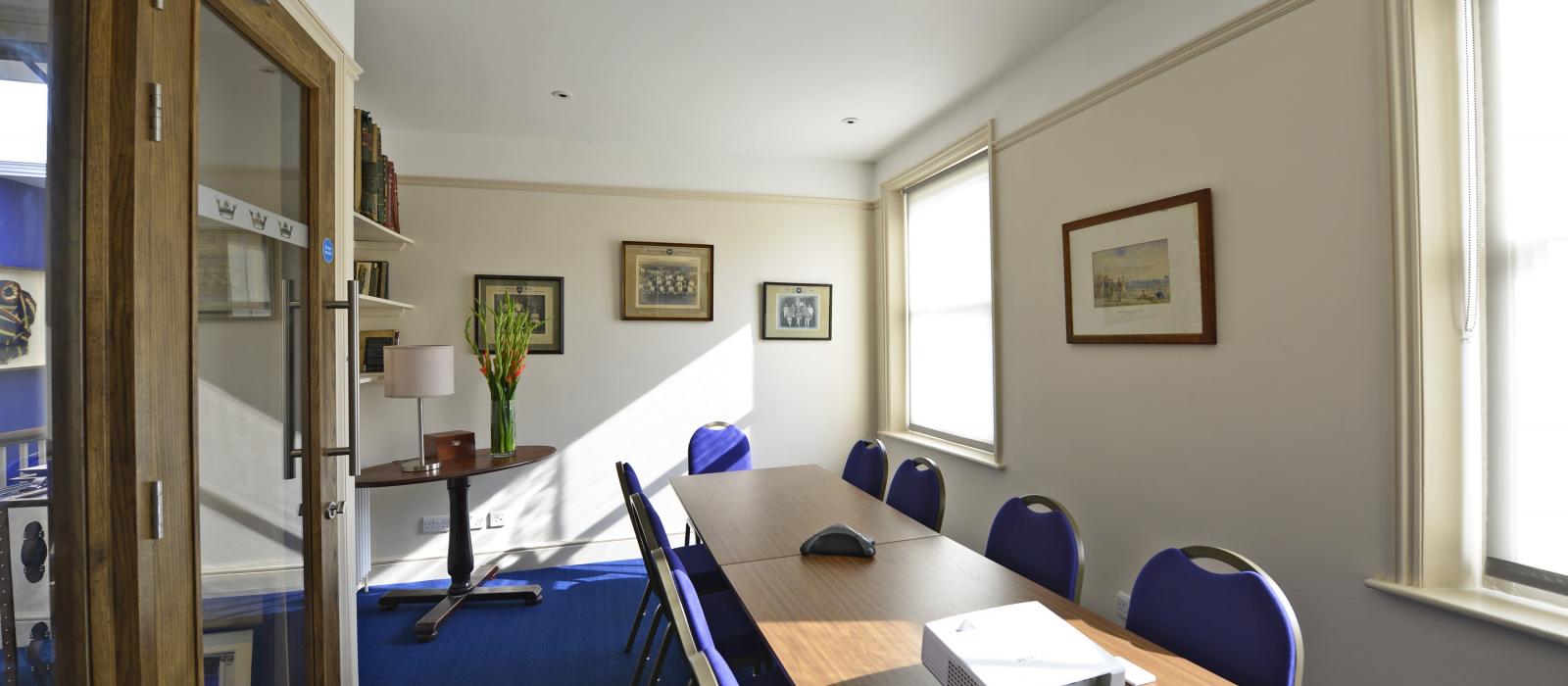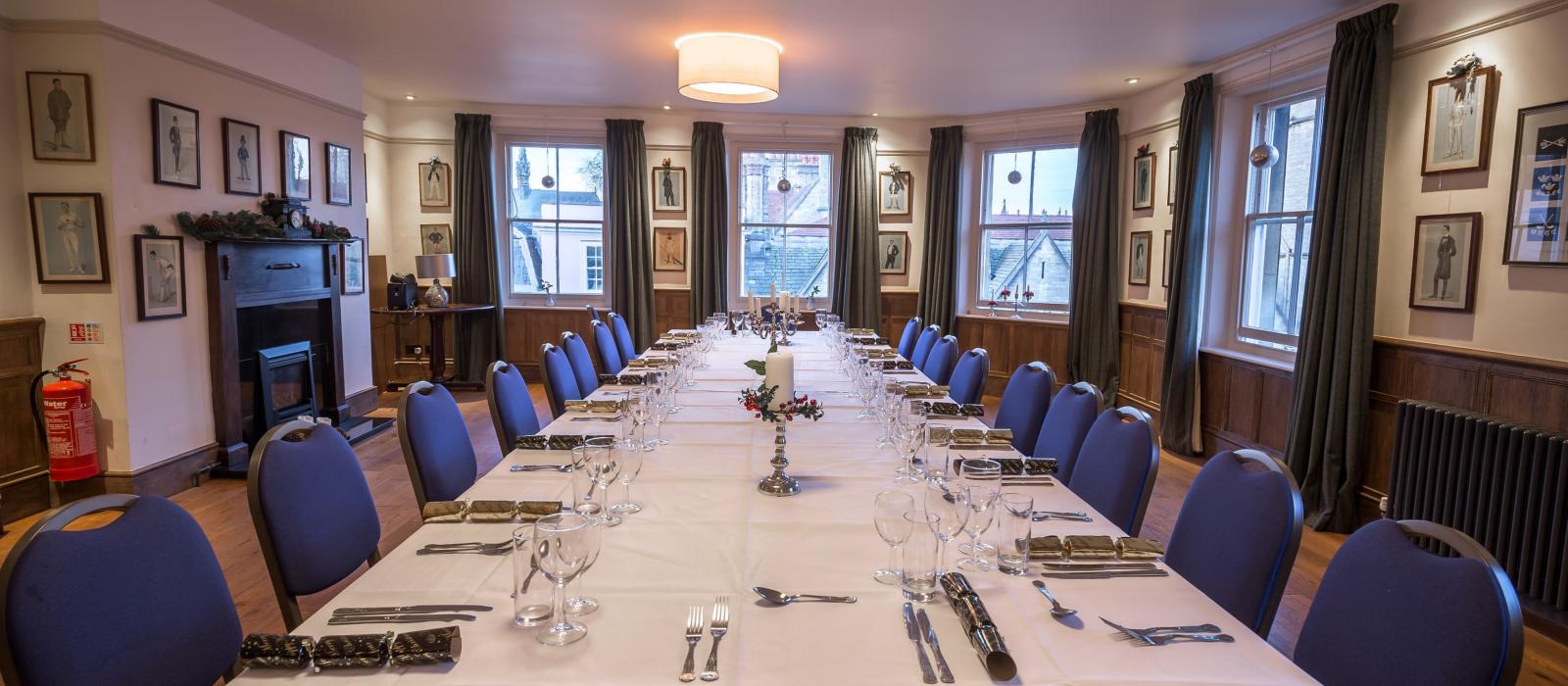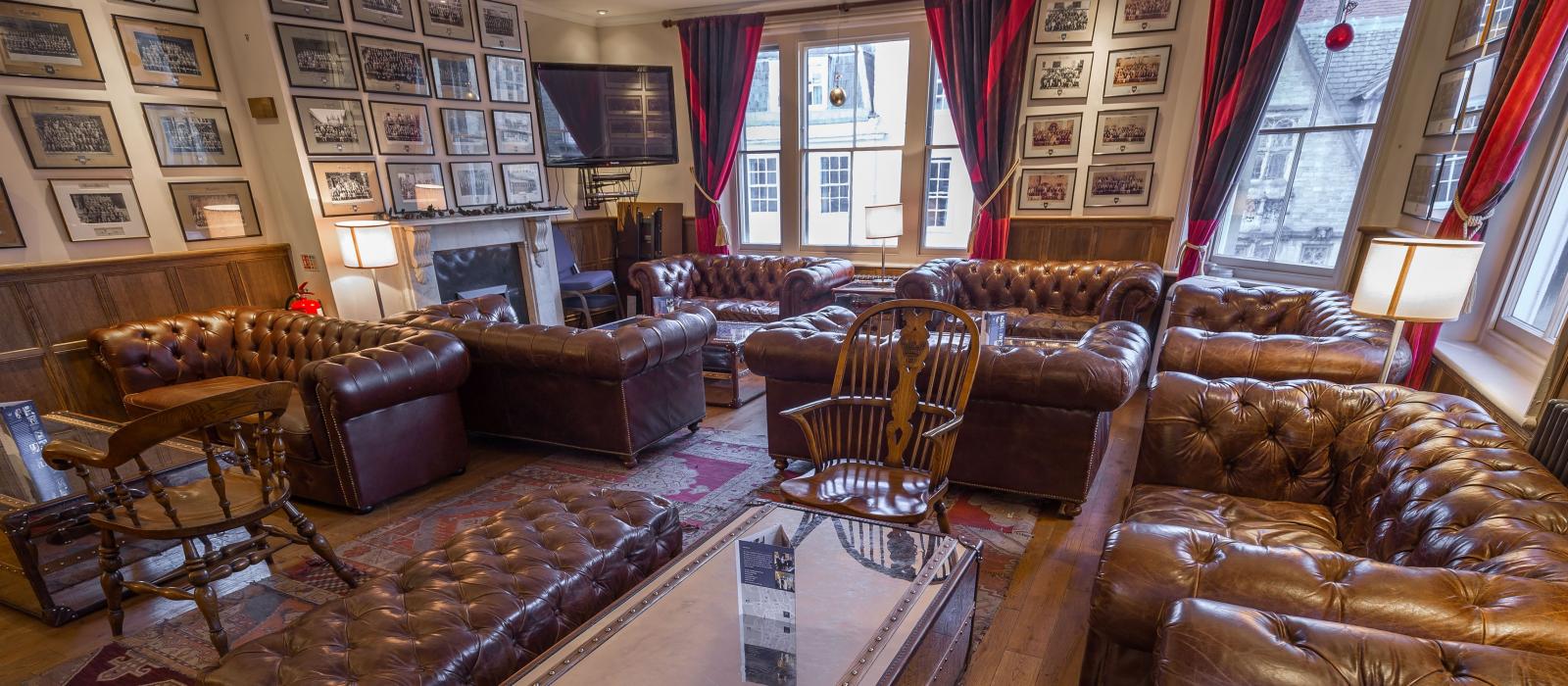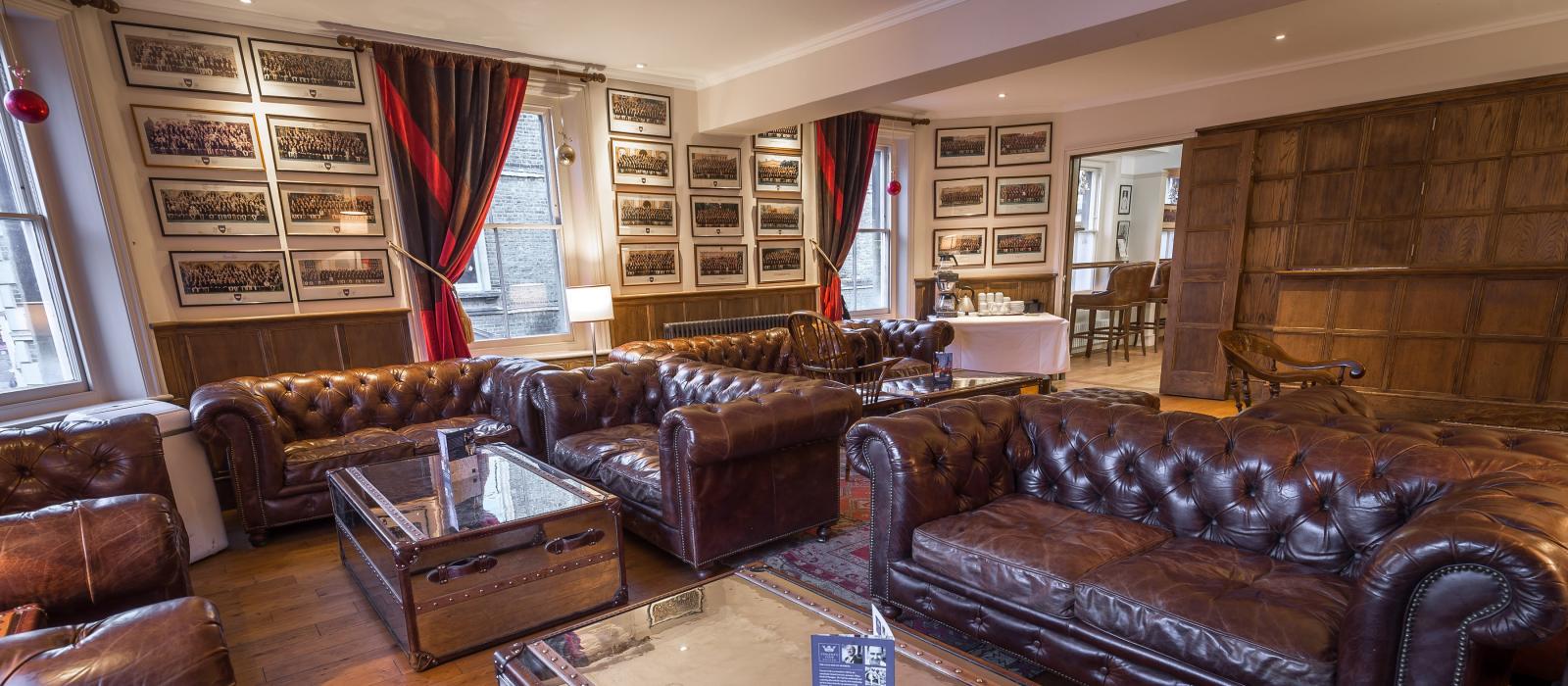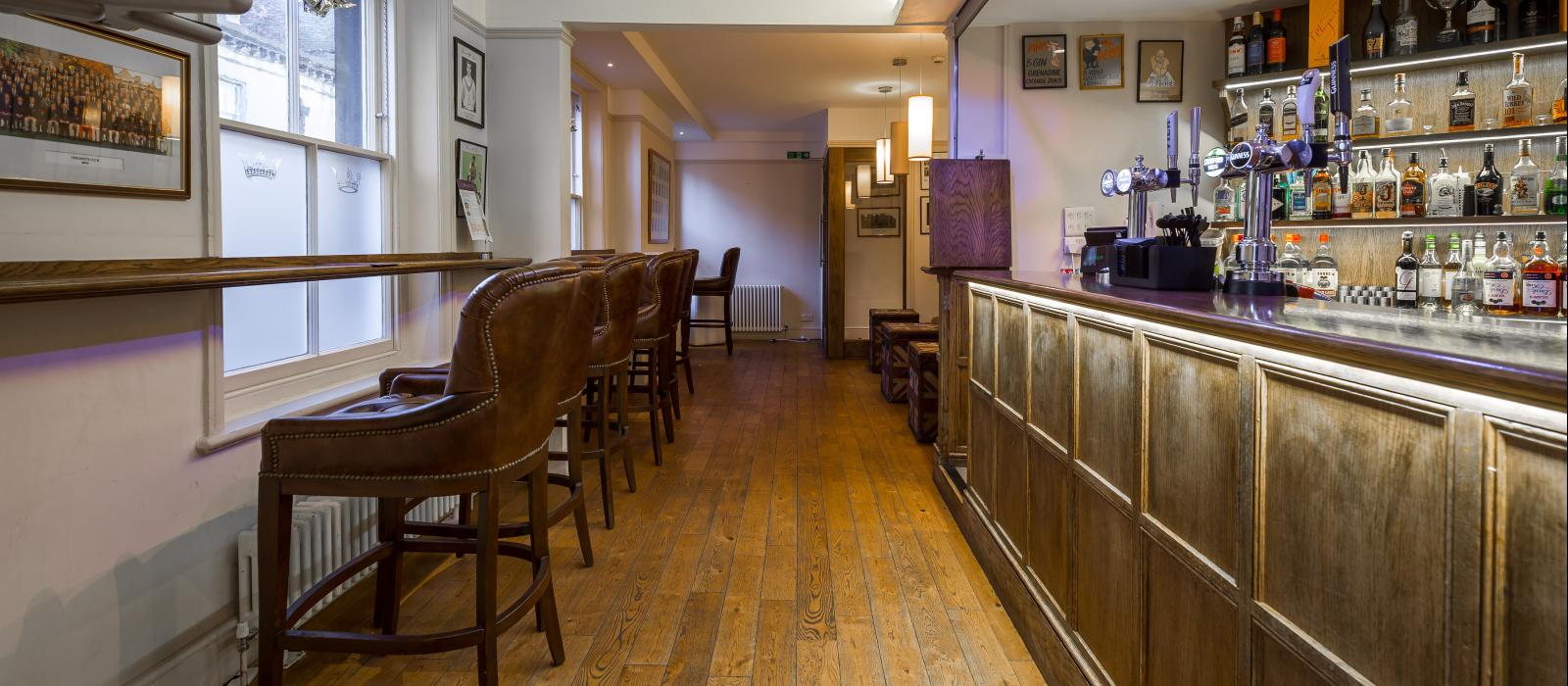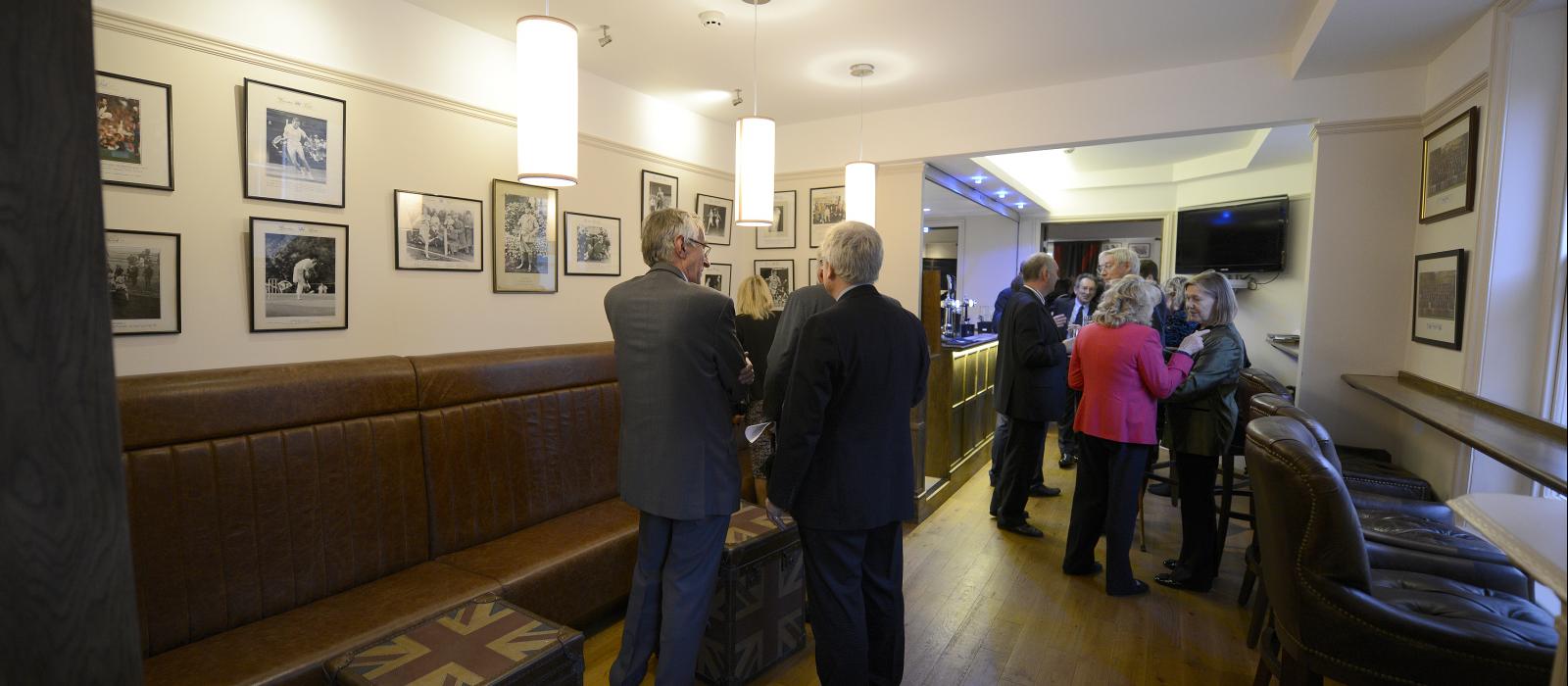 Vincent's is a superb conference venue and unique dining facility located in a traditional club setting right in the centre of Oxford.
The club was founded in 1863 by the redoubtable Oxford sportsman Walter Bradford Woodgate. It has a sporting ethos with the majority of its members drawn from the top sportsmen and sportswomen of Oxford, with famous members ranging from Sir Roger Bannister through to recent Rio gold medal Olympians.
Located just off the High Street at 1a King Edward Street, the Club has recently been refurbished but has retained the essential character that has been exclusively Vincent's for 150 years. Behind the famous blue door you will find a wood panelled bar and adjoining lounge, complete with leather Chesterfields set around cosy fireplaces, a small seminar/private dining room for 6 to 8 people, and a larger dining room for up to 40 formal diners or 60 when used as a conference space. The whole Club can be hired during and outside term for events that will provide guests with a unique glimpse inside a modernised private members club that retains its traditional atmosphere built on over 150 years of sporting heritage.
Our own full-time chef delivers first class food in a unique dining room overlooking the High Street, the University Church of St Mary and college rooftops. Our dedicated professional team are happy to help organise events for both business and pleasure.
This venue offers facilities for hybrid/virtual meetings.
Vincent's Club
1A King Edward Street, Oxford OX1 4HS
4 meeting spaces with capacity for up to 100 guests for Buffet, Classroom, Live Music, Dining, Theatre, Boardroom, and Cabaret functions.
Bedrooms
Ensuite
Standard
Breakfast
Lunch
Dinner
"Thank you for offering this service, it was so easy to use and I had several responses."
Santa Clara University
Tom Smith, General Manager
Steward@Vincents.org
01865 722984
http://www.vincents.org/
Bar

Wood panelled modern club bar that retains many traditional features and is connected to the main club lounge.

Facilities

Leather bar stools and bench seating set around the bar/fireplace and coffee tables.

Accessibility

Full disabled access via lift

Available

Term & Vacation

Lounge

Buffet 40

Classroom 20

Live Music 60

A very comfortable double aspect wood panelled lounge, with leather Chesterfields set around a fireplace.

Facilities

A very flexible space that has been used successfully for pre-dinner drinks, receptions, buffets, meetings and musical events.

Accessibility

Full disabled access via lift

Available

Term & Vacation

Dining Room

Dining 40

Buffet 40

Theatre 60

Classroom 60

Boardroom 20

Cabaret 60

Live Music 100

A unique, atmospheric, double aspect, flexible dining space; decorated with original 19th century Vanity Fair sporting prints, boasting splendid views of Oxford High Street from large double height sash windows.

Facilities

A unique, atmospheric, double aspect, flexible dining space; decorated with original 19th century Vanity Fair sporting prints, boasting splendid views of Oxford High Street from large double height sash windows.

Accessibility

Full disabled access via lift with a disabled toilet on this level.

Available

Term & Vacation

Seminar Room

Dining 8

Buffet 8

Boardroom 8

A small seminar/private dining space for 6 to 8 people which can be converted for meetings or used as a break out space or green room.

Facilities

Conference phone, Projector

Accessibility

Full disabled access via lift and adjacent to modern disabled toilet.

Available

Term & Vacation