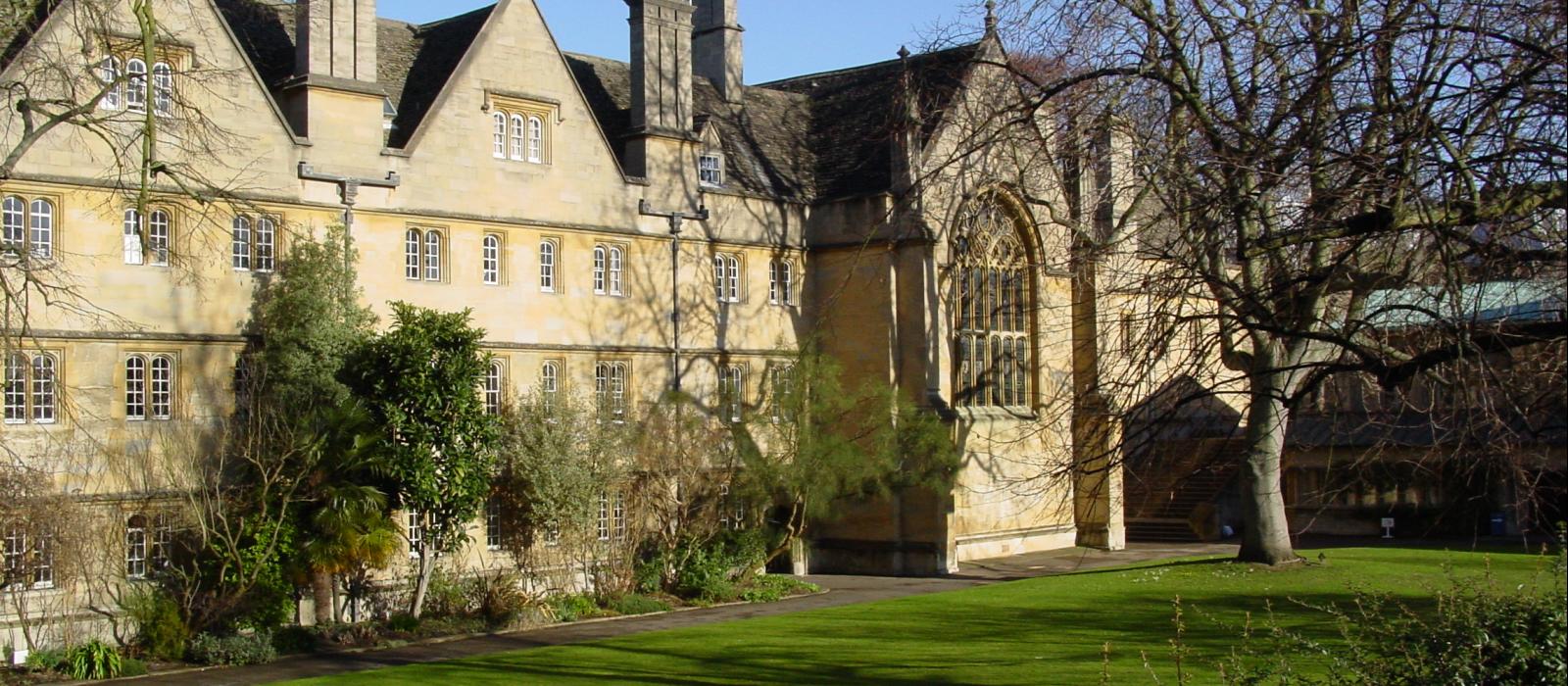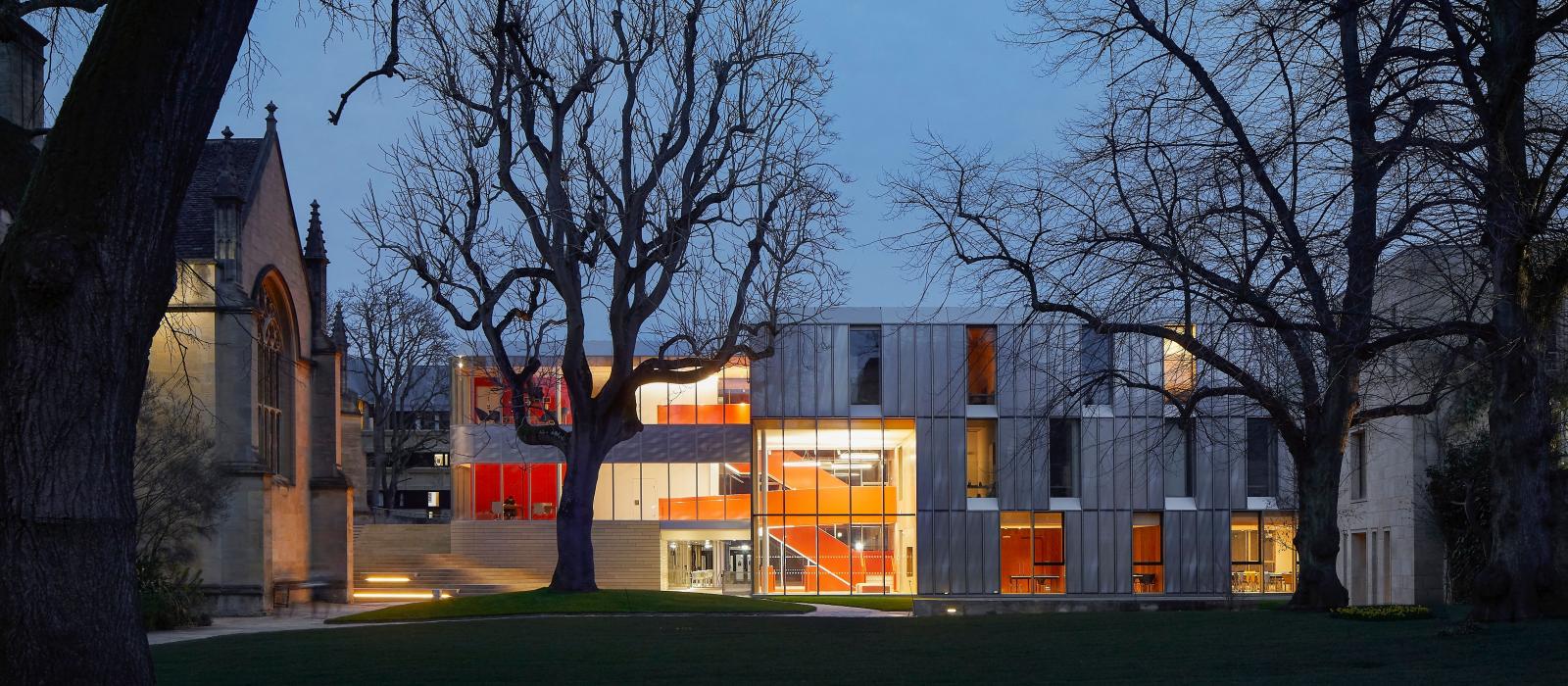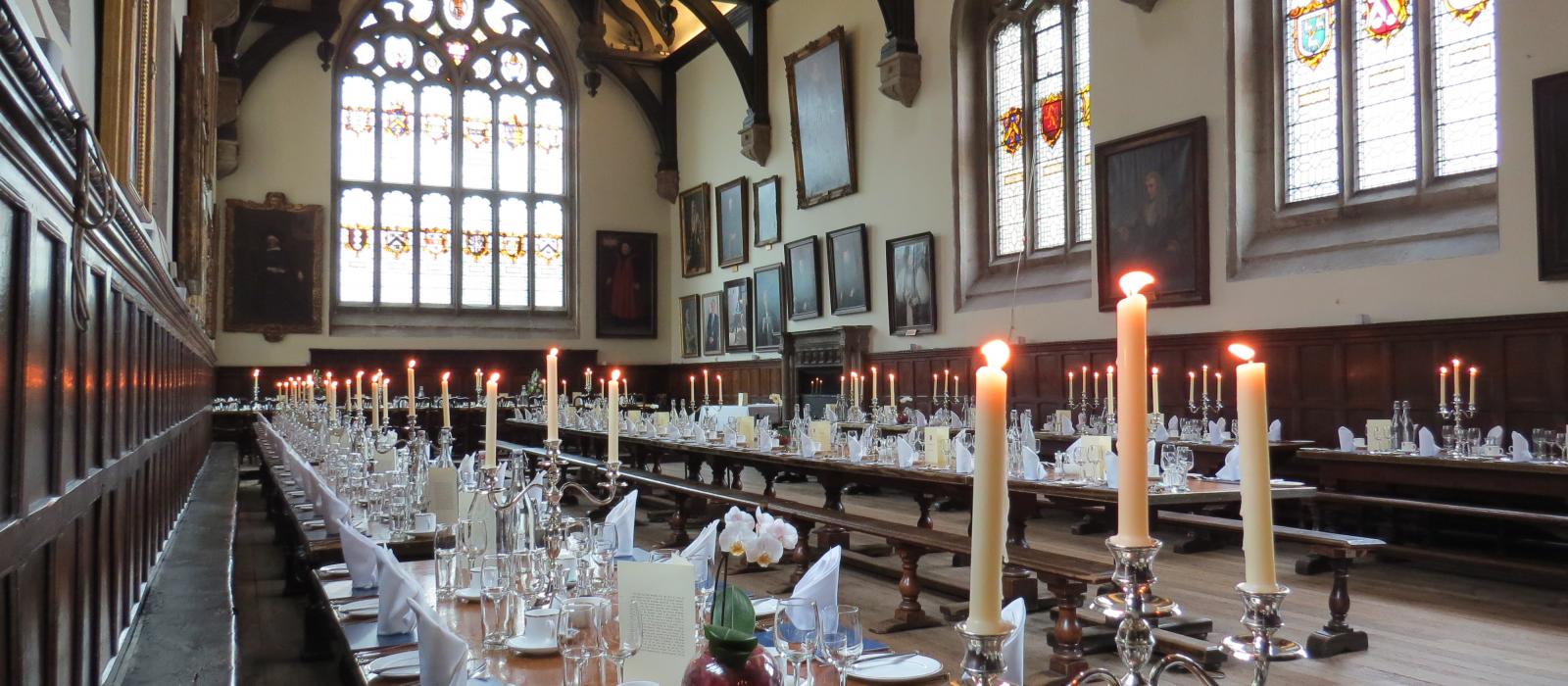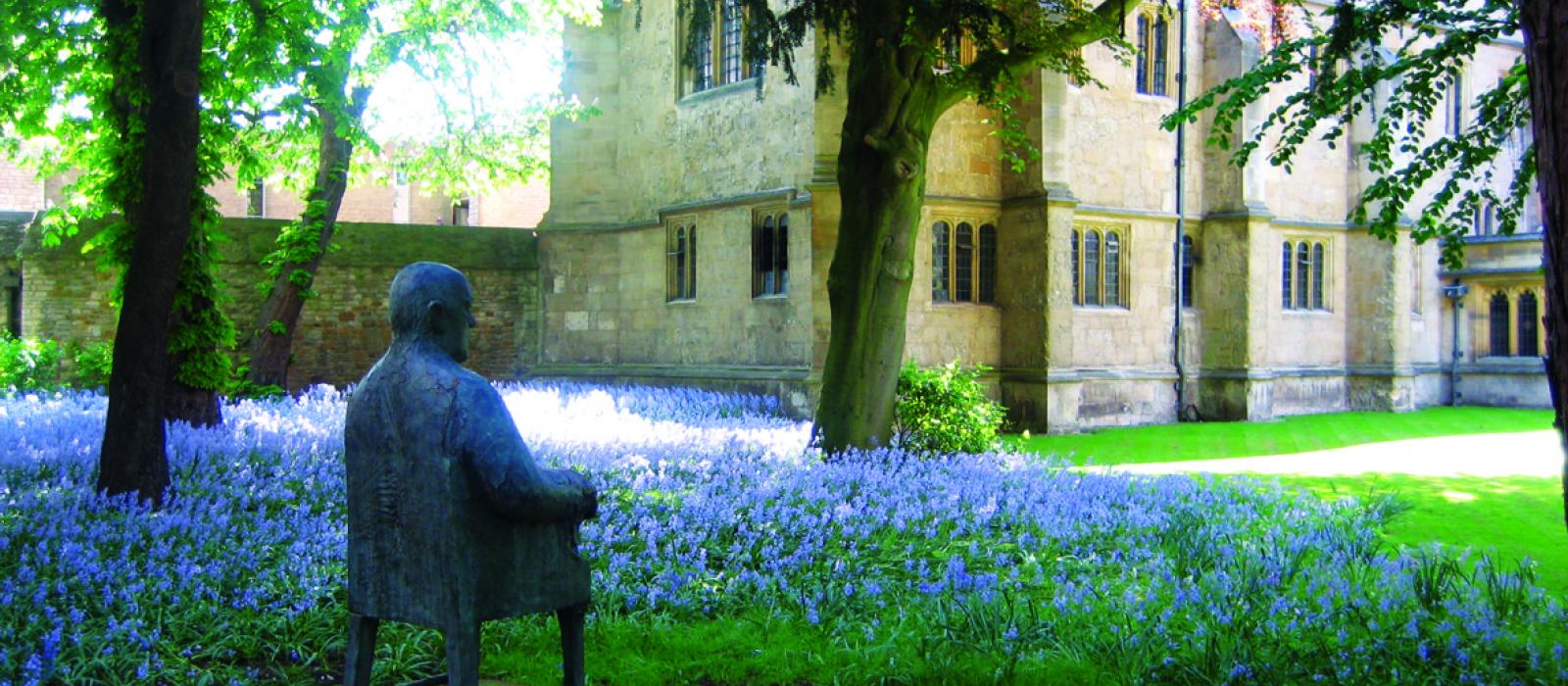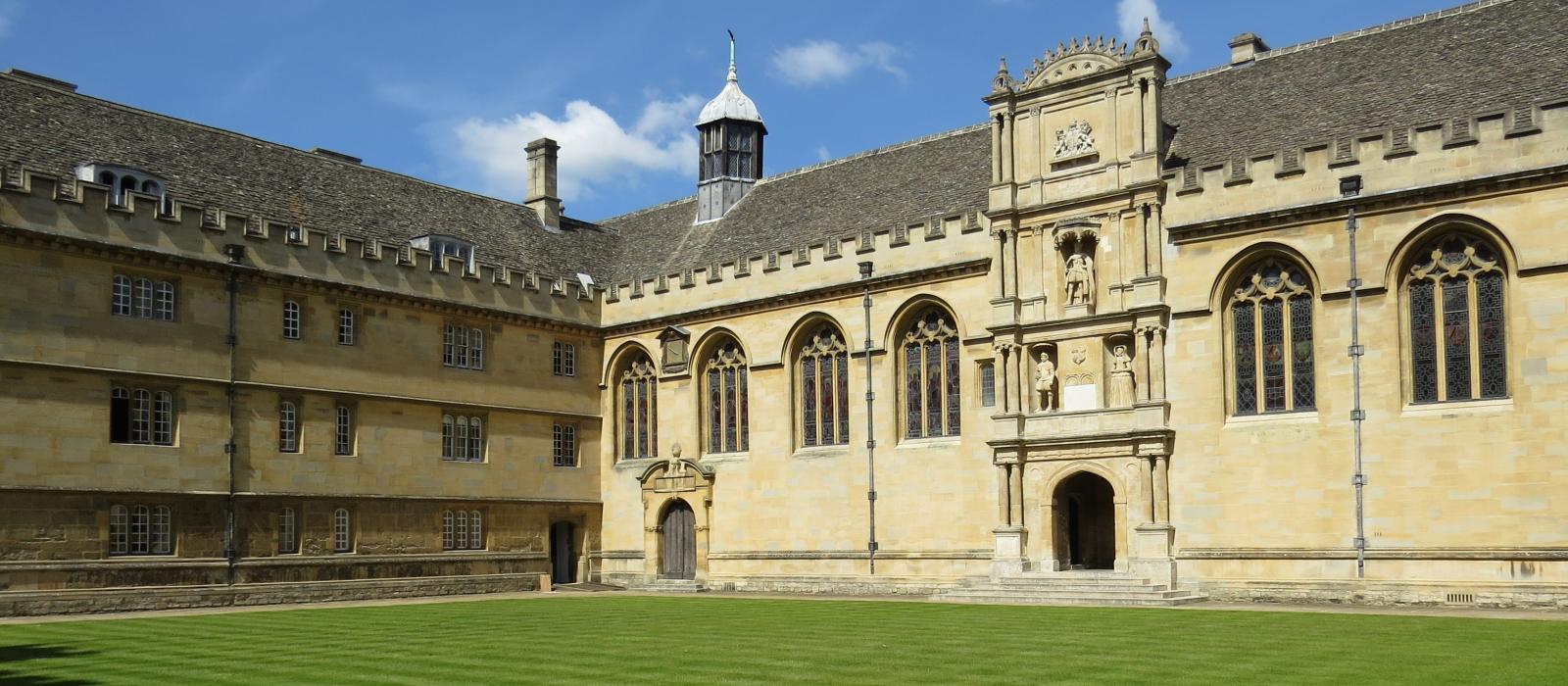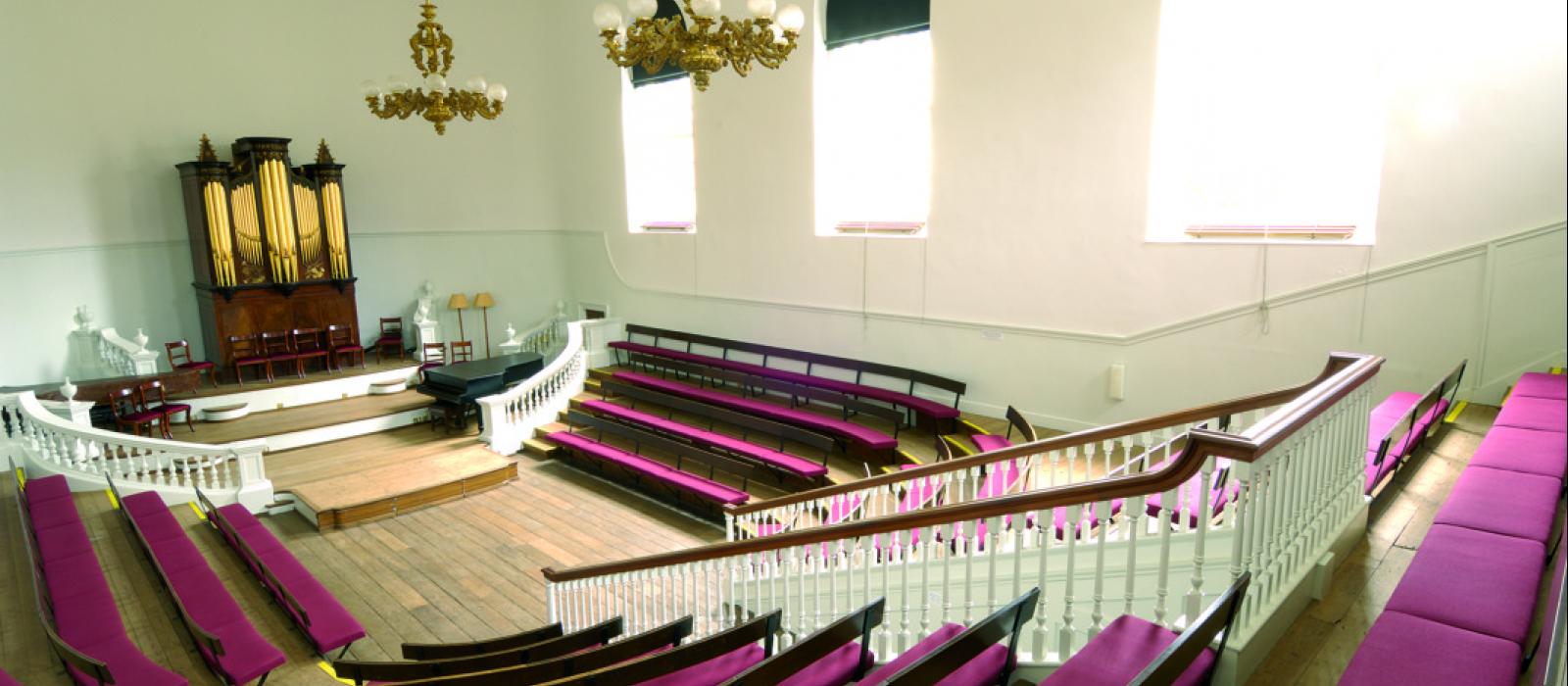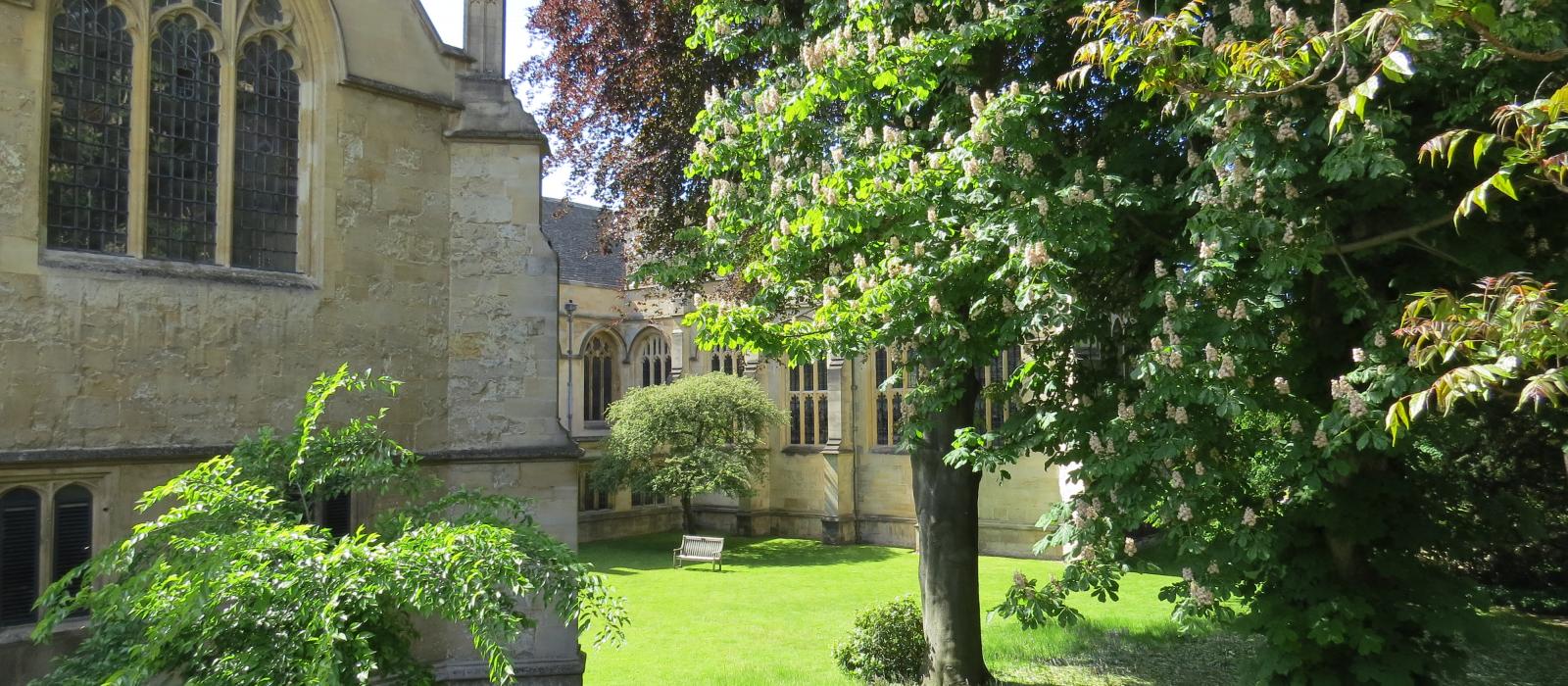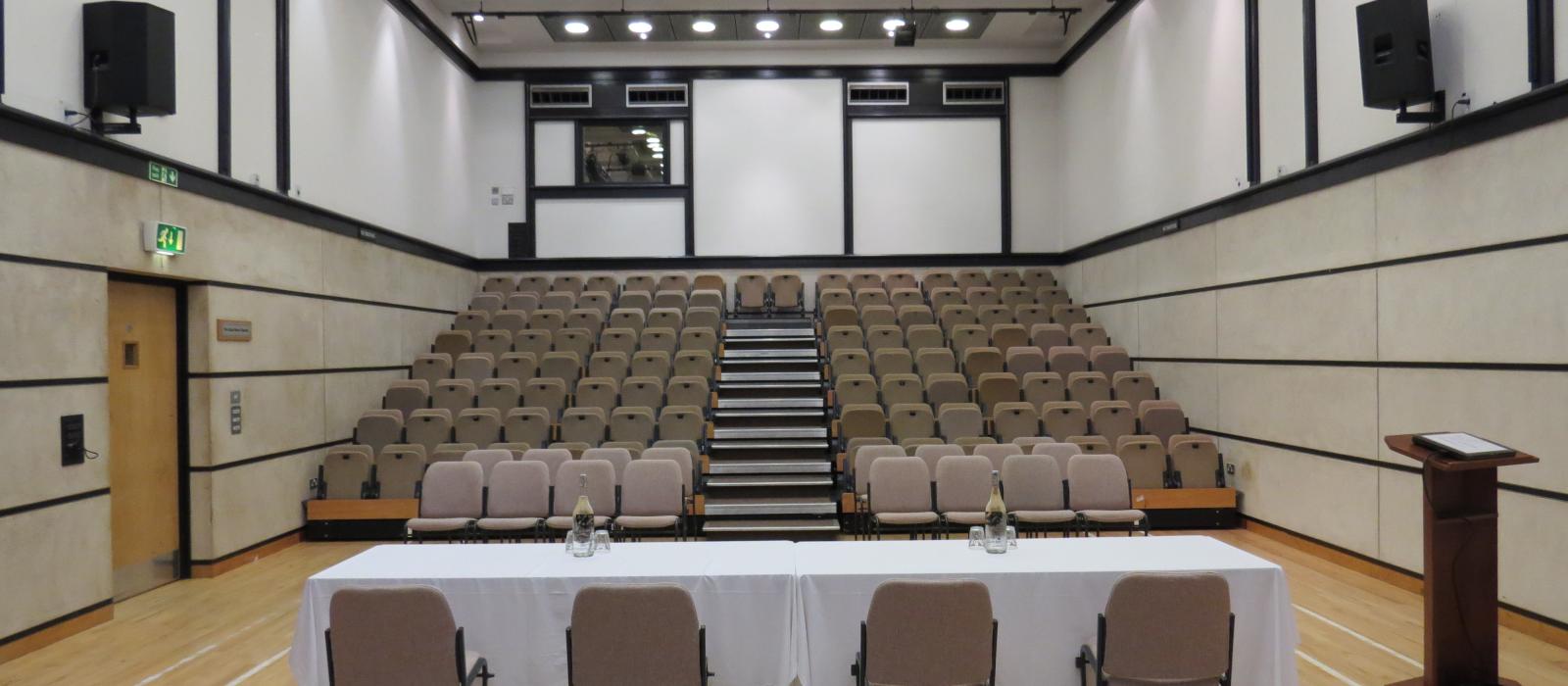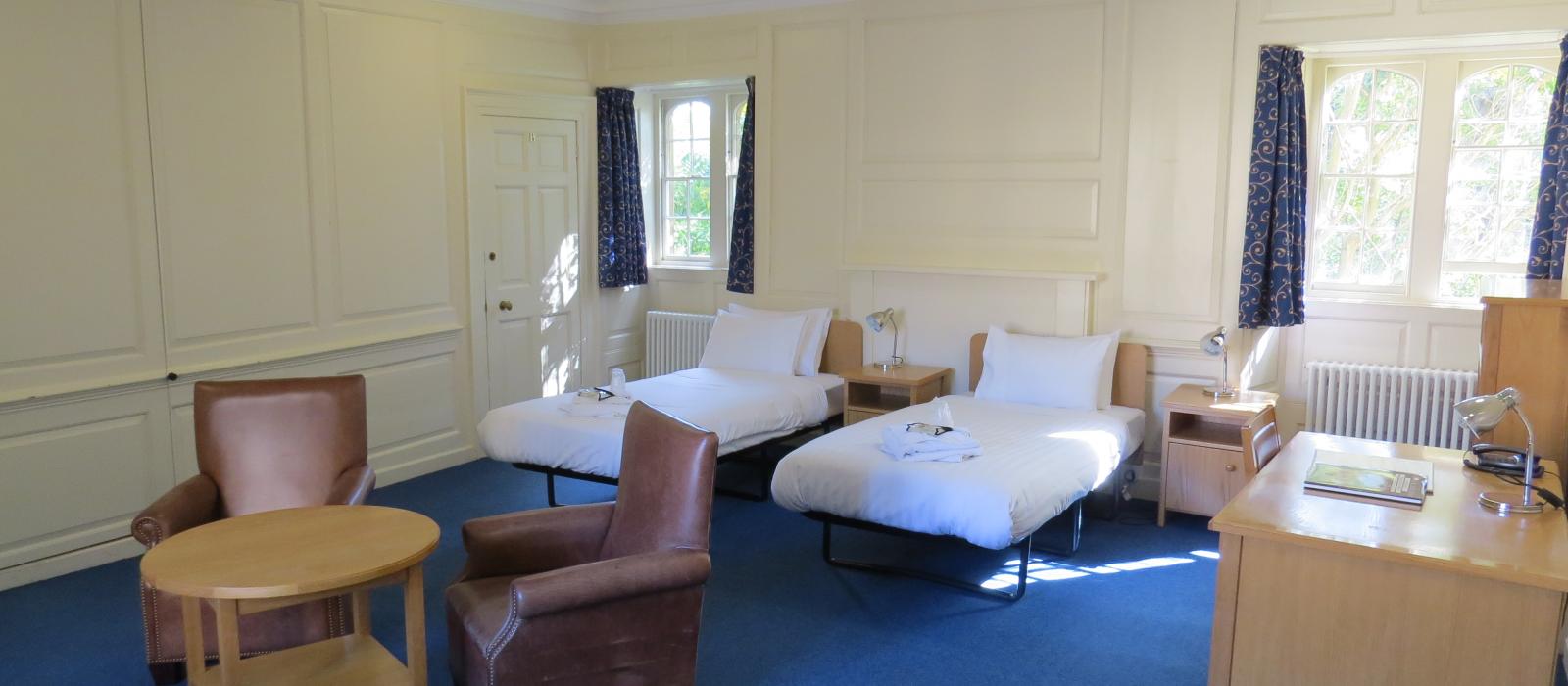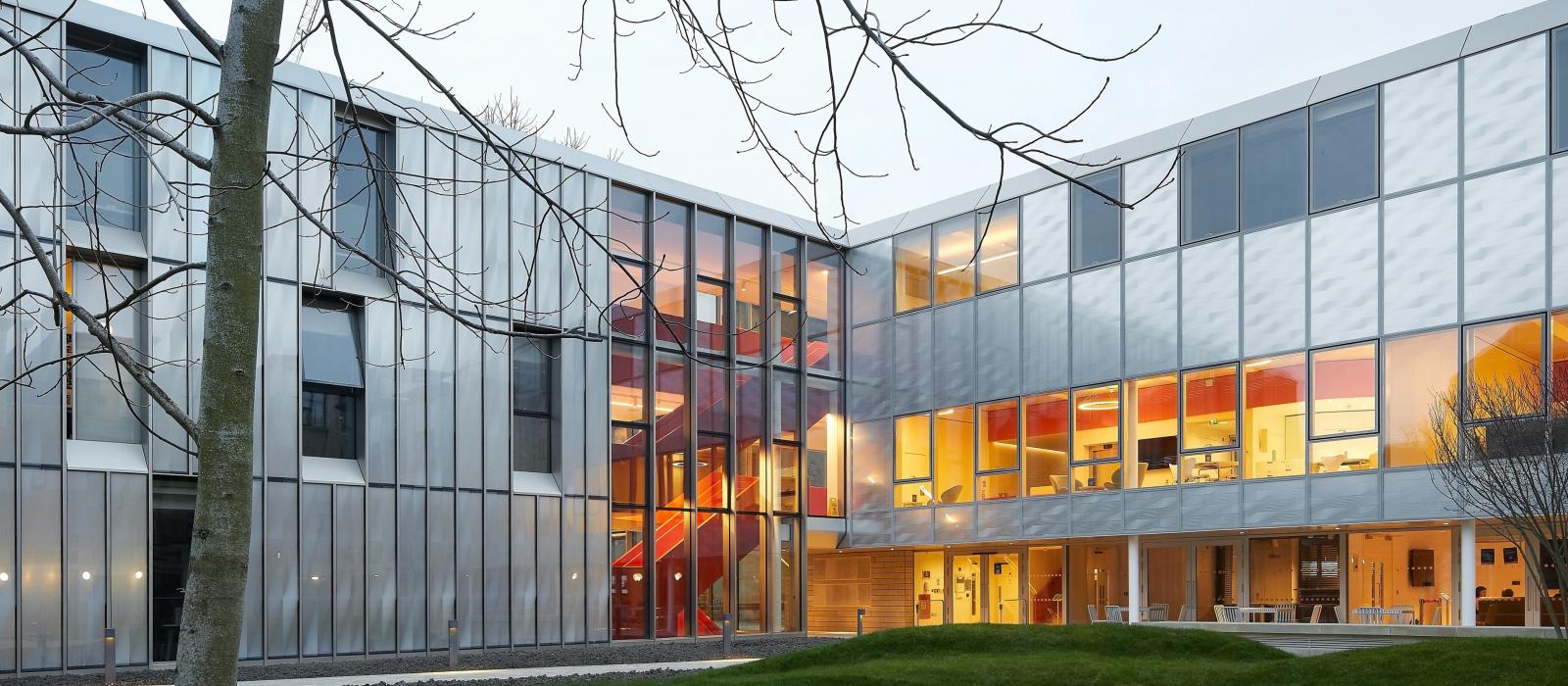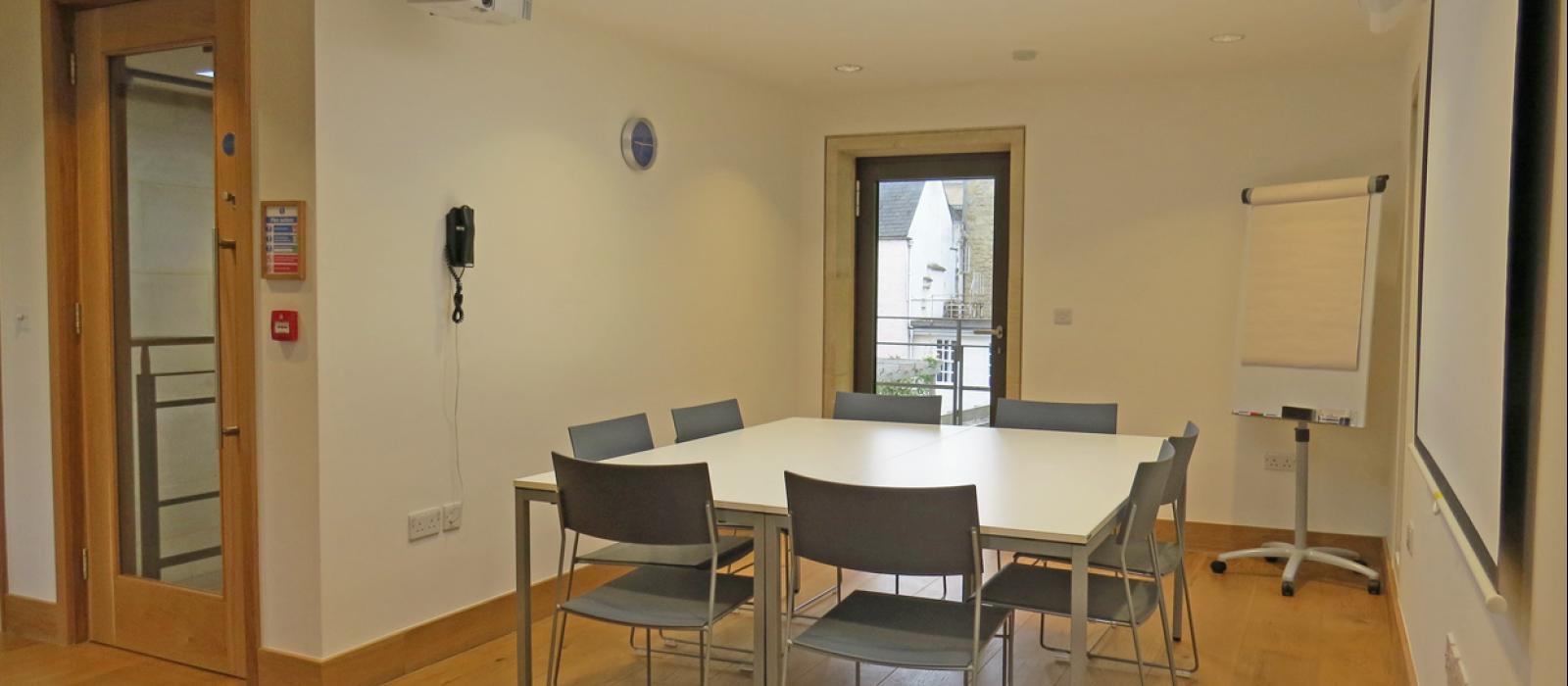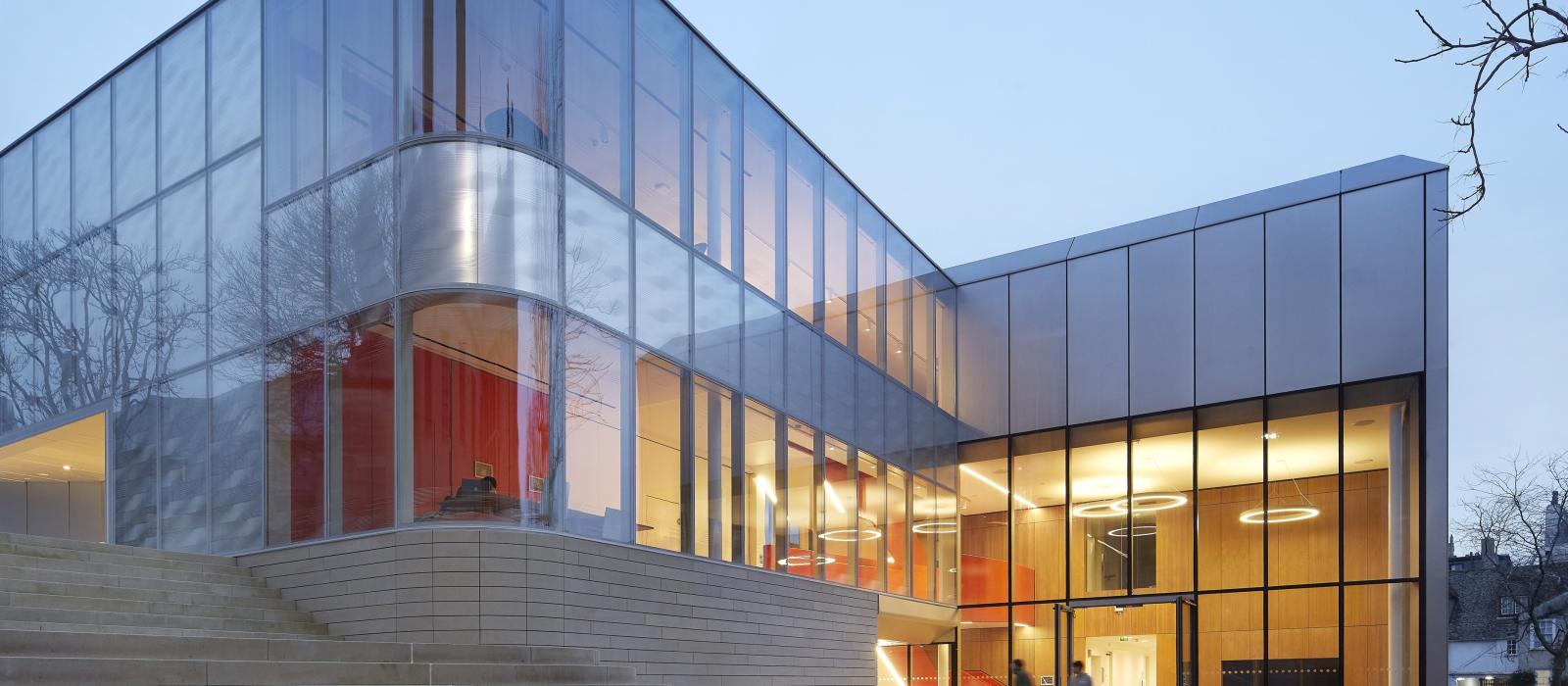 Wadham College offers a variety of historic and modern rooms suitable for small or large business or social occasions, gourmet cuisine and accommodation in a myriad of comfortable en-suite and standard guest rooms.
Wadham is one of the largest colleges of the University of Oxford, with approximately 450 undergraduate and 150 graduate students. The College was founded in 1610 by Nicholas and Dorothy Wadham and is situated in the heart of Oxford, close to the iconic Sheldonian Theatre. Historically, Wadham's major claim to fame dates from just after the Civil War. A group under the aegis of the Warden, John Wilkins, was at the forefront of the 'scientific revolution' in England. Its meetings led directly to the foundation of the Royal Society. Distinguished members over the years include: Sir Christopher Wren, Sir Thomas Beecham, Cecil Day-Lewis, Michael Foot and Dr Rowan Williams.
The original building, the Front Quad, is a striking example of Jacobean architecture, incorporating the main entrance, rooms for fellows and students, and a magnificent hall and chapel. Wadham has expanded over the centuries, with the provision of a new state-of-the-art Graduate Centre, opened in October 2012, with two purpose-built meeting rooms for hire, and more recently the William Doo Undergraduate Centre and the Dr Lee Shau Kee Building
Click here for a video of Wadham's conferencing facilities
Click here for the college's virtual tour
Wadham College
Parks Road, Oxford OX1 3PN
18 meeting spaces with capacity for up to 200 guests for Dining, Buffet, Boardroom, Other, Theatre, and Classroom functions.
Bedrooms 250
Ensuite 70
Standard 180
Breakfast yes
Lunch yes
Dinner yes
"I highly appreciated the Conference Oxford service. I had not used the website before, and was surprised by how easy it was to get in contact with a range of venues through the simple enquiry process."
Wellcome Centre for Integrative Neuroimaging
Events Team
events@wadham.ox.ac.uk
01865 277 579
https://www.wadham.ox.ac.uk/venue-hire
Hall

Over 400 years old with long tables, oak panelling and a soaring, vaulted ceiling in the Hammerbeam style.

Facilities

PA system available

Accessibility

Disabled access using electric wheelchair stairclimber.

Available

Term & Vacation

Old Library

Formerly the library when the College was founded in 1610, this awe-inspiring room features a spectacular stained glass window, grand mahogany dining tables, and lovely views across the Back Quad and Cloisters Garden, and is an ideal setting for a variety of occasions including weddings, business meetings and private dining.

Facilities

Accessibility

No disabled access

Available

Term & Vacation

New Refectory

Overlooking JCR Quad and ideal for refreshment breaks and registration.

Facilities

Accessibility

Ground floor. Disabled access.

Available

Vacation

Trapp

Dining 16

Buffet 16

Boardroom 16

Ideal for more intimate dinners of up to 16.

Facilities

Accessibility

Ground floor. Ramp available for step.

Available

Term & Vacation

Ante Chapel

The Ante Chapel is part of our original seventeenth century College buildings.

Facilities

Accessibility

Ramp access

Available

Term & Vacation

Holywell Music Room

Historic and an exceptional example of an 18th century auditorium.

Facilities

Concert and Lecture room for up to 200 with Projector/Screen.

Accessibility

Ground floor. Disabled access and space for wheelchairs.

Available

Term & Vacation

Moser Theatre

Contemporary Lecture Theatre

Facilities

Fully equipped with ceiling mounted Projector.

Accessibility

Disabled access via lift with assistance from the Lodge. 24 hours advance notice required.

Available

Vacation

Okinaga Room

Spacious, modern and natural daylight room which accommodates various layouts.

Facilities

Accessibility

Ground floor. Disabled access.

Available

Vacation

Dr Lee Shau Kee Scholars Seminar Room A+B

A spacious presentation room overlooking the Front Quad which can be divided into two to give syndicate rooms.

Facilities

Fully equipped with 2 ceiling mounted Projectors for presentations to be run simultaneously for full viewing.

Accessibility

Disabled access via lift.

Available

Vacation

Dr Lee Shau Kee Scholars Seminar Room A

Classroom 18

Boardroom 14

Overlooks Front Quad.

Facilities

Fully equipped with ceiling mounted Projector.

Accessibility

Disabled access via lift.

Available

Vacation

Dr Lee Shau Kee Scholars Seminar Room B

Classroom 18

Boardroom 14

Overlooks Front Quad.

Facilities

Fully equipped with ceiling mounted Projector.

Accessibility

Disabled access via lift.

Available

Vacation

Knowles Room

An elegant, panelled room overlooking the Front and Back Quad.

Facilities

Fully equipped with ceiling mounted Projector.

Accessibility

Disabled access via lift subject to availability of adjoining room.

Available

Vacation

Gillese-Badun Seminar Room

Located on the ground-floor of the McCall MacBain Graduate Centre, this modern meeting room lined with cedar wood incorporates state-of-the art audio visual technology and is therefore a perfect venue for formal presentations and business meetings.

Facilities

Fully equipped with ceiling mounted Projector.

Accessibility

Ground floor. Disabled access.

Available

Vacation

C. Day-Lewis Room

An elegant room situated in a secluded area of the College.

Facilities

Fully equipped with ceiling mounted Projector.

Accessibility

Available

Vacation

Tower Room

Located on the top floor of our state-of-the-art McCall MacBain Graduate Centre (with access via lift or stairs) this modern meeting room stands alone on this floor, therefore provides an intimate space for presentations and business meetings.

Facilities

Fully equipped with ceiling mounted Projector.

Accessibility

Disabled access via lift.

Available

Vacation

Seminar 4 & 5

Seats 70 in theatre style, 40 in classroom style; room can be divided into seminar rooms 4 and 5, with a capacity of 35 each.

Facilities

Fully equipped with ceiling mounted Projector.

Accessibility

Hearing induction loop system available, first floor wheelchair access via lift in room 5.

Available

Vacation

David Richards Music Room

Seats 16 in boardroom set up. Room divides to seat 7 classroom and 5 boardroom in each.

Facilities

Accessibility

Ground floor access

Available

Vacation

Kusuwan/ Beecham Rooms

Boardroom for 8 people.

Facilities

Accessibility

Ground floor access

Available

Vacation