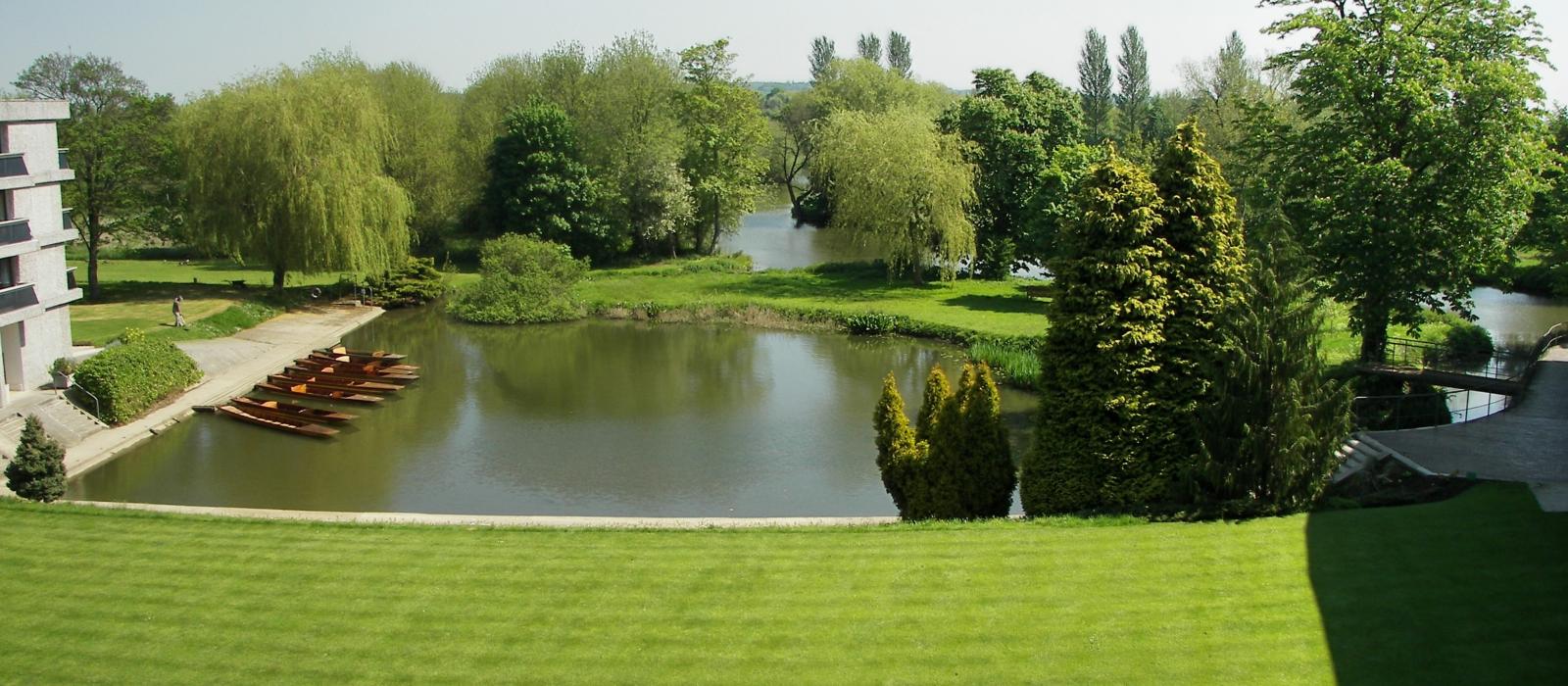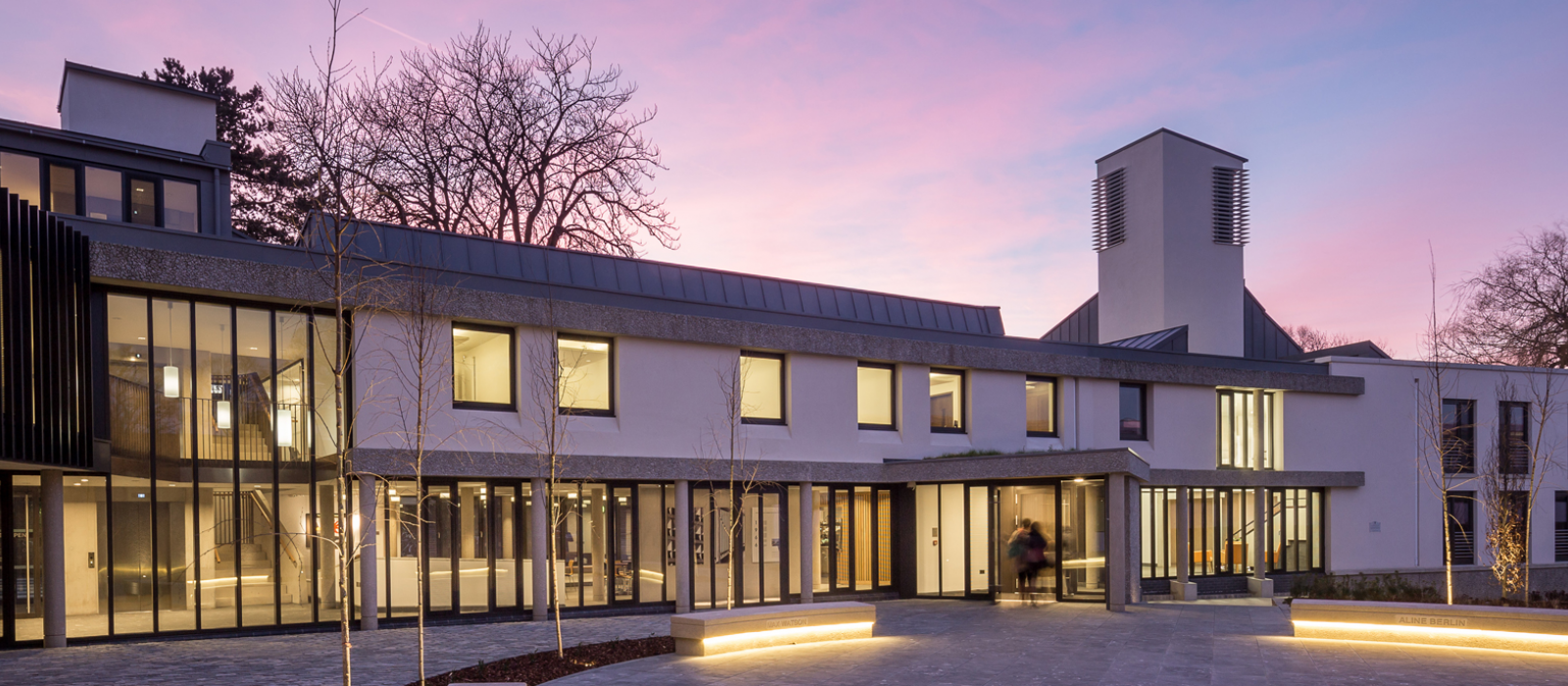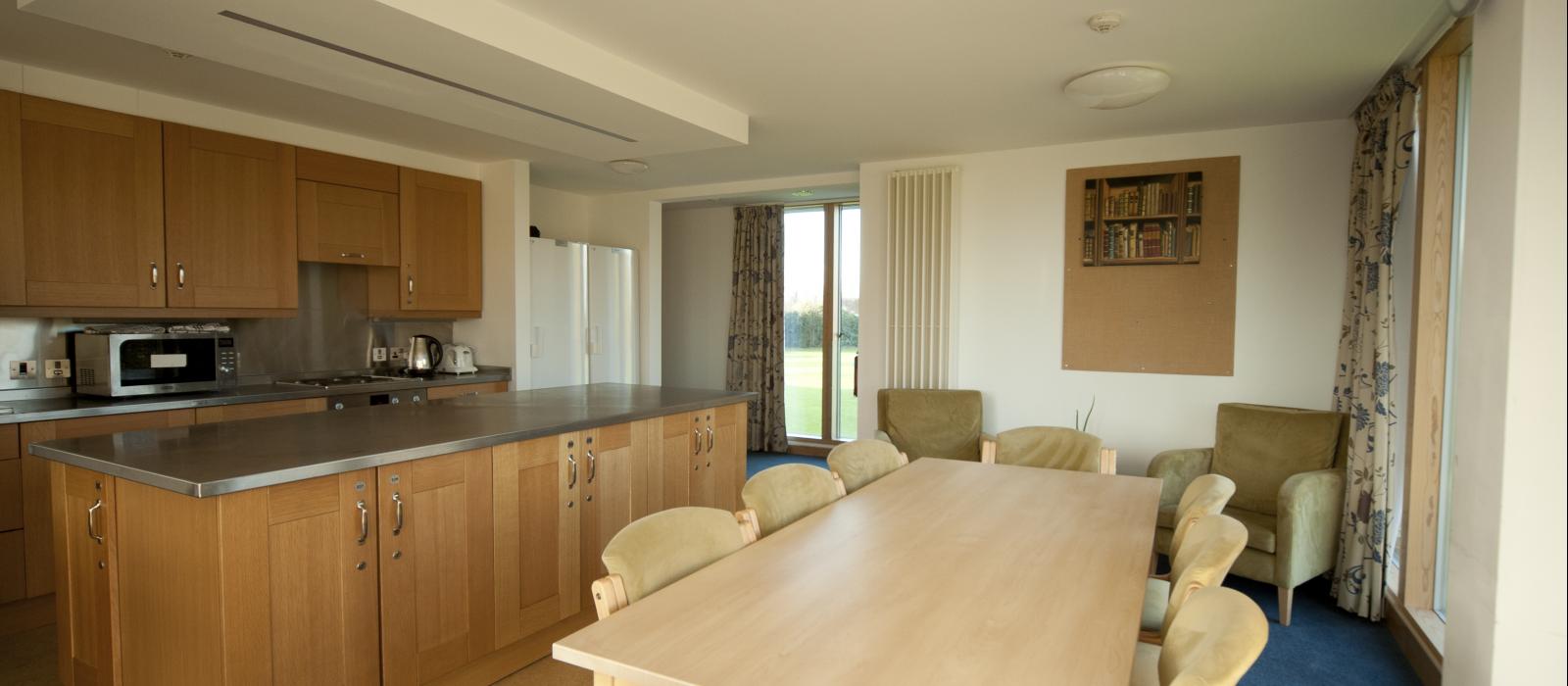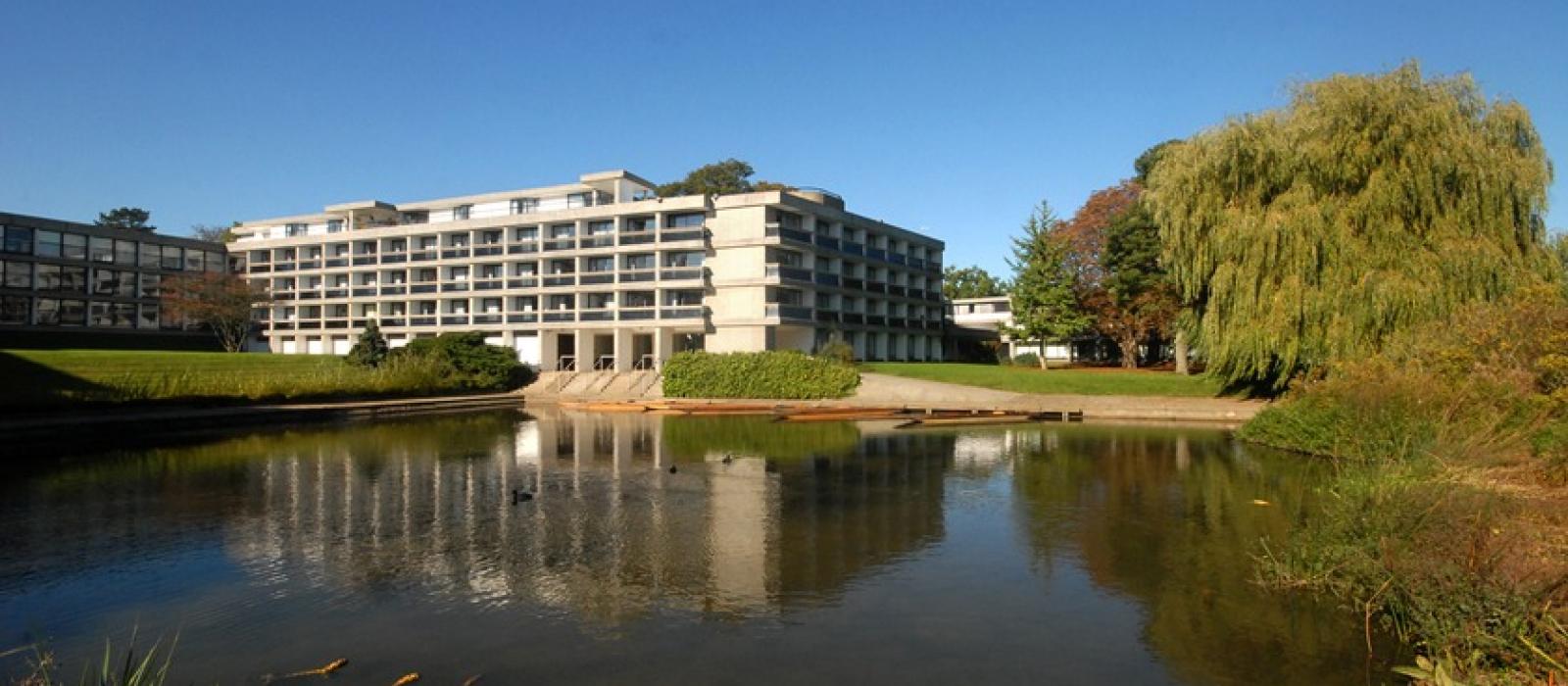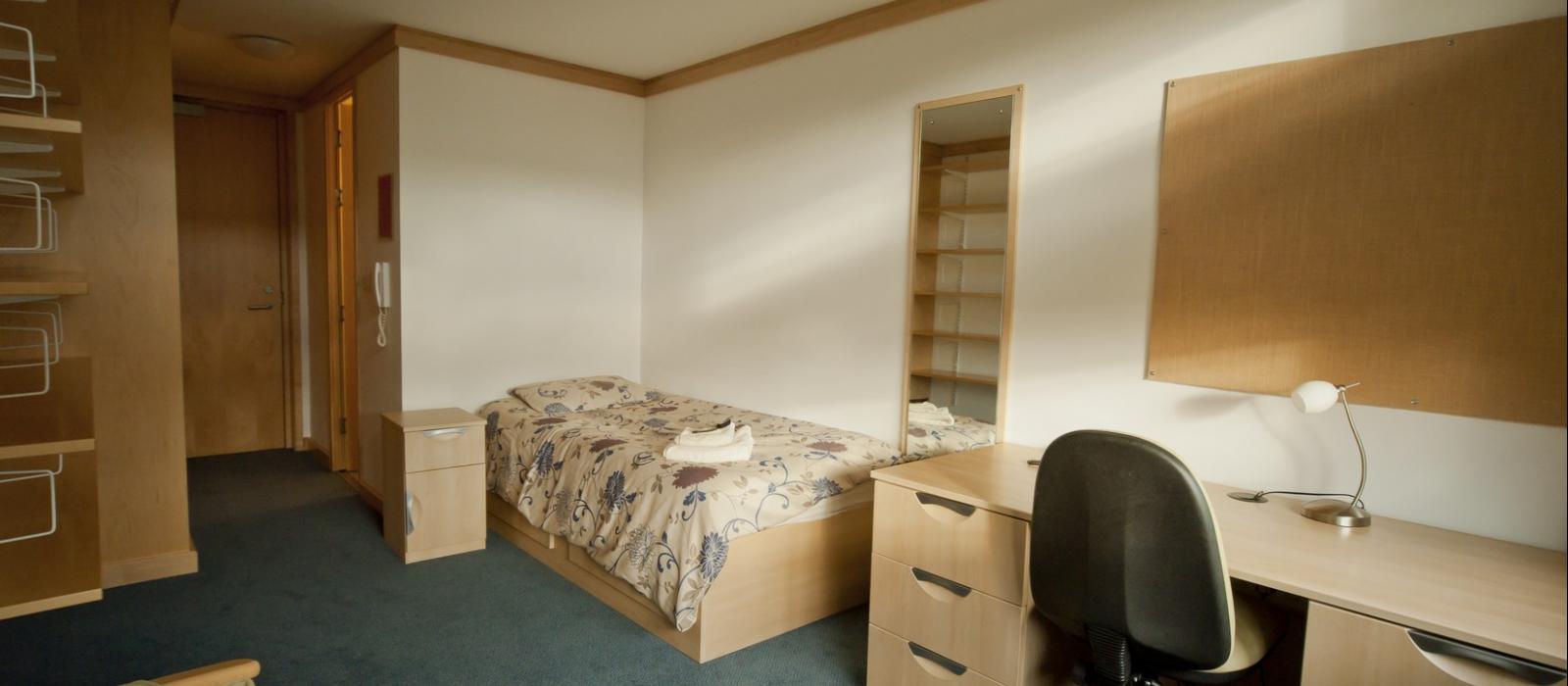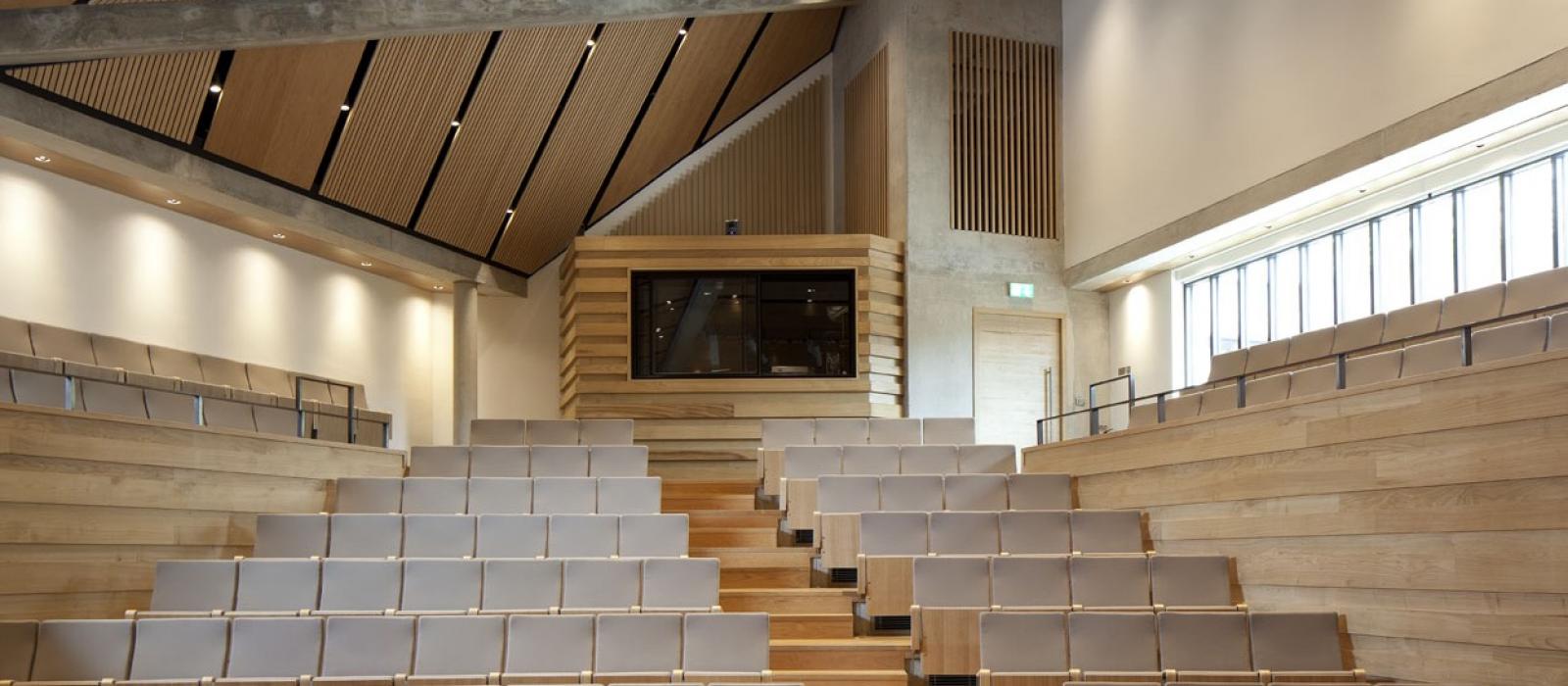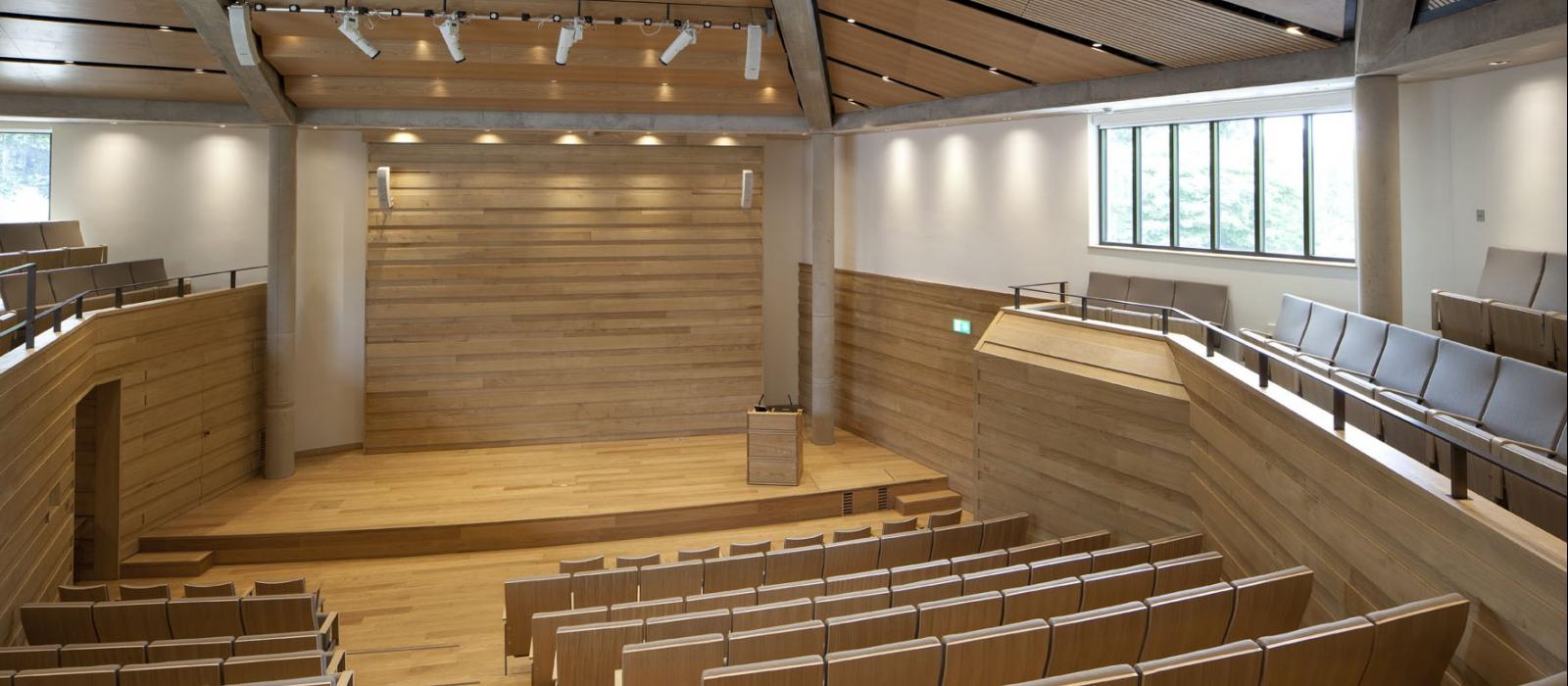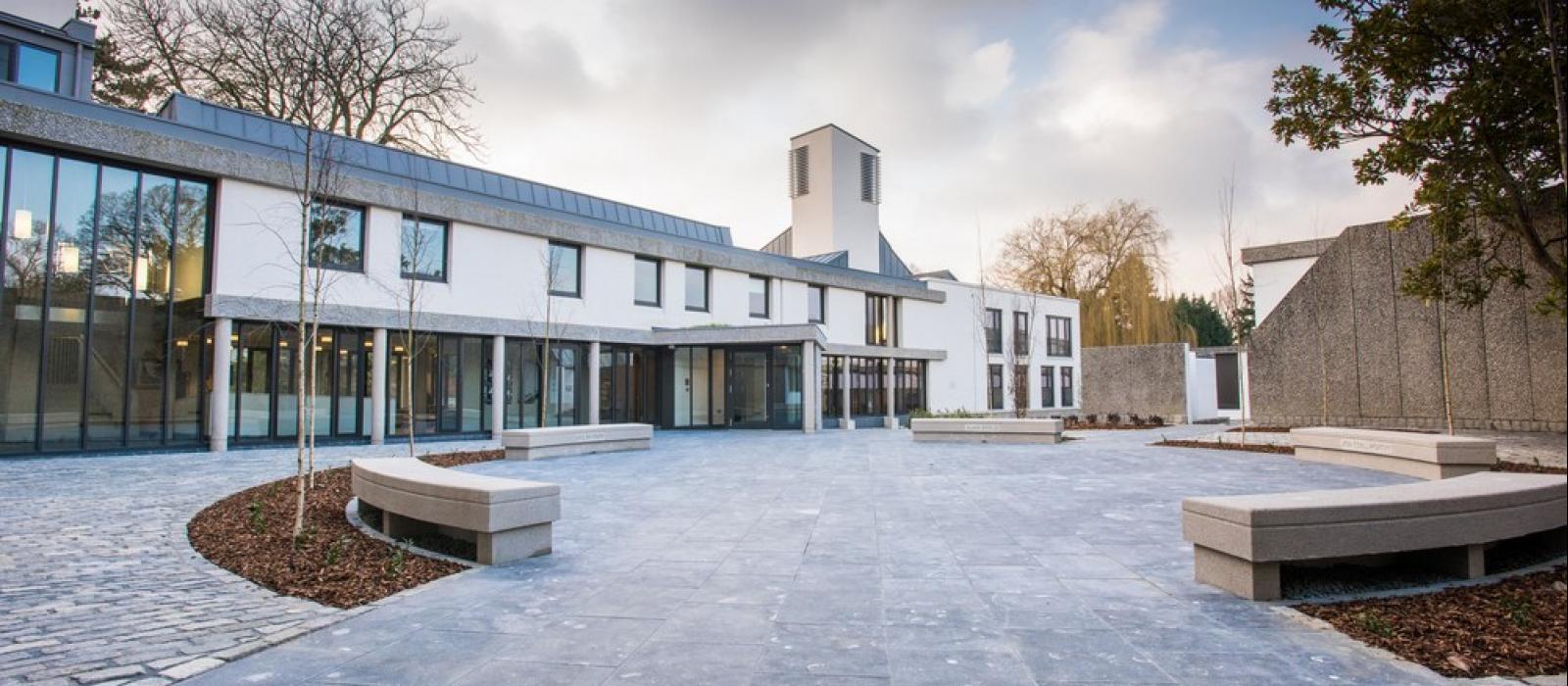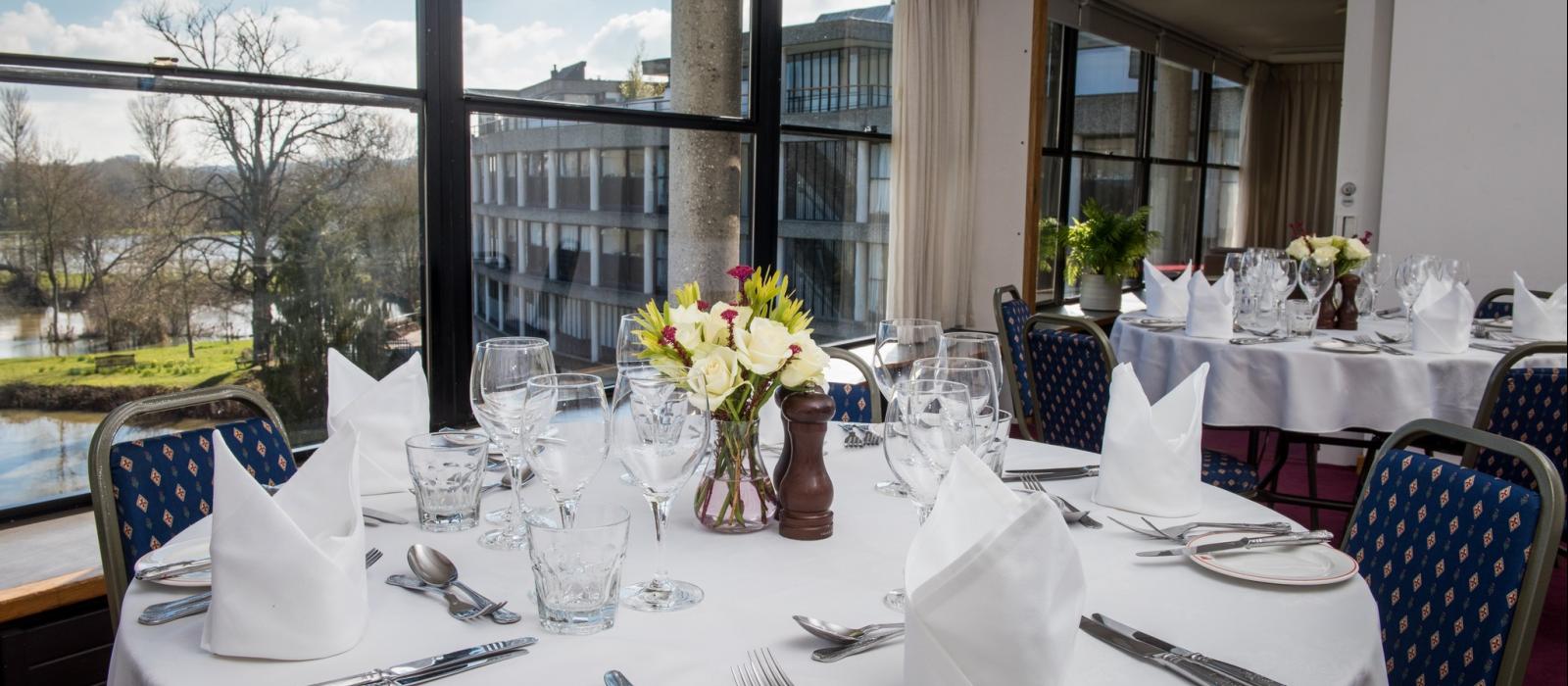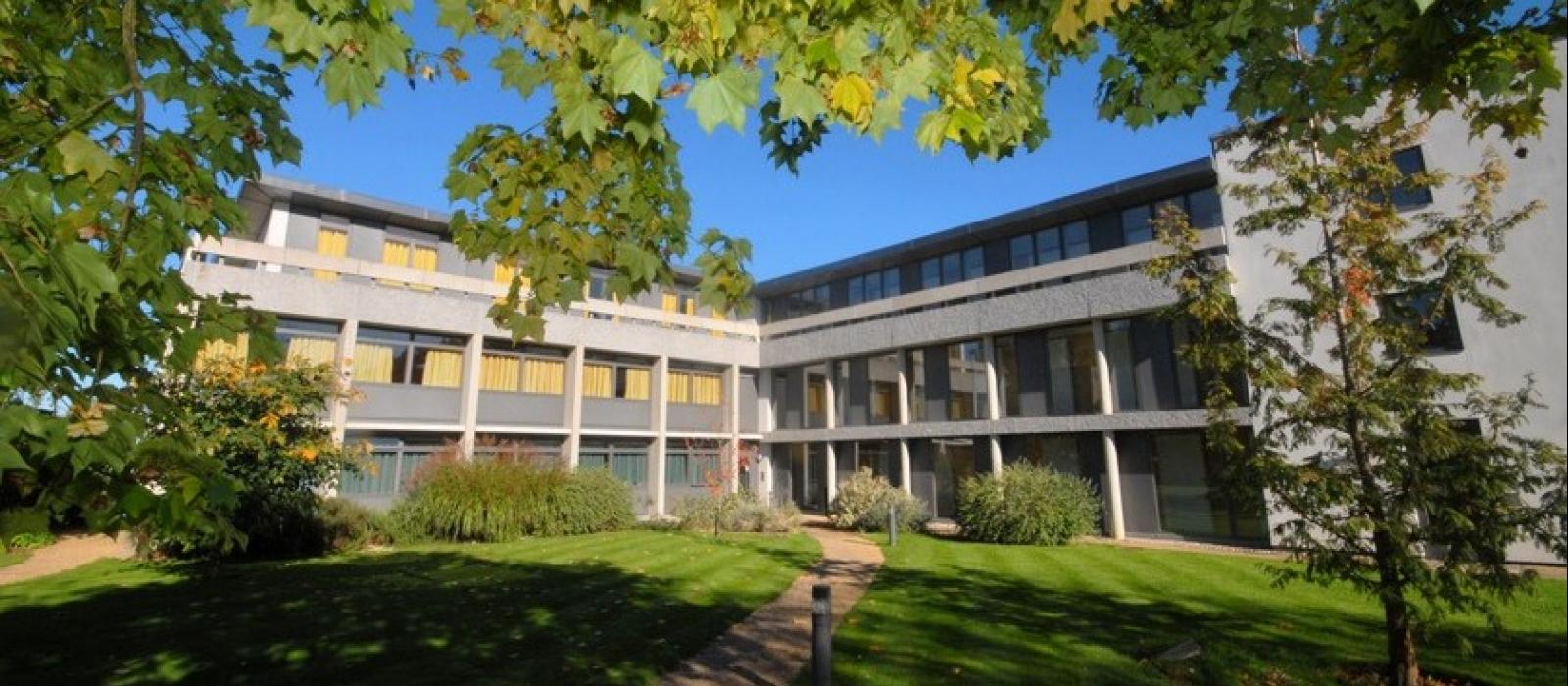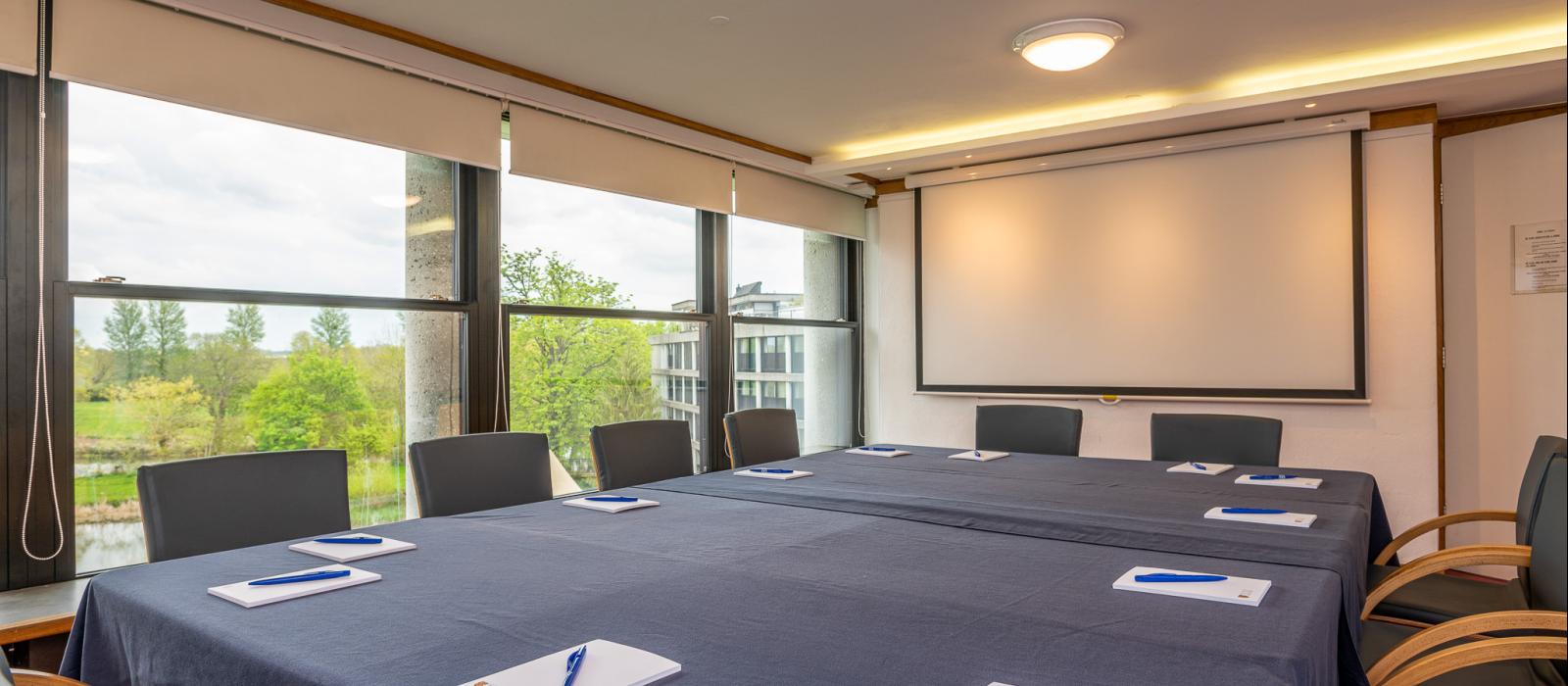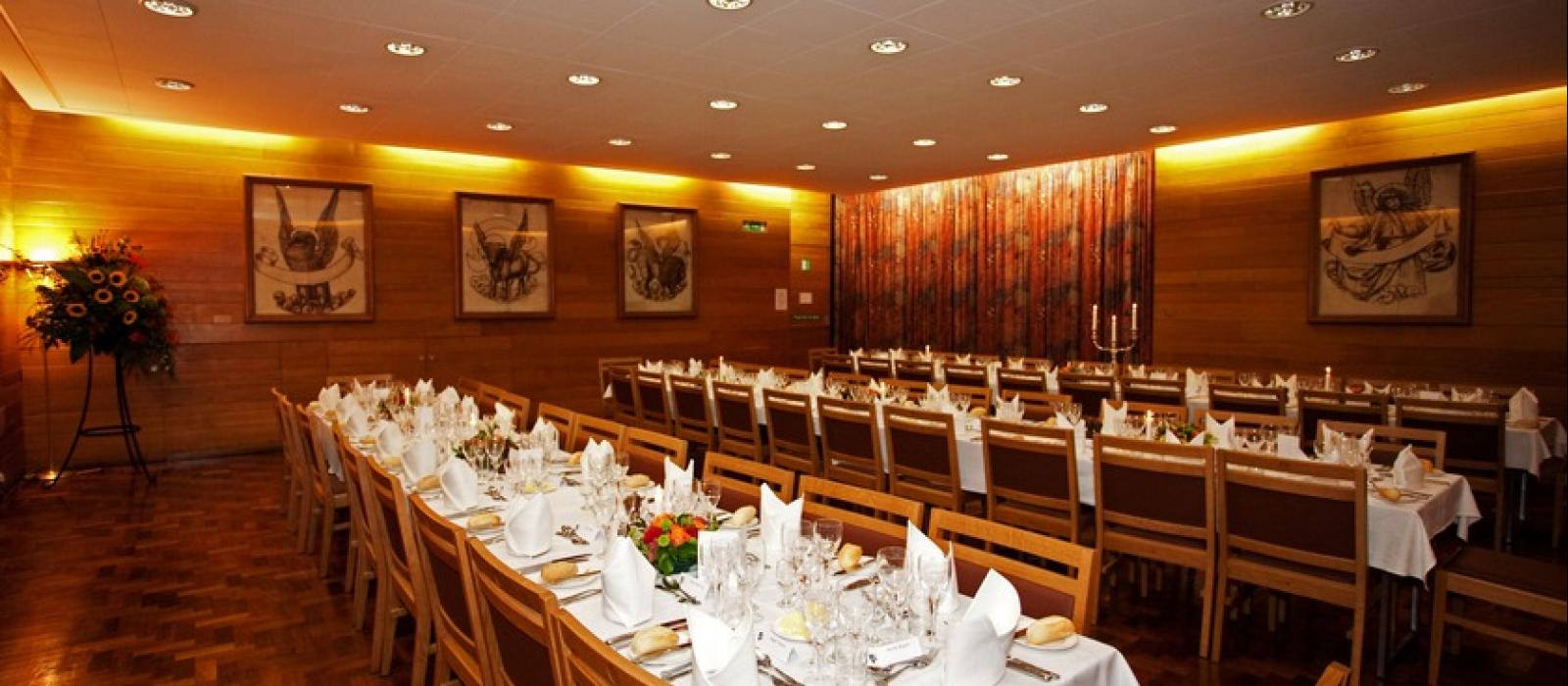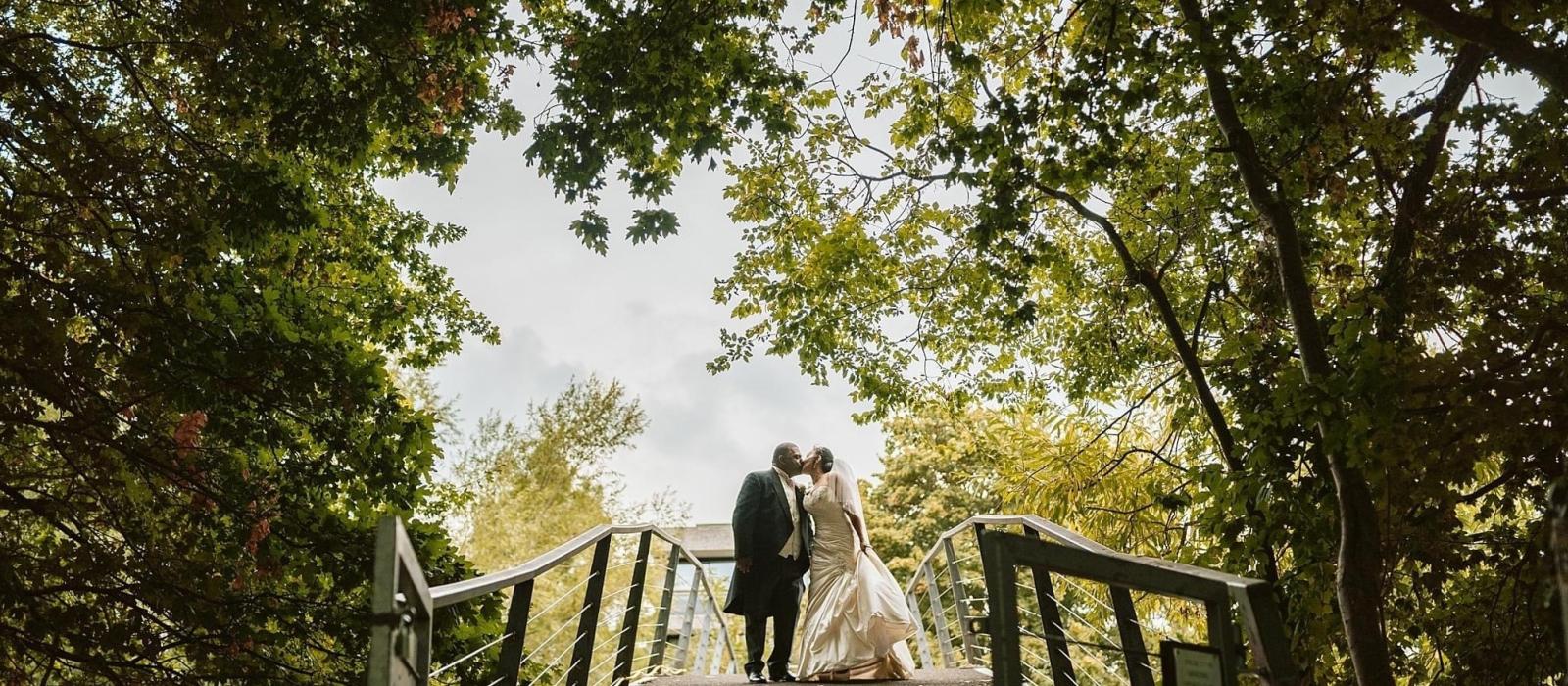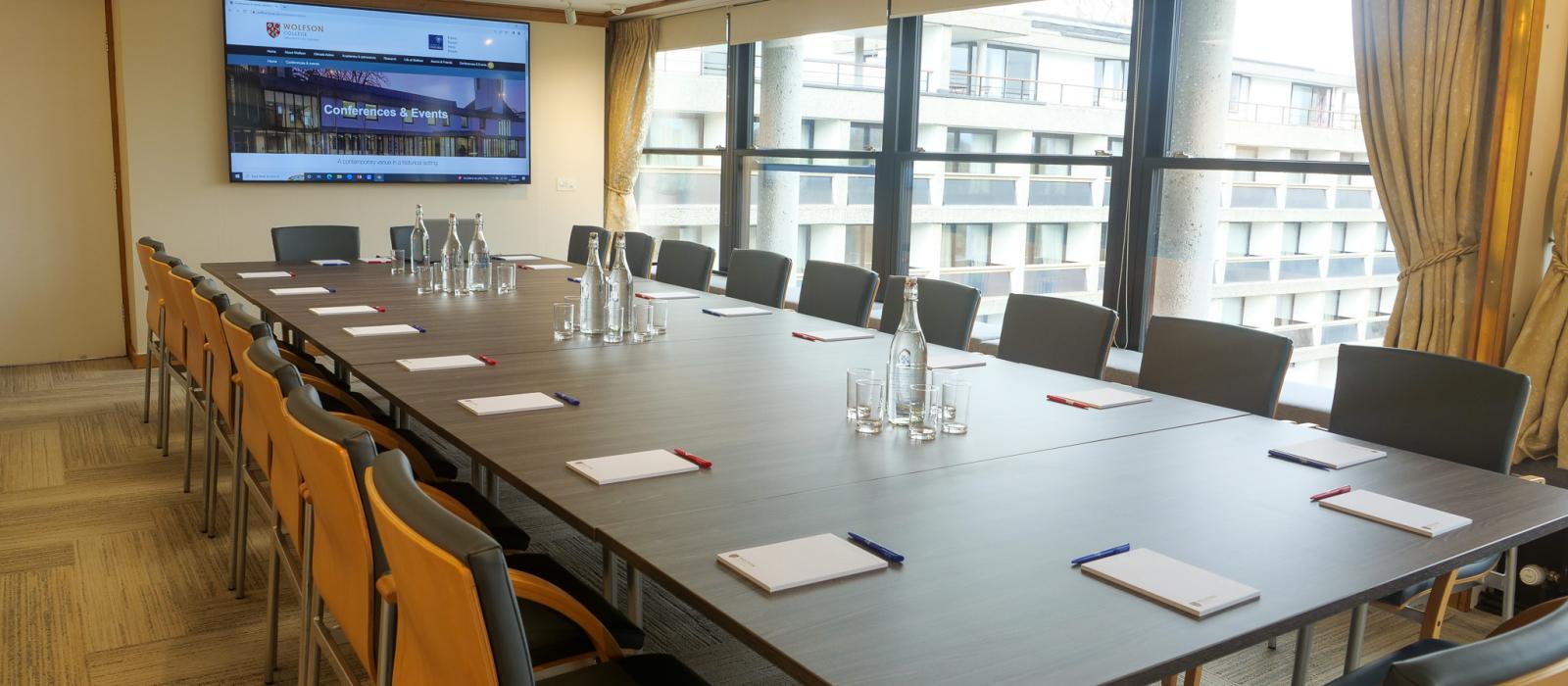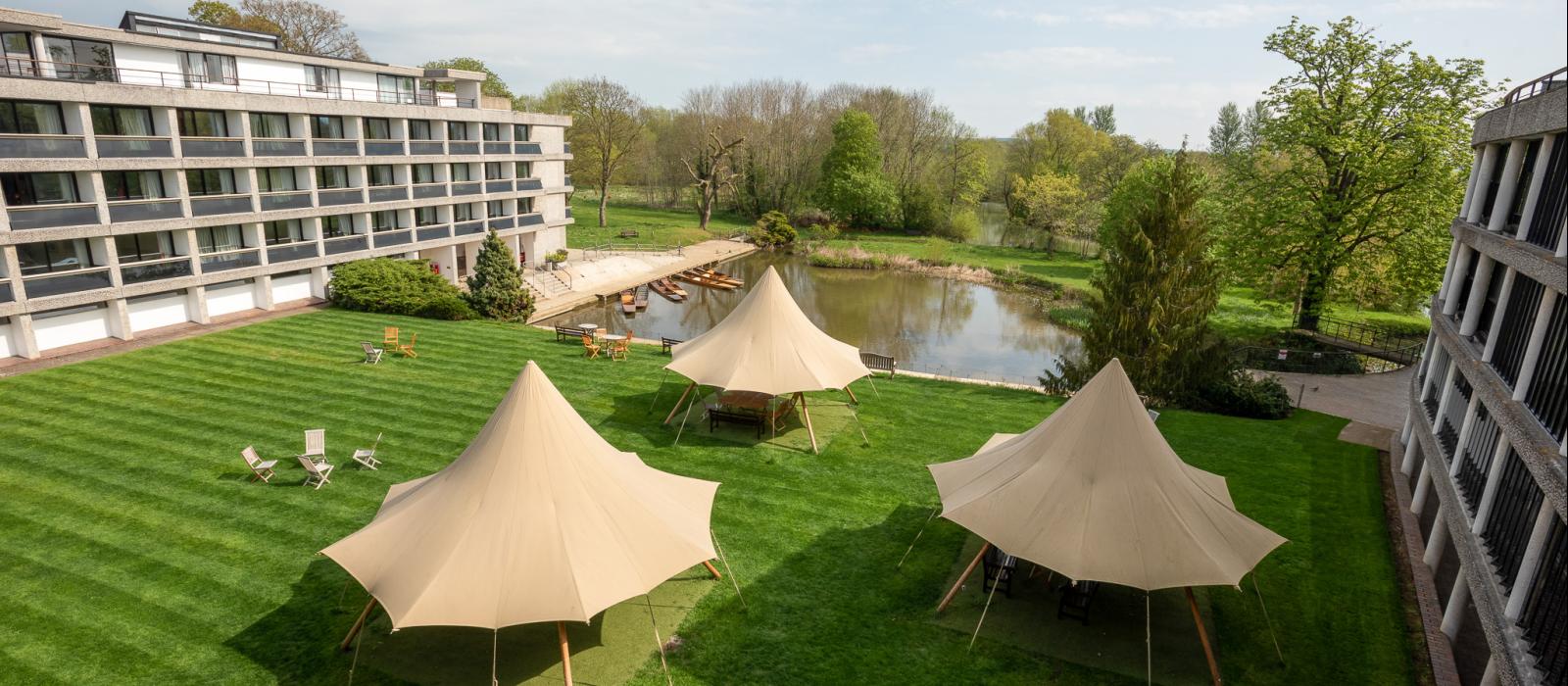 Founded just over 50 years ago, Wolfson has the freshness and vitality of Oxford youthfulness, with  a legacy of egalitarianism and diversity instilled by Founding President Isaiah Berlin. As one of the university's few postgraduate-only colleges, this energy is combined with a mature, business-like outlook. The renowned modern architecture offers highly flexible and fully accessible meeting and dining spaces for all types of events and occasions, with our new lecture theatre featuring stunning design, excellent acoustics and exemplary functionality . A wide range of culinary options are available, from banquet to buffet to barbecue, all with excellent cuisine, exquisite presentation and exceptional service.
Located in North Oxford's leafy and affluent residential district, Wolfson's enchanting riverside location feels like rustic English countryside, yet is only a few minutes by car or bus from the city centre, with some provision for on-site parking. In the summer months, we offer full residential conferencing and bed and breakfast, with en-suite bedrooms of a very high standard. Year-round, we offer expansive space and attentive service for day conferences and meetings, lectures and performances, weddings, dinner dances and other functions.
Wolfson College
Linton Road, Oxford OX2 6UD
9 meeting spaces with capacity for up to 300 guests for Theatre, Boardroom, Dining, Buffet, Drinks Reception , Classroom, Cabaret, Drinks reception , Drinks reception, and Barbecue/reception functions.
Bedrooms 80
Ensuite 80
Standard 0
Breakfast yes
Lunch yes
Dinner yes
"I highly appreciated the Conference Oxford service. I had not used the website before, and was surprised by how easy it was to get in contact with a range of venues through the simple enquiry process."
Wellcome Centre for Integrative Neuroimaging
Bryony Oliver
events@wolfson.ox.ac.uk
01865 274083
www.wolfson.ox.ac.uk
Leonard Wolfson Lecture Auditorium

Tiered and balcony seating for 155, reducible to 142, with stylish registration and refreshments foyer.

Facilities

Wi-Fi and broadband internet. Built in audio-visual equipment and microphones/PA system, suitable for live streaming and recording.

Accessibility

Full disabled access.

Available

Term & Vacation

Seminar Rooms 1, 2 and 3

Three good-sized seminar rooms associated with the Lecture Auditorium, each with moveable boardroom furniture.

Facilities

Wi-Fi, LED display, conferencing webcam and array microphone.

Accessibility

Ground floor seminar room offers disabled access.

Available

Term & Vacation

Hall

Dining 180

Buffet 200

Drinks Reception 250

Modern wood-panelled hall with striking 'pyramid'ceiling, excellent acoustics and soft low-level lighting.

Facilities

Moveable tables for varying configurations and large floor area for dancing; upholstered oak chairs; staging, PA system and grand piano available.

Accessibility

Full disabled access via lift.

Available

Term & Vacation

Haldane Room

Dining 80

Buffet 120

Theatre 60

Classroom 50

Boardroom 30

Cabaret 40

Drinks reception 120

Elegant wood-panelled room with flat flooring and natural light; imposing marble foyer registration area; access to Berlin Quad and Harbour Terrace for outdoor receptions.

Facilities

LCD projector and pull-up screen available on request.

Accessibility

Full disabled access via lift.

Available

Term & Vacation

Buttery

Dining 50

Buffet 70

Theatre 50

Classroom 30

Boardroom 24

Cabaret 30

Drinks reception 70

Light and airy room with sliding glass doors onto patio terrace; situated on intimate Tree Quad.

Facilities

Wi-Fi and broadband internet. LED screen and built in equipment to facilitate hybrid conferencing.

Accessibility

Full disabled access.

Available

Term & Vacation

Committee Room

Elegant and secluded meeting room with golden décor, large executive-style circular table, and stunning riverside outlook.

Facilities

Wi-fi; pull-up screen and LCD projector available on request.

Accessibility

Full disabled access via lift.

Available

Term & Vacation

Florey Room

Theatre 25

Classroom 12

Boardroom 14

Cabaret 12

Comfortable and intimate room with rotating art exhibition; full wall of windows overlooking the river; any configuration of furnishings.

Facilities

Wi-Fi and broadband internet; pull-up screen and LCD projector available on request.

Accessibility

Full disabled access via lift.

Available

Term & Vacation

Harbour Lawn

Extensive, luxuriant lawn sloping down to the college's private harbour, River Cherwell and meadow land beyond, with Grade II listed 'rainbow arch' bridge.

Facilities

Gazebos, lawn furniture, catered barbecue.

Accessibility

Disabled access with assistance.

Available

Term & Vacation

Levett Room

Dining 24

Buffet 40

Theatre 40

Classroom 30

Boardroom 28

Cabaret 24

Drinks reception 40

Modern, comfortable and attractive room with rotating art exhibition; full wall of windows overlooking the Harbour lawn and Cherwell river; flexible layout and furnishing including sofas and coffee tables.

Facilities

Wifi and broadband internet; wall mounted LED screen; equipment to facilitate hybrid meetings available on request.

Accessibility

Fully accessible via lift

Available

Term & Vacation