Conference Oxford proud to renew membership of the Meetings Industry Association!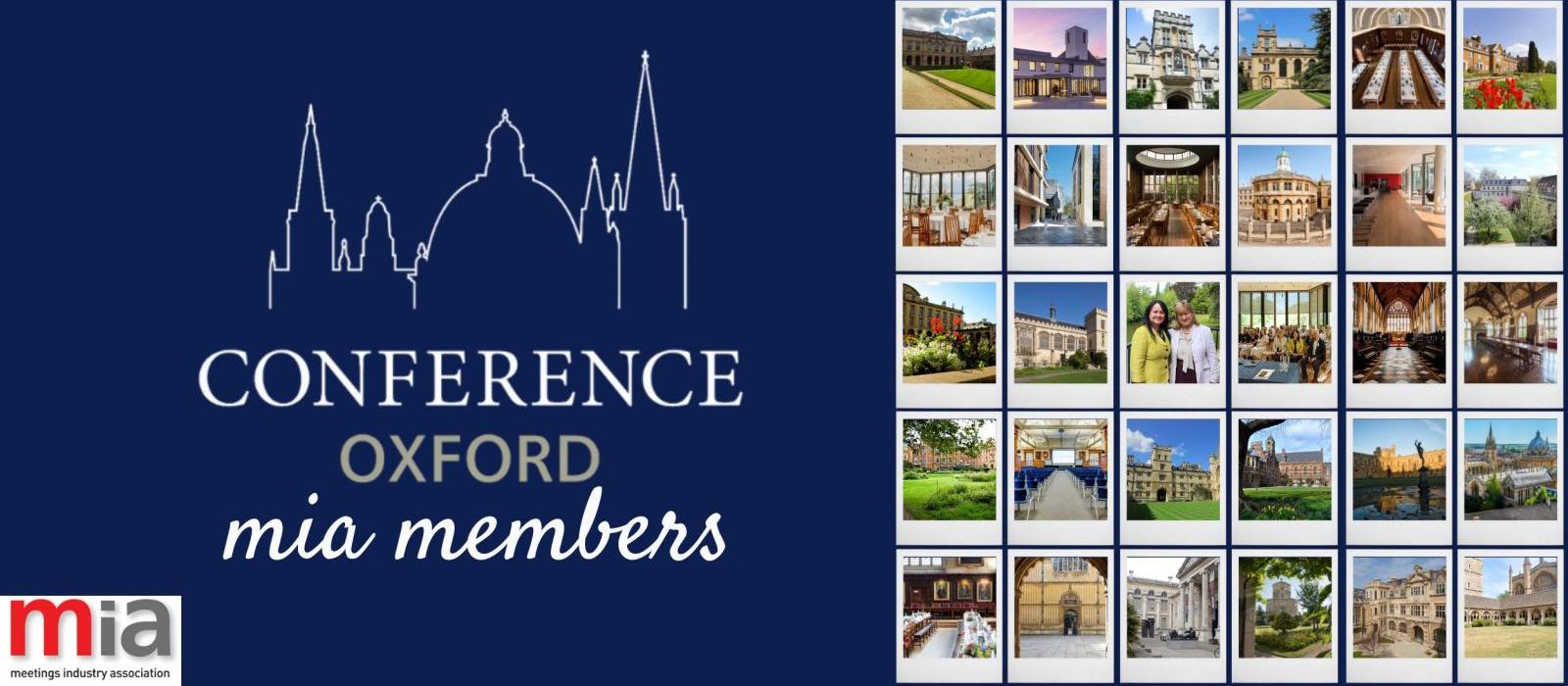 The Meetings Industry Association (mia) is the principal association supporting and growing the business meetings and events industry in the UK, and the keeper of AIM, the UK's only recognised quality standard for the meetings industry. The mia is a leader of best practise in the events sector. Their vision is to make sure that all venues and suppliers in the conferences, meetings and events sector are given the opportunity to reach the absolute pinnacle of operational and service excellence.
In August 2022, Conference Oxford venues renewed their membership of the Meetings Industry Association under the Conference Oxford umbrella. We are delighted that so many of our member venues are also members of the mia, including: the Ashmolean Museum, the Bodleian Libraries, Balliol College, Christ Church, the Examination Schools, Exeter College, Green Templeton College, Keble College, Lady Margaret Hall, Mansfield College, Merton College, New College, Oriel College, Pembroke College, The Queens College, Regents Park College, Saïd Business School, the Sheldonian Theatre, St Anne's College, St Antony's College, St Hilda's College, St Hugh's College, St Peter's College, Trinity College, University College, Wolfson College and Worcester College.
Through the mia our Oxford University venues and colleges work alongside a community of passionate and knowledgeable event industry professionals and gain access to commercial insights in the UK business meetings and event industry, as well as a distinct competitive edge through the mia's nationally recognised AIM accreditation - a mark of excellence, quality, professionalism, credibility and responsibility.
Earlier this year Kerrin MacPhie, Chief Executive of the mia, visited Conference Oxford to talk with our conference managers. Kerrin is a leading figure in the business meetings and events industry. It was wonderful that Kerrin was able to share her insights into the meetings industry with our member venues as well as explaining the support systems and training opportunities available for all mia members.
We are thrilled that the Conference Oxford venues have renewed their mia membership for 2022, and through it, are able to connect with forward-thinking individuals who share their passion and enthusiasm for events.
Kate del Nevo, Commercial Hire and Events Manager at the Bodleian Library commented;
"The mia is extremely helpful with the guidance it offers its members. As a member of the mia under the umbrella of Conference Oxford, the Bodleian Library have been trialling the new mia benchmarking tool, miaTouchstone, which provides a pioneering platform for venues to manage bookings, benchmarking and customer feedback."